The ELD 2020 Plug-N-Play, Powered by Hutch, is the first and only 0.99 cents PAYD or "Pay as you Drive" ELD available in North America.
It runs on a new wireless technology, where Bluetooth disconnect and LTE/5G disconnect plays no role, thus giving more accuracy in data. The ELD 2020 device has built-in AI technology, where it internally processes all ELD data to comply with the FMCSA ELD regulation.
You pay only 0.99 cents when you drive the vehicle. No charges for PC, OFF, SB, or when the truck is parked for maintenance. This is the only ELD that will save you from costly DOT fines while being inexpensive at this time. I think this is a great option during the uncertain times of the COVID19 or Coronavirus Epidemic.
Due to the COVID19, trucking companies now have unpredictability in their business, forcing them consider their costs. PAYD or "Pay as you Drive" option required no suspension or termination requests. You will only be charged when you Drive.
The ELD 2020 includes HOS Logs, Trip Inspections, Live GPS Tracking, IFTA, Multiple reports, and 24*7 Customer Supportfor only 0.99 cents per day, you drive.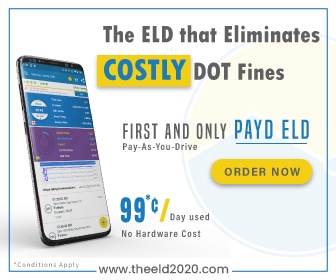 Getting Started with The ELD 2020
Placing an Order
The ELD 2020 is easy to purchase and involves no hardware costs, Contract term, or initial setup fees. It can be shipped to all regions in North America.
To Order: Visit www.theeld2020.com/neworder
Enter DOT Number
Enter Billing and Shipping Information
Select the correct ELD 2020 Adapter Kit(s) based on your Truck(s) Make, Model and Year, from our Adapter List page
Select Hardware Delivery preference
Complete the Order by entering Credit Card information.
A first-time recharge of the value of hardware is necessary to complete the order, which will be credited to your account. The daily 0.99 cents will be charged from this credit. You can recharge your account, when required, through the Driver app or Back office Portal using a Credit card.
Components Required
The ELD 2020 Plug-N-Play device (Included in Free Kit)
Truck Specific 6, 9 or 16 Pin Adapter/OEM Cable (Included in Free Kit)
Bring your own Phone/Tablet and Mount.
The ELD 2020 App can be installed from the Google play store, Apple App Store, or our Website.
Installation, Setup, Support, and Updates
Once you have completed your order, you will receive a Welcome email to set up your back-office portal by entering your Vehicles, Drivers and Company information
The ELD 2020 offers Overnight and 3-4 business days shipping preferences. It is simple to install- just connect the ELD 2020 to Trucks' Diagnostic Port using the Adapter provided in the Free device Kit.
The Diagnostic Port is mostly located on the left side, under your steering wheel. It is usually Round or Rectangular in shape and could either have 6, 9, or 16 pinholes in it.
The ELD 2020 offers OEM Harnesses for all types of vehicles to meet the OEM recommendation. You can select an OEM harness option when placing the order. You can request an OEM installation video from us, if required.
Once the Plug-N-Play device is installed, you can simply download the ELD 2020 app on your smartphone by visiting the Google Play Store or Apple App store.
Turn on the App (In the truck or office)
Enter or scan The ELD 2020 Device Serial number on the App
Allow the app access to required permissions
Setup Complete. It will take less than a minute to complete the entire setup.
You can then use your company provided Login details to Start Driving.
Offers 24*7 Customer Support, with a Callback service that can be used through The ELD 2020 App. Hutch Monitoring centers are proactive and should call you back in less than 5 minutes.
The ELD 2020 device is a Hutch Systems product and will be maintained and updated as required, at no additional costs
For more information or questions regarding "Pay as you Drive," The ELD 2020 email at [email protected] or Call- 604.330.6741