Last updated on March 9th, 2023 at 06:23 am
As you may be aware, Omnitracs is one of the leading providers of ELD mandate compliance solutions today.
In this regard, the provider offers one of the best next-generation telemetric products in the market today, including XRS, RDC, and, of course, the renowned Omnitracs IVG ELD. In addition to robust and reliable electronic logging devices, the Omnitracs provider offers an array of features and tools to its clients.
If you have been shopping for the best ELD mandate compliance solution, you will realize that the Omnitracs IVG is unique in its own way. Basically, this ELD device presents you with a scalable and simplified next-generation electronic logging solution.
If you are looking for a way to optimize profits while spending less on your fleet, the Omnitracs best-in-class application suite will be a great ELD solution.
Omnitracs ELD Review – A Little Bit About the Provider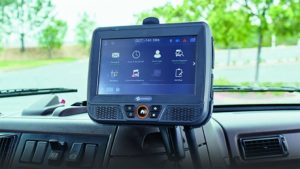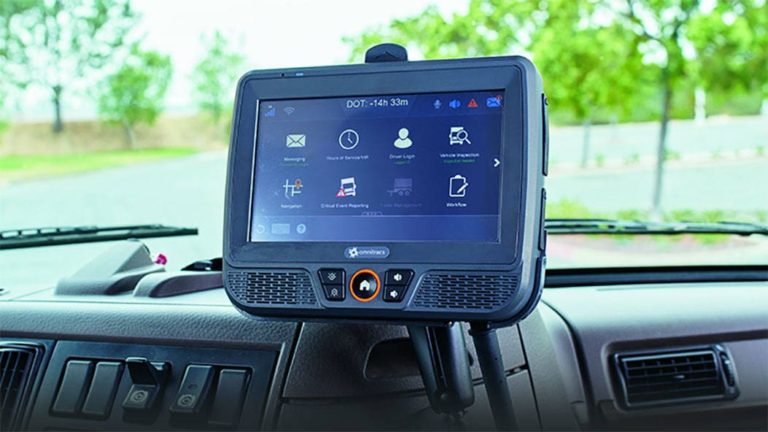 Amidst the increasing competition, an ELD solution is as good as the company behind it. Even before the ELD mandate was announced, Omnitracs was a reputable provider of SaaS fleet management and innovative software solutions for the transport sector.
Over the years, the company has been helping its esteemed clients improve their reliability, productivity, security, safety, routing, and compliance requirement with various transportation assets.
The Intelligent Vehicle Getaway (IVG) ELD is a clear manifestation of the effort by Omnitracs to give their clients a competitive advantage. As such, the ELD solution offered by Omnitracs is aimed at lowering costs, streamlining processes, and boosting driver satisfaction in your fleet.
Overview of the Omnitracs IVG ELD
The Intelligent Vehicle Getaway may be a rather new product but introduces cutting-edge technology to fleet management and FMCSA compliance requirement. As such, you will definitely find this product superior to a range of other products in the market.
The integrated application delivery ELD and fleet management system being offered by this provider offers you access to a myriad of advanced features.
For instance, the devices offer hands-free voice commands, unique wireless connectivity, and a comparatively larger display. Additionally, the provider will offer you all the back-office tools you need to increase efficiency, productivity, and safety in your fleet. In this regard, you can say that the provider made a breakthrough in commercial vehicle telematics.
Basically, the Omnitracs Intelligent Vehicle Gateway (IVG) is designed to offer a unified platform for safe, efficient, and fast mobile applications and computer based website delivery to drivers and fleet managers. In this regard, the Omnitracs IVG will link the vehicle assets to drivers and home office; allowing you access to an array of ELD features and some of the best third-party applications across all platforms in the industry today.
Benefits of the Omnitracs IVG ELD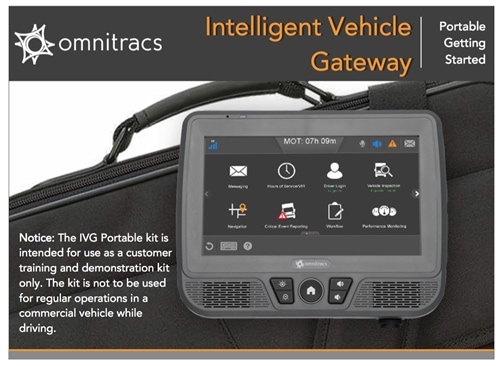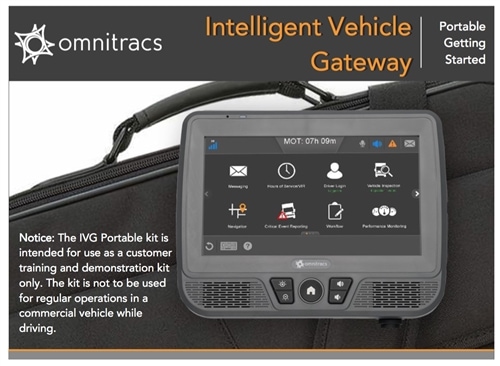 Most of the electronic logging devices in the market today are meant to help drivers remain compliant with ELD mandate requirements. However, some of the leading ELD products will offer you much more than compliance.
The Omnitracs IVG device, for instance, offers you an innovative, single-mobile service delivery system with an impressive range of features and functions.
This being the case, the IVG device has a number of benefits to offer fleet managers and drivers alike in the options menu of the application, some of which are mentioned below:
It is a proven compliance ELD solution to help you avoid fines and penalties
Reduces costs and enhances efficiency on your fleet
clear instructions on usage and ELDs logs systems
Helps drivers improve and maintain a good CSA score
The device improves safety and productivity in fleets
An accurate record of hours of service of truckers in fleets
Offers a robust single-platform application platform, hence will not require any upgrades as time goes by.
Omnitracs customer support is responsive and easy to reach
Eliminates paperwork in your business
Applies existing integration hooks, hence requires a low IT investment
Will boost customer satisfaction in your business
Easy to use application where you can switch between options
Application with robust vehicle problem and device error details reporting features
A single in-app menu displaying all your options
Hands-free voice command ability to meet customers needs
Just as is the case with any business today, you need a competitive advantage and an efficient way of containing costs in your trucking business. As you may have realized already, running a profitable and compliant trucking business with reliability can be a challenge.
This may be attributed to the relatively high operational costs and stricter regulations. This is why an increasing number of fleet managers in the country are looking for the best solution to mitigate costs whilst optimizing their profitability.
In this regard, the IVG ELD solution offers one of the best ways of achieving this in the industry today. The product supports a suite of applications each with a separate functionality, aimed at helping you operate efficiently, reduce costs, and remain compliant with government regulations.
With this product installed in your trucks, you will definitely have an easier time growing and running your trucking business.
Omnitracs ELD Features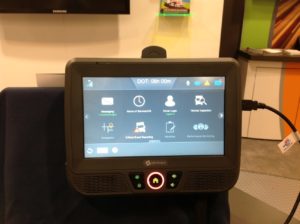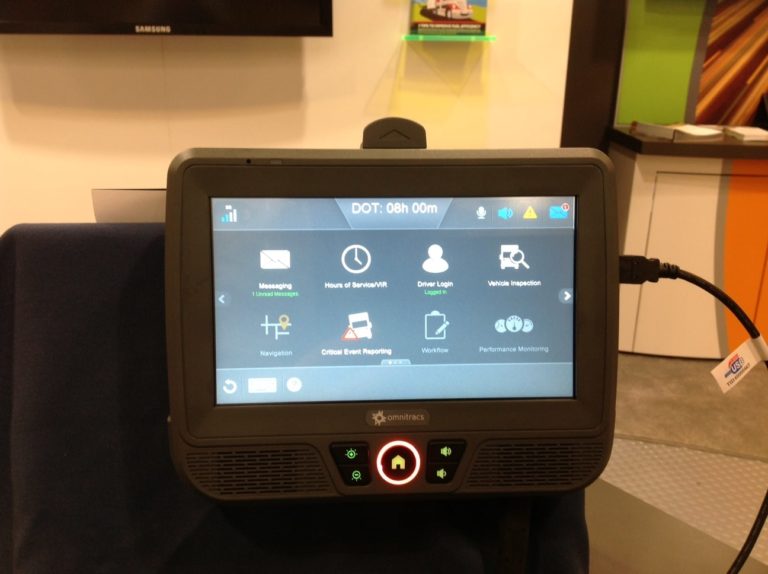 Whether you are a driver or a fleet manager, it is advisable to go for an electronic logging device that offers the best value for money.
In order to ascertain this, you need to check what your preferred product can actually do.
Superior integration, assessment, programming, custom development for customer needs, business intelligence, and predictive modeling are some of the aspects that make the IVG a practical solution that will lead to the best results for your business.
This product will essentially offer you a lot more functionalities beyond logging, some of which include:
1. Vehicle Inspection Reporting
Like many of the best electronic logging devices in the market, the IVG offers a Vehicle Inspection Report (VIR) feature. To begin with, this product will eliminate the use of paper DVIRs in your business.
As such, drivers in your fleet will find it easier to accurately complete trailer and vehicle inspection reports. Additionally, this type of ELD allows the fleet manager as well as the drivers to access the stored VIR reports at any given time.
With this product, you will also get timely notifications on any DVIRs that may have unresolved defects for any vehicle in your fleet. Such a feature will streamline the defect resolution process in your fleet; hence enhance compliance and safety in the fleet.
2. Logging Hours of Service (HOS)
The primary need for any of the leading ELD devices available today is ELD mandate compliance. The Omnitracs IVG is not an exception, in this regard. The product is not only compliant with FMCSA requirements; it is designed to make HOS logging easier and accurate. In this regard, the product will automate driver logs to ensure that they are accurate and up to date, in accordance with FMCSA regulations.
You may not know this, but inaccurate HOS logs in your fleet will expose the business to an array of risks, such as compliance breach, higher operational costs, reduced operational efficiency, and productivity. With the IVG installed in your vehicles, you will never experience such problems in your business.
3. Fault Monitoring
Many transportation companies are already having challenges in planning preventive maintenance for their vehicles. Additionally, roadside assistance can prove to be a costly undertaking for your business. To help fleet managers lower maintenance costs in their fleets, the IVG offers a fault monitoring feature. The application will monitor common fault codes in the installed vehicle of users.
In addition to giving you detailed diagnostic information, this product will send you real-time alerts when fault codes are detected. With this application, you can proactively diagnose problems in your vehicles and take the right action early enough.
This will, in turn, save your business money on repair and maintenance costs in the long run.
4. Navigation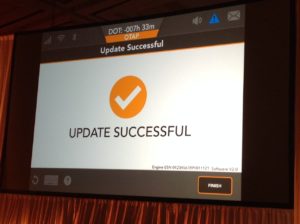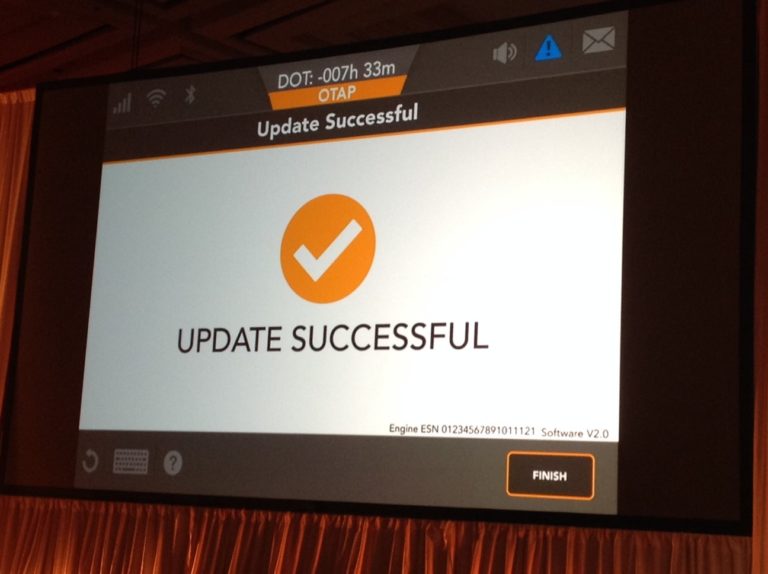 The navigation application offered by the Omnitracs electronic logging device is unique in its own way.
As opposed to conventional navigation features offered by other ELDs in the market, the IVG navigation is rated one of the best-in-class truck routing systems in use today.
Additionally, this application will also offer you high-speed software updates to ensure that it is always current and highly responsive.
The Omnitracs in-cab navigation system is renowned for its unique customizable maps. You will also love the fact that the application features a user-friendly interface.
In this regard, the unit offers spoken as well as visual directions every step of the way. With this gadget installed in users' truck, they will also be able to get real-time speed alerts.
5. Critical Event Reporting
How would you love to know your drivers' driving habits? Almost every owner and fleet manager would love to know that their vehicles are in safe hands at all times. So, why don't you invest in an e logs solution that allows you to know that?
The IVG features a critical event reporting application that is designed to alert you of hazardous driving habits by your drivers. In its functioning, the application monitors and alerts users with detail of any critical events, such as hard braking, turns, and acceleration by any of the drivers in your fleet.
With such an application, you can easily identify risky drivers in your fleet and take the right action. This will, in turn, improve the safety and efficiency of your business. By improving the CSA score, the application makes you more favorable to insurance companies. As such, you will be able to get more affordable insurance premiums from insurance companies.
6. Weigh Station Bypass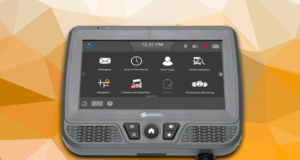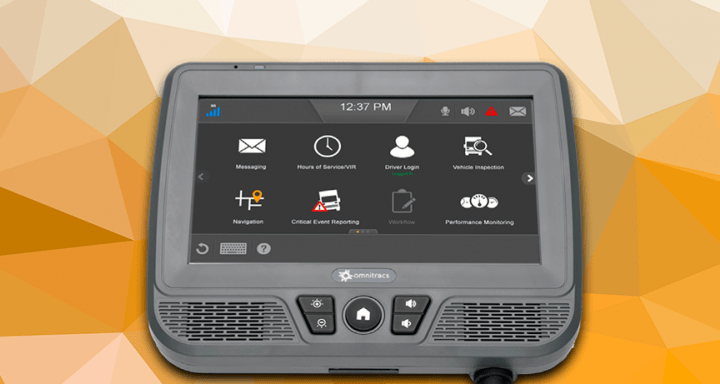 Are your vehicles wasting too much time and efficiency in your business, the Omnitracs IVG system will also help you bypass up to 98 percent of weigh stations? To help you achieve this, the IVG integrates Drivewyze's Weigh Station Bypass.
As such, you will not need additional hardware or data plan to bypass the Drivewyze weight station and inspection points.
The Drivewyze® PreClear weigh station bypass system offered by this gadget supports more than 700 sites in Canada and U.S. as such, your drivers will have a better chance of bypassing more weigh stations than they would with any other weight bypass solution in the market.
As a matter of fact, this solution allows your drivers to bypass up to 98 percent of all weight stations in the country. As you can imagine, this has a number of benefits to offer your business, including:
Saves money and time – allows you to save fuel on frequent stops and eliminates unproductive on-duty time wastage by your drivers decreasing your average cost.
Improves vehicle safety – bypassing weigh stations prevents risky lane changes by your drivers at the weigh stations. The service allows drivers to be safer by remaining on the mainline.
Mitigates weigh station hassles – based on your carrier safety rating, this service will give you clearance at the Drivewyze supported sites.
Improved recruitment and retention of drivers – based on statistical findings, about 65 percent of drivers are more likely to remain if the service was offered as a free perk. Again, this will also improve the likelihood of drivers opting for your company instead of others.
Allows for faster load delivery – By allowing you to bypass a good number of inspections and weigh stations, the service will give you a competitive advantage. This mainly because it allows your drivers to get to their destinations faster than they would without the application.
Offers Business Intelligence reports – the first time you implement this service, you will get a detailed report on the much time your vehicles are wasting unnecessarily at weigh stations. Such reports will help you make data-driven decisions for your business.
Works for both mobile inspection sites and fixed scales – as opposed to other weigh station bypass services, Drivewyze is more versatile. In this regard, the service allows your drivers to bypass the permanent weigh stations as well as the pop-up inspection sites along their routes.
7. Media Manager
The media manager by the Omnitracs ELD provider is an innovative solution for its customers' needs, aimed at helping fleet managers deliver important information to their drivers remotely in an organized menu within the app. You will find this to be one of the cost-effective ways of communicating with drivers in your fleet.
In this regard, the application allows you to share an array of media to meet the needs of drivers, including video, audio, and PDF files.
By allowing for a reliable connection between drivers and fleet managers, the application improves driver knowledge, satisfaction, performance, and safety processes.
8. Trailer Tracking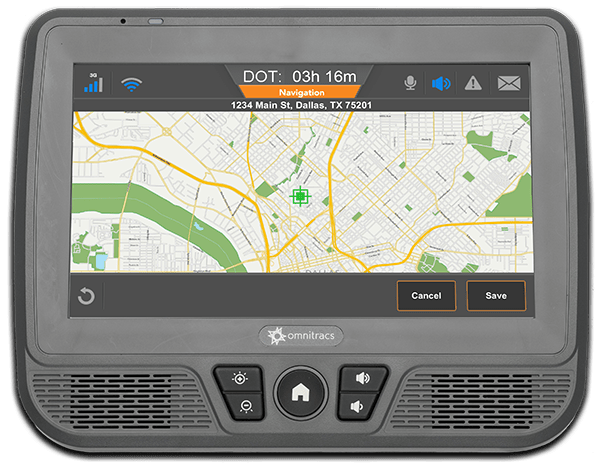 Would you like to proactively manage risks in your fleet and enhance customer satisfaction while at it?
Well, you should consider investing in the Omnitracs Intelligent Gateway today. In addition to the other appealing features of this solution discussed above, you will also love its Trailer Tracking software.
This software offers near real-time trailer status and location within Canada, the U.S, and Mexico.
While the GPS feature will tell you where the cab and trailer are at all times, the product also has several other sensors. These sensors will let you know if and when the doors on the trailer are opened or closed.
Again, the sensors will also let you know the absence or presence of cargo in the trailer at any given time.
This goes a long way in cargo protection on your vehicles. According to the International Cargo Security Council, about $10 billion worth of merchandise is either damaged or stolen in transit every year.
This is why you need an effective solution to monitor loads in your vehicles. With this software at your disposal, you can improve customer satisfaction in your business.  Over the years, this software has been proven to offer an array of benefits for drivers and fleet managers, including:
Superior real-time asset visibility
Enhanced cargo safety
Unparalleled ease of use
Custom integration with Omnitracs Driver Workflow
Improved production
Enhanced customer satisfaction
Increased fleet efficiency
9. Driver Workflow
The Driver workflow is an application on the IVG platform that is designed to integrate with dispatch systems. This integration allows for an automated and more streamlined driver-dispatcher communication system.
With this application, it is now possible to deliver the right information to any driver in your fleet in real-time. Such a solution has been proven to improve the driver-dispatcher relationship as well as efficiency in fleets.
Although reliable communication is important in your fleet, your preferred solution should also minimize driver distractions for enhanced safety. In this regard, the Omnitracs Driver Workflow applies a user-friendly text-to-speech functionality.
As such, the drivers can easily use the feature while keeping their eyes on the road. This feature will also offer the drivers pre-populated and automated forms. This ensures that the drivers can easily fill important foams as soon as possible whenever they are required to.
This application also allows for two-way messaging, which makes it easier for dispatchers and drivers to share trip information and status updates via chat.  By integrating with the dispatch software and automated messaging, this application will help you lower operational costs in your fleet.
Our Final Review for the Omnitracs ELD
The best electronic logging device should be compliant and help improve productivity, efficiency, and safety in your fleet.
While some of the leading ELD solutions in the market are only good at logging and compliance, the Omnitracs IVG does it all. This product is specifically designed for enhanced safety, reliability, and ease of use.
Ranging from its easy installation, through the user-friendly Intelligent Voice Interface and intuitive range of applications to Intuitive notifications, the IVG is simply a trendsetter in the industry.
The customer service is highly responsive and caters to the needs of users.