Last updated on March 9th, 2023 at 06:08 am
Linxup is a renowned electronic logging device by one of the leading providers of GPS fleet management tools and asset trackers. This ELD solution has been certified by the Federal Motor Carrier Administration (FMCSA) to be compliant with the ELD Mandate. Other than that, the electronic logging device has many benefits to offer truckers, carriers, and owner-operators, by completely eliminating paperwork.
To begin with, the unit will give you quick access to the required reports for roadside inspections. The product will also send you warnings whenever critical violations are approaching or in case of malfunctions. Many drivers also love the fact that the ELD changes their duty status automatically.
As you may have realized, Linxup ELD is a preferred logging solution for thousands of drivers, fleet managers, and truck owners in the country today. Throughout this review, you will learn why it is one of the best electronic logging devices in the market.
Linxup ELD Review – Quick Facts


This device is offered by Linxup—a leading global provider of asset trackers and fleet management tools. Over the years, this provider has been offering superior asset tracking, fleet management, and now electronic logging device solutions. The Linxup ELD device is one of the most dedicated ELD solutions in the market today and has exceptional sales for a reason.
The unit is designed to help you with an array of Mandate compliance, fleet management, and asset tracking tasks. For instance, the device makes it easier for drivers to keep accurate logs of their Hours of service (HOS), in accordance to mandate requirements. Again, the unit will also notify fleet managers and drivers of any critical violations that may be approaching.
Such features and capabilities have been helping fleets remain compliant, avoid hefty penalties as well as enhance customer service.
Helping You with DOT Audits as Well
In addition to helping you comply with the Hours of Service (HOS) and FMCSA requirements, this device will also help your drivers improve their CSA scores. Additionally, the device is designed to help you ace DOT audits and interviews. No wonder the Linxup ELD solution is preferred by owner-operators in the trucking industry.
As a fleet manager or truck owner, Linxup has several interesting capabilities to offer you as well. For instance, the product will allow you to manage and track maintenance reports as well as idling time for the various trucks in your fleet.
Such capabilities have been proven to help fleet managers and owners prevent fuel wastage and manage their fleets more efficiently. All in all, this product will streamline operations, enhance customer service, cut costs, and improve profitability in your business.
Linxup ELD Benefits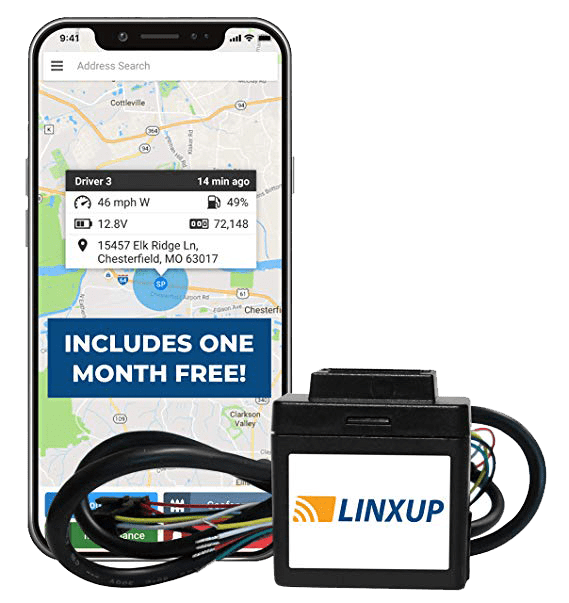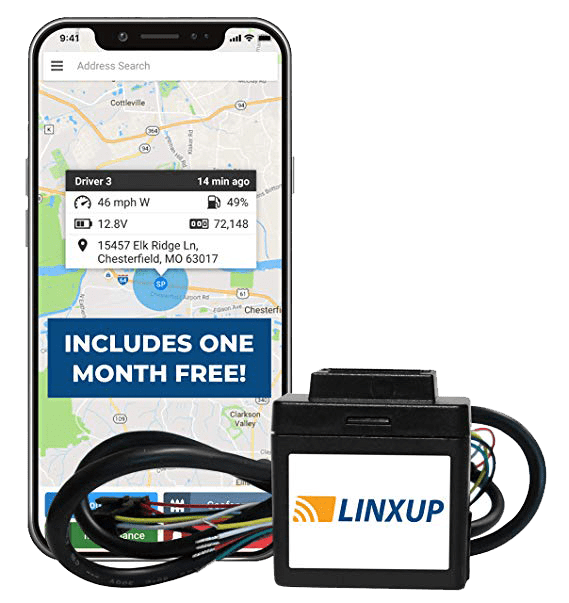 FMCSA compliant
Comes with a dedicated data plan
Allows drivers to change their duty status
Automatically change driver duty status, monitor and track driver behavior
Provide quick and easy access to roadside reports and inspections
Manage routing & maintenance schedules
Alerts you of critical violations and malfunctions
The provider offers you cloud-based video tutorials for the device
Helps you better your CSA score
Features durable and functional hardware
Allows you to monitor drivers' behavior
Offers a free trial
Offers employee and dispatch management tools
Features Linxup GPS tracking solution
Offers fuel management capability
Affordable data plan
Linxup ELD Downsides
It is a dedicated ELD solution; does not allow you to bring your own devices.
Linxup ELD Pricing Plans
Truth be told, this is not the most affordable electronic logging device in the market today. However, it happens to be one of the most affordable and easy to use dedicated ELD solutions you can get. So, how much should you expect to pay for the Linxup ELD solution?
Equipment Costs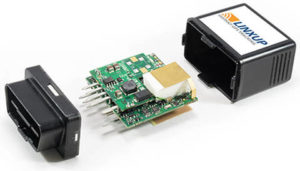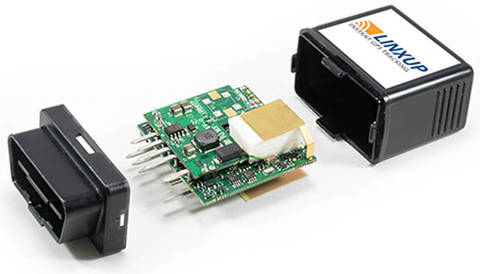 In order to get the dedicated ELD device by Linxup, you will be required to pay about $149. If you would like to get the GPS tablet by this provider, along with your ELD device, you will be required to pay an additional $149.99. This being the case, you should expect to pay about $300 to get all the ELD equipment.
Other than that, you will be required to pay a monthly subscription for the software tools by this provider. As expensive as this may sound, you just have to pay for the equipment because you cannot bring your own devices.
Monthly Subscription Plans
The provider offers the ELD software in a Software as a Service (SaaS) model. This means that you will be required to pay a monthly subscription to access dedicated tools, features, and data plans offered by the software. In this regard, the ELD solution provider offers several subscription plans for its software to suit your budget and needs, including:
This is the most affordable and easy to use monthly subscription plan by this provider to log your Hours of Service. The plan is charged at $29.99 per month. The plan offers all the basic tools you will need to comply with the ELD Mandate and FMCSA requirements. Additionally, it allows drivers to share timesheets, duty status, information, vehicle metrics, and other data.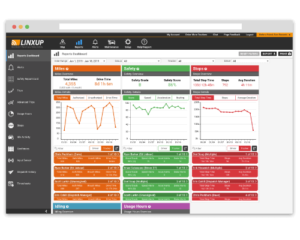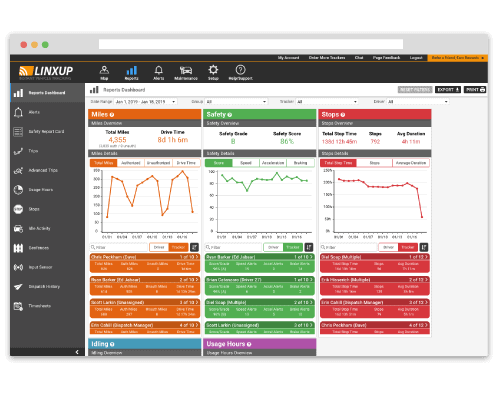 Would you like to get Linxup GPS tracking capabilities, along with your Linxup ELD features and tools? In this case, you should consider getting the ELD+GPS monthly subscription plan by the provider. This plan costs $39.99 and has more features and capabilities to offer.
In addition to the added GPS capabilities, this plan will give you access to backend software. As you can imagine, this backend software gives you additional fleet management services and data.
Last, but not least, the provider gives you an opportunity to integrate IFTA reporting probabilities to your ELD solution. This plan will cost you $49.99 per month. With this plan, you will get all the features and capabilities offered by the above-described plans, in addition to automated IFTA reporting capability.
Linxup ELD Features and Capabilities
Your choice of the best electronic logging device should not just be influenced by its cost. Instead, you should as well consider what the product has to offer. In this regard, Linxup GPS trackers and ELD solutions offer an affordable, powerful, easy to use, and simple way of managing the fleet and remaining compliant with the Hours of Service and other mandates.
Such solutions are essentially meant to make Mandate compliance, fleet management, and asset tracking easier for you. According to the fleet managers who are already using the solution, Linxup will help you increase efficiency and reduce costs in your fleet.
In this regard, here are some of the features and tools you will love about the Linxup ELD solution:
Intuitive Mobile Apps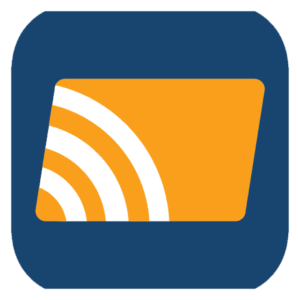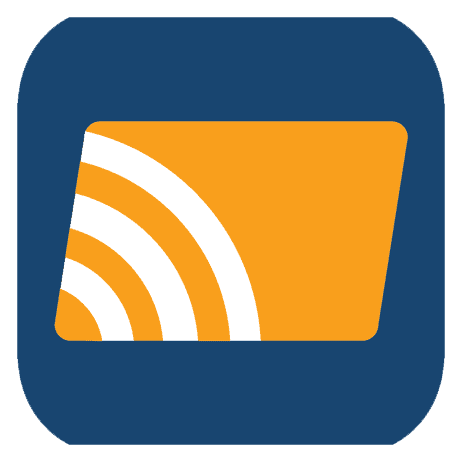 In addition to powerful and durable ELD hardware, the provider offers intuitive mobile apps that are easy to use and functional with all smartphones and tablets. The ELD mobile App by Linxup is compatible with both iOS and Android platforms. With such an application, you will have an easier time managing your vehicles from anywhere at any time.
In order to facilitate this, the app offers all the data and reporting capabilities you will find on the Linxup Portal. To begin with, this system will give you robust reporting capabilities on the go. With such reporting tools, you can easily determine the miles driven, idling time, stops, and safety ratings of the various vehicles in your fleet.
With this application, you can actually filter such data by group or date, duty status for instance, to obtain the vehicle data you are interested in. Additionally, you can also narrow the details to include Google Street view for the trips. Finally, the App allows the fleet manager to easily match the alerts they get with the ELD data.
ELD Mandate Compliance
This is actually the main reason why an increasing number of fleets are having electronic logging devices installed in their vehicles. In this regard, Linxup will ensure that you have better, faster, and easier roadside reports and inspections data. Additionally, the Linxup ELD solution has been proven to help drivers better their CSA scores.
As you will come to learn, this ELD solution gives fleets the protection they need against DOT audits and interviews. As you can see, this product is packed with a range of tools to help you remain compliant with FMCSA as well.
Some of the ELD compliance-related benefits you should expect to get from your Linxup ELD solution include:
100 percent FMCSA mandate compliance
Automatically changes duty status
Easier and more accurate Hours of Service (HOS) logs
Offers easier access to reports during roadside inspections
Sends alerts whenever critical violations are approaching
Comes with a dedicated data plan
Real-Time GPS Tracking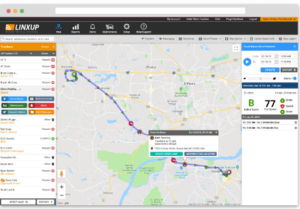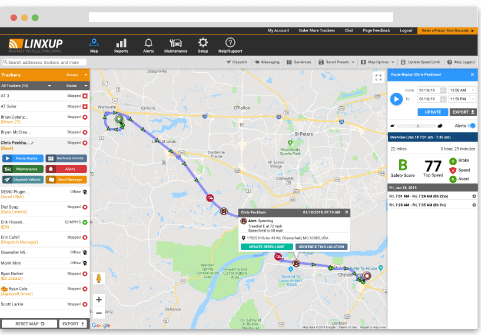 This is actually one of the key selling points of this ELD solution. Long before it started producing electronic logging devices, the provider was offering GPS tracking services and coverage. As a matter of fact, the company is one of the best GPS tracking service providers in the industry today.
In addition to the innovative ELD capabilities, this provider offers GPS tracking software and tools for equipment and vehicles. Such tools will come in handy for fleet managers today; allowing them to manage vehicles as though they were in the cab with the driver.
Some of the benefits offered by this feature include:
Ability to Track Vehicles and Equipment
Linxup vehicle trackers will give you updates on the location of your vehicles once every minute, whenever the vehicle is in motion, and once every hour when the engine is turned off through its user-friendly hardware and software.  Equipment truckers, on the other hand, will give you a report/information once every ten minutes whenever the equipment is powered and moving.
This feature will also give you timely updates on vehicle movement as it happens as well as the prevailing traffic conditions. The unit features an intuitive Google maps interface. This interface allows you to differentiate between equipment and vehicles.
As you can see, this feature is essentially designed to give you a bird's eye view of vehicle locations, along with other important details.
In addition to the real-time location information/data, this device allows you to playback and view vehicle history of the various trucks/assets in your fleet. In this regard, you may use the map interface to review the travel history. This feature allows you to narrow the results down to street-level details for better insights.
Driver Scorecards
Since ELD devices are meant to enhance safety on roads, it is advisable to get a product that makes it easier for you to do that. The driver scorecards feature of the Linxup ELD solution allows you to monitor and rate your driver behavior. Such capabilities will help the fleet reduce liability and improve safety.
This feature is essentially designed to offer you such reports as daily rankings and performance by vehicle, daily driver safety score for each driver in your fleet, and trigger driving activities like idling, stops, and speeding.
Additionally, the system will automatically monitor unsafe driving behavior by the various drivers in your fleet. By collecting such data, the ELD makes it possible for fleet managers to generate driver scorecards. The daily driver scorecards generated by this device will contain such information/data as:
A summary of safe behavior and driving alerts
Daily performance grade and performance for the various drivers in your fleet
A summary of stops, idling activity, and miles driven by each driver
As you can imagine, this feature will help you understand your drivers' driving performance. This is the first step towards improving safety in your fleet.
Our Final Verdict
Just like the other tech-savvy consumers, you should consider buying a certified ELD by a renowned provider. In this regard, the Linxup ELD is one of the most dedicated ELD in the market today. Ranging from the convenience of GPS tracking to the timely alerts and detailed reports, this device has everything you need.
The features and capabilities of this unit are designed to offer you much more than just ELD mandate and Hours of Service compliance. Such are the attributes that make the Linxup ELD one of the best electronic logging devices in the market.