Last updated on July 24th, 2023 at 06:08 am
KeepTruckin ELD helps your fleet and drivers simplify compliance. This FMCSA-approved device by Keeptruckin is easy-to-use and is built for drivers. It helps you ace DOT audits and improves your CSA scores, all while preventing HOS violations.
As you aim to remain eld compliant with the ELD mandate, you can do so anywhere you go with this device. All you have to do is connect your tablet or smartphone to the KeepTruckin ELD via Bluetooth or USB. Being directly connected means you can use the device even in areas with no cellular reception.
More importantly, the KeepTruckin ELD can connect to almost any truck on the road. Whether you have a 6 pin, 9 pin, or OBD II connection, this device can work. It even works with Mack and Volvo trucks.
So, why not choose a product that is trusted by more than 13,000 fleets and over 400,000 drivers? Using KeepTruckin results in convenience, performance, and ease of use.
Motive ELD (KeepTruckin) Review: A Leader In Electronic Logging Devices
The objective of the KeepTruckin manufacturer is to try and improve the profitability and deficiency of the various players in the American trucking industry and provide outstanding services to each customer. In order to achieve this, the manufacturer has developed outstanding technology products for fleet managers and truck drivers alike.
The KeepTruckin ELD, by this manufacturer, is actually one of the most affordable and easiest to use products you can get in the market today.
Overview of the Motive ELD (Keeptruckin) Product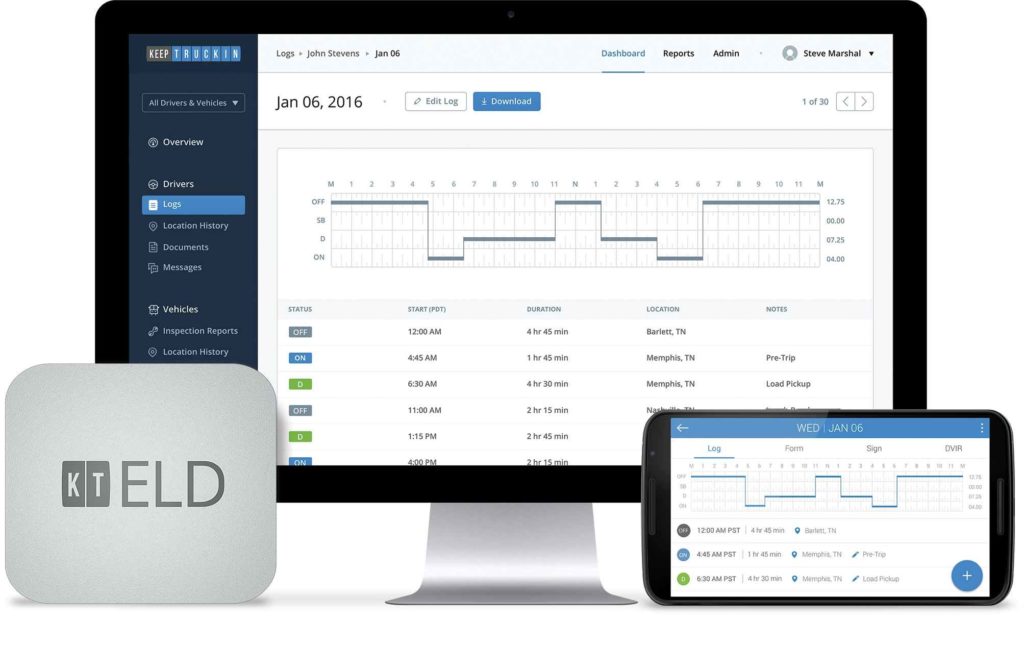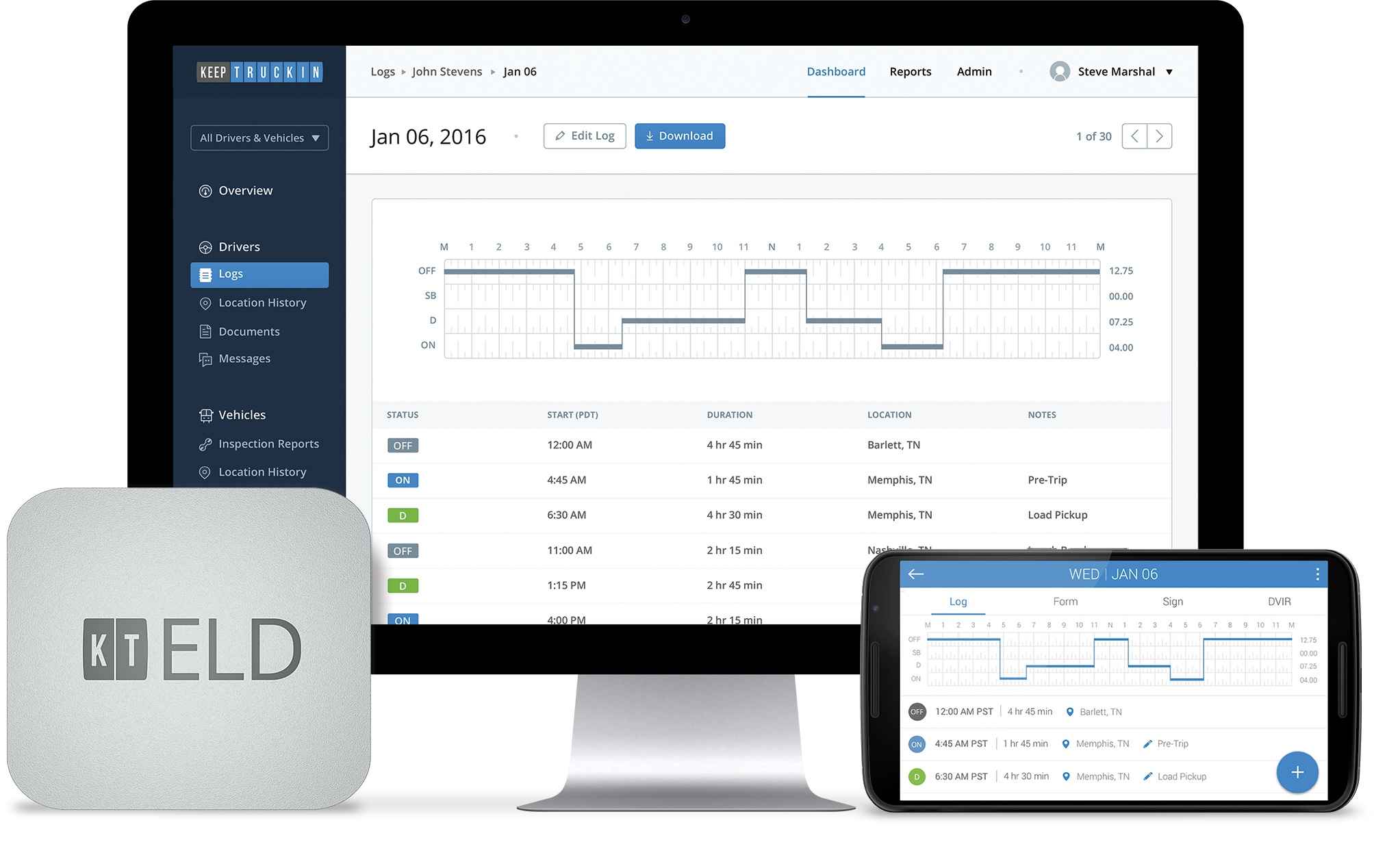 The KeepTruckin ELD is primarily designed to offer GPS tracking, electronic logging, and IFTA. Of course, there are many other features, which we'll list in this review. Simply put, the product is designed to offer you a complete ELD solution for your fleet. The device itself features a lightweight and compact build and is designed for enhanced ease of installation.
In this regard, the product is easy to install on your own; you only need to plug it into the diagnostic port in your vehicle and then install the easy-to-use KeepTruckin Electronic Logbook App on your phone from the Google Play Store. This allows you to access the Keeptruckin Dashboard from your mobile device where you can see all the services and the fully editable electronic log.
Once properly installed, the product will automatically record various aspects of the vehicle, including the drive time according to DOT regulations. With regards to connectivity, you need to tether eld via Bluetooth to your iOS or Android device.
Setting up the device is pretty easy and should only take a few minutes of your time. For fleet managers, this product will automate log auditing, GPS tracking of the various vehicles in your fleet, and IFTA reporting.
How Much Does the Keeptruckin ELD Cost?
Keeptruckin helps you choose the right solution for your fleet. Their service is used by more than 500,000 drivers and 50,000 fleets nationwide. There are 3 Keeptruckin ELD price plans:
The free plan includes electronic logs, vehicle inspection reports, and messaging.  The starter plan is just $20/month and includes everything in the free plan plus ELD compliance, GPS tracking, and alerts. The plus plan is just $30/month (Keeptruckin's most popular plan) includes all the eld equipment in the starter plan plus IFTA fuel tax reporting, asset tracking, vehicle utilization, vehicle diagnostics, and fleet safety and coaching.
These rates are for annual plans, which may be required if you need 30 or fewer units. If you own just one truck, your first-year cost is just $240 with a one-year contract. That's 2.6x less than Fleetmatics, which would have a first-year cost of $612 and a 3-year contract. It is also 5.5x less than Omnitracs, which has a 5 year contract and an initial cost of $1,323 for the first year. This includes a $799 fee for hardware and $249 for implementation.
This makes Keeptruckin more affordable than any of the leading ELD devices.
Benefits Associated with the KeepTruckin ELD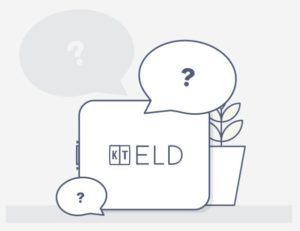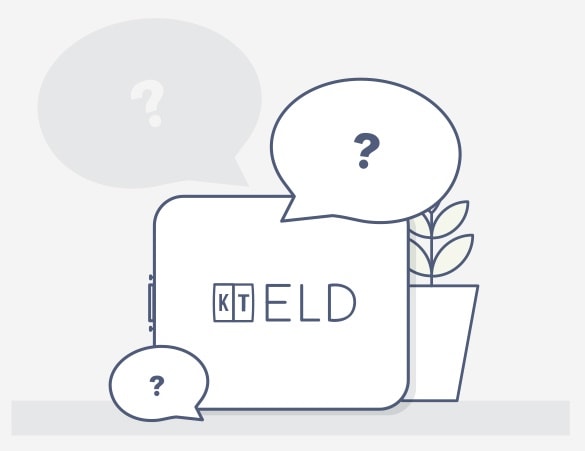 As one of the best self-certified ELD devices listed with the Federal Motor Carrier Safety Administration, using KeepTruckin ELD offers a plethora of benefits.
To begin with, the product is meant to enhance safety and efficiency in your fleet. Following its installation, the unit will proactively monitor engine activity and reveal any faults or issues. This goes a long way in making your trucks safer.
The product will also help you maintain HOS compliance while minimizing costs and streamlining operations in your fleet. According to FMCSA, the installation of ELD devices will prevent about 562 injuries and save about 26 lives associated with commercial vehicle accidents in the country.
The Keep Truckin ELD has all the features you need to achieve this, as you will learn below. By helping monitor duty status, the product enhances HOS compliance and prevents fatigue among your drivers. This goes a long way in combating accidents and loss of lives in the country.
Additionally, the product has several other benefits to offer drivers and fleet managers, including:
Takes collision videos to help ascertain what really happened
Helps lower your insurance policy
Enhances fleet safety record and assist in document management through secure DOT Inspection Mode
Improves safety, compliance, and accountability in your fleet
Helps you identify risky drivers' behavior and address it accordingly every time it takes place
Well, this is the overall promise of the Keep Trucking ELD device. So, why don't we dive into the specifics of what this product and software by the Keep Truckin provider can do for you?
Why Choose The KeepTruckin ELD?
Just like any of the other leading electronic logging devices (ELD) in the market today, this product by Keeptruckin is meant to enhance compliance, improve safety and efficiency. However, the KeepTruckin keeps an electronic log in rather unique.
So, what really makes this product better than other ELD products in the market today?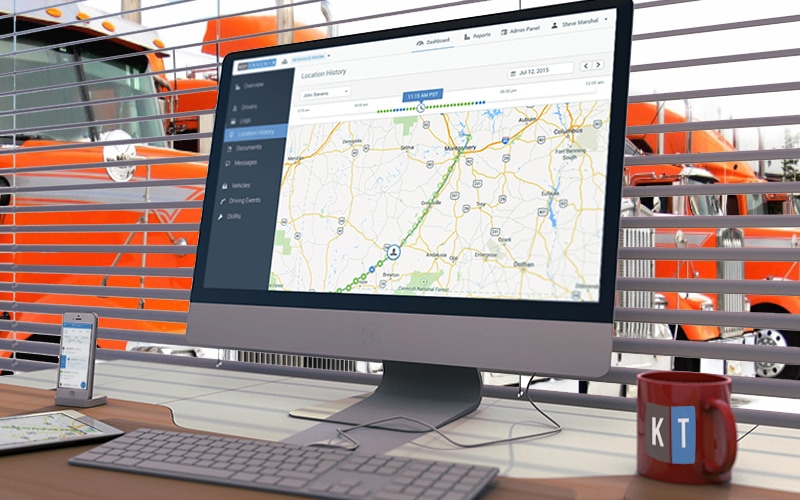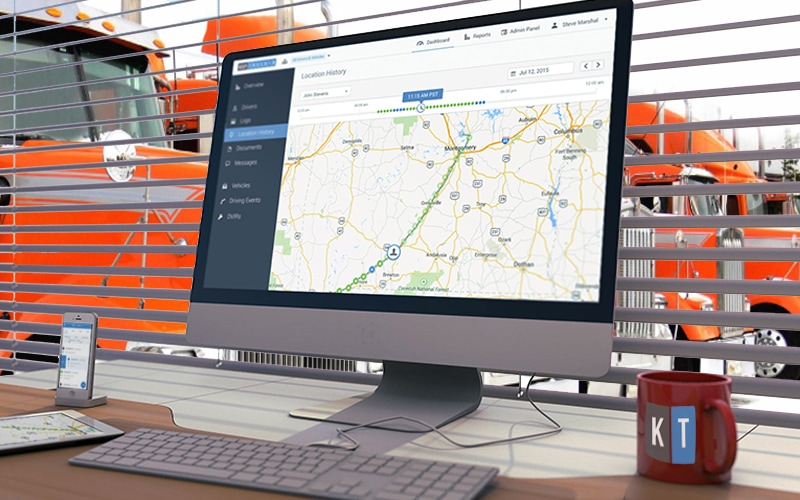 1. Fast Implementation
To use any ELD unit, you need to have the hardware installed in the commercial vehicle and then connect the hardware to the right software and devices.
As mentioned above, the KeepTruckin ELD unit is comparatively easy to install and use. Basically, the KeepTruckin ELD hardware is a plug-and-play device. As such, you only need to plug it into the diagnostic port in the vehicle.
Afterward, you should have the driver install the KeepTruckin Electronic Logbook App on his or her phone. The KeepTruckin App is essentially free to download on either Google store or App store and is relatively easy to install; should only take you a couple of seconds.
As you can see, you can have your Keep Truckin ELD device up and running in a matter of minutes without any professional help.
2. Competitive Price
For many fleet managers and truck owners, the ELD mandate came as a surprise. As such, many of them had not budgeted for the installation of these gadgets in their vehicles. If this is the case for you, you must be looking for ways to save on the installation of electronic logging devices in your vehicles. Let's dive into the keep trucking ELD cost.
In such a case, affordability should be a key consideration. However, this should not be grounds for you to go for poor quality products.
Most cheap products are known to be of poor quality, but the KeepTruckin ELD is not one of them. The product has been used and approved by more than 400,000 drivers in the country. So, it must be a great product, don't you think?
Regardless of being one of the best electronic logging devices in the market today, the KeepTruckin ELD is very affordable. As a matter of fact, you will get your KeepTruckin ELD hardware free of charge. With ELD devices by this provider, you are not required to pay any upfront cost.
However, you will be required to subscribe to any of the cost-friendly subscription plans by the provider. The starter plan, for instance, will cost you $20 a month per truck.
The leading fleet managers in the country can attest to the fact that this is one of the most affordable FMCSA approved ELD solutions in the country.
3. Accuracy and Enhanced Ease of Use
Drivers and fleet managers are busy people as is. Therefore, you do not need to make their jobs harder with some complicated ELD solution. The KeepTruckin device is easy to install and works automatically, making your work easier and more efficient. Similarly, the KeepTruckin Electronic Logbook App is easy to install and use.
This is why the KeepTruckin App has received so many positive reviews from drivers and fleet managers on the Apple iOS store and Google Play store. As you may have seen, the KeepTruckin APP is one of the highest-rated ELD applications on the two platforms.
In line with the company mission to improve the profitability and efficiency of the trucking industry in America, the KeepTruckin app has all the essential ELD features you will need.
The iOS and Android app by this provider allows you to audit driver logs, track vehicles in your fleet, and manage IFTA fuel taxes in real-time. You will also love the fact that the provider is backed by Google Ventures.
4. Variety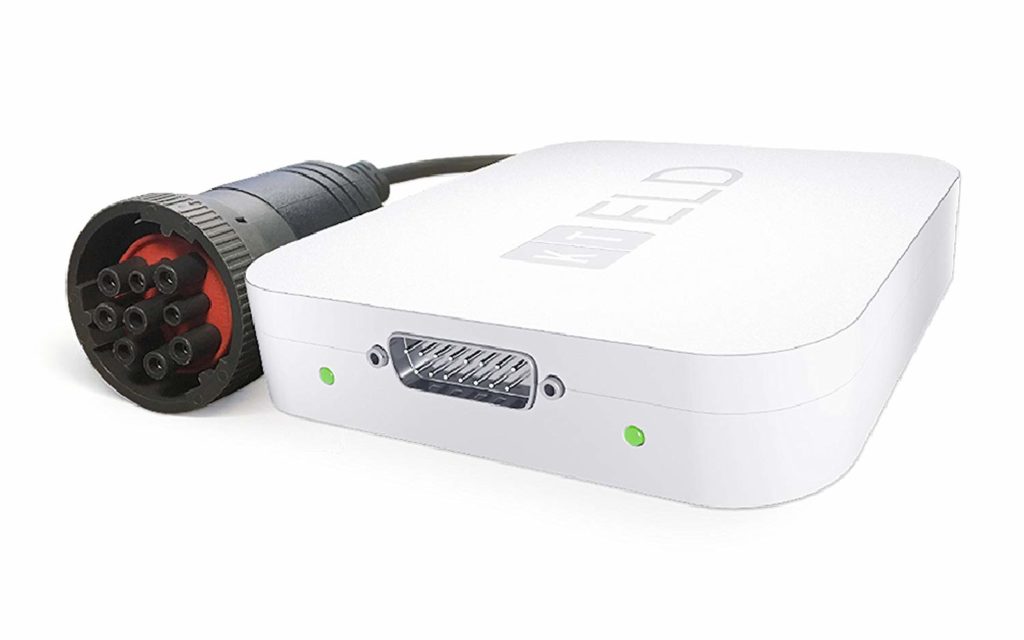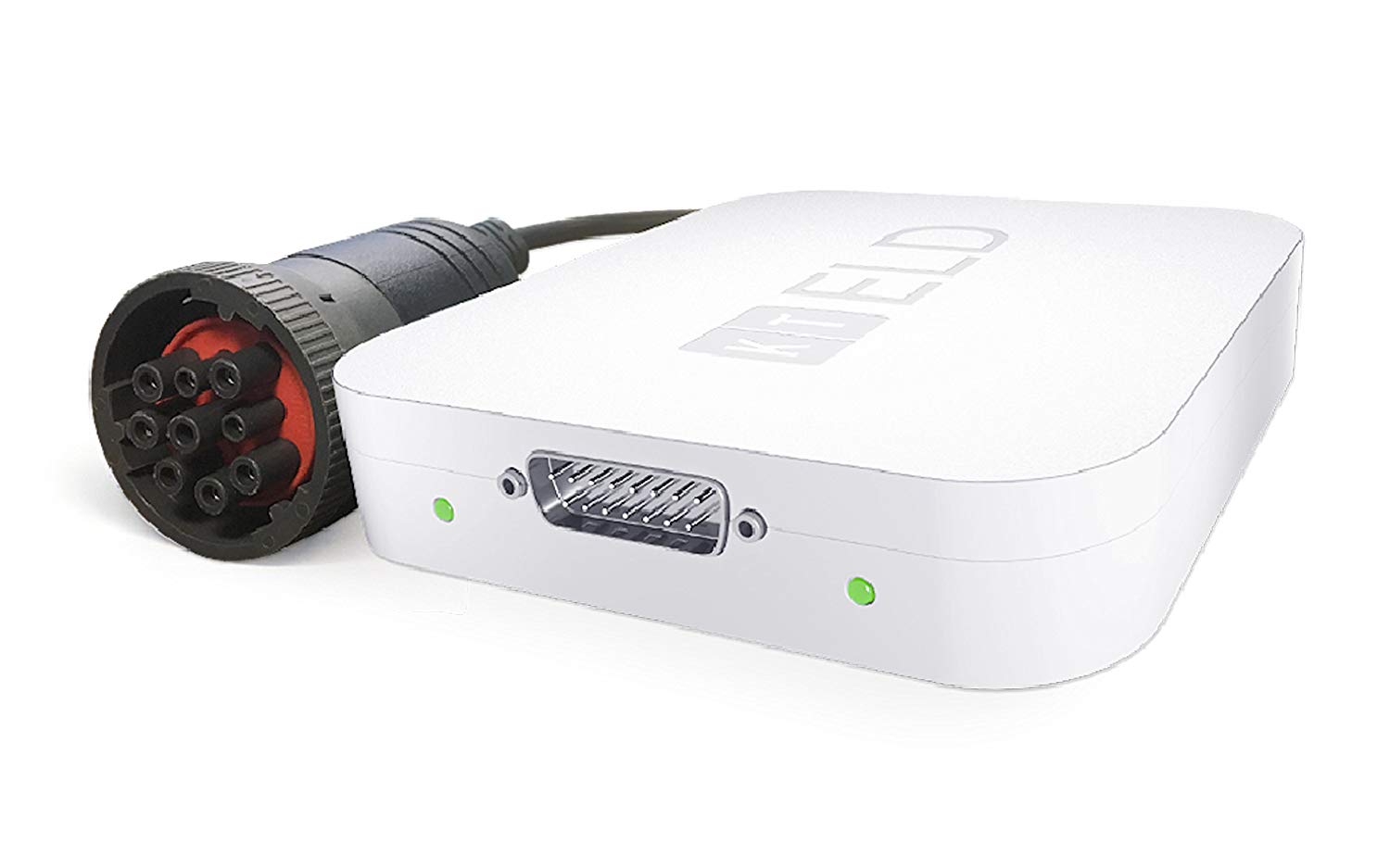 While the ELD hardware by KeepTruckin will come free of charge, you will need to subscribe to get an array of back-office benefits from the provider.
However, you will be glad to learn that their monthly subscription plans are very affordable. In this regard, the provider offers three main monthly subscription plans to suit your budget and needs.
As such, you will need to choose any of the following plans:
Free Subscription Plan ($0)
This is the basic ELD subscription plan by the provider. Unlike many of the leading ELD solution providers in the industry today, KeepTruckin does not charge its clients for the basic ELD charges, regardless of the fact they give you the ELD hardware free of charge.
As such, you may not need to pay a dime to access the basic KeepTruckin ELD functionalities. Some of the basic functionalities with this free plan include:
Vehicle inspections
Electronic logs
Messaging
Starter Plan ($20)
Well, the best ELD devices today are meant to do more than just compliance and e-logs. To get additional features and functionalities beyond the basic KeepTruckin ELD capabilities mentioned above, you need to pay a monthly subscription. The KeepTruckin Starter plan costs $20 per month but will be billed annually.
At $20 per truck, the ELD service provider will offer you additional capabilities. With this starter subscription, here are some of the ELD features you will get:
Messaging
Electronic logs of driving time
Vehicle inspections
GPS tracking and electronic log
ELD compliance
IFTA fuel tax reporting
HOS violations Alerts
Vehicle diagnostics
Idle time tracking
Driver scorecards
Starter Plus ($30)
Just like the starter subscription plan discussed above, the starter plus plan will offer you more ELD features and back-office benefits.  In addition to the features offered by the starter plan, the starter plus will also offer you vehicle utilization and IFTA reports as well as fault codes.
To get such capabilities on your Keeptruckin electronic logging device, you will be required to pay $30 per month for each vehicle according to the company policy. This amount will be billed annually.
5. Solid Support
Fleet owners and managers can depend on KeepTruckin. On the support section on their website, you can find information related to your fleet's administration, logs, driver scorecards, IFTA fuel tax reporting, inspection reports, customer service, product resources, and more. The Keeptruckin solid support team is always at your service for query and input. You can reach the support team via the app, website, and phone number.
Drivers can also take advantage of the customer service and support portal, where they can perform troubleshooting for the Keeptruckin ELD device. There you can solve issues like device malfunction, driving duty status, and more.
From this portal, you'll be able to also view HOS rules, register your device, and print logs, among other things.
Top Features from the KeepTruckin ELD
While shopping for the best electronic logging device, there are several things that you need to consider. Regardless of your key preferences, you need to ensure that you get the best value for your money.
In order to achieve this, it is advisable to go for a product that offers better and more features than ELD devices within the same price range.
As you have already realized, affordability is not a concern with the KeepTruckin ELD device. However, you must be concerned about what the provider has to offer for that price, right? Well, the KeepTruckin offering is diverse and is sure to fulfill your needs.
Whether you are a driver, owner-operator, or fleet manager, this product has something for you. Besides eliminating the need for cumbersome paper logs, discussed below are the main features and functionalities of the KeepTruckin electronic logging device in addition to its active customer support.
GPS Tracking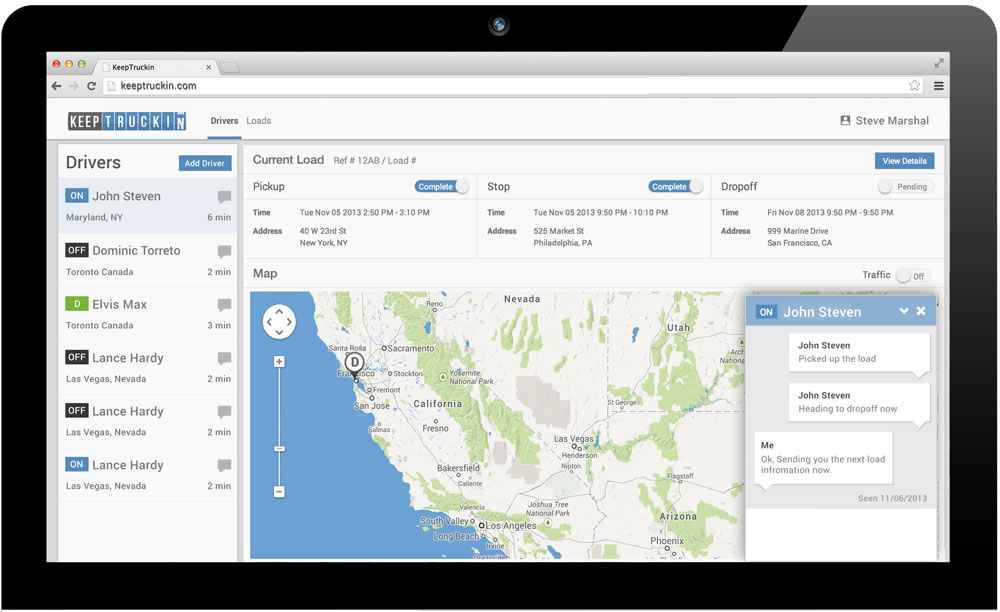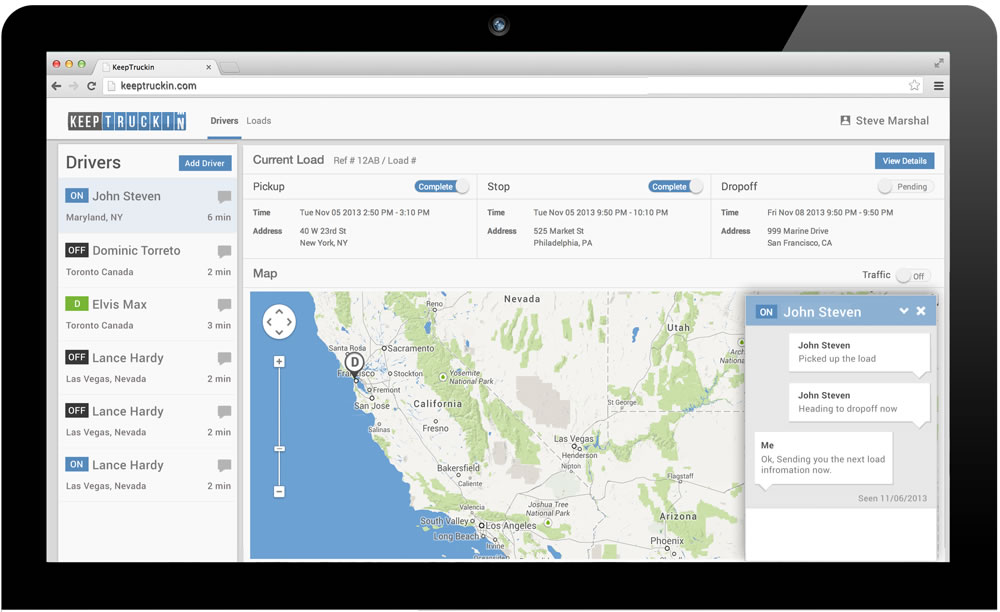 Fleet management is an important part of any ELD solution today. What is the point of having a fleet management system that cannot tell you where your vehicles are at any given time?
The KeepTruckin system is designed to offer you the very best in ELD mandate compliance and Fleet management. GPS tracking is one of the fleet management features you will love about this product.
Basically, the unit is designed to collect GPS coordinates once every minute, whenever the vehicle is in motion. As the fleet manager, this product allows you to track the current location of the various vehicles in your fleet or view the breadcrumb trail of any of the vehicles on the location history.
In order to track a vehicle in real-time, the driver's gadget should be tethered to the ELD via Bluetooth and the gadget for the mobile device should be connected to the Internet at all times.
If for any reason the driver decides to disconnect the ELD device from the user-friendly App, you will not be able to track the vehicle in real-time. However, the device is programmed to continue collecting GPS coordinates when this happens. Therefore, you will be able to view a breadcrumb trail for the vehicle to ascertain where it has been.
To ensure that the location data remains fool-proof, the device will never delete any stored location data. The location history for the vehicle and driver will be stored on the KeepTruckin servers and not on the device itself. As a fleet manager, you will have unlimited access to such information at any time.
ELD Mandate Compliance
Being one of the leading ELD devices in the industry, the KeepTruckin solution is specifically designed to meet all ELD mandate requirements. As a result, the product is FMCSA Certified. Additionally, the product makes it easier for you to comply with DOT requirements.
The automatic log auditing feature of this product, along with violation alerts, ensures that you maintain a good CSA score. These allow you to ace DOT audits each and every time.
The product will also alert you of any HOS violations before they actually occur. The device allows you to connect your ELD device to your tablet or phone via Bluetooth or USB.
This ensures that you remain compliant, even in the absence of cellular reception. In order to ensure that you remain compliant, the device supports several hours of service (HOS) cycle rules, including:
USA 60 hours / 7 days
USA 70 hours / 8 days
Texas 70 hours / 7 days
California 80 hours / 8 days
Canada South Oil and Gas
Canada South 120 hours / 14 days
Canada South 70 hours / 7 days
The product is also designed to support rules for the carriers using the oilfield operations exceptions, as stipulated in 49 CFR 395.1(d). Whenever possible, the device is capable of supporting separate rules.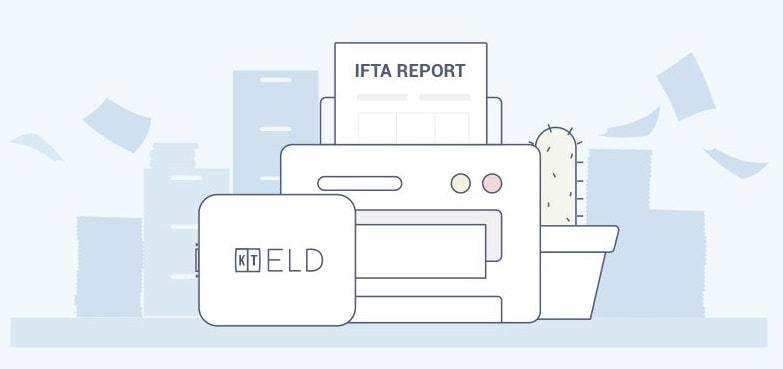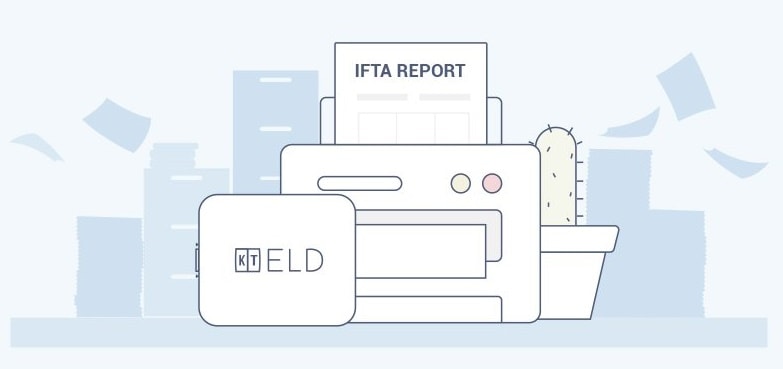 IFTA Fuel Tax Reporting
This feature is available in both the starter and starter plus KeepTruckin monthly subscription plans.
The unit applies the vehicle odometer and its GPS sensor to ascertain the distance the vehicle travels within each IFTA jurisdiction in a day.
From the KeepTruckin Dashboard, you can easily generate reports to know the total distance traveled by the vehicle in each province or state within any period.
With this product, it is also possible to generate mileage exemption reports. By combining the distance on the jurisdiction report with the vehicle's location history, the ELD makes it possible for you to claim exemptions.
Basically, the device will automatically calculate the distance traveled against the purchased fuel for each jurisdiction eliminating the need for keeping a paper log of all trucks. As such, you can either view the IFTA report in detail or just filter it according to the vehicle type or date.
Smart Dashcam
In the event of an accident involving a commercial vehicle, the blame is often on the commercial vehicle driver—even when they are innocent. To ensure that this does not happen for any of the vehicles on your fleet, the KeepTruckin ELD features a Smart Dashcam, a road-facing HD camera to record what happened.
The Smart Dashcam is usually activated by a critical event, such as hard acceleration, cornering, or braking. When this happens, the HD camera will capture 10 seconds of what happened after the critical event.  The video is then sent to KeepTruckin Dashboard from where the driver or fleet manager can see it.
Messaging
This is a basic, instant messaging feature that is available in all the KeepTruckin subscription plans. The feature allows drivers and fleet managers to stay in touch.
As a fleet manager, you can access this service from the KeepTruckin Dashboard and send out messages to your drivers in real-time. The messaging service has a lot to offer for both the drivers and fleet managers.
For instance, fleet managers can decide to send custom messages to individual drivers or broadcast messages to all the drivers in the fleet.
The messaging service may be used to send images, documents, text-based messages. Additionally, the service may also be used by the drivers for one-click sharing of their respective locations.
Vehicle Diagnostics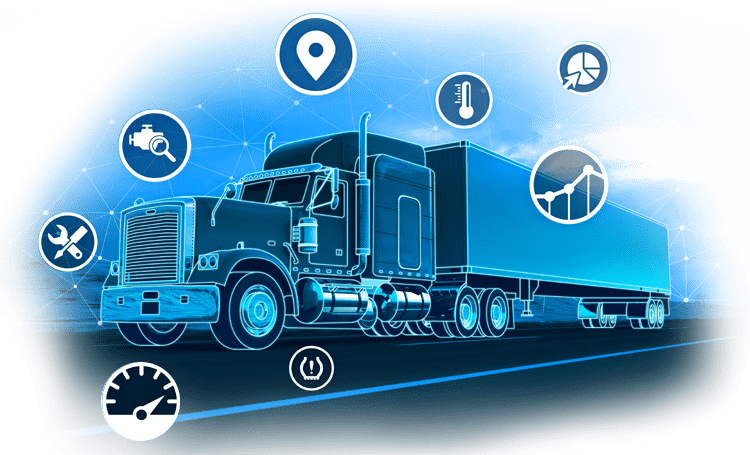 KeepTruckin ELD is one of the best electronic logging devices today for a reason; it has a lot more to offer. With this product installed in your truck, you will be able to accurately monitor your vehicle's health.
Basically, the unit relies on OBDII or J-Bus connection to the ECM on the vehicle to access such data as fault codes. As such, the product will automatically monitor various fault codes in the vehicle.
If any problem is detected, it will initially be displayed on the KeepTruckin Dashboard which you can report to the customer support center.
Additionally, a timely alert of the fault will also be sent to the fleet manager. Repeat fault codes will be highlighted in your historical reports. Additionally, if you use this app it will create vehicle inspection reports for you. You can check the inspection mode from within the app on your mobile device.
Driver Scorecards
Would you like to know the performance of each of the drivers in your fleet, and possibly rank them according to the same? This is now possible with the KeepTruckin electronic logging device. The Driver Scorecard is a feature that allows you to monitor dangerous driving behavior by your drivers for enhanced safety right from the Keeptruckin dashboard.
In this regard, the device will track hazardous driving activities, such as hard braking, acceleration, speeding, and hard cornering. This will make drivers think twice about driving recklessly and give you a comprehensive safety score report for each one of the drivers.
The composite report by this product takes into account the total distance traveled as well as industry and fleet-wide averages for more accurate results.
In order to be accurate at it, the product is packed with an array of sensors, including speed, and GPS sensors, gyroscopes, and accelerometers. Additionally, the product also relies on connections to the onboard systems in the vehicle.
With the Driver Scorecards, you will get a complete picture of the driving behavior of each and every driver in the fleet. This way, you can easily identify hazardous and high-risk drivers and coach them. This goes a long way in improving healthier driving habits for enhanced safety.
KeepTruckin ELD Reviews from Users & Drivers
After reading online reviews from sources like Capterra and YouTube videos, we got some pretty good feedback from drivers. Most drivers believe that KeepTruckin is a user-friendly device. By plugging it into the OBD II port, you can start driving right away.
All you'll have to do is ask your dispatch to add you as a driver to the app, and it will do all the heavy lifting for you. No more paper logs or dealing with HOS fines. Especially with the upcoming switch from AOBRD to ELD, you need a solution that makes it easy to follow DOT rules. The conveyance of this app is one other reason why it is the highest-rated app related to eld on the play store.
Another user reported that there were pulled over and even the authorities agreed that KeepTruckin was easy to read and showed the driver was in compliance. The only part that one fleet owner complained about was that he didn't like is that this ELD didn't have real-time reporting, because he wanted to know when his driver is close to the delivery or destination.
One dispatcher sent us an e-mail and told us how easy it is to track his drivers by using the KeepTruckin desktop software. He mentioned he can access driver logs and can track where they are by GPS. He mentioned that the cost for Keeptruckin is pretty affordable and he plans on staying with the service plan for the foreseeable future.
Frequently Asked Questions
Q: Is my truck compatible with the KeepTruckin ELD?
The KeepTruckin ELD is compatible with all 9-pin, 6-pin, or OBDII ports. Also, if you are using a Mack or Volvo truck (model 2013 or newer), KeepTruckin has a compatible cable harness. When you go to place your order for an ELD device, mention the type of diagnostic port in your truck. KeepTruckin also provides Y-cables, in the event you want to hide the messy cabling look.
Q: Can I use KeepTruckin without cell data?
Yes, you can. Both the KeepTruckin ELD device and the Electronic Logbook App are available for use, even when you're offline. There's only one catch; the KeepTruckin App must remain open and you must be connected to a Wi-Fi hotspot if you want to back up any data or transmit logs to your fleet. KeepTruckin recommends you get a cellular plan, which will ensure no data is ever lost and you won't experience loss of connection.
Q: What type of smartphone or mobile device is compatible?
The KeepTruckin E-Log App is compatible with most Android and iPhones or iPads. If you are using an Android device, your operating system should be 4.1 or newer. For iPhones or iPads, the OS has to be 8.0 or later. Devices can be used without a cellular plan, but the driver should be connected to Wi-Fi to transmit any data.
Ready to Use Keeptruckin ELD In Your Truck or Fleet?
A good electronic logging device should help you comply with ELD mandate requirements. However, that should not be the only thing the device is good at.
Many of the Best Electronic logging devices available today have an array of features and functionalities to offer. To get the best value for your money, you need to weigh the cost against the capabilities of your preferred ELD solution.
Over the years, the provider has also partnered with several other brands to improve their service delivery. For instance, the provider integrated with McLeod Software to ensure that you get simplified driver-dispatch relations.
KeepTruckin is not only a renowned brand in the trucking world; it also offers one of the best ELD mandate compliant products in the market for the owner-operators. The Keeptruckin ELD is quite affordable, reliable, highly customizable, and has numerous features to offer.
We hope that our KeepTruckin ELD review helped you learn more about compliance and easier fleet management. If you want to reach KeepTruckin directly, call customer support in the hours of service on the phone number (855)434-3564.
Please see our Best ELD Devices in 2023 review.