Last updated on March 9th, 2023 at 04:22 am
Effective May 01 VDO Roadlog will no longer be selling any ELDs. They will be providing continued support for current clients through August 14, 2020.
To find out all of the details you need about this whole situation click here.
If you are on the hunt for a reliable, affordable, easy-to-use electronic logging device with a complete installation kit, look no further than the VDO RoadLog ELD. Whether you are an owner-operator or a fleet manager, this could be an excellent solution for you.
In the following review, you can find out all the important features of this device. We will also include what we didn't like about the device and what can be improved. After reading this review, you'll have a better idea of what to expect from this product.
VDO RoadLog Review: Company History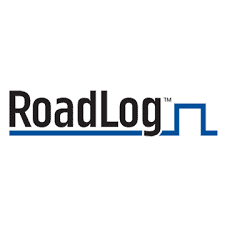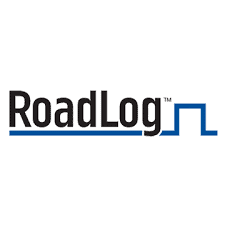 The VDO RoadLog is produced by Continental AG, one of the leading European automotive manufacturing companies, specializing in tires, powertrain, interior electronics, brake systems, and automotive safety.
Also, a whole host of parts and components for the automotive industry. Aside from that, this German giant company provides regulatory compliance software systems that comprise more than 6 million electronic logging devices. These are in use all around the globe.
As a rubber manufacturer, the company was founded in 1871. Just to mention that Continental AG is the fourth-largest tire provider in the world. In 2007, this company acquired Siemens VDO automotive unit, and it was ranked 3rd in OEM automotive parts sales five years later. All of this should give you a better idea of what kind of service provider is behind the VDO RoadLog.
As for the VDO RoadLog, this logging device is specially developed and designed for the commercial vehicle market in North America with the goal to provide owner-operators and fleets with a secure, simple, and affordable ELD solution. And it seems that Continental did a good job with this electronic device. The logging devices have evolved according to evolving market conditions for better customer service.
What is VDO RoadLog?
In a nutshell, the VDO RoadLog is an electronic logging device that involves fleet management software for data archiving, driver logbook automation, as well as IRP and IFTA mileage reporting. Maybe this sounds a little complicated, but this is actually what you get with this product.
This stand-alone device offers Plug and Play solution for compliance reporting. Inputs from the vehicles are combined with GPS data to generate a digital log the drivers can print out and/or download.
But keep in mind that the VDO RoadLog is not merely an electronic logging ELD device. It is designed as an all-in-one fleet management tool – a communication device, tracking device, e-log, and printer. Otherwise, a customer has to separately buy a data plan, program, tablet, or cell phone. For more details regarding logging devices, customers can contact customer service.
Top Features from the VDO RoadLog ELD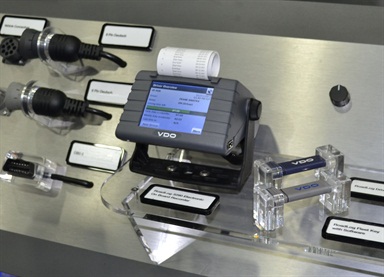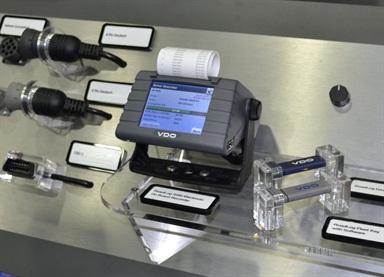 If you have tried similar devices and left them because of a shortage of features, then be assured that you will not have this problem with the VDO RoadLog ELD. It comes with a wide range of features, each of which is carefully engineered to be functional and convenient.
The main features of this system include:
Ability to update the software so as to meet new regulations
Compatibility with the management software of the VDO fleet for FMCSA compliance
Plug and Play (PnP) installation
Inbuilt printer for fast roadside checks
It should be noted that it lacks a feature that relates to a cellular data connection. That feature is meant to support GPS tracking as well as communication with home offices.
It can be found in the VDO RoadLog ELD Plus, a newer version of this electronic logging device that provides exactly the same ELD functionality and capabilities.
Status Updates
Everything is automated. On-duty, Off-Duty, Driving, and Sleeper Berth status are automatically tracked in accordance with vehicle movement. The same holds true for status updates.
When a driver approaches allowable HOS limits, the device will provide automatic warnings.
Data-Recording Capabilities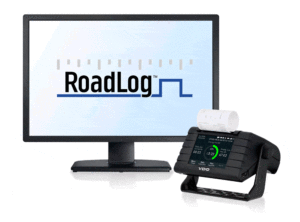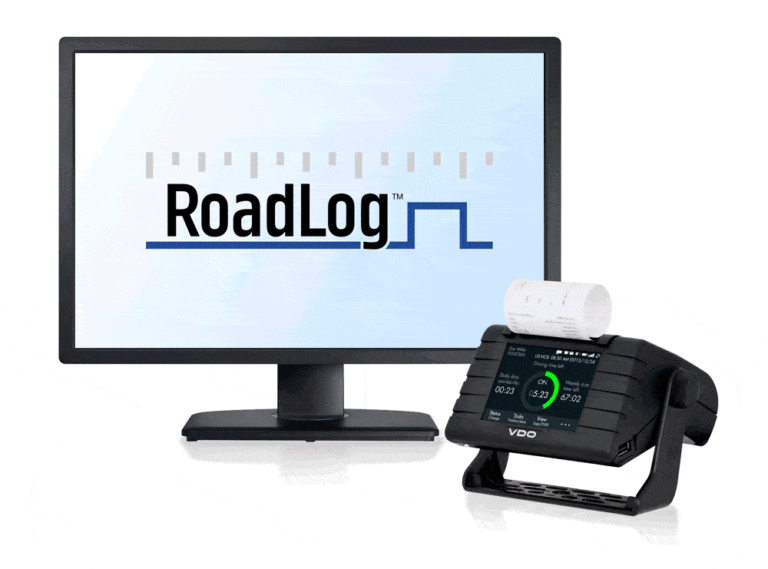 In commercial vehicles, data recording capabilities are continuously evolving nowadays. With that in mind, Continental automotive systems have incorporated a large number of data recording features in the VDO RoadLog ELD. These include:
Vehicle events
Driver logs
Traveling/stop status detection
Refueling tracking
Shipment documents
Trailer assignment
Total odometer
Vehicle tracking
Vehicle speed
Inspection reports for improved decision making and users experience
Idling analysis
Company log in/off
Global positioning data acquisition and GPS tracking
Reports of electrical and mechanical defects
Ability to make a map of the vehicle's travel
Ease of Use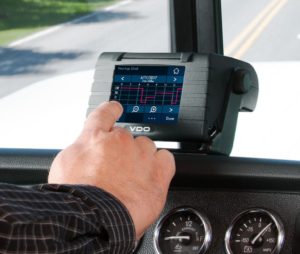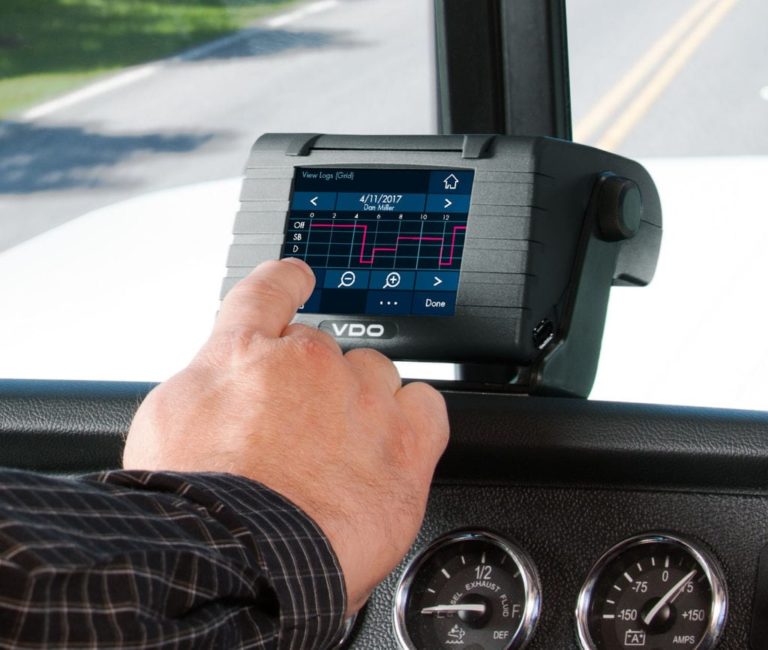 This device is not intended for scientists or IT experts, but for drivers and their managers. That said, it is designed to be straightforward and easy to use.
Nevertheless, you will be on the learning curve at first. But don't worry, it is pretty easy to understand.
There are some things the drivers should pay particular attention to. For example, when using Sleeper Berth status for the other person, the driver should switch to the co-driver and put himself as "active driver" before driving.
Also, it's necessary to wait a few minutes before starting to drive when you do the "10-hour reset" or "30-minute break."
A double-tap on the screen will activate night mode. And there are also many other "tricks" you will be learning as you discover the VDO RoadLog. Once you get into the swing of it, the device will take care of itself.
Printer
As far as the printer function is concerned, this system will probably exceed your expectations. The built-in thermal printer works like a charm! You will be able to print out your logs and DVIR without any issue.
Unlike standard printers, it is not necessary to refill ink every so often. Another good thing about the printer is that it's fade resistant. The traditional grid-style display is very handy.
The VDO RoadLog is capable of printing out instant paper logs for truck drivers' navigation. Paper logs resemble a traditional logbook, so they will look like something you are familiar with. Bear in mind that the printer has its proprietary roll size. However, you can always reroll a standard roll if you so desire.
There is only one little criticism. It creates wasted paper. In fact, every time you fuel up the printer and get it into the device, it is gonna print out a record of the device and thus misspend a little bit of paper. Even if you press 'Abort', it will still do it.
ELD Mandate Compliance & ELD Capabilities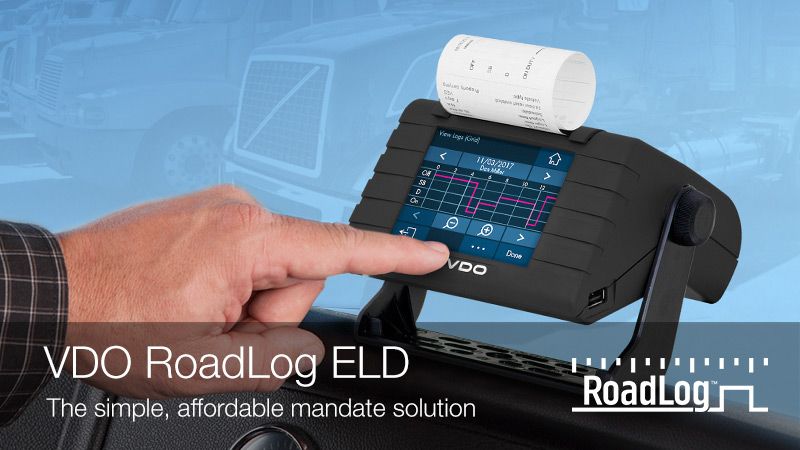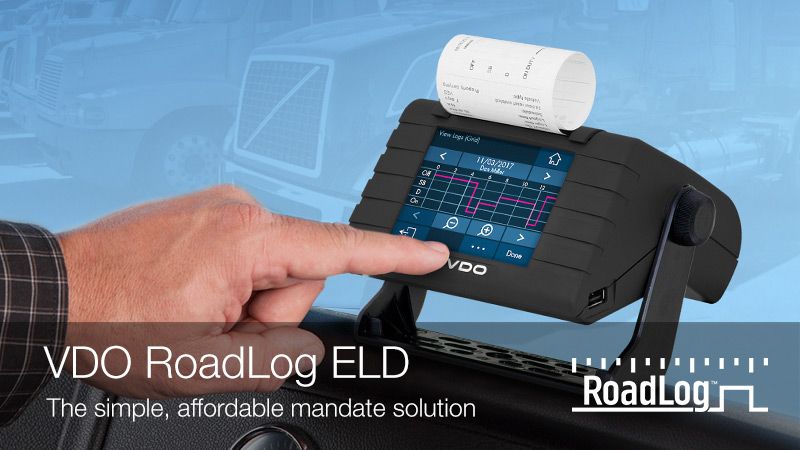 RoadLog ELD providers have passed the data transfer test required by FMCSA, meaning it's FMCSA registered and ELD mandate compliance is guaranteed.
Moreover, any software updates are free of charge. This allows users to maintain FMCSA compliance as regulations change.
With regard to ELD capabilities, the RoadLog provides automatic IRP and IFTA mileage reports, which lets you know the exact number of miles per state.
Drivers can record post- and pre-trip inspections on the screen; this is something known as Driver Vehicle Inspection Reports (DVIR). Then reports become an integral part of the log.
The electronic logbook complies with the regulations of the USA, Alaska, Canada, and Oilfield.
Benefits – Why Should You Opt For It?
The competition is fierce. There are so many ELD devices out there. If you are still not sure why to settle on the VDO RoadLog, check out the following benefits:
ELD functionality is provided with no monthly costs or data connection.
It brings innovation to fleet management and logbook automation with a wide variety of new services and products.
The portfolio provides owner-operators and fleets with both mobile and online connectivity.
Aside from improving the operational efficiency of fleet managers and drivers, this solution also makes the workload much easier.
With the use of this solution, the transfer of your log data to compliance officers will be quite easy and fast.
As a handy side benefit, the system keeps track of your mileage for your IFTA and IRP mileage reports. You will not have to look over the logs in order to be sure they're correct.
The VDO RoadLog offers 100 percent ELD compliance with the FMCSA ELD mandate.
The in-cab RoadLog solution is going to save you on different levels.
Responsive customer service to solve issues related to fleet management
Technical support to meet customers requirements
The list of benefits could go on and on. But we think this is quite enough.
Best Suited For – Who Should Use It?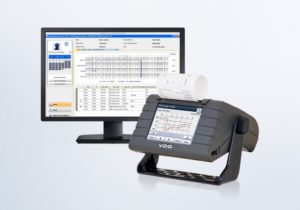 This product is primarily aimed at owner-operators and fleets. So, if you are an independent owner-operator or manager in charge of organizing and monitoring fleet vehicles, VDO RoadLog is that electronic logging device you are searching for a convenient fleet management system.
Are you one of those people? If so, you should definitely consider using VDO RoadLog.
It doesn't matter how big is your fleet, i.e., how many vehicles and drivers you have. The VDO RoadLog is suitable for both small and large fleets.
With help of this awesome system, your drivers will have both MTO and DOT inspections so that they will never fail. That will eventually improve your operational efficiency.
As a matter of fact, it is best suited for those who need an effective, simple compliance solution rather than a top-of-the-line ELD device that offers a lot of bells and whistles.
Secure Data Access – VDO RoadLog Driver & Fleet Key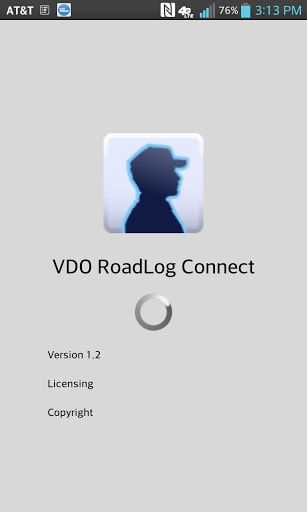 There are many different ways to protect data and control access. In this case, the database is secured by RoadLog USB Keys and password.
VDO proprietary technology ensures safe data encryption whilst you're transferring info to the Fleet Key and vice versa. The digital signature secures the authenticity and integrity of all data. That means no data can be shared other than those regulations pertaining to FMCSA compliance requirements.
Did you select the "Solo" level of the VDO RoadLog Office? If so, you will need VDO RoadLog Driver Keys for all your drivers as well as a VDO RoadLog Fleet Key to activate your company.
VDO RoadLog Driver Key – It lets you log in/out to the VDO RoadLog ELD. Also, it enables you to upload log data online. When changing from one to another vehicle, a driver can use this key to transfer data. Please note that a driver's identity must activate the Driver Key before using it.
VDO RoadLog Fleet Key – If you have opened an account on the VDO RoadLog Office, this key is absolutely necessary to get your company activated. Apart from that, you can use it as a Driver Key if the need arises.
While such a solution ensures data protection and access is completely controlled, driver keys may go bad sometimes. That can make a serious problem for fleets. If you encounter this problem and can't solve it even with the assistance of the tech support team, ask VDO to send you a new key. Luckily for you, they are willing to do it at no charge.
VDO RoadLog Pricing: Cost & Fees
One of the most appealing things about VDO RoadLog is that it's available with no monthly fees. Those users who prefer low monthly payments can opt to spread out the cost of this system over 36 months.
This is possible if you choose to go for the so-called FlexPay program. After 36 months (3 years), the ELD will be yours.
There are different options to choose from:
FlexPay Advanced
FlexPay Premium
FlexPay Solo
FlexPay Solo with ELD Plus
For more information on pricing go to the pricing page of the website, click here.
Pros
Exceptional ELD functionality
Fast and reliable services
Wide product line
Easy to use and set up by user
Highly accurate GPS fleet tracking
Excellent printer function
Robust tech support service
Reasonably priced devices
No monthly fees on user
Easy login via email on mobile devices
Cons
Driver key may go bad may go bad for some reason, so you'll have a hard time trying to sync the keys with the program
Some users found electronic logging devices a bit slow in inputs and reactions
Ready to use the VDO RoadLog Device?
While most people will choose this ELD solution simply because it is reasonably priced and there are no monthly fees, the VDO RoadLog has much more to offer.
As you can see, it has extensive data-recording capabilities and offers plenty of benefits to both owner-operators and fleets. This stand-alone all-in-one device comes with a built-in printer, so drivers can print out their logs on the go. In case of any technical problem with the ELD device, customer support can be contacted in-app chat, website page, or via the phone number.
Reliable, secure, easy to use, and affordable devices with high users rating. Most importantly, the VDO RoadLog is FMCSA registered, which means ELD mandate compliance is guaranteed. So, grab it and take your operational efficiency to the next level.