Are you looking for a quick, affordable and easy-to-use electronic logging device (ELD) or are just in the market for a compliant device with more features to offer? Regardless of the case, the Big Road ELD device is a product worthy of your consideration.
This ELD solution is essentially an engine-connected, compliant logging device that incorporates one of the best technologies in the ELD and fleet management industry today.
For those looking for an affordable compliance ELD device, you will be glad to learn that the Big Road ELD hardware comes free of charge. Additionally, the monthly software subscription plans by this provider are quite affordable.
While this is the case, the provider offers a powerful range of features and back-office tools for this device. Throughout this review, you will learn why the Big Road ELD is a proffered ELD solution for many drivers today.
BigRoad ELD Review: About the Provider
Big Road is one of the leading providers of Hours of Service (HOS) as well as regulatory compliance solutions in the country.
Based in Canada's Silicon Valley, the provider was primarily founded to help truckers meet the current HOS regulations in the Commercial Motor Vehicle (CMV) industry.
In line with this objective, the company produced the very first of its compliance devices, the Big Road ELD and BigRoad Mobile App recently.
Since its release, the BigRoad Mobile App has received over 480,000 downloads on both Google Play Store and Apple iOS store. This is enough evidence that the product is a favorite ELD solution for a good number of drivers and fleet managers in the country. The Big Road DashLink, on the other hand, is an affordable, scalable and easy-to-use logging device by this manufacturer.
BigRoad DashLink ELD: Quick Facts
In addition to its affordability, there are several other reasons why so many American drivers and fleet managers love this product. With regards to ease of use, the DashLink device is a simple plug n' play device that makes things easier. This makes its installation relatively effortless and easy. As such, the product is interchangeable between drivers and vehicles.
The product comes with multiple connectors for different diagnostic and OCM installation ports. This makes the product compatible with almost all commercial vehicle makes and models. Once you have linked your DashLink device to the App on your phone or tablet, you will have access to an array of useful ELD features and functionalities.
The device is packed with easy-to-use features for a more simplified logging process. Whether you are a driver or a fleet manager, you will find this product a great choice.
BigRoad ELD Cost & Pricing
There's zero upfront cost for the BigRoad ELD device. There's a monthly fee of about $40 per truck or unit, though. It is estimated that a 3-year contract would cost you a total $1,440 for one truck.
Fleet owners pay just $15/month per driver for access to the app. If your office staff needs to access the app as well, there will be additional $15/month charge. To use the DashLink ELD product, you'll have to also pay an additional $10 per month and plug the device to your truck's diganostic port.
What Makes BigRoad ELD Desirable?
Currently, the DashLink electronic logging device is being used by more than 30,000 fleets in the country. Most of the users of the ELD solution have expressed their satisfaction with its various features and capabilities. So, what makes the ELD solution by Big Road so popular?
Trendy Stand-Alone Mobile ELD App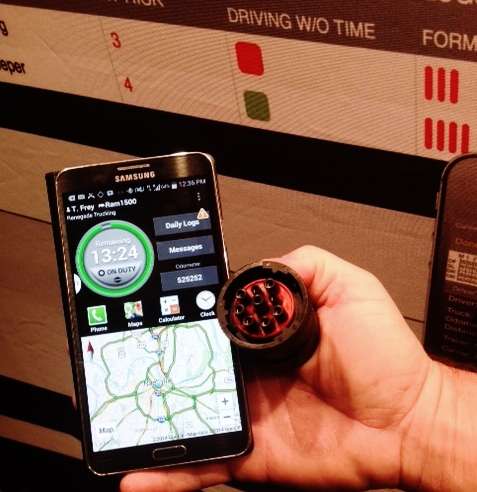 As one of the best Bring Your Own Device (BYOD) ELD solution available today, the DashLink comes with an innovative mobile App.
As such, the product may be used with any Android or Apple Smartphone or Tablet. The stand-alone application by this provider is free to download on both Apple iOS and Google Play stores.
This mobile App may not have too many functions, but it will give you easy-to-use log compliance.
As one of the most popular mobile ELD apps today, the BigRoad Mobile App has several benefits to offer, including:
Eliminates paperwork in your business – allows drivers to easily edit and create logs in a few seconds.
Offers several pre-loaded HOS rule sets to suit your requirements – you will also get a number of HOS rule set exemptions with this solution
Notifies you of violations as they happen to help better your CSA score
Shows you the much time you have left of your drive time at any given time
Prevents errors in logging and reduces risks
Allows for creation of accurate inspection-ready logs within minutes
Available for both iOS and Apple devices
Notifies fleet managers of vehicle maintenance
Allows for easy creation of Driver Vehicle Inspection Reports (VDIRs)
Organizes logs and supports documentation within a central location
Ease of Use
As a driver, you do not need a product that is complicated or distracts you every now and then when you are driving. In this regard, both the Big Road Mobile app and the DashLink device are rather easy to set up and use for drivers and fleet managers. Basically, the App features a simple and basic layout for enhanced ease of use.
With this product, you will have an easy access to such features as HOS time remaining, Recap hour, and e logs. From the display device, you can use the large button on the top left corner of the screen to easily set your work status.
The two-way messaging feature is another thing you will find easy to use. In this regard, the messaging feature allows you to create new chats and even upload documents.
Get FREE ELD Device Quotes
Support & Installation
The Big Road site is a rich source of guides and instructions on the installation, use and how to diagnose malfunctions on your ELD device. In this regard, you only need to visit the website and download the right guide from the vast array of guides offered free of charge by the provider.
With such guides, you will know how to install your DashLink, and carry out roadside inspections. Other guides by this provider will inform you on how you should carry out roadside inspections using the ELD device.
Flexible and Affordable Pricing Options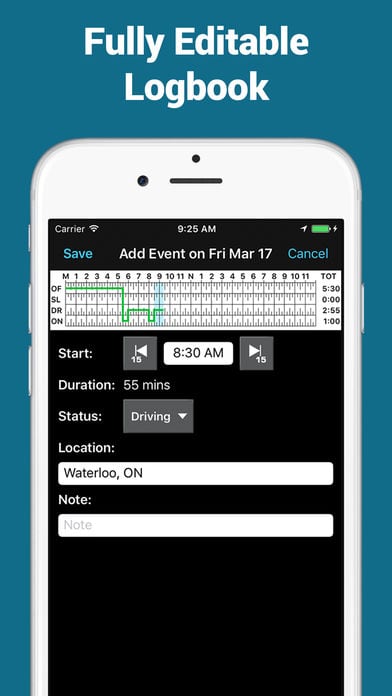 As mentioned earlier in this review, the Big Road DashLink hardware is free. However, you will be required to pay a monthly software subscription to get access to powerful back-office tools by the provider.
In order to maintain its reputation as one of the most affordable ELD solution, the provider offers its users an array of monthly subscription plans.
Based on your budget and business requirements, you can choose the ideal subscription plan from the three Big Road plans. As compared to other electronic logging solutions available today, you will find the various Big Road subscription plans relatively affordable.
In this regard, here are the 3 subscription plans by this provider:
Owner-Operator ELD Compliance Plan ($19.5) – this offers ELD mandate compliance and logs with mobile App, Web and ELD features.
Fleet Management ELD Compliance ($25)
Fleet management Electronic Logs ($15) – The most affordable of the monthly subscriptions by this provider. It gives you access to Mobile App and Web App features.
Real-Time Visibility
As a fleet manager, planning effectively for each and every vehicle in your fleet is not an easy task, right? To be able to do this, you will need accurate information about the various vehicles and their drivers in real time. The Big Road DashLink will continuously give you access to vital vehicle data, allowing you to make instant business decisions.
Real-time visibility of the various vehicles in your fleet is one of the powerful features you will love about this ELD solution. From the Big Road Web App, you will can locate your drivers and view the route history for each of the vehicles that have the DashLink device installed.
The features also give you traffic information, allowing you to re-direct your drivers so as to save time and fuel. From the Web portal, you will also be able to see how much each driver has at a glance.
Big Road DashLink Features
The best electronic logging device should offer powerful features and capabilities beyond logging. Like the Big Road Dashlink ELD, the best e logging solutions should be easy for the driver to use while driving and experience minimal distractions.
In addition to its simplicity, many drivers and fleet managers love this e log for its features and capabilities, including:
1. Innovative Mobile App
The DashLink electronic logging device by Big Road is essentially a BYOD. As such, it allows you to install its Mobile app into your own Android or iOS device.
For drivers, this application has been proven to offer an array of beneficial capabilities for ELD mandate compliance, as well as for enhanced safety and productivity.
As one of the best rated electronic logbook application available today, the Big Road Mobile application is comparatively easy to learn and use.
The App is unique in that it may be used as a stand-alone ELD application. Alternatively, you can pair the app with the DashLink ELD by the provider. The later has proven to be an affordable compliance solution for owner-operators and small fleets.
Some of the core functionalities you will get with this application include e logs, easy-to-view recap hours and HOS time remaining display.
The non-core features offered by this application may not be that powerful, but are still helpful for your business. For instance, the Google Map display by the App may be used to show locations, display night view, satellite imagery and traffic. However, the Application does not have a navigation feature. In this regard, some drivers find the product more decorative than it is functional.
Other features you will find useful in this app include two-way messaging and multiple ways of producing inspection logs. In this regard, you can produce your logs via fax, print or email.
2. GPS Tracker
The product features in built GPS sensors to track and let fleet managers know the actual location of the vehicle. Additionally, the device will record GPS information, which you can use to view the route history for each and every vehicle in your fleet. Whether you run a small or large fleet, this feature will help maximize productivity and lower operational costs
The easy-to-use GPS tracking solution offered by Big Road will give you enhanced visibility as well as insight over your vehicles and workforce in real time. As such, the solution has been proven to be effective at addressing common fleet challenges, such as:
IFTA tracking and distance reporting
Monitoring driving behavior
Improved safety in the fleet
Data-based decision making
Enhanced customer satisfaction
3. BigRoad Web App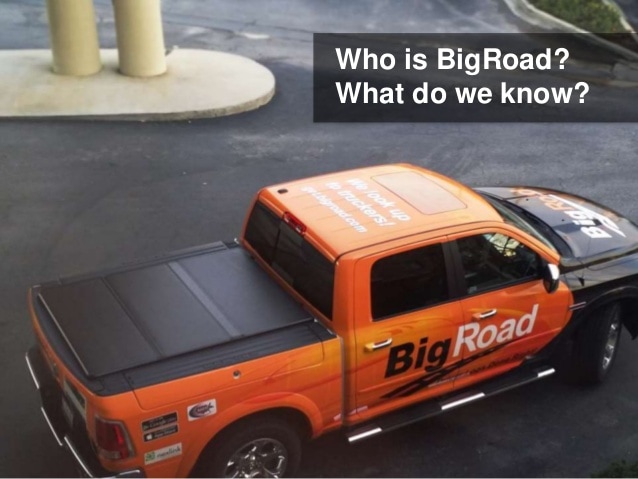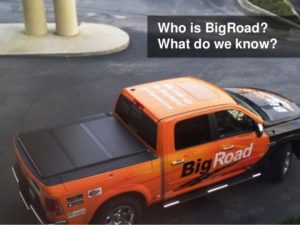 The BigRoad Web portal is packed with an array of back-office tools for fleet managers. This makes fleet management and decision making seem like a walk in the park. The web dashboard by this provider is user friendly and offers simple and basic fleet management tools.
From this dashboard, fleet managers, dispatchers and owners can view real-time locations for the various vehicles using the DashLink ELD.
Again, the dispatchers and fleet managers are able to send out instant messages to the various drivers in the fleet who have the Big Road mobile App installed in their phones. The fleet managers will also have access to the HOS reports and DVIRs for the various drivers and vehicles in the fleet.
Having been designed to optimize efficiency in your business, this dashboard will reduce the time you spend on administrative tasks for your business.
The Web Dashboard also allows you to identify potential violations by your drivers instantly and proactively manage the drivers. With this portal, fleet managers can proactively manage violations long before they are detected during an inspection.
To achieve this, the dashboard allows you to remain updated on compliance for all the vehicles in your fleet.
Our Final Review for the BigRoad ELD Device
Ranging from accurate and convenient reporting to simplified basic tools and features, the Big Road DashLink ELD is a practical solution for small fleets. The simplicity and affordability of this product is simply breathtaking.
For drivers, the Big Road Mobile app has all the features you will need to manage and certify your logs and DVIRs. Additionally, the App offers several other features for enhanced safety, efficiency and productivity.
Fleet managers, on the other hand, love this product because it makes their administrative tasks a bit easier. In addition to real-time visibility of vehicles, the Web-based dashboard features an array of back office tools for dispatches, owners and fleet managers.
As you can see, the BigRoad DashLink ELD is one of the best ELD solutions for owner-operators and small fleets.