Last updated on March 9th, 2023 at 08:02 am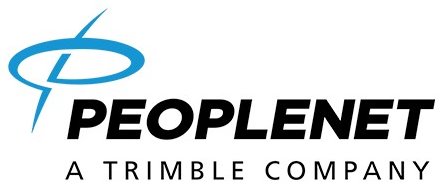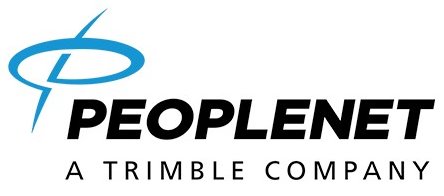 Gone are the days when drivers manually calculated the number of hours and miles traveled on paper logs in order to determine how many hours they've spent on service.
Manual calculations on paper logs frequently lead to errors and violations and keep commercial drivers and their managers out of Hours of Service (HOS) compliance.
Electronic logging devices (ELDs) have made their life a whole lot easier, as they no longer need to track driving time by themselves and worry about compliance which they had to do with paper logs.
These devices directly connect to the vehicle engine and record driving hours and distance traveled in real time. Not only do e-logs keep fleets compliant with the Hours of Service (HOS) rules, they also increase safety on the road.
There is a huge selection of electronic logging devices on the market. So how to know which one would work best for your fleet?
Based on our experience, PeopleNet ELD is a safe bet. While using this device has many advantages, there are also a few shortcomings. In this review, we are going to break its pros and cons down for you and help you get the hang of this device.
PeopleNet ELD Review – A Little Bit About The Company
It's a good idea to get familiar with the manufacturer first. Who is PeopleNet and what are they dealing with? PeopleNet is one of the first communications and tracking technology companies to provide logging devices back in 1994.
Since that time, the company has been in the telematics industry, developing a variety of fleet management systems including electronic logging devices which can remove the hassle that comes with paper logs and provide real time eDriver logs, thus ensuring compliance with Hours of Service (HOS) rules.
With about quarter-century of experience in this industry, PeopleNet helps customers stay compliant, efficient, and safe.
Why We Love PeopleNet's ELD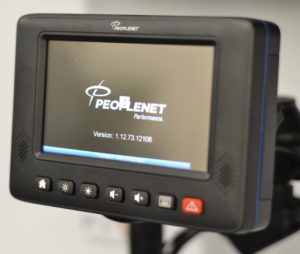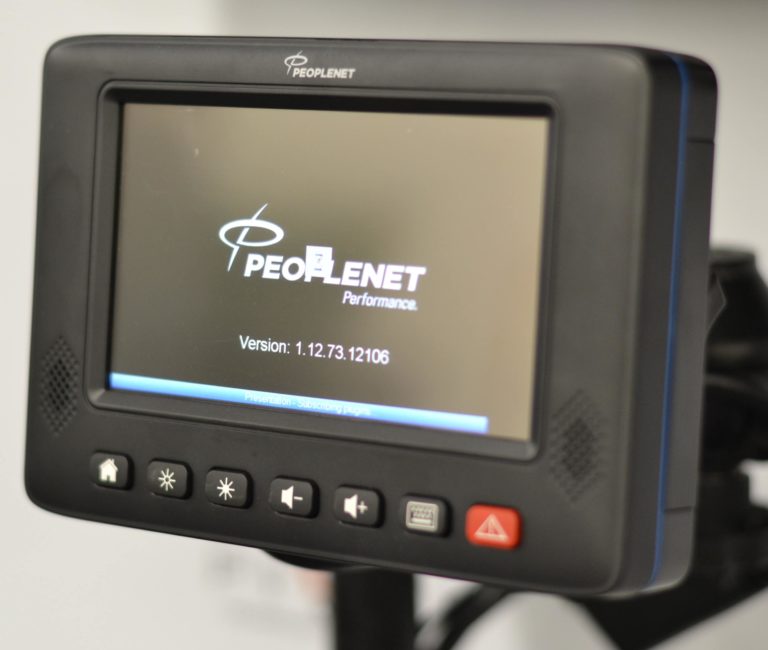 They have spent the past few years providing ELD devices to fleets and owner-operators.
The functionality, reliability, and durability of the PeopleNet ELD devices are the most important differentiators from other e-log solutions out there, along with some unique features you can't find anywhere else.
PeopleNet has put a lot of time and effort into getting their products right and they have really done so. Their ELD solutions are reliable and of high quality.
So it's no surprise their network communications and mobility products are employed by many private, truckload, and LTL fleets throughout the United States.
Why Should You Opt For It?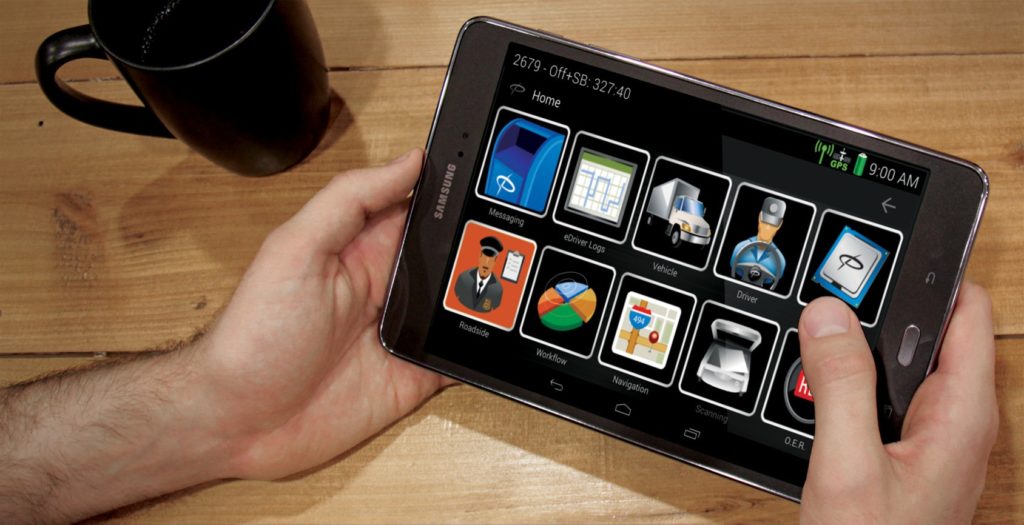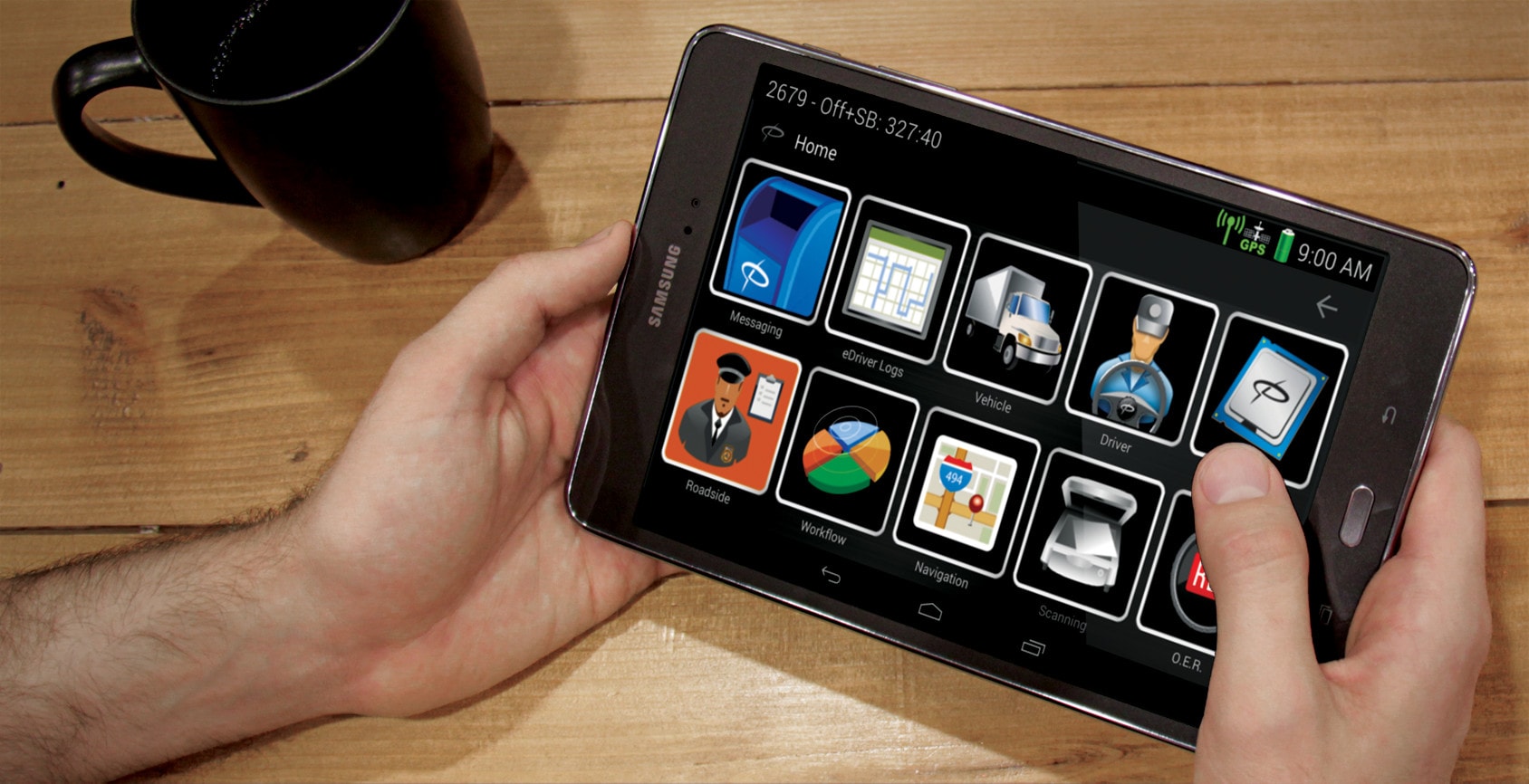 Compared with the competitors, this full featured ELD offers the most durability, reliability, and connectivity along with great features.
This fleet management solution helps fleets comply with ELD regulations while improving safety and reducing costs at the same time.
Most electronic logging devices are designed to sync up engine data and displays in the cloud, whereas PeopleNet's ELD connects data and displays locally.
This is a big advantage for drivers because they can always gain complete access to their eDriver logs no matter the network connectivity.
Fleet offices and drivers benefit a lot from Driver Vehicle Inspection Reporting (DVIR) functionality. They can access information and reports even in case of connectivity issues. It allows for improved performance on every occasion.
The following are PeopleNet's reporting options:
Daily log reports
Violations reports
Summary of annual log records
Driver log
Driver payroll
With regard to advanced functionality, the PeopleNet software tracks driver performance to ensure more efficient operation and maximize MPG.
The 4G LTE communication is considered to be one of the biggest benefits of this device. The list of benefits could go on and on. Yes, there are quite a lot of good reasons to opt for this easy to use solution.
What is it about and How does it Work?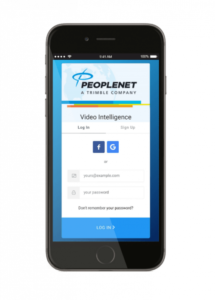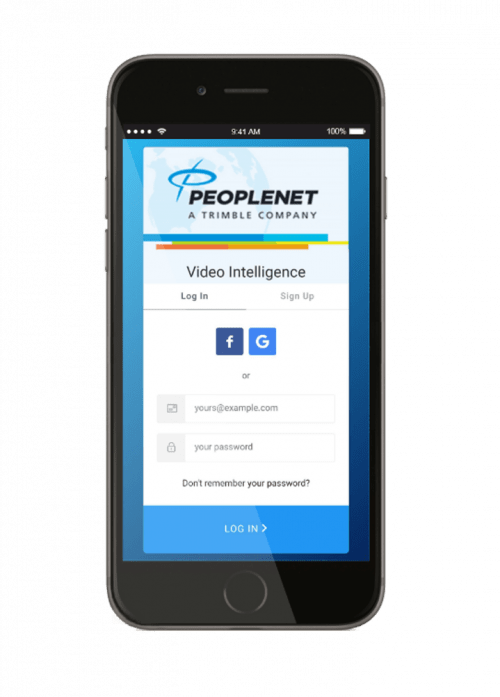 There are a few hardware varieties available, including Android tablet options. The Display.4 tablet is PeopleNet's flagship product, though.
Through messaging and locating, this logging device helps managers and drivers predict arrival times, keep track of the fleet, and much more.
Automated workflow is provided over the course of the delivery process — from drop-off to pick-up. That makes the delivery of reporting times more efficient.
More on How This Works
Drivers can control their routes by use of in-cab navigation and stay on the right route all the time. That helps them avoid excessive equipment and fuel expenses.
On the back-office side, a countless slew of tools and reports give a powerful way to manage a fleet and track performance.
It should be noted that this electronic logging device works in sync with the Android platform. This web-based platform allows you to connect multiple tablets and phones at a time and see the edriver logs in real time.
Key Features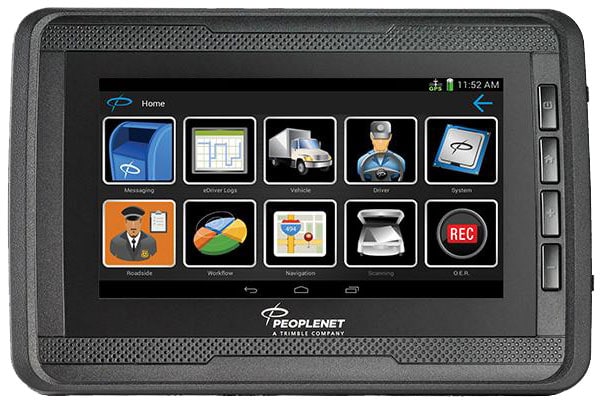 If you are looking for a full-featured ELD, look no further. There are a few features coming standard on this ELD, including:
Fuel consumption reports
Engine status monitoring
Tire pressure monitoring
Real-time vehicle location
Safety alerts for fault codes and speeding
DVIR and HOS reporting
This device also comes with some advanced features, such as 4G LTE network, Line 4 Log Auditing, Weigh Station Bypass, automated workflow, OEM Embedded Display Integration, and advanced navigation.
Installation of the PeopleNet ELD Device
The installation process is quite lengthy and tedious. This may scare off many potential users and make them give up.
It's very likely that you will have difficulty trying to configure this device on your own, so you are advised to call their customer service to get licensed technicians install the equipment.
PeopleNet Platform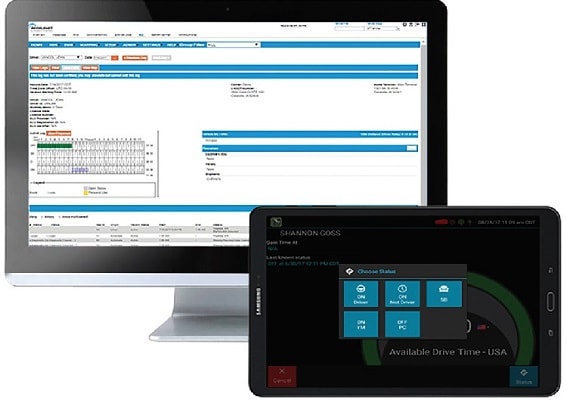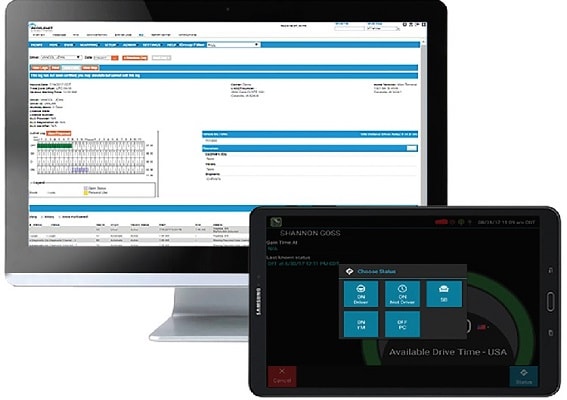 PeopleNet has made this ELD device available for Android platform. This platform offers the latest network connectivity and technological innovations to fleets.
For example, they can use 4G LTE connectivity to their favor. This is the fastest connection for wireless networks today.
The connection is established via an onboard WiFi-enabled computer. It ensures consistent, reliable communication between the back office and drivers no matter where the trucks are in the country.
Present Your E-Log Easily
Drivers can present their e-logs to roadside inspections and get insights into remaining hours through the user interface of eDriver Logs.
Safety managers, on the other hand, can review logs in real time by accessing the reporting platform. They can also monitor HOS (Hours of Service) data and suggest edits across the fleet.
PeopleNet Platform also gives them the flexibility to pick and choose in-cab displays from a wide array of Android devices. This includes a few consumer- and commercial-grade tablet options as well.
There is also a messaging platform available. It allows the back office to communicate directly with drivers.
Driver App
The PeopleNet App is available on iOS and Android devices. This mobile application is very easy to use and gives drivers and managers more control, allowing them to stay on top of things.
Whether they are out or in the cab, they have all the essential information and data at their fingertips at any moment.
Ease of Use
Despite being loaded with a plethora of advanced features, this electronic logging device is still user-friendly and simple for the drivers.
Most users find it easy to navigate and use. The user interface is clear and simple. It enables drivers to easily recognize when they're nearing their hourly limits.
The menus are very simple to understand, while the touchscreen is quite easy to use compared to other ELD devices on the market. By the way, the device boasts a low rate of failure.
ELD Mandate Compliance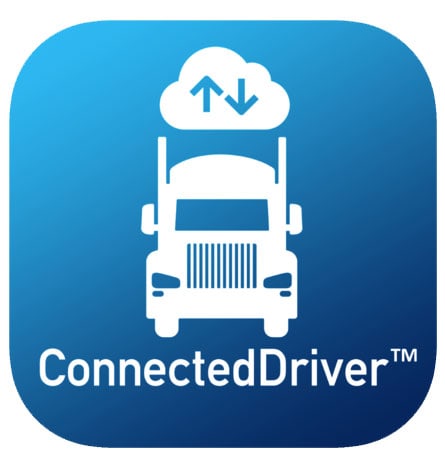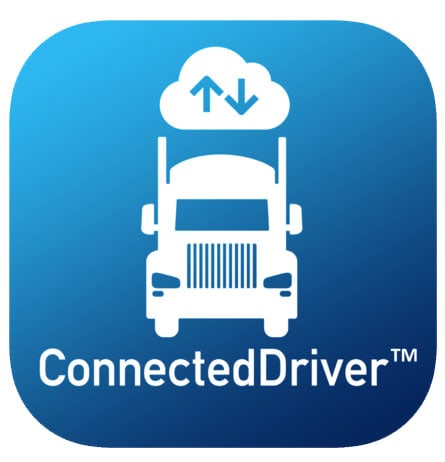 Owner-operators and trucking carriers are forced to adhere to the FMCSA's ELD mandate. The corresponding rules came into force from April 1.
While some groups still try to reverse these rules, many commercial vehicle fleets are in search of an ELD solution that provides compliance. This is where PeopleNet comes into play.
PeopleNet solution is self-certified and it complies with the FMCSA's ELD mandate. With this electronic logging device, fleets and owner-operators can run their business with peace of mind.
By ensuring that no driver disobeys ELD-related laws, this smart device helps managers maintain the fleet operation.
Manage Your Hours Easily
Fleet managers can easily see how many hours of service every driver has logged. They can also see when a driver is reaching his limit as well as when somebody is in violation of Hours of Service (HOS) rules.
However, this comprehensive solution lets fleets go beyond compliance and take advantage of additional features to increase operational efficiencies. This eventually improves the return on investment (ROI) of each fleet.
Costs & Fees
PeopleNet is an advanced fleet management solution that comes with a high price tag. It has one of the highest hardware and installation and costs when it comes to ELD solutions.
The initial price is about $1,200 per vehicle, whereas the monthly cost is $43. While the majority of businesses won't justify such a high initial cost, the PeopleNet is worth the money for large fleets in terms of functionality.
It is completely customizable and can meet your needs for sure. Aside from that, it can help you save time and money over time.
Nonetheless, fleet managers should consider the price before forking out cash on this solution. The question isn't whether or not this device is good.
It's whether the high upfront cost is really worth it for the customization and advanced features.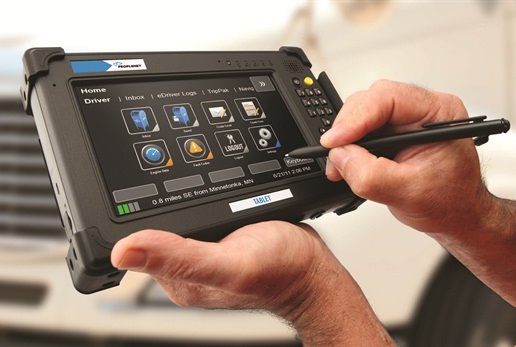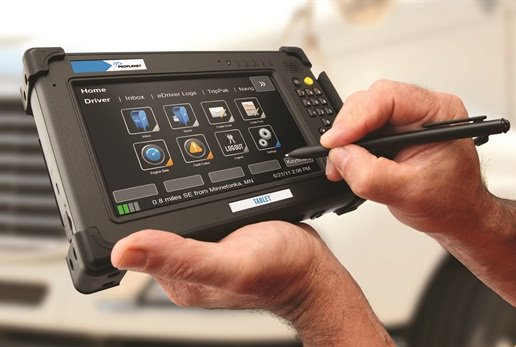 Benefits of PeopleNet ELD
Reliable and comprehensive ELD solution
Customizable; it can fit the specific business needs
It comes with an advanced network
A lot of advanced features included
Familiar to many drivers
Great customer service and support
Possible Drawbacks of this ELD
Time-consuming and tedious installation process
High installation cost
High monthly service fee
End of the Day Log – Quick Instructions
Click Inspections
Click on New
Click post (meaning end of day)
Fill out all the fields like date, driver ID or employee number, the second driver (if any), truck number, trailer number
Select off-duty in the next field
For mechanical defects, put no (unless you've had breakdowns for the day, which will prompt more details to fill out)
Before you go ahead and certify your log, go back to the Hours of Service (HOS) screen and take a look at the graph. Make sure everything looks right. If it's not correct, make adjustments. Once you've set your logs for the day as final, you can't go back and adjust them.
At that stage, the only people who can change it is your company's log department. If you are sure everything is correct, click on Certify Logs. It will prompt you with a question, whether you want to certify or not. If you're sure everything is correct, click the Yes button.
When you click Yes, the Certify Logs icon will actually turn gray, to indicate that you're certified. That's all you have to do to end your day and log everything correctly.
User Reviews
Many drivers state that PeopleNet was around since the beginning of the ELD mandate. Companies like JB Hunt, Schneider, and other big freight companies were using this device early on.
One driver in particular was praising how easy this device was to use, mainly due to the big icons on the main menu. As he was pressing Duty Status, he could view driving time and other information.
The device also has a feature called Hot Keys, where you can set certain shortcuts and get to certain screens faster. Things like shipper approval, update ETA, confirmation of load at the shipper, and more.
The one thing that some drivers stated that is a major drawback is the GPS feature. In certain areas, the maps can be outdated. We believe this can be resolved by downloading an update from PeopleNet, if available.
The other complaint from a fleet owner was that the device loses signal at times. This has to do with the fact that the device is a bit older now, in comparison to other ELD devices.
Our Final Review
While the PeopleNet ELD may be expensive for many, you're getting an advanced-featured, reliable electronic logging device that is backed by a renowned company and great support.
The enhanced cloud storage and network connectivity allow for real time tracking of eDriver logs, thereby making it stand out among the best ELD devices today.
With features like fuel consumption monitoring, engine monitoring, advanced navigation, and 4G LTE communication, this is an awesome option for fleets.
Track performance and hours of Service in real time and manage your drivers effectively. All of these features and benefits justify the hefty price tag.