Last updated on March 9th, 2023 at 04:50 am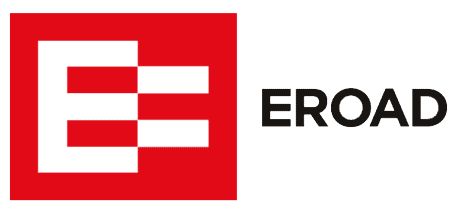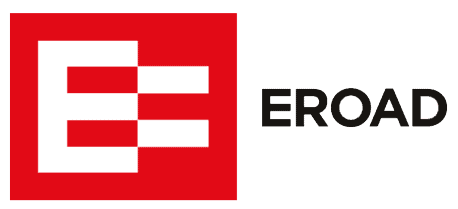 According to thousands of its users, EROAD Ehubo is an accurate, durable, dependable, and affordable electronic logging device (ELD).
Although the EROAD ELD may not have some of the features you will find in costly units, it has the basic capabilities you need to log hours of service (HOS) with ease of use, thus making it a comprehensive fleet management solution.
To begin with, the EROAD ELD is compliant with FMCSA Mandate requirements. You'll also like the fact that it is easy to use. As a matter of fact, this ELD features an easy-to-use interface and is packed with a horde of features that makes reviewing and editing logs much easier.
This fleet management solution by EROAD packs a range of back-office features and capabilities to offer drivers, truck owners, and fleet managers alike. It is also tested by the PIT group which is an independent testing organization that evaluates transportation technology solutions through rigorous third-party testing and provides reliable, accurate results.
Throughout this guide, you will learn why an increasing number of truck owners and fleet managers are opting for the EROAD electronic logging device (ELD) to ensure compliance with the ELD mandate.
EROAD Ehubo Review – Company Overview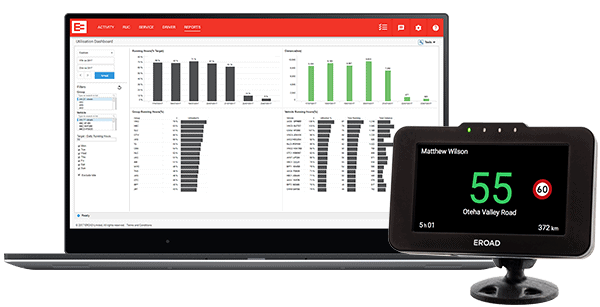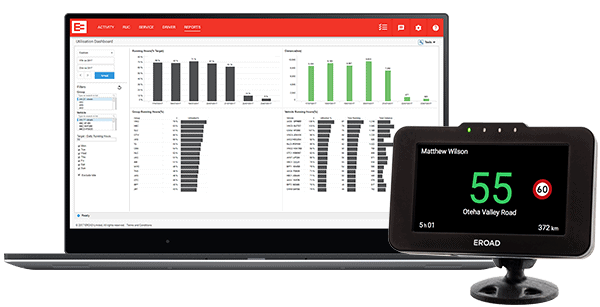 A considerable number of consumers today would like to buy products from leading manufacturers and ELD Providers.
Well, this ELD device was manufactured by one of the leading providers in the industry. EROAD was one of the early adopters of this technology. As you'll come to learn, this ELD option is much more than just a logging device; It is a complete ELD solution instead.
Initially, the system was designed to serve as a distance tracker for the purpose of fuel tax calculations. As such the system features some of the best IFTA reporting capabilities in the industry today.
Over the years, the EROAD ELD device has helped businesses save more money by just claiming the exempt fuel tax miles. In addition to such cost-saving features, this device is loaded with several other convenience and performance tools, thus promoting its ease of use.
For instance, it allows dispatchers to communicate with drivers via text messages, as well as set geofences. This is done in a bid to monitor activity at locations that are deemed to be important for the company.
Other Ehubo features you'll come to like include vehicle maintenance tracking, DVIRs capabilities, and the ability to monitor safety events, thereby promoting fleet safety. Such events include harsh braking and hard cornering.
EROAD ELD Benefits
Compact, single in-vehicle unit
Reliable, secure, and accurate
Relatively easy to adopt and use
Comparatively affordable
Location tracking
Easier fuel cost management
Vehicle tracking
IFTA reporting
Geolocation capabilities
Compliance management
Real-time monitoring
Safety management and risk alerts
Projects time monitoring
Remarkabel customer support and customer service
Possible Drawbacks
Does not have GPS tracking capabilities
EROAD ELD Pricing – What Does It Cost?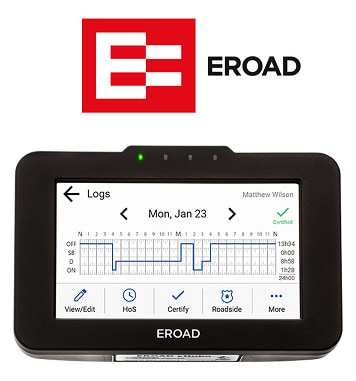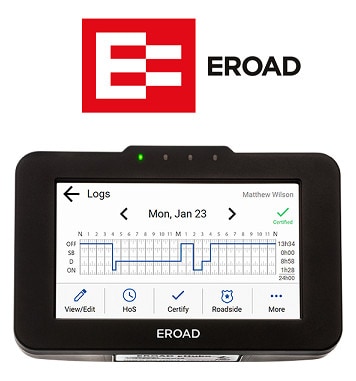 As mentioned earlier in this guide, the Eroad ELD is one of the most affordable logging devices in the industry today.
In this regard, this ELD provider offers multiple pricing plans for its customers. To begin with, the device does not require any upfront payment. Again, the monthly subscription plans are quite affordable.
The much you will end up paying per month will mainly depend on the features you want on your logging device.
If EROAD is your preferred electronic logging device solution, these are the monthly subscription plans you should consider:
Simple ELD-only Plan – this is the basic and most affordable monthly subscription plan by this ELD provider. For only $35, this plan offers you the basic ELD capabilities and fleet management tools.
Mid-Range TotalTax Plan – this plan office almost all features and capabilities except the most advanced fleet management features by the ELD provider. To get this plan, you'll be required to make a monthly subscription of $45 per month.
TotalFleet Plan – in order to get all the features and capabilities not offered by the above-mentioned plan, you should consider getting the TotalFleet subscription plan. This plan costs $60 per month but gives you real peace of mind.
Regardless of your preferred monthly subscription plan, EROAD will require you to pay an activation fee of $35.
Since there is no upfront payment required for the hardware, you will find this to be one of the most affordable devices out there. As a matter of fact, Eroad has been proven to offer great value for money with its exceptional customer care/customer service.
Additionally, you'll be glad to learn that all EROAD plans are backed by hardware warranties. The provider will also offer you reliable technical/customer support, regardless of the subscription plan you are on.
To ensure that you get the most out of your software functionalities, EROAD offers web-based training through free instructor videos on its website.
Features and Capabilities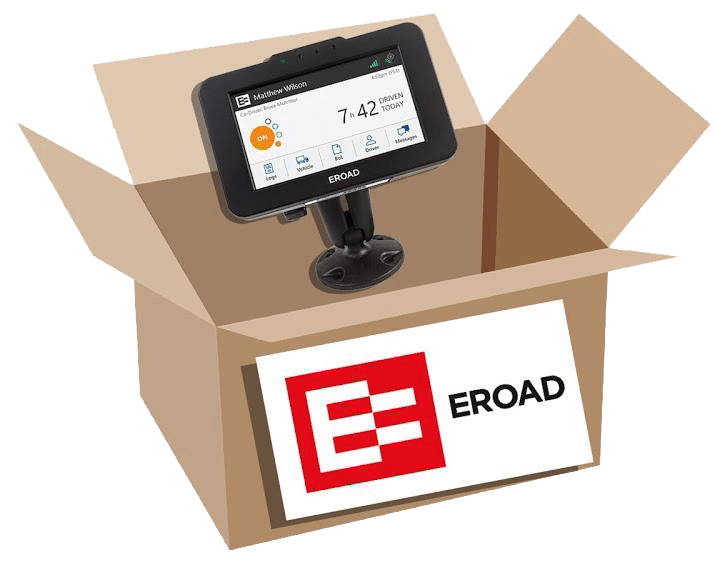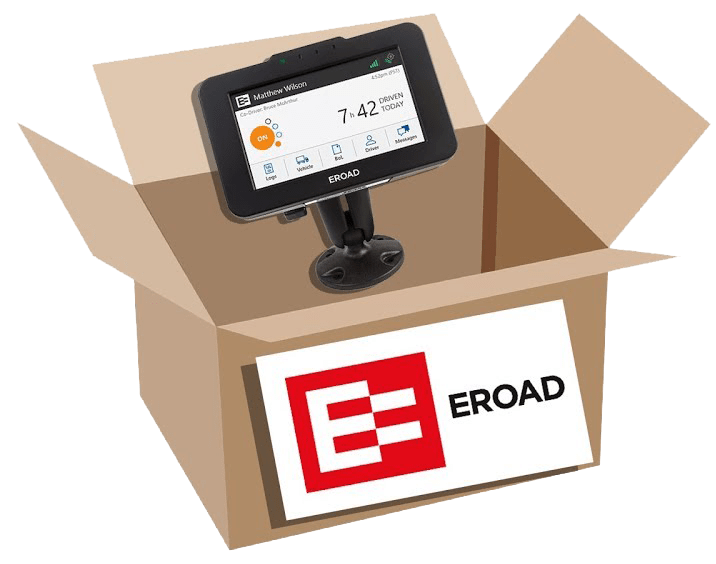 EROAD's ELD device is essentially designed to serve as a single platform, offering all the solutions you need for a continuous ROI and exceptional fleet performance.
Despite its simplicity, the ERoad platform will solve all your electronic compliance, fleet management, safety, and tax needs from a single platform.
Although the ELD itself is an affordable option, it features advanced technology for enhanced reliability, ease-of-use, and accuracy.
Rather than just offering you ELD software and hardware components, EROAD will serve as your technology partner today and in the future; with an innovative range of features to suit your growing business and remarkable customer service.
This being the case, you can rest assured that EROAD will always provide you a solution for your vehicle tracking, fleet management and fleet telematics needs.
In this regard, these are some of the features and capabilities you will love about the EROAD ELD solution:
Compact and Secure Technology
Though not a requirement by the FMCA, having a compact, space-saving ELD installed in your vehicle is great, right?
This is why Eroad offers you the Ehubo device—an in-vehicle hardware unit that features a sleek, space-saving, and modern design. This device is essentially designed to transmit, store, and record encrypted data continuously through a cellular network.
The information received from the vehicle device will be processed by the EROAD application server in real-time. This data is then availed to the user through a secure website, referred to as the Depot. From this user-friendly web portal, you will be able to save, view, download, and export such data.
As you'll come to learn the system uses a bank-grade, secure payment gateway to maintain and retrieve motor carrier records as well as support carriers to pay and file for weight-tax obligations.
IFTA Reporting and ELD Compliance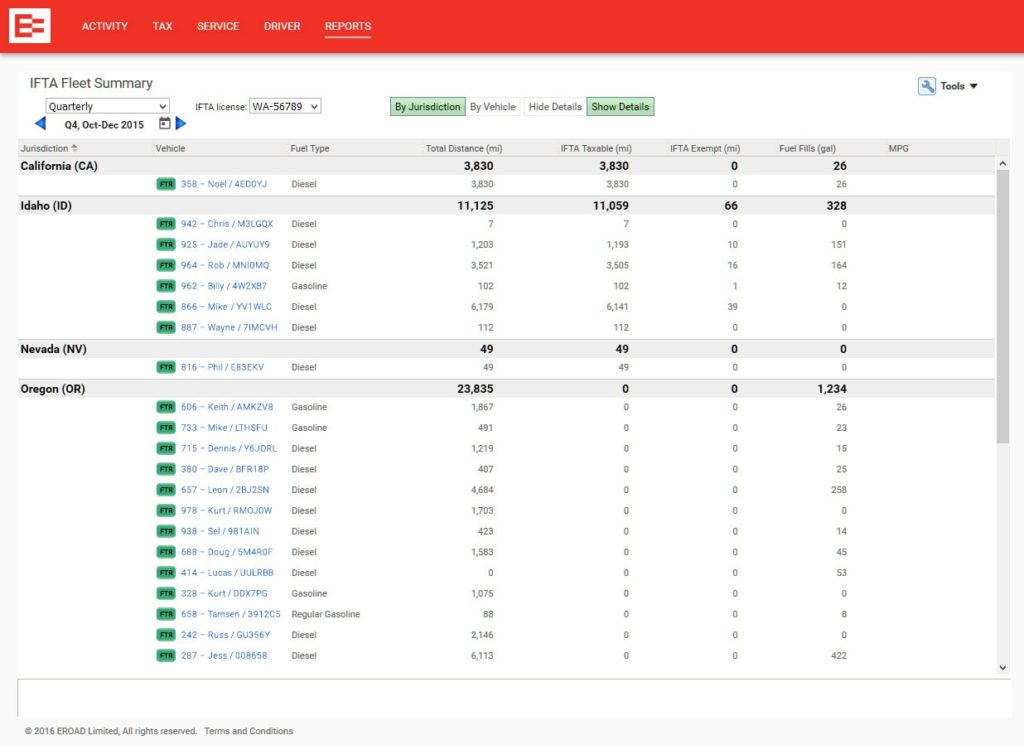 As you may have learned, a considerable number of electronic logging devices do not support IFTA reporting. This is particularly the case for the more affordable eld solutions.
Unlike such products, EROAD's ELD is equipped with the right tools and capabilities for ELD compliance and IFTA reporting.
Such tools are mainly offered by the EROAD Electronic IFTA. This feature is essentially meant to help you meet record-keeping and tax filing obligations.
In its functioning, the in-vehicle device captures and automatically feeds your mileage information to the EROAD's IFTA Return. This will, in turn, help you avoid having to reconcile reports and sift through paperwork each quarter as you file your returns.
This being the case, the system is renowned for offering revolutionized international fuel tax agreement record keeping experience.
Some of the key benefits offered by the system, in this regard, include:
Reduced paperwork and administration time
Accurately records straight line crossing mileage and route data
Helps you remain compliant
Manages fuel receipts summaries, IFTA return data and fuel trip records
Safety Compliance
The various ELD mandate requirements are meant to increase safety on the roads. As such, the right electronic logging device should have the right features for enhanced vehicle safety. In this regard, EROAD technology and services are designed to simplify safety and compliance regulations.
With such technology in your business, you'll be able to reduce costs and liability across the fleet. This will also create a safer work environment for your drivers and employees.
The safety features offered by this product include; an overspeed dashboard, virtual speed camera, EROAD Inspect, EROAD leaderboard, driver insight, driver safety report, and maximum speed alerts.
Fleet Management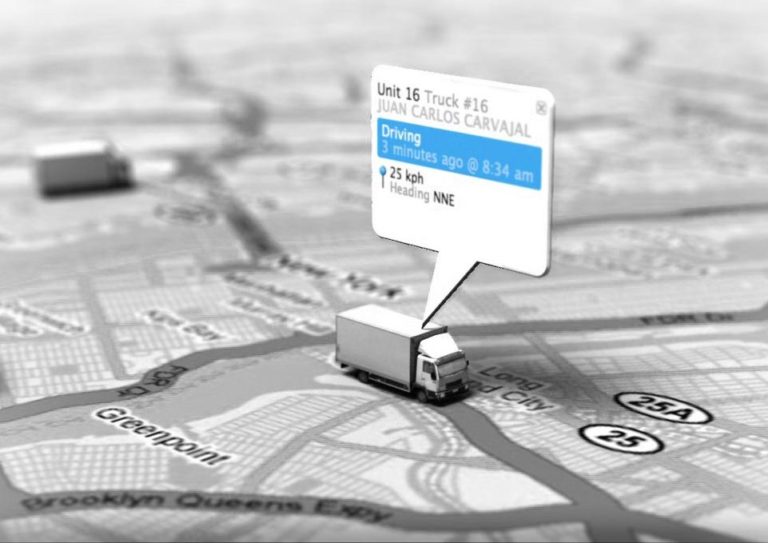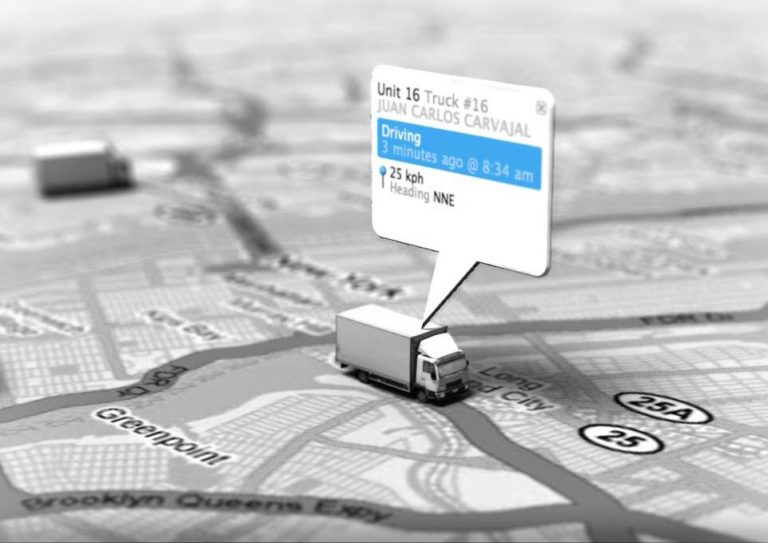 A good number of electronic logging devices today offer fleet management tools and features as well.
As such, the fleet management tools offered by this product are some of the things that make it unique and desirable among fleet owners and managers today.
As you will come to learn the fleet management feature suit offered by this provider is meant to improve productivity in your business.
Over the years, the system has been proven to deliver accurate and user-friendly reports and reliable data that helps customers run a more successful business. Not only does this help mitigate costs, but the device also reduces downtime and improves customer service in your business.
Some of the desirable features and capabilities you will find in this suite include historical daily fleet activity, geofence site activity, truck traffic in satellite map layer, messaging, and fuel management.
With the EROAD fleet management feature suit, you will also get precise fleet tracking, asset tracker integration API, idle report, and highway fuel usage reporting capabilities.
Easier and Accurate Recordkeeping
As opposed to paper logs, electronic logging devices are more accurate reliable, and easier to use. In this regard, the product has been proven to help both drivers and fleet managers manage their records in an easier and more intuitive manner.
To help drivers with hours of service record keeping, the provider offers drivers an in-vehicle HOS compliance guidance and violation reporting solution.
With such a gadget installed in your vehicle, you will find it easier to monitor your hours of service for enhanced compliance.
Cellular Data Connection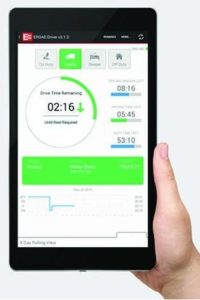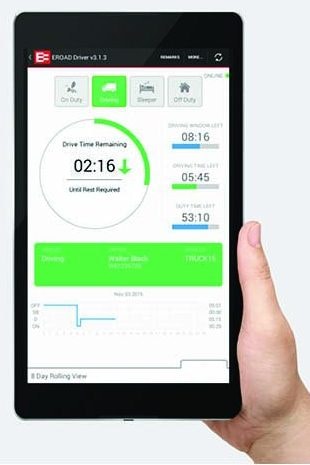 As mentioned earlier in the guide, this device relies on a cellular data connection to share, save, and retrieve information to the portal.
While this is the case, you will not need to rely on third-party cellular data connections. In this regard, the provider offers a reliable data connection with each device.
With such an electronic logging device solution, you do not have to manage multiple sim cards or pay for expensive data subscriptions offered by some third-party providers today.
HoS Reports
You do not want to be on the wrong side of the law, as far as hours of service (HoS) compliance is concerned, right?
To help you avoid such an unfortunate scenario, the EROAD ELD solution is designed to give you timely and relevant HoS rules violation reports.
In this regard, the EROAD ELD is designed to consistently send you reports on the non-compliant log issues you may be having. Such enhanced visibility of log violation will help improve driver safety. Additionally, this feature has been proven to curb the risk of carriers incurring penalties.
As a matter of fact, this product has been helping fleet managers and truck owners to proactively manage risks in their fleets.
Simpler Roadside Enforcement
In accordance with FMCSA mandate requirements, you will need an approved ELD to help with your roadside inspections.
As far as roadside inspections are concerned, EROAD has a complete solution that has been designed to make things easier and keep you on the right side of the law.
As such, your drivers will have an easier time retrieving and sharing the required documents with the inspecting officers. As such the inspections will be faster, allowing the driver to get back on the road in no time. In other words, you can rely on EROAD to ensure FMCSA compliance.
Timesheet Reports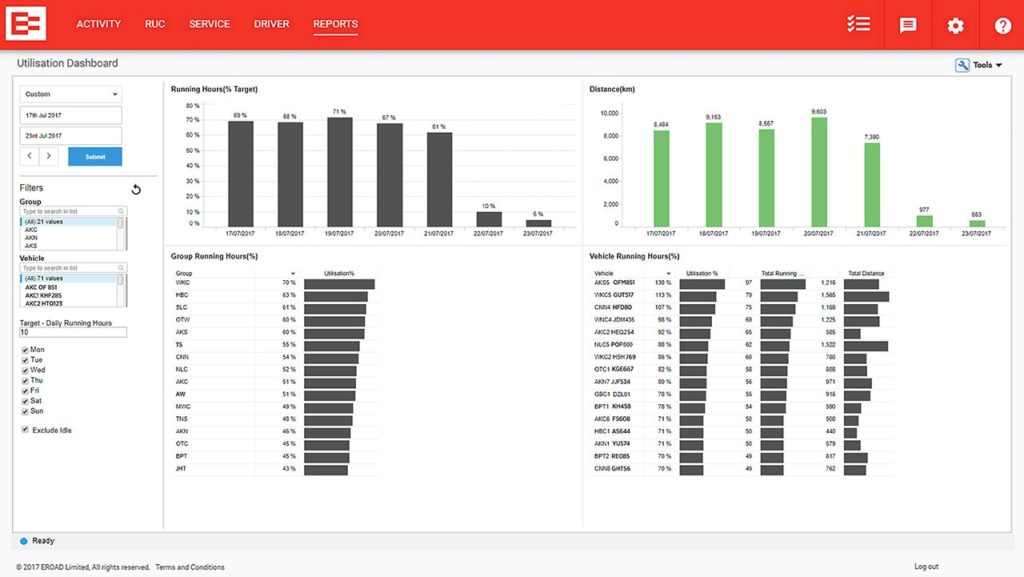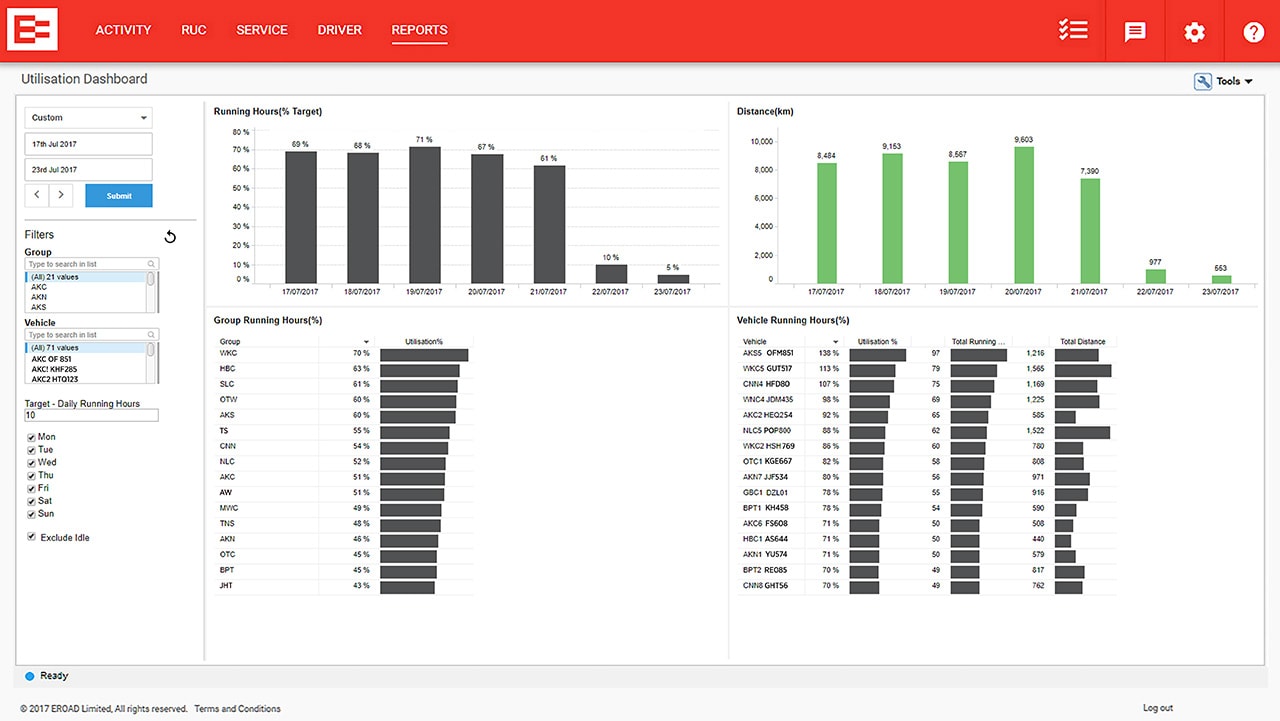 Get timely and accurate driver's log of work hours with EROAD's Timesheet Report feature. In addition to the hours of service logs, these reports will also include miles traveled.
You will also like the fact that the logs are CSV ready for exportation. Such aspects will make payroll administration in your fleet a walk in the park.
Short Haul Exemptions
Your preferred logging device should be able to cater to short-haul exemptions, in accordance with the FMCSA regulations. Well, this is one of the things the EROAD electronic logging device is good at.
In this regard, these are some of the exemptions you will get on this product:
100 air-mile 'short-haul' exemption
16-hour and adverse condition exemptions
30-mins rest break exception
Our Final Verdict
In addition to complying with FMCSA requirements and helping you remain FMCSA compliant, a good ELD needs to be easy to use, convenient, and innovative.
In this regard, thousands of drivers, fleet managers, and truck owners can attest that the EROAD's electronic logging device is one of the best today.
Ranging from reporting and compliance features to a rich and reverse back-office feature suite and remarkable customer service, this device has everything you would need. With such superior features and sturdy hardware, EROAD is definitely one of the leaders in the industry that give you confidence in every mile traveled.