Last updated on March 9th, 2023 at 06:48 am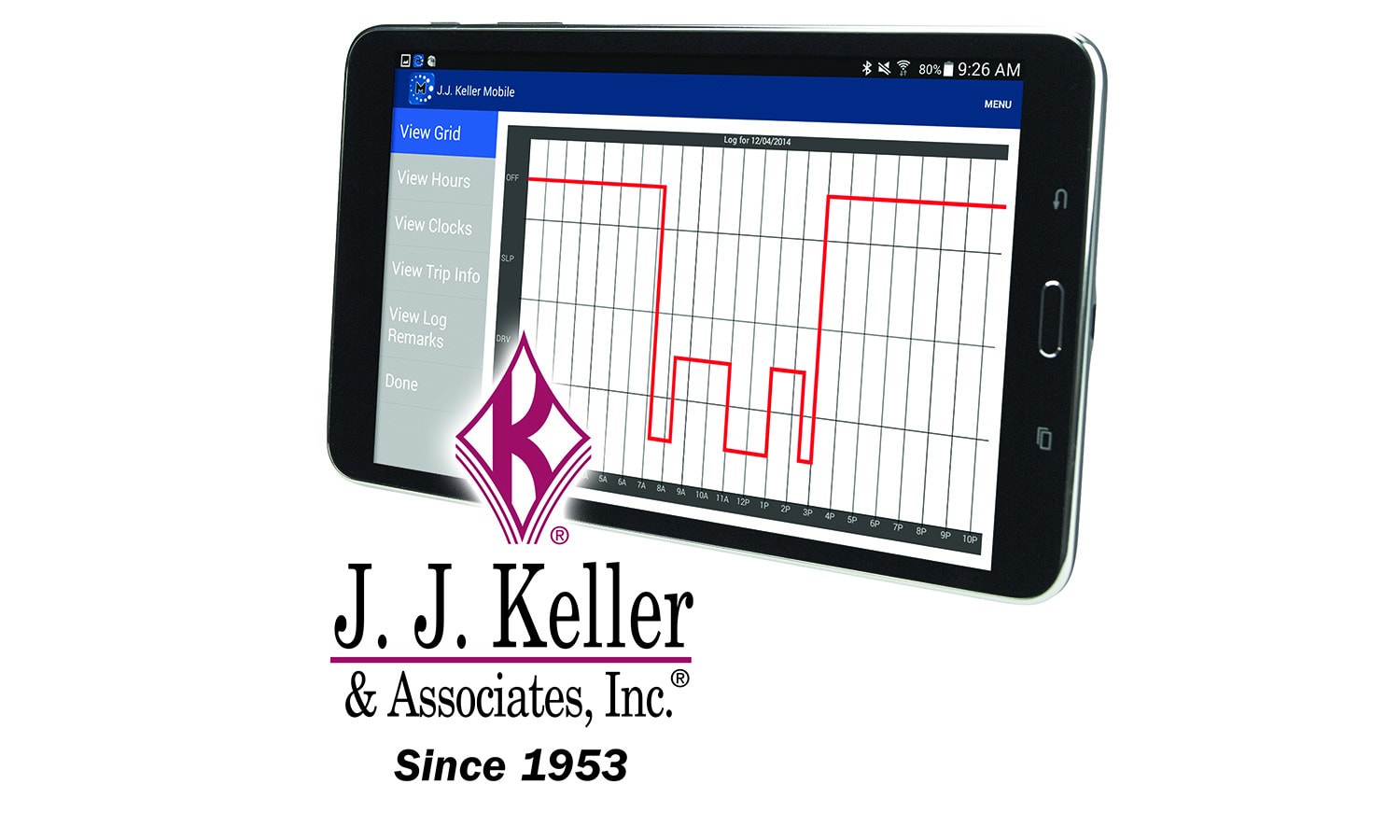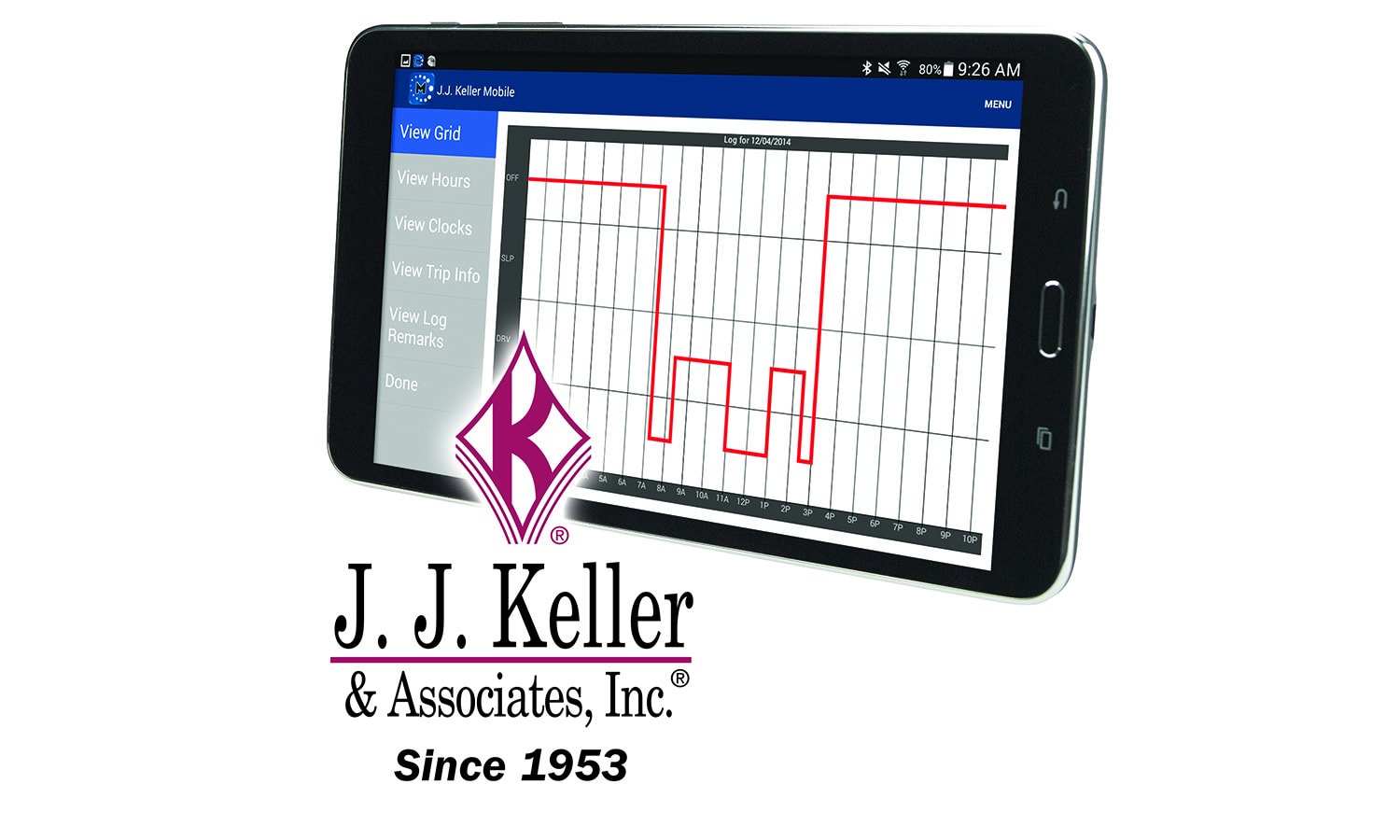 Picking the right ELD (electronic logging device) could be a bit tricky. With the right ELD solution, you can improve efficiency, increase vehicle safety, and simplify compliance challenges.
However, by making the wrong decision and using an unreliable ELD device, you'll very likely end up with unexpected fees and added costs. And worst of all, you will eventually have to start the entire process from scratch.
The ELog ELD by J J Keller encompasses a logging device that's an integral part of a comprehensive compliance management software called Encompass.
Since J J Keller is a well-known name in the DOT (Department of Transportation) compliance, you can be sure that ELog will be keeping you on the "right side" of DOT regulations. Yet, bear in mind that it doesn't offer lots of flashy features.
So, if you want to find out more about JJ Keller Elog, keep reading to learn more. Our review will reveal a lot of interesting things related to this logging device. That will help you discover what this electronic logging device has to offer and what you can expect of it.
J J Keller ELog Review – A Little Bit About The Company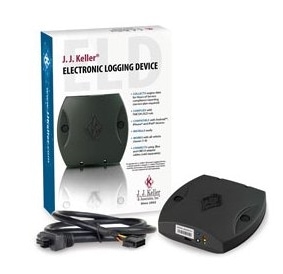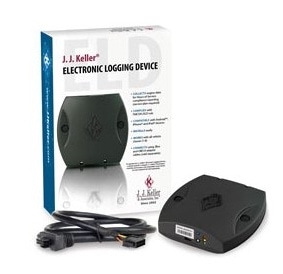 Before buying a product from a vendor or manufacturer, it's a good idea to ask around to find out about the guys who manufacture that product. Fleets looking for an ELD system would like to be sure they've got a solid good name in regulatory compliance. That is why we want to tell you a few words about JJ Keller.
J J Keller Associates Inc was founded in 1953. The company is positioned in Neenah, Wisconsin. They have built their reputation in publishing as well as business services.
Now, J J Keller Associates inc is known for a variety of services in OSHA compliance, workplace safety, and compliance, human resources, construction safety, vehicle safety, and hazardous materials. Fleet management and transportation services are considered core breadwinners of the company. J.J. Keller is particularly respected in the field of trucking compliance.
In the 50s, they invented the brand new paper logbook. For approximately 60 years, the company has printed those logbooks and developed a number of tools intended for both fleet compliance and safety.
J.J. Keller has earned a reputation for paper log book over about six decades. That's why it is considered a top brand name in regulatory compliance.
They were reinventing and updating themselves to create an ELD product that would comply with FMCSA regulations. In 2010, J.J. Keller introduced the E-Log system as an affordable logging application aimed at fleets.
Although there were certain issues with the E-Log application at first, all the problems are addressed so that this device can now be used without a hitch.
What is J J Keller Elog and Which Other J. J. Keller Options are Available with It?
The ELog is an electronic logging device that's created as an optional add-on to Encompass, a larger compliance system offered by the same company. That means the consumers using the J. J. Keller ELog ELD system becomes users of Encompass ELD automatically. Furthermore, you will be within the regulations for the workplace safety and compliance of all the tools coming along with this system.
J. Keller Encompass is a full-fledged compliance management tool, which is designed to be a flexible, simple, low-cost electronic log solution. It is meant to handle everything from preventative maintenance to driver qualification files and logs. Encompass system helps fleets improve the management of the complex federal and/or state regulatory requirements. All information is saved in the cloud, which allows for instant accessibility. Fleets can access the electronic logging device data of their drivers through the Encompass online portal.
J. Keller Elog is also designed as a flexible electronic log solution. It can be used with the E-Log app, which is compatible with both Apple and Android devices. The JJ Keller Mobile app is supposed to make compliance easier. This application serves as a GUI (graphical user interface) for drivers. By making the transition from traditional paper logs to electronic logs (E-Logs) seamless, this app smoothly integrates with the other smart devices. It enables drivers to update their current duty status without using any paper log book and feel secure with over the time ELD driver support. They can log it on the onboard ELD as well.
Fleets looking for an all-encompassing solution can also use an Android tablet (J J Keller Compliance Tablet) with the system. This tablet has a 7-inch form factor. That is close in size to an ordinary paper log book. Note that the Compliance Tablet will not allow you to install unauthorized apps and software.
As for the Elog device itself, it is constructed as a "black box" that can be plugged into the diagnostic port of commercial vehicles so that it can communicate with display devices via Bluetooth. You can use a smartphone, an Android device, or a tablet or as a display. The choice is yours.
The ELD delivers the engine as well as compliance information to Encompass, which uses the data to improve safety and operations. For example, performance coaching of all drivers within a fleet reduces idle and speeding time resulting in better fleet management. Reduced idle times bring about money-saving on fuel.
Why Choose J.J. Keller E-Log?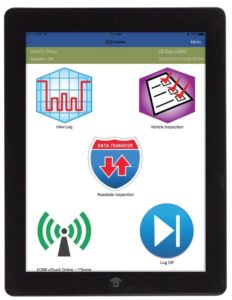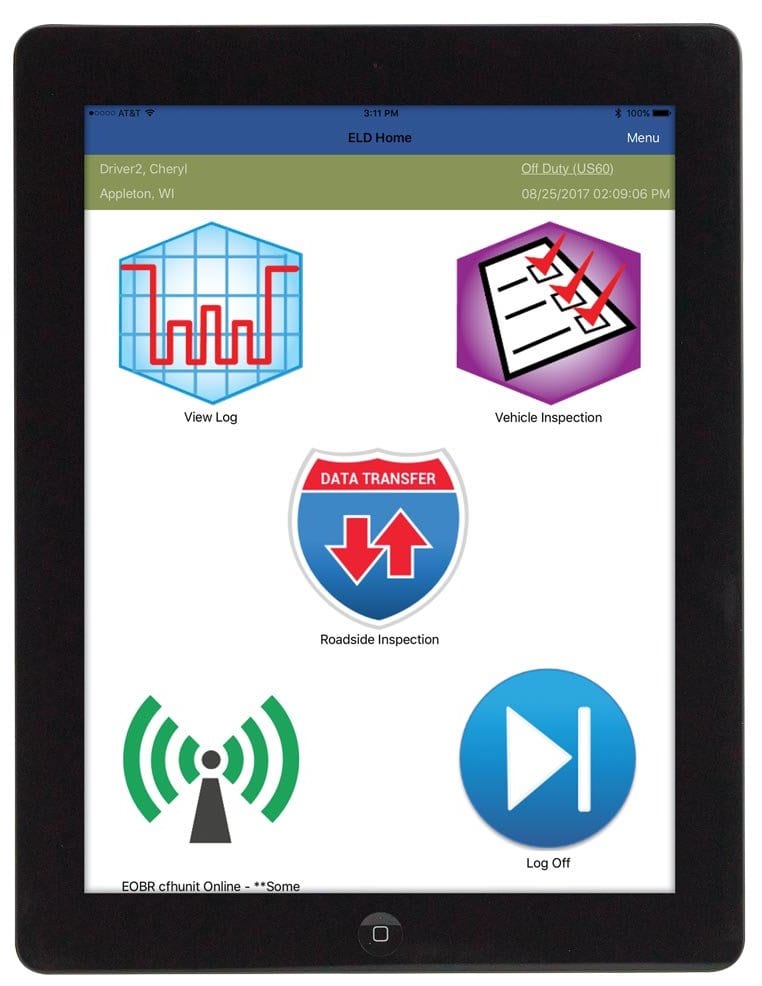 There are numerous reasons for embracing J.J. Keller ELog.
Here are some of the most important benefits of this system:
JJ Keller Elog is highly adaptable, and the implementation of solutions with this ELD device is very simple, no matter the size and make-up of the fleet. That makes it suitable for different fleets.
An affordable, simple, and flexible option to run with ELogs.
With the use of this device, you can maximize the strength of your fleet and address risks in a timely manner before any of them becomes a liability.
It can help you improve regulatory compliance, performance management, and profitability of your fleet.
Since this system uses both paper logs and ELDs, the users can implement it gradually.
The device works with just about any class of vehicle so as to enable control of mixed fleets consisting of different types of vehicles.
It provides a fully mixed view of compliance and performance.
Simplified compliance with Hours of Service (HOS) requirements and log of vehicle safety.
It is capable of managing compliance with Electronic Onboard Recorders or Electronic Logging Device.
After all, the product is sponsored by a company that operates for more than 60 years, so you can rest assured that it will not let you down with its regulation compliance products.
Keeps a check on truck driver safety elogs, FMCSA compliance, and real-time fleet management.
Provides ELD driver support
How to Activate J J Keller ELD device?
All you need to get started with this ELD device is J.J. Keller EOBR and a windows cell phone. In fact, there are two kinds of installations you should do in order to get started with  JJ Keller eLog:
Installation of the EOBR
Installation of the Software
Installation of compliance tools
The EOBRs are gonna be sent to your location along with the appropriate cables. Additionally, you will get the installation guide. With help of this guide, you will be able to install the EOBR for about 20-30 minutes on average. Be sure to plug in the six- or nine-pin Deutsch connector before mounting it in the vehicle cab.
Also, make sure that your cell phone or PDA is a windows mobile device with Wi-Fi connectivity or data plan. If mobile devices of your drivers are not compatible with JJ Keller ELogs, consider upgrading them. In case any of your drivers don't have a PDA, laptop, or a windows phone, you'll need to buy it.
When it comes to software installation, you'll get a hyperlink that's necessary for the installation of the J.J. Keller Mobile app. It can be installed on the driver's phone, PDA, or laptop. The application on mobile will provide the driver with the much-needed ELD driver support.
Once you've installed the software, each of your drivers will have a unique password and username that let them access the system. Both the usernames and passwords are configured on the application web of J.J. Keller Elogs.
Key Features of the JJ Keller Elog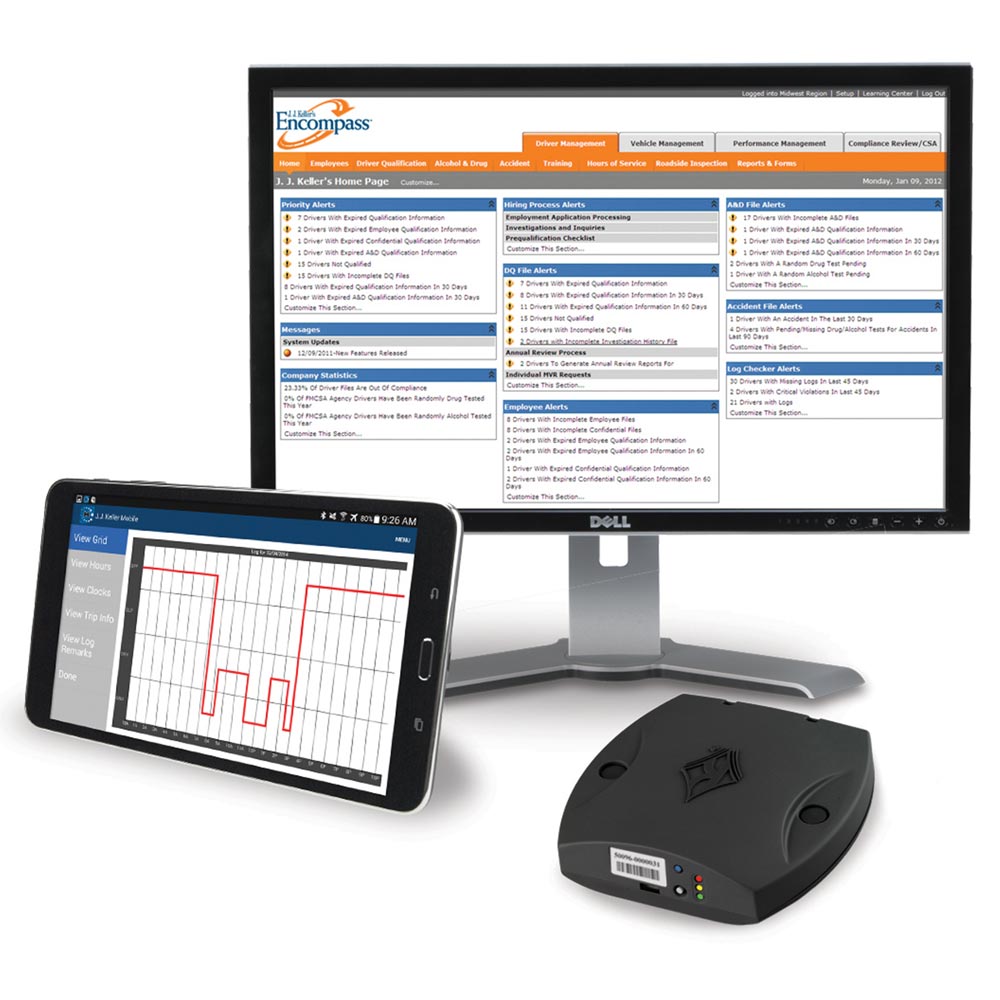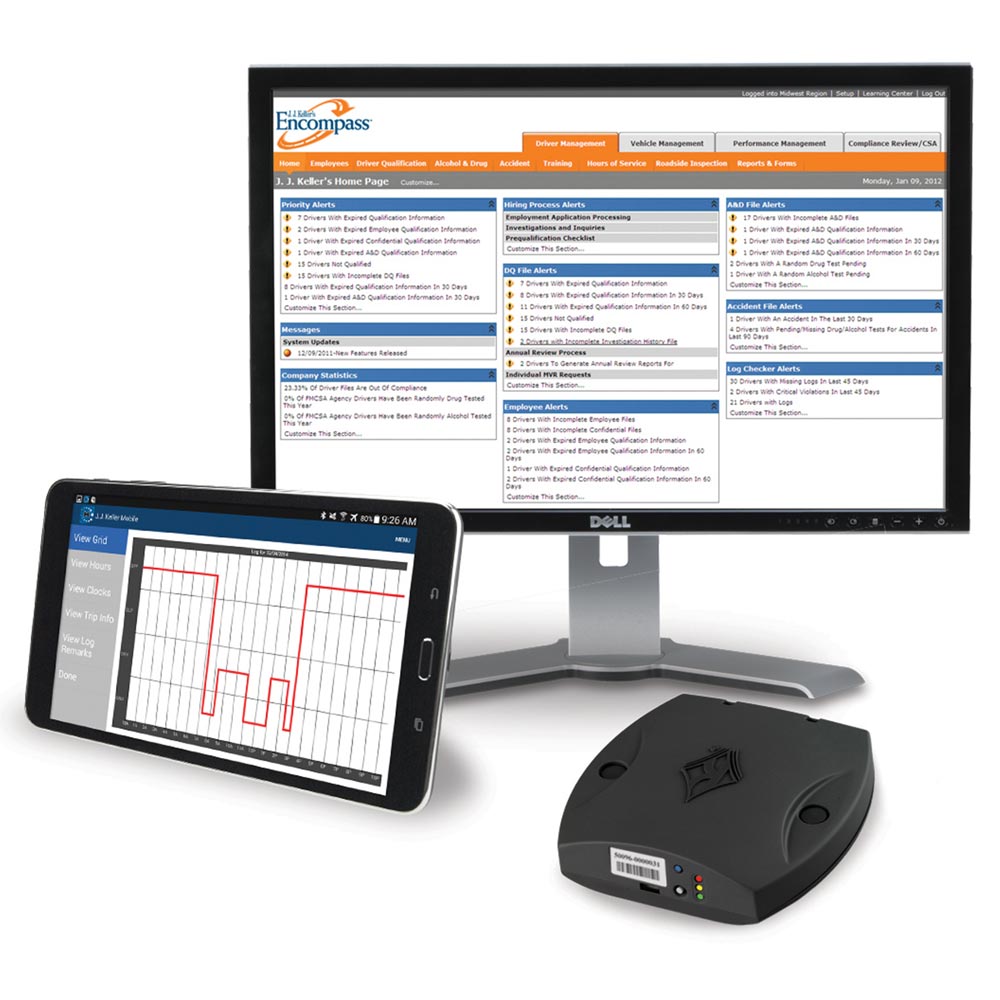 Although the list of features can go on and on, we have singled out the four most important features of the JJ Keller Elog. Here they are:
The electronic logging devices (ELD) have the DVIR (driver vehicle inspection report) and the logs for Hours of Service (HOS).
It's very simple and focused on compliance tools.
J J Keller Elog has a GPS tracking and navigation add-on in the back office
The Encompass back-office system is great in compliance tools.
What Is Included?
The J.J. Keller electronic logging device comes with the following things:
A two-door sticker that reads e logs
A quick start guide intended for the drivers
Technical support guide
Roadside inspection guide
Back-up paper logbook
Warranty card
In addition, each order includes the following components:
An adapter that enables you to connect the ELD device to a vehicle. Be sure to specify which type of adapter you need when you're placing a JJ Keller ELD order.
An elog welcome kit that is specially created to guide new users through the setup process of the Encompass. Apart from that, it will help you install JJ Keller ELD into a truck and install KellerMobile onto a smart device. Also, this elog welcome kit includes some additional resources and tips which ensure that your ELog runs successfully.
J J Keller mobile app designed specifically for smart mobile devices
ELD connection cable
M-F tech support for Encompass users
24/7 technical support for drivers
It should be noted that a monthly service for Encompass Elog Edition is required. It comes with DVIR management. After ordering the JJ Keller electronic logging device, you'll receive a message via your email that contains login information through which you can log in to the mobile app.
There is also a recommended option called Standard Implementation Package. If you opt for this package, you will receive access to eight webcasts that are delivered by the JJ Keller SME (subject matter experts). Keep in mind that each webcast has unlimited use and unlimited attendance in order to accommodate all the members of a team, i.e. a fleet.
The users can explore and examine all the features of the Encompass system at their convenience. Take the time to use this to your advantage!
J.J. Keller ELD Cost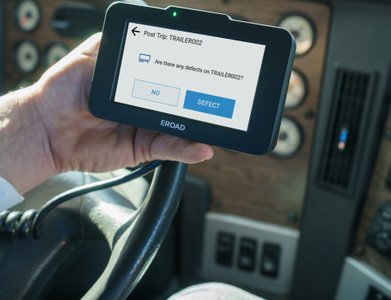 With so many J. J. Keller options available, it could be a bit confusing to figure out what you actually need to pay as well as what is the cost and fee. Let us break it down for you.
The upfront price for this device is $199. We think of the black box that plugs into the vehicle. However, if the drivers use their own device, then it'll likely be less expensive or free to get the hardware for a 2-year contract.
The price for the J.J. Keller tablet is $349. Please note that there are a training fee and a one-time implementation. The cost depends on the fleet size though.
In the event you have your own display device, the monthly charges will be $25.50 per vehicle. Aside from that, you will be paying $15 every month for the data plan for a cell phone. But you're supposed to give your own device.
Those using the official tablet by J.J. Keller will pay $59 per vehicle per month; this also includes the additional monthly cost of $33.50 that's required for the Verizon plan.
Additional Drivers Costs
Some fleets should also take into account the additional drivers' costs. Let's see what these costs are and in which situations they apply.
If the number of vehicles within a fleet is smaller than the number of drivers, then you'll have the extra drivers cost of $3.5 on a monthly basis. For the individual trailer, tracking of the compliance info of trailers and the DVIR records will also cost $3.5 monthly. Besides, the ALK CoPilot GPS for the navigation of drivers goes for 10 dollars per month.
With regard to J.J. Keller Elog, the smallest amount someone can incur is through the drivers who use their own windows phones. In that case, you'll end up paying an upfront of $199 for the J.J. Keller ELog box plus an amount of $25.5 per month. A total cost per device would be $1,117 in three years which will encompass all needs of the electronic logging system.
The more expensive option would be if the drivers use the Co-Pilot navigation and their own J.J. Keller tablets. In this case, you need to pay upfront of $548 plus an amount of $59 each month. When summing up these amounts for 3 years, it gives a total cost of 3,032 dollars.
The E-log device could also be provided with a data plan. What happens in this case? The upfront price for the Elog device remains the same – it would be $199. In addition, you will have to pay $25.5 per vehicle per month as well as an amount of 15 dollars for the data plan. For 3 years, the total cost would be $1,657. Compared to other ELD devices on the market, this is quite affordable. The mobile app is free to download.
Best Suited For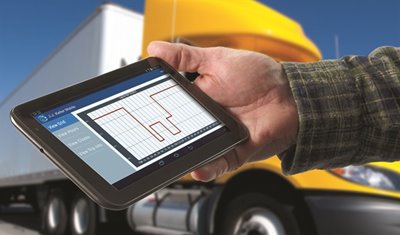 J.J. Keller Elog is tailored for fleets that strive for across-the-board improvements of their compliance.
Besides, the Elog along with Encompass is especially appealing to fleets that wish to go beyond logs.
Pros & Cons of J.J. Keller ELog ELD
Pros
JJ Keller is considered to be an industry leader in regards to Department of Transportation compliance
It does not involve a contract because you're paying as you go.
With JJ Keller Elog, you can be sure that you'll meet all the DOT requirements.
JJ Keller ELog is a component of the Encompass back-office system that's intended to improve compliance management and tackle compliance challenges.
It lets you integrate with lots of mobile devices at the same time via a single mobile app; that way, you can automate in-cab performance, electronic logging device, and Driver Vehicle Inspection Reports (DVIRs) with the J.J. Keller EOBRs.
Desktop software integration is seamless. The mobile app is versatile and constantly updated to meet the new needs of the fleet management system.
J J Keller also provides customer service via a mobile app.
Cons
Dated management web software for J J Keller Encompass fleet management system
Telematics features are limited
Confusing and complicated pricing
Occasional error in hours of service recording in the app between different jobsites and work zones.
J.J. Keller Is One of the Industry Leaders
In a regulatory environment that is constantly evolving, J.J. Keller tends to treat its consumers as partners in critical safety compliance. This company acts as an industry leader, providing fleet managers, owner-operators, and business owners with a broad range of services and products.
That dedication extends to delivering excellent customer service along with products and training.
The same holds true for J.J Keller Elog, a solid product that comes as a part of a large compliance management software named J.J. Keller Encompass. In fact, Encompass is an organizational, safety, and critical safety and compliance solutions. Not only does it increase interaction, but also improves government oversight.
Our Final Review of J.J. Keller Elog
Together with the Encompass system, the E-log is capable of standardizing some critical functions like Hours of Service (HOS), recording engine data, driver qualification, driver performance tracking, e logs recording, licensing, fleet management system, vehicle inspections truck driver safety elogs FMCSA compliance and much more displayed on Encompass ELD app.
J.J. Keller is an electronic logging device (ELD) that is created as a black box you can plug into the diagnostic port of your vehicle. It offers reliable regulatory compliance and performance management. Moreover, it logs DVIR and Hours Of Service data for critical safety and compliance solutions. The customer service is readily available for eld driver support
This device is designed specifically for fleets wanting to improve their compliance while going beyond logs. The mobile app is a convenient solution for the fleet management system. Encompass eld app syncs the truck data from different jobsites and work zones to its online server in real-time.
But before choosing a JJ Keller Elog edition, we advise you to carefully evaluate the pricing and take bang-for-buck into consideration before you're standardizing on the offerings. Take stock of all the options available before you settle on one choice.