Last updated on March 9th, 2023 at 07:57 am
The Qualcomm Omnitracs electronic logging device (ELD) offers an unprecedented level of adaptability and flexibility to fleet compliance.
As one of the leading electronic logging devices (ELD) technology and enjoys the name of a prominent member in the eld manufacturers community, Qualcomm has been helping fleets remain compliant. Additionally, the unit is equipped with an array of tools and capabilities to streamline operations, track navigation and progress, and boost productivity.
Over the years, thousands of drivers and fleet managers have used this solution to improve reliability, compliance, and safety. What makes this solution unique is the fact that it streamlines fleet managers and let them know of the navigation and progress of each truck, owners, and driver experience on a single unified platform.
As you will come to learn, the device offers fleets comprehensive compliance and convenience tools. As such, the system will ensure that you remain current with the recent mandate requirement changes. Throughout this guide, you will learn why Omnitracs is one of the most preferred ELD solutions.
Omnitracs MCP (Formerly Qualcomm ELD) Review – Company Overview


The Omnitracs ELD provider was established in 1988 by the giant telecommunication company—Qualcomm. Over the years, the company has experienced massive growth, offering SaaS fleet management solutions provided in the packages of roadnet technologies.
Currently, the provider has more than 12,000 fleet clients and more than a million assets across the globe. ELD solutions by this provider are suited for small, medium, and large fleets and come at an affordable price. You will also love to know that the service has international coverage and beyond state borders coverage.
ELD devices by this provider are compliant with both the past and current regulations in the industry. The company offers three main ELD solutions, namely:
Get the Right ELD Solution for Your Needs
Rather than offering a one-size-fits-all solution, Omnitracs allows you to choose a compliance solution that suits your business. To make this possible, Omnitracs offers several services and hardware plans.
Regardless of the dedicated ELD Omnitracs solution you choose, you can rest assured that the provider will offer you the reliability and security you need. Devices by this company offer one of the best blends of driver-friendly features and durability. Additionally, the solution offers powerful computing with a broad portfolio of driver and fleet tools.
Discussed below are some of the desirable aspects of this device that truck drivers have come to appreciate:
Omnitracs ELD Benefits
Helps avoid penalties and fines
Allows drivers to Bette and maintain good CSA scores
Enhances efficiency and combats unnecessary costs
Improves production and fleet safety
Reachable and responsive customer support
Requires a low IT investment in items
Improves customer satisfaction.
Report duty status of drivers and records navigation. and progress
Omnitracs hours of service report is reliable
Constant firmware updates to keep your system fast
24/7 tech support from the operations center
Comprehensive eld units
auto-update capability with GPS rollover event
Drawbacks
Customer support by this provider is not as swift as it should be. Again, you may find the unit cumbersome to install. The app sometimes experiences connectivity issues and backend systems issues but these are hoped to be removed in the firmware update. The next firmware update will also improve the dashboard and the main menu to meet the new demand of customers.
Omnitracs MCP Pricing
As mentioned earlier in this review, the provider offers three main products. Basically, the provider does not display any pricing information on its official website. However, the provider charges an upfront price of about $700 for the ELD hardware units placed under the dashboard. Again, you will be required to pay a monthly subscription fee for the back office platform and software use.
According to the thousands of truck drivers using this service, you should expect to pay a subscription fee of about $23 per month. All in all, the much you pay for the Omnitracs ELD solution will mainly depend on the services you need. To know how much you will be required to pay for all relevant units, you should contact the provider for a precise quote.
Omnitracs (Qualcomm) ELD Features and Capabilities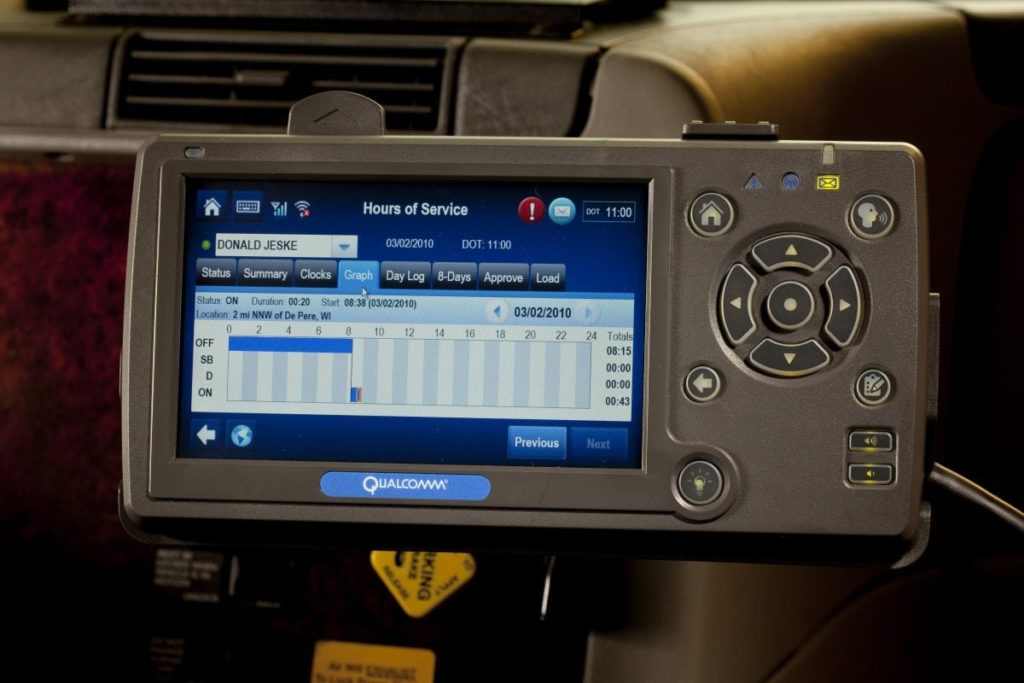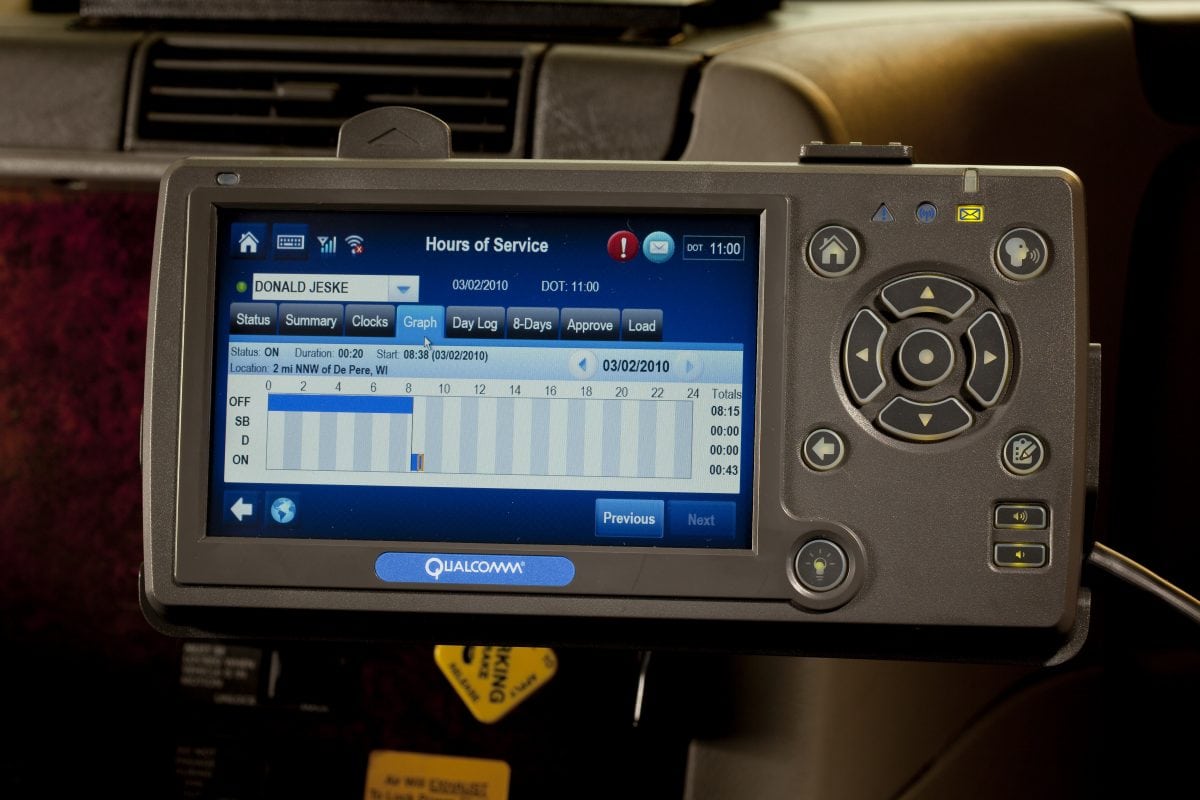 The Omnitracs ELD device offers three main products with included units aimed at mandate compliance and convenient fleet management. The three products include the MCP 50, MCP110, and MCP20. To access the ELD device and documents, drivers can use any smartphone or tablet. Each unit can easily be fitted into the dashboard of the vehicle.
The provider also offers a centralized dashboard that offers fleet managers a complete overview of the fleet. If you are not comfortable with the basic ELD compliance features offers by the basic plan, you can always upgrade to a better plan by Omnitracs.
This provider is renowned for offering some of the best convenience and compliance tools and capabilities, including:
1. Omnitracs MCP50 – Reliable Mobile Computing Platform
Get yourself an affordable, reliable, and versatile ELD solution for your fleet, the Omnitracs MCP50. According to the thousands of drivers who are currently using the device, it is relatively easy to install. Again, the device features an intuitive user interface. The solution is compatible with other fleet management and dispatch software through integration.
Following installation, the provider offers your employees best-in-class training on how to use the device effectively. You can also rest assured that the provider will continue to offer your fleet reliable technical support.
As you will come to learn, this solution is focused on security, giving fleet managers complete visibility into fleet assets and driver behavior. Most portably, the solution will keep your fleet compliant with FMCSA regulations relating to HOS. Additionally, it will help improve performance as measured by the CSA measurement system (SMS).
Other MCP50 capabilities you will come to like include:
Critical Event Reporting
This feature of the MCP50 provides fleet managers with real-time monitoring, navigation and progress record, and notification alerts of critical driving events. In this regard, the fleet manager will continually get alerts on such behavior as roll stability, hard braking, lane departures, and even driver-initiated alerts.
To help you avoid such scenarios, safety applications your phone by this provider are designed to keep your truck's, cargo non-compliance fines often associated with accidents which is why it is a preferred choice to other software alternatives. To begin with, the system allows you to monitor critical events like stability control, hard braking, following time, forward collision, and speeding.
This has allowed thousands of fleets to correct risky driving behavior for enhanced fleet safety. In addition to preventing accidents, such interventions will also help you save money. The device will particularly curb high insurance premiums, non-compliance fines, repair costs, and legal liabilities.
Analytic Manager
The analytic manager tool of this device is capable of converting all the critical data from the Omnitracs eliminating the need for keeping a cumbersome paper log . By converting this service data into actionable data, the solution makes decision-making easier and leverages visual tools like graphs, dashboards, paper logs, and tables.
Automated IFTA Reporting
International Fuel Tax Agreement Reporting (IFTA) has never been easier than it is with Omnitracs ELD units. This solution is meant to save you time, reduce workload for the drivers, track progress, and prevent audits. As you are aware, IFTA compliance is a rather complicated process that is often associated with hefty penalties and fines.
This device will reduce errors and notify the fleet manager of any impending violation of IFTA regulations by the drivers. In this regard, the system generates IVMRs automatically. It will also collect odometer data from vehicle GPS as well as from the vehicle ECM. Critical messages are conveyed through email as well. None of this was possible in a conventional paper logs system. This, in turn, has allowed for greater accuracy and reliability.
2. Omnitracs MCP110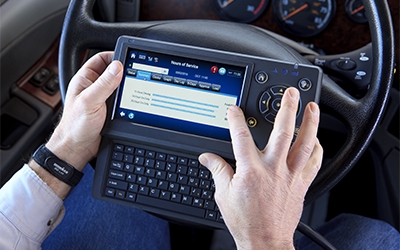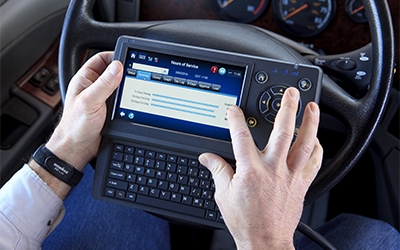 Just like the MCP50 solution discussed above, the Omnitracs MCP110 installs in seconds and is easy to use. Thus, the computing platform features a relatively high bandwidth. This solution is particularly designed to enhance customer service in your fleet and solve all fleet management related issues. Additionally, it will help you combat unnecessary expenses and improve driver productivity.
The MCP200 is also renowned for its unique vehicle safety monitoring capabilities. In its functioning, this solution uses terrestrial signals to communicate. The provider also offers you the opportunity to upgrade to MCP200 WIB, which features Wi-Fi access.
Data collected by the ELD solution is backward compatible. As such, it is accessible across the different Qualcomm platforms. Driver Workflow capabilities of the software will automate load assignments routing and keeps the drivers operating on time. Finally, the solution will help you prevent idling, speeding, and engine abuse on the various vehicles in your fleet through constant communication with units placed in the fleet.
3. Omnitracs MCP200
The MCP 200 is essentially an end-to-end product by Omnitracs that streamlines workflow for the back office and drivers. The solution features in-car content as well as video delivery. This solution may be used for driver training and customer service.
The system offers you such features as a media manager, Wi-Fi, scanning, navigation and progress, and analytics. Such features will help you boost productivity as well as efficiency in your fleet. They will help fleet managers to monitor fuel consumption as well as costs across the fleet.
Other Qualcomm Features and Capabilities
Fleet Management Tools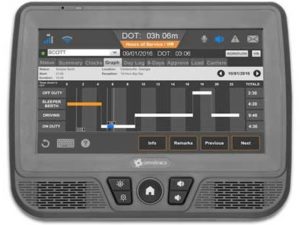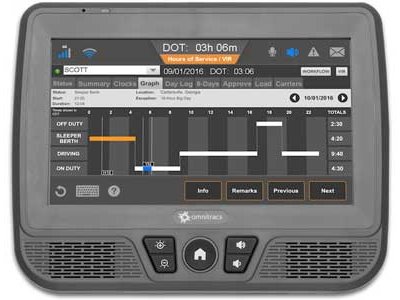 Omnitracs offers fleet managers and truck owners a set of management tools. These tools are specifically designed for enhanced accuracy and fleet efficiency. With such tools at your disposal, you will be able to fully orchestrate operations in your fleet. In order to make this possible, the provider will ensure that you have complete visibility at every level.
Ranging from unified management and process automation to flexible integration options, this solution has every tool you need. Over the years, these tools have been helping fleets become compliant and optimized. Some of the superior fleet management capabilities offered by this provider include:
Reporting and Analytics
This feature provides fleets with constant, real-time, and actionable data availability that is aimed at improving the business. In this regard, the device under the dashboard continuously collects data from the vehicles as well as their drivers. However, this data may be of no use to you, unless it is analyzed.
In addition to collecting data, the Omnitracs ELD solution is designed to synthesize the information into meaningful data. As such, the unit lets you have a precise view of what is happening in individual vehicles and the entire fleet at any given time.
To begin with, the unit allows you to view all fleet data at a glance through its detailed KPIs, report, and customizable dashboards. By analyzing the data collected, the unit makes it possible for you to identify important trends, reduce unnecessary costs, enhance fleet safety, robust location intelligence, live duty statuses report, and improve decision making which is why it's the most preferred choice in the transportation industry.
Transportation Management System (TMS)
The TMS solution by Omnitracs serves as a powerful cloud-based planning and resource management platform. The solution guarantees your fleet adaptability, streamlined operations, and improved capacity. By so doing, the solution has been helping fleets improve their efficiency, profitability, and productivity.
In its functioning, TMS bridges the gap between the disconnected systems, teams, and processes in the business. Again, it allows you to manage load planning, assignments, and dispatch seamlessly. As such, it will serve as a unified fleet management portal for your business. The solution allows for flexible integration with third-party services. This being the case, it will automate processes and share critical information with other systems across functions and groups for a better experience.
Omnitracs Load Board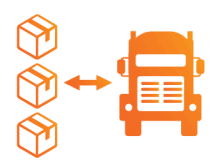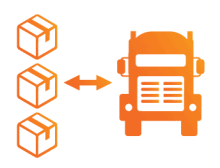 This is a platform that allows you to connect with thousands of professional carriers, brokers, and private fleets. This is the kind of solution you need to combine assets and opportunities for improved revenue creation. The system is actually designed to complement the Transportation Management System (TMS) discussed above.
The two work hand in hand to offer fleets a simplified management experience. To help fleet owners get more from their businesses, this platform makes it easy for them to find profitable loads. Additionally, it will help you prevent empty backhaul and idle assets in your business.
In addition to growing your business, such tools have an array of benefits to offer fleets, including:
Added Customers Value – with this solution in place, you will never have to turn loads down again. As such, it allows you to use capacity from thousands of proven and vetted carries.
Management On-the-Go – the service is web-based, allowing you to update and monitor the progress of the fleet from virtually any device.
Simplified Integrations – this platform allows for simpler integrations with the leading brokers, third-party systems, and carriers.
Reduced Risk – gives you better freight visibility from the carriers on the platform. Again, it gives you an opportunity to choose which partners to work with.
Broader Reach – by allowing them to connect with thousands of transportation professionals, the platform has allowed fleets to expand. In this case, you will be able to expand your reach across North America, working only with reputable professionals.
ELD and HOS Compliance
Being one of the providers of some of the best ELD devices in the industry, Qualcomm offers trusted and reliable compliance. For more than 15 years now, the provider has been offering ELD solutions to customers and has made significant progress in improving its devices.
In addition to being a trusted brand name in the trucking industry among the customers, Omnitracs devices are certified. The various ELD solutions by this provider have been proven to comply with both the past and current FMSCA and DOT regulations.
Our Final Verdict
Ranging from FMSCA and DOT compliance tools to Fleet management and Load Board capabilities, this solution has it all for its customers. As a matter of fact, the Omnitracs ELD solution offers much more convenient tools than any other ELD option in the same price range. As you have learned throughout this review, the product has a horde of benefits to offer.
For instance, out will keep you compliant, save you time and money, notify you about your progress, improve fleet safety, and get rid of weight station handles. Again, the device will help you improve the recruitment and retention of drivers in your business. Omnitracs hours of service reports are reliable and accurate. The application receives constant firmware updates with the required configuration file and thus it never slows down with time giving the best user experience.
Omnitracs will also make decision making easier for fleet managers with its range of intelligent reporting and analytics tools. If you are looking for an ELD that supports both fixed scales and mobile inspections, get the Omnitracs ELD device.
Please see our Best ELD Devices in 2023 review.