Last updated on July 24th, 2023 at 06:06 am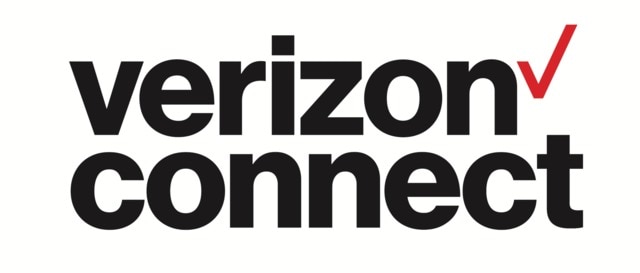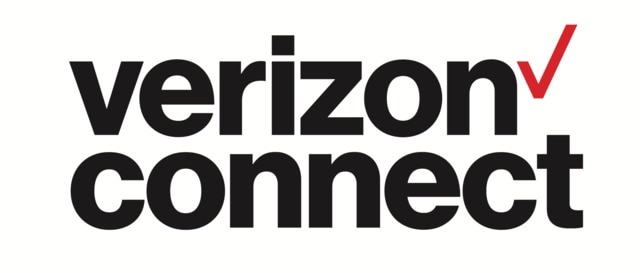 Verizon Connect Reveal electronic logging device (ELD) is one of the best Buy Your Own Device (BYOD), a cloud-based solution you can own today.
Formerly known as Telematics, Verizon Connect is a renowned provider of GPS fleet tracking services.
Over the years, the company has been offering some of the best fleet tracking solutions in the industry.
Recently, the provider unveiled an equally appealing product on its website—the Verizon Connect Reveal ELD. Just like the other products and services by the provider this ELD solution is intuitive, accurate, and reliable for GPS fleet tracking.
The product is essentially meant for mid-sized commercial vehicle fleets. Even so, you will like the fact that the product is loaded with a wide range of compliance and convenience features for each carrier.
Additionally, many fleet managers in the country are impressed by its range of fleet management tools. So, what exactly makes this product so desirable?
Verizon Connect Reveal Review 2023—Company Overview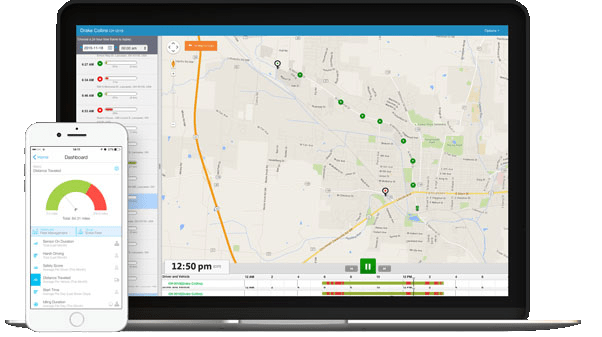 Before it was acquired by Verizon, the company was referred to as Telematics and specialized in GPS fleet tracking.
Even after the acquisition, the company continued in its path of offering some of the best products and services for truckers.
One of the latest products by this company is the Verizon Connect Reveal ELD.
As you may have realized, this electronic logging device is one of the most preferred models in the industry today. This may be attributed to the feature-rich, highly versatile, and innovative electronic logging device solution it offers to truck drivers and fleet management.
With this product, you will be able to track your drivers on a map and automatically detect dangerous driving behavior. Additionally, this ELD solution is known to send real-time push alerts; notifying supervisors, and dispatchers of such behavior.
From this dynamic map view of vehicles and drivers, fleet managers and dispatchers are able to deduce precise arrival times for their carrier. To know more about Verizon Connect talk to the customer support center on their phone number.
Innovation Meets Mobility
One of the distinctive capabilities of this solution is that it automates hours of service (HOS) reporting. Not only is this more convenient, but it also prevents you from making an error while logging your HOS.
As you can imagine, this innovation reduces stress on the part of the drivers as far as completing daily HoS logs is concerned.
Verizon Connect ELD Benefits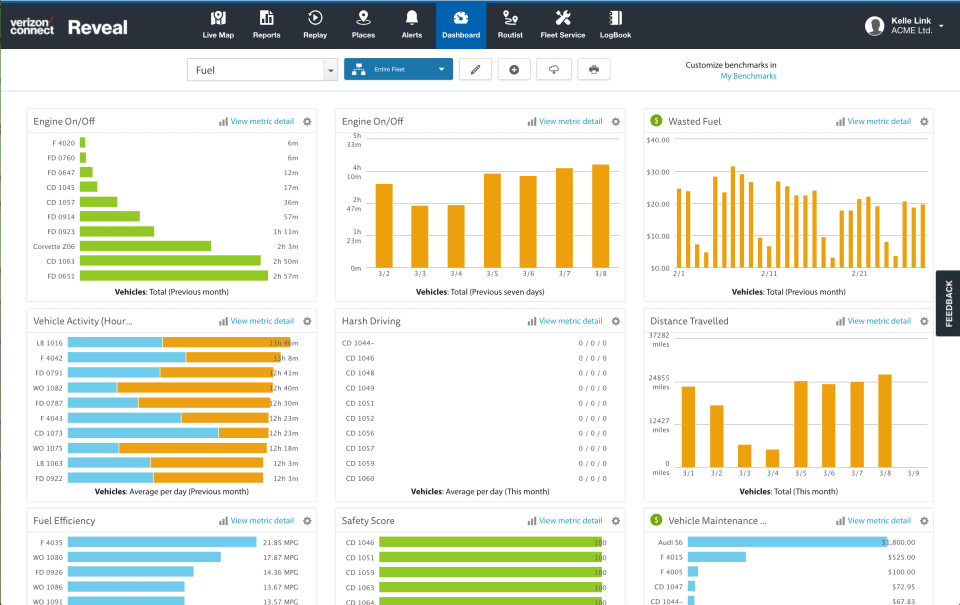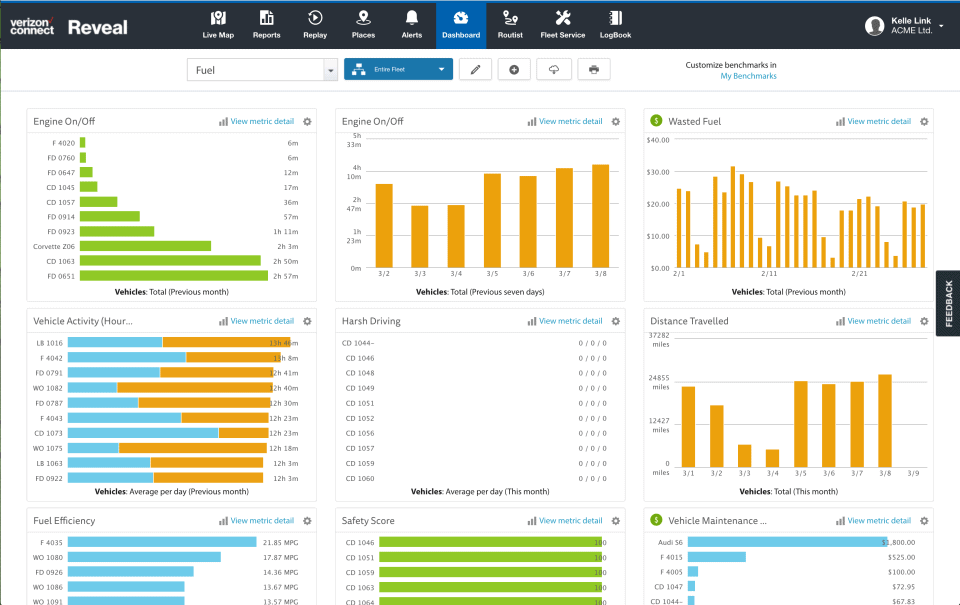 Employs Cloud SaaS deployment
Features shipping and job management tools
Has Scheduling and order management capabilities
Tracking capabilities for fuel and costs
Allows for electronic DVIRs completion from a phone
Automated hours of service (HOS) reporting
Automated Duty Status and Driver Status updates
Send HOS limit alerts
Comes with telematics hardware and installation gear
Offers a free demo
Roadside assistance in case of motor vehicle breakdown
GPS tracking for accurate fleet management
Easy installation
Reliable fleet management software
Logging truck drivers duty status
Compliance with FMCSA ELD mandate
ELD logbook maintenance
Verizon ELD Downsides
Some features, like the view mileage driven, are not readily accessible
Verizon Connect ELD Pricing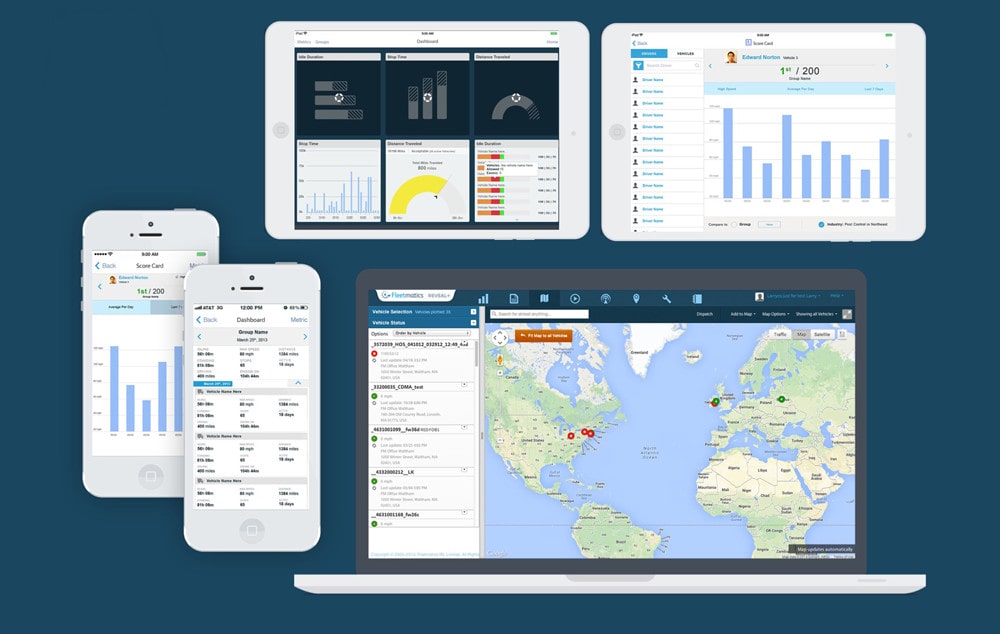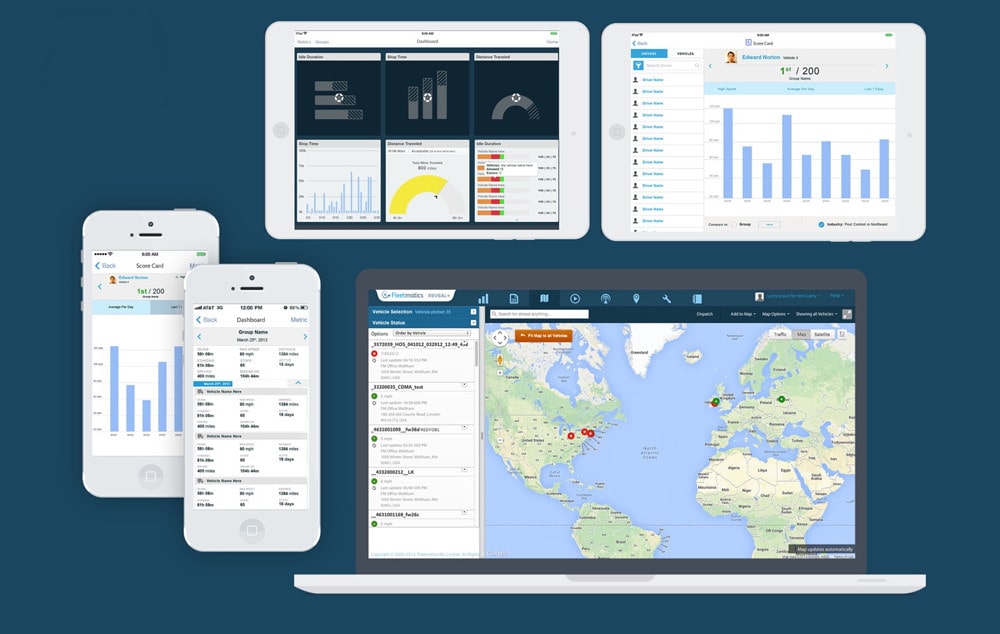 A considerable number of truck owners, especially the owner-operators and owners of smaller fleets, have expressed their concerns with the cost of ELD devices.
However, a good electronic logging device does not have to be expensive. As a matter of fact, providers like Verizon Connect are offering solutions that are feature-rich, yet affordable.
Basically, this product offers fleet management software which can be installed on your mobile device and computer. In this regard, the provider offers a subscription-based pricing model.
This is to say that the much you will be required to pay per month will mainly depend on the features you need. However, you will be glad to know that the provider does not charge an upfront cost for the system.
If you are concerned about the much you will be paying per month for the REVEAL ELD, here are some of the cost considerations you should bear in mind:
This is the most affordable plan by the Verizon Connect ELD provider. For just $35 per month, you will get the ELD hardware and access to the newest version of the software platform. Although this is the basic plan, it office GPS tracking as well as a range of compliance and reporting tools.
If you would like to include electronic logs capability to the basic ELD plan described above, you need to subscribe to the electronic logs plan as well. In such a case, you will be required to pay an additional $10 per month.
Cell-enabled Smartphone or Tablet
If you'd rather get a Cell-enabled smartphone or tablet, you will be required to pay an additional $15 per month. Therefore, you should expect to pay about $60 per ELD unit per month. The good thing about this plan is that you will not require drivers in your fleet to use their own cell data for the ELD.
Verizon Connect ELD Product Offering
In addition to the feature-rich and affordable ELD and fleet tracking software, this provider has several other unique products and services to offer. See also industries services on the official website.
Some of the ELD products and services you may need from this provider include onboarding assistance, hardware and installation, vehicle and ELD inspection reporting software, in-cab tablet mount, and 4G LTE cellular connectivity.
Verizon Connect REVEAL ELD Features and Capabilities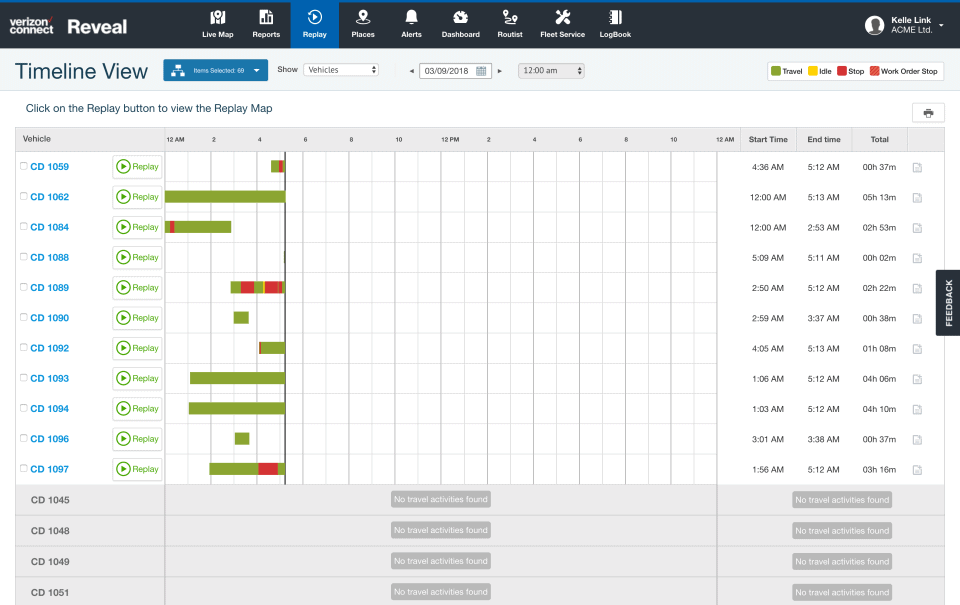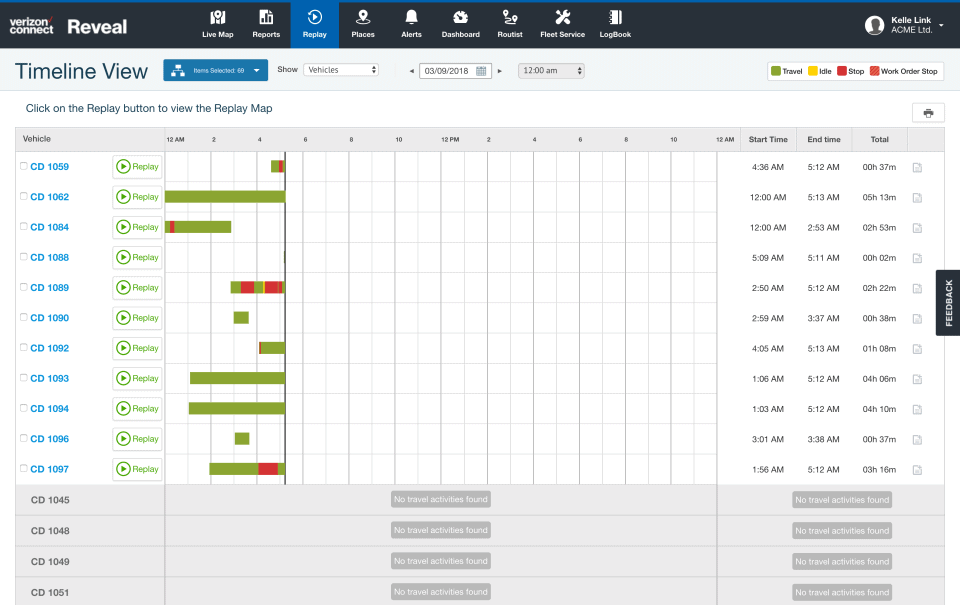 However affordable an electronic logging device may be, it will be of no use if it is not compliant. Again, the relevance and functionality of an ELD logbook mainly depend on the features and tools it offers.
For years now, GPS fleet tracking services by telematics have helped companies reduce costs, improve productivity, and customer satisfaction.
What if you could couple this tracking technology with some of the best ELD and fleet management features and tools?
Well, this is precisely the superior blend the Verizon Connect REVEAL ELD solution has to offer. Discussed below are some of the key features and capabilities that make this electronic loading device stand out from its competitors:
Real-Time Driver and Fleet Monitoring
Whether your commercial vehicles are transporting valuable cargo or not, it will give you peace of mind knowing where they are at any given time. The data can be accessed on the website as well.
Through this real-time fleet and driver monitoring feature, Verizon connect allows you to do just that. Additionally, the unit furnishes you with important data on the driver.
This feature allows you to generate driver-oriented reports. Using such reports, you will be able to view fleet dashboard activity using driver ID, email address, or phone number on the website.
With such a feature in the later version of its ELD packages, it will be easier to keep the driver's information consistent within a single management system accessible on a website, regardless of how many vehicles they happen to drive in a day or week.
The REVEL GPS device requires each vehicle to have a key reader installed on its dash. As such, the driver will be required to use a unique key fob assigned to them every time they are starting a vehicle. Not only does this make it easier for you to manage the drivers, but it also helps you keep track of the vehicles as well on your phone app or website.
Notifications and Alerts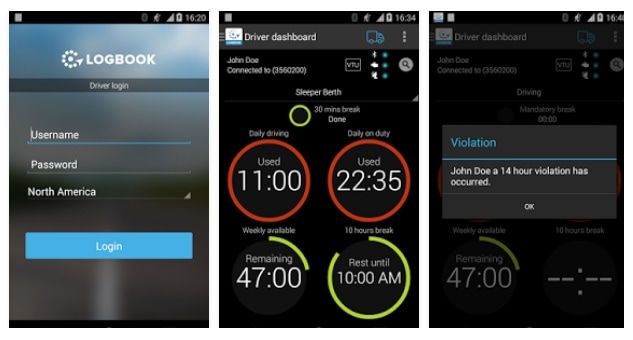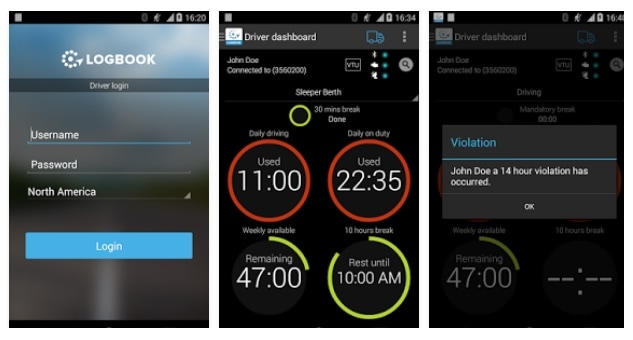 When shopping for the best electronic logging device, a considerable number of fleet managers and truck owners tend to overlook the importance of alerts.
Without this capability in your ELD, it will be difficult for the fleet manager or even the driver to know when something is going wrong.
With Verizon Connect REVEAL ELD, you will be getting real-time alerts and notifications in the form of text messages to your phone or emails. Alternatively, the system allows you to track such notifications through the mobile app which is available for both Android and iOS platforms, or alternatively from the company's website.
With this electronic logging device, you will be able to get such notifications as point of interest alerts, idling alerts, speeding alerts, and vehicle activity alerts. For instance, if a vehicle that is supposed to be packed at the company premises is started and moves, the system will send you a vehicle activity alert.
Route Replay
The replay feature and timeline view of this ELD give you the opportunity to review driver as well as vehicle activity via an internet device. With this feature, you will be able to review the activity of your vehicle and driver within a certain period through the intuitive display. The fleet management software learns the turning on and off of the motor vehicle. This makes it easy to calculate the HOS of drivers.
For instance, you may decide to view all the made trips by any of the vehicles in your fleet since the engine was turned on until it is shut down.
In other words, you will be able to view the trips made by any of the vehicles in your fleet by date. From this data, you can clearly see early starts and finishes as well as long stops and excessive idling by the vehicles/ drivers.
Truck owners and fleet managers also love the fact that the ELD allows them to root out unproductive engine use or travel in their fleets.
Again, this feature will also come in handy if any of your customers complain or lodge a dispute. In such a case, the route replay feature may be used to show proof of service.
Fuel Card
If you happen to be knowledgeable on the ELD market, you will know that this feature is unique to the Verizon Connect ELD solution.
As a fleet manager, truck owner, or even a driver, you understand that a considerable amount of the budget is spent on fueling the vehicles. If not controlled, this can deal a death blow to your transport business.
This is why the Verizon Connect ELD provider integrates fuel card into its ELD solution. This feature is essentially designed to help you monitor fuel costs in the fleet. Fuel Card achieves this by generating such reports as a fuel purchased report. Such a report will help you understand how fuel money was spent in the fleet.
You will also be getting fuel lost reports from this device. These ones will, for instance, identify instances when a card was used when the vehicle it was assigned to was not at the fuel pump.
The fuel efficiency report, on the other hand, will help you understand which vehicles are running efficiently and the ones that don't meet the efficiency requirements.
Fleet Maintenance Information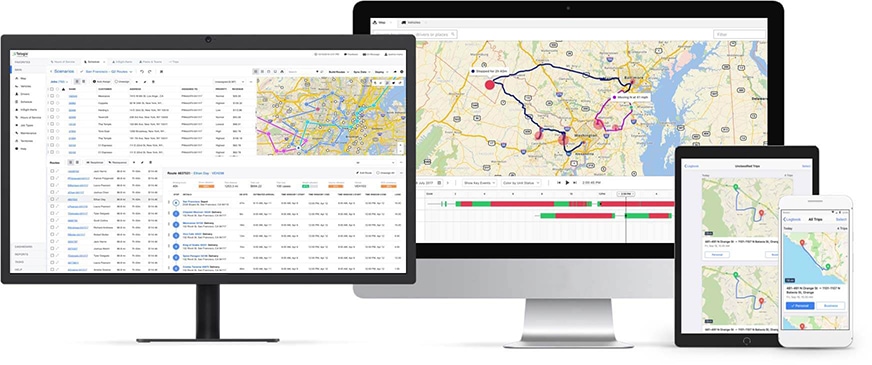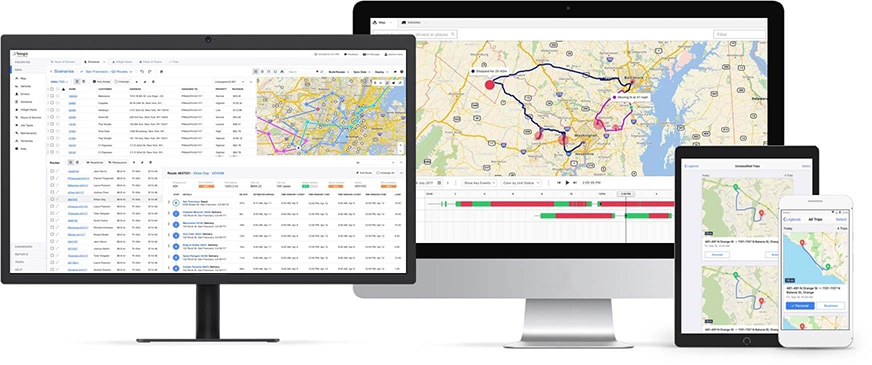 As the name suggests, this feature is designed to help you manage truck maintenance schedules more effectively.
Using this feature, you will be able to create service schedules for the various vehicles in your fleet.
Thereafter, the system will automatically notify you when any of the vehicles are due for maintenance.
While planning maintenance schedules for your fleet, you should consider using such historical maintenance data as vehicle mileage, usage hours, and service date. You may also program the system to send a notification to your mechanic and other team members as well.
In addition to helping you remain compliant, Verizon Connect Reveal will ensure that vehicles in your fleet are always in good condition. This will go a long way in ensuring that you avoid breakdowns as well as costly repairs and replacements in the fleet. To get any additional information about services resources company solutions see the official website of the company or call on the company phone number.
Integrations
Just like most of the leading electronic logging devices in the market today, the Reveal ELD by Verizon allows for integration with several other services.
In this regard, the system features an open API. As such, it allows you to share ELD data with several other business applications you may be using in your fleet.
Our Final Verdict
With more than 28,000 users and more than 594,000 subscribed vehicles, Verizon Connect Reveal is arguably one of the best ELDs in the market today. However, this is not the only reason you should invest in an electronic logging device.
As you have learned throughout this guide, this GPS, cloud-based ELD, and fleet management solution have many benefits to offer service-based businesses. With such a solution installed in your vehicles, you will be able to track the vehicles as well as drivers in your fleet in real-time.
From the app, you will be able to manage the various ELD aspects, inform your customers where the delivery trucks are located, and whether they'll be arriving in time or not.
As such, it is evidently clear that the Verizon Connect ELD has much more to offer your fleet, than just FMCSA ELD Mandate compliance.