Last updated on July 24th, 2023 at 06:09 am
If you are not in the agricultural sector, which has been awarded a grace period, compliance with the ELD mandate is necessary requirement, therefore, As an owner-operator, you must install the right ELD devices in your vehicle(s).
Having the right product installed in your truck will not only ensure that you remain in compliance with FMCSA requirements; it will give you access to an assortment of features to keep track of your hours of service (HOS)and better your CSA score.
While there are numerous ELD devices in the market today, choosing the right ELD for owner-operators can be challenging. In this regard, you need to consider such aspects as the cost, features, ELDs type and FMCSA approval while shopping for the best unit.
To make the choice of the right ELD devices for owner-operators easier, here is a review of five of the best ELD devices for owner-operators today.
Best ELD for Owner Operators 2023
| e Log Name | FMCSA Certified | Upfront Equipment Price | Geofencing | IFTA Fuel Tax Reporting |
| --- | --- | --- | --- | --- |
| Rand McNally – Electronic Logging Device ELD 50 | Yes | $149.00 | Yes | Yes |
| My20 ELD by Konexial | Yes | $45-$55 | Yes | Yes |
| Garmin eLog Compliant ELD | Yes | $249.00 | Yes | Yes |
| KeepTruckin ELD | Yes | Free | Yes | Yes |
| Stoneridge EZ-ELD | Yes | $169.00 | Yes | Yes |
Some Perspective From A Long-Time Owner Operator
Reviewing the Top Five E-Logs
1. Rand McNally – Electronic Logging Device ELD 50 – Best ELD Overall for owner-operators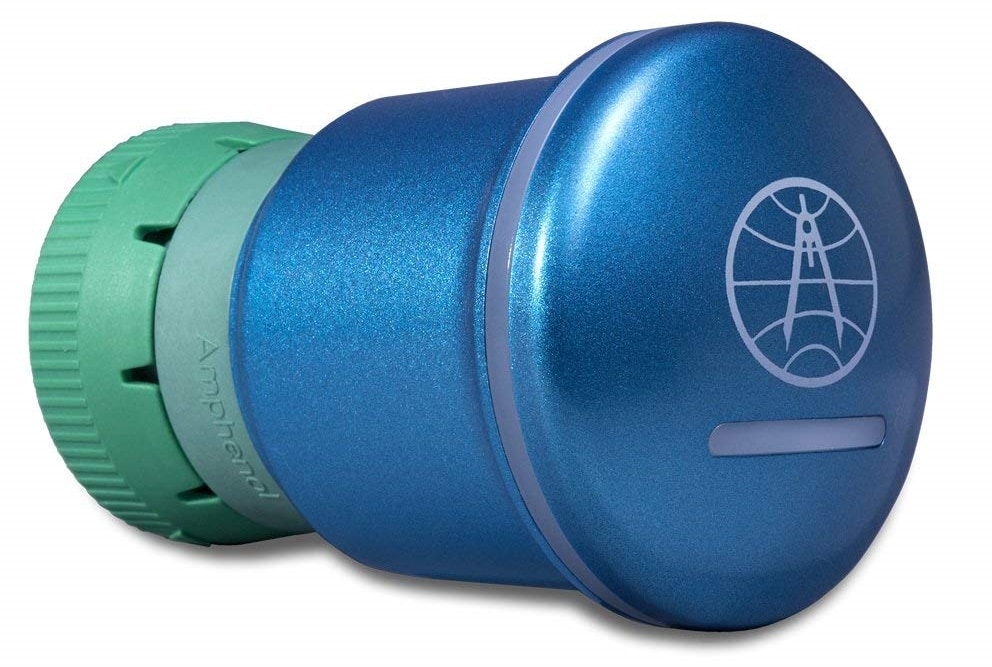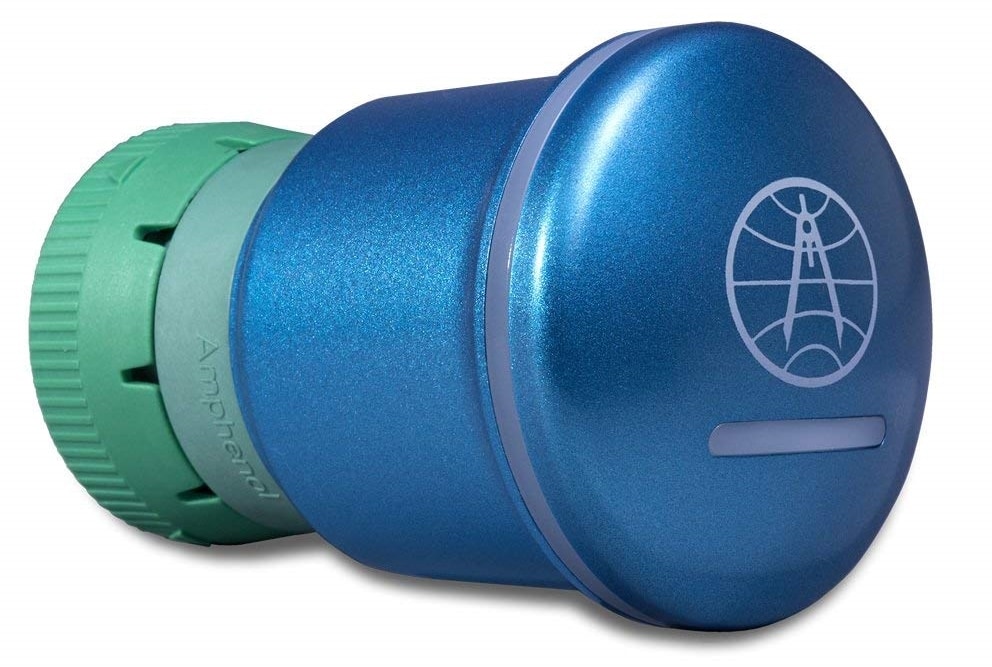 For less than $200, the Rand McNally ELD 50 offers you a great selection of features at the best price.
As an owner-operator, you need a device that is easy to install so as to avoid paying for installation, right? Well, this product offers you just that. To install the ELD 50, you should plug it into the diagnostic port—often located below the dashboard.
In addition to standard ELD features, this product is capable of generating advanced DVIR reports. You will also love the fact that the product can store a considerable amount of data on functions, GPS based tracking and metrics of the vehicle.
Once you have installed the ELD devices in your vehicles, you need to download and install the Rand McNally Drivers Connect app on your phone or tablet. The App is free to download on either the Google Play Store or the Apple iOS store.
With the App installed on your phone, you can connect to your ELD 50 devices via Bluetooth and have access to a horde of electronic logging device features. According to the review by thousands of satisfied users of this product, the ELD 50 makes it super easy for you to view and certify the hours of service (HOS) logs of drivers. The device requires a cellular connection for asset tracking through GPS, but cellular coverage is not absolutely necessary.
Whenever you are out of cellular network coverage or do not have the connected device, the ELD devices will continue to collect logs. In such a case, the logs will be stored in its internal storage, which can store up to 2-days worth of logs.
Whenever you are connected to the internet on the tethered device, you can upload the stored data from eld devices to the Rand McNally web portal for storage. This portal stores such data for up to 6 months. Other features based on customer review which make it the best solution includes:
Pros
The Rand McNally DriverConnect App for Android and iOS devices
Comes with a 9-pin connector
Features a customizable dashboard
Comes with an optional Web portal
Features several gauges for engine diagnosis
Precise GPS based asset tracking
App allows you to view 8 days of logs
Web portal stores data for 6 months
Comparatively easy to install and use
Offers several affordable monthly service plans
Cons
Internal memory can only hold a day's worth of data
2. My20 ELD device by Konexial – The Most Affordable fleet management ELD solution for Owner-Operators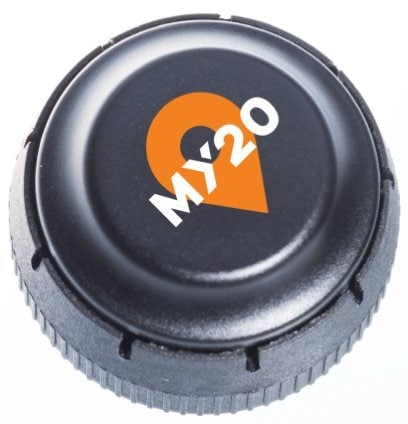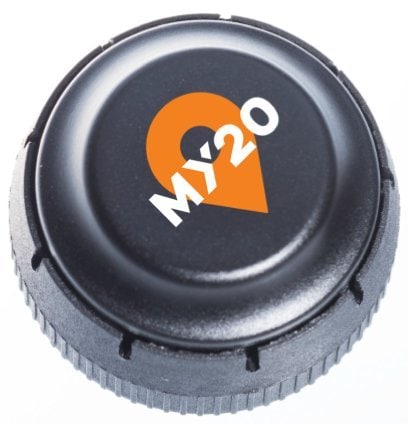 If you still are for the opinion that ELDs are too expensive for owner-operators, you have not heard about the Konexial My20 ELD. Well, this is one of the leading ELD providers offering their ELD equipment on hire purchase terms. Additionally, the monthly subscription plans by this provider are also affordable.
Though an affordable solution, the My20 ELD is a powerful, yet simple electronic logging solution. The device is also packed with essential productivity features for your business. The convenience that this ELD solution offers has garnered the best customer review over the years.
You will particularly love the features that are meant to streamline your operations and enhance the profitability of your business. For instance, the provider offers GoLoad—a vibrant load-matching service—that will make your work easier.
The GoFuel award-winning feature is meant to improve fuel efficiency in your vehicle. This feature allows you to spend less whilst making more money. Other features you will get with this product include Messaging, GPS asset and drivers tracking, Maps, My20 Rewards, Time, dynamic load matching in real-time and reports.
For the software monthly subscription, you can choose either the $15 or $25 plan depending on the features you want. Both subscription plans are charged quarterly.
Pros
Features a built-in 9-pin ECM connector
Provider offers a choice of 2 subscription plans
The installation equipment is free
Monthly service subscriptions are affordable
Relatively easy to install and use
Compliance insurance as required for ELD devices
Cons
You will require an adapter to install the ELD in OBD-II or 6-pin ports
3. Garmin eLog Compliant ELD device-  The NO-Subscription ELD for Owner Operators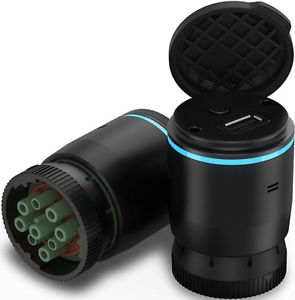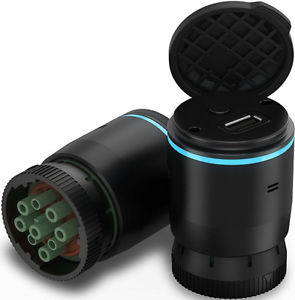 Although some of the best electronic logging devices are free or cheap to buy, paying for the software service subscription month after another can be a burden for your business.
To avoid this, owner operators are opting for ELD devices that do not require monthly subscriptions. One of the best devices, in this regard, is the Garmin eLog Compliant ELD.
The product is also easy to set up and is compatible with both 6-pin J1708 and 9-pin J1939 port installations. Therefore the product may be used on virtually any commercial vehicle in the country.
After plugging the device into the diagnostic port in your vehicle, you will need to download and install the Garmin eLog App into your Android or iOS device.
Pros
Stores ELD data in the connected phone or tablet
Compatible with 6-pin and 9-pin port installations
Relatively easy to set up and use
Compliance with FMCSA mandate
Supports Bluetooth and USB connectivity
Does not require monthly subscriptions
Cons
Offers fewer features beyond logging
4. (KeepTruckin) Motive GPS based ELD device– The Best Zero Upfront Cost ELD for Owner Operators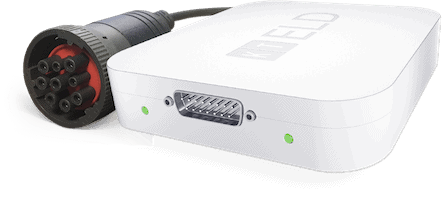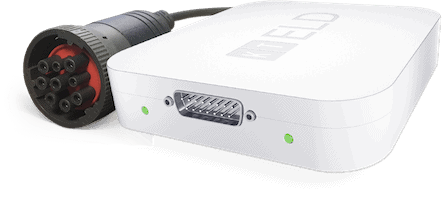 Get the best value for your money while investing in the best electronic logging devices today by buying the KeepTruckin ELD. As an owner operator, you not only need a product that is really affordable and easy to use; but also one that will support growth in your business.
Like many other drivers in the industry today, you probably own a Smartphone or tablet. As such, you can save money on the ELD hardware by buying a product that allows you to use your own device, such as the KeepTruckin ELD.
As your fleet grows, you will not need to ditch this ELD for another solution. This is because the product has all the tools you will need for tracking your entire fleet as an owner operator and as you progress into a fleet manager.
Get Motive Deal
Now into the more interesting details of this ELD solution; the equipment is free. Yes, you read that right—the provider is now offering the KeepTruckin ELD equipment for free. This should be a great relief for owner operators like you, right?
Actually, you will not be required to pay for the equipment or any interest in your monthly subscription payments. Regardless of the equipment being free, you will find the subscription plans by this provider quite affordable. In this regard, the provider allows you to choose from two main monthly subscription plans; a $20 plan and a $30 plan. No wonder KeepTruckin is a preferred ELD solution for drivers and fleet managers today.
With the basic $20 subscription plan, you will have access to the basic ELD features on your KeepTrucking ELD devices. Some of the basic features offered by this plan include GPS tracking, messaging and HOS reports. To get additional features like IFTA and DVIR reports on your KeepTrucking ELD, you will need to subscribe to the $30 plan.
Pros
The ELD equipment is free
Affordable monthly subscriptions
FMCSA compliance
Comes with 9 pin and 6 pin installation cables
Supports Bluetooth connectivity
Offers an array of features
The best customer support according to users review
Cons
You have to pay more to get IFTA and DVIR reporting capabilities on your ELD
5. Stoneridge EZ-ELD – The Best ELD devices for Ease of Use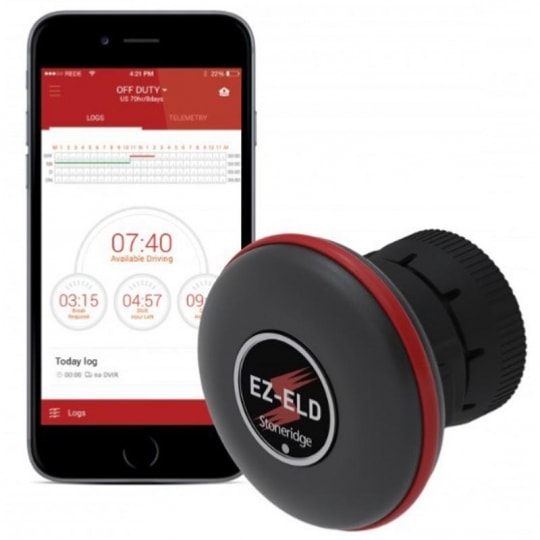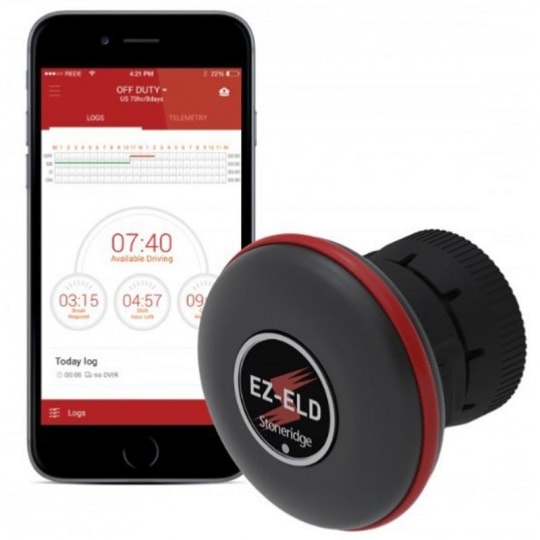 Regardless of the truck make and model you own, you will find the Stoneridge EZ-ELD a great ELD choice. To begin with, the ELD devices provided by this vendor are FMCSA certified and will give you complete control over compliance requirements. With this tracking device onboard you will have no worries about breaking compliance regulations and tempered tracking reports
Again, the product is relatively easy to move from one vehicle to another. In this regard, the ELD comes with multiple adapters for installation on different vehicles.
Many of the drivers who are currently using this product have expressed their satisfaction with its easy installation. Depending on the truck model you are driving, you should choose the right adapter and plug the device into the OBDII OBD port. According to a review by fleet managers, the device is best for asset tracking as well.
Once that is done, you only need to scan a QR code on the ELD in order to pair it with your phone or tablet.
Pros
FMCSA mandate compliance
Features Scan and Drive technology
Comes with multiple installation adapters
Comparatively easy to move from one vehicle to another
Offers an array of powerful back-office tools
Accurate asset tracking
Comparatively affordable solution
Offers DVIR and IFTA reporting capabilities
Cons
The upfront cost is a bit high, as compared to similar products
Things You Need to Know Before Choosing An ELD Device
As an owner-operator driver, it always pays to be on the safe side of the law. In this regard, you will need to buy the right ELD product sooner, rather than later, for compliance with ELD mandate that will come to effect on December, 18. Well, many owner-operators are already complaining and openly objecting to this mandate however compliance with the mandate will nevertheless become a prerequisite for putting your fleet on roads.
Before joining this bunch, you should stop and consider the options. As odd as this may sound, not all e-logs are too expensive. This brings us to the controversial question, which is the best ELD solution for owner operators?
The right ELD solution for owner-operators depends on several factors. In order to buy the best ELD solution for your truck(s), there are several things you must know. Basically, the right solution for your business needs to be reliable, affordable and easy to use.
In this regard, here are the main considerations you need to make while shopping for the best owner-operator ELD devices:
1. ELD Costs
As you may be aware, many of the owner-operators objecting to the ELD mandate are basing their arguments on ELD costs. However, this is not the case for all the e-log solutions out there. As a matter of fact, some of the ELD solutions available today are quite affordable for owner-operators and small fleets.
With regards to affordability for owner-operator ELD devices, here are some of the key considerations you should make:
UP-front Costs for the Equipment
First things first, you need to check the much it will cost to get the ELD equipment for your truck(s). While ELDs units appear to be rather simple pieces of equipment, it is true that some of them are awfully expensive. As an owner-operator or a fleet manager of a smaller fleet, you may not have all the money to splash on such costly e-log devices, right.
Luck for you, not every e-log solution in the market is that expensive. Actually, some of the leading ELD providers are ready to give you the ELD installation hardware free of charge and then charge you a small monthly fee thereafter, mainly for reliable back-office tools. Such providers will be a great choice looking forward to saving money on ELD installation.
If you still would love to get the more complex, and often expensive, gadgets, you should consider buying the ones that offer financing. In such a case, you will get the equipment at a more affordable upfront cost.
Therefore, you will be paying for the equipment in accordance with your preferred monthly service plan; which includes interest.  So, stop fussing and become compliant.
Yes, as minute this bit of detail may appear, it will contribute to the much you need to pay to become compliant.  As you may be aware, different ELD solutions vary in terms of complexity. Ranging from simpler solutions to the most complex ELD, the mode of installation will differ.
Some of the best ELD solutions are so simple to implement that you can actually install them on your own. However, there are other products that require professional assistance to install. Then there are other providers that will install the unit(s) for you as part of the equipment cost.
As an owner-operator trying to save a few bucks on ELDs, it is advisable for the products that you can easily install on your own. Alternatively, you can go for the providers who will install the product in your vehicle(s) free of charge. This way, you will be able to save some money on the installation of ELD devices in your truck.
Regardless of your preferred ELD devices provider, you will have to subscribe to a monthly service plan in order to get access to their assortment of back-office tools. Again, this fee varies from one provider to another. Since affordability is an important consideration for you, it is advisable to go for the providers that offer affordable monthly service plans.
2. FMCSA Approval and compliance
However, expensive or affordable your preferred e log solution is, it must be in compliance with ELD mandate requirements. Additionally, the product should be certified by FMCSA. As such, you first need to check whether the product is in the FMCSA list of approved devices and ensure other compliance requirements before making the purchase.
If for any reason, the ELD device installed in your truck(s) is found not to be compliant, you will be required to replace it with a compliant device within 8 days. This is not only inconveniencing but will also cost you more money.  Again, you may end up being penalized or getting a citation for the non-compliant vehicle or even the entire fleet. Be on the safe side, get FMCSA approved/certified e log for your truck.
3. BYOD or Dedicated e Log Solution?
The various electronic logging devices available today may be grouped into two broad categories; dedicated and bring your own device (BYOD) ELD systems. Although you are focusing on the best ELD solution for owner-operators, you must realize that requirements will vary from one business to another. As such, your choice of either BYOD or Dedicated e-log systems will depend on your business requirements. So, which of the two systems is suited for your trucking business?
These are the e-log solutions that allow you to bring your own devices, such as tablets or Smartphones. As such, you will only need to buy the ELD device and connect it to a Smartphone or tablet that you bought separately. Such a solution is considered to be versatile and can save you some money if you already have a Smartphone or tablet.
The downside to such an e log solution is that you will have to pay for cellular connection separately. Again, drivers need to use their phone or tablet to access the ELD, which may lead to distractions while driving.
As opposed to BYOD systems, dedicated electronic logging solutions do not allow you to bring in your devices. Instead, the provider will provide everything you will need, including the ELD device and viewing devices like tablets at a one-time upfront cost. Other e log providers are known to give out the equipment to owner-operators for free or on hire purchase terms.
If this is your preferred type of e logging system, it is advisable to first enquire about the features before making the purchase. Some of the leading dedicated e log systems available today are known to have limited features, beyond logging. Make sure you get a great value for your money by buying a dedicated system that is versatile and has the features you need.
4. Important Features for fleet management
For enhanced versatility, your preferred e log solution should offer additional features, beyond logging. Many of the leading ELD products have excelled in this regard, offering a great selection of additional features. As such, you should go for the product offering the features you will need as an owner-operator. Basically, this will depend on the number of trucks you have as an owner-operator.
For instance, you may not need GPS tracking if you only have one truck on your fleet, right? However, you will definitely need this feature as your fleet grows. In addition to ELD features, you should also ensure that your preferred provider offers the right back-office tools for your business.
Some of the common e log features you may need to include:
Messaging
Navigation
Dashboard video camera
Real-time GPS tracking
Tire pressure tracking
Maintenance and diagnostic reports
Document scanning
Geofences
Signature capture
Dashboard for a fleet manager
However, some of these features may require you to subscribe to a higher-priced monthly service plan with your provider. As such, you should balance the benefit of the various features with the much you have to pay to get them.
Our Final Verdict based on expert review
Following the ELD mandate, many owner-operators in the trucking business have already expressed their concerns with the cost of ELD solutions. While some ELD solutions may be too expensive for your business, some of them are quite affordable and have the right features and tools for enhanced efficiency and ease of use.
However, choosing the right ELD devices requires much more than just the cost consideration. Owner-operators in the industry are particularly having a problem choosing the right e log solution. With this guide, you should have an easy time choosing the best ELD solution for owner-operators.