Last updated on March 9th, 2023 at 06:38 am
For fleet management companies, regardless of the size, keeping track of vehicles is of high importance. You will want to know when your trucks require repairs or maintenance, where they are, and other facts that can help you reduce fuel costs and travel time.
There is a large number of tracking systems and software these days. They all provide an insight into the efficiency of your operations and streamline them at the same time. Eventually, this will help you boost the efficiency of your vehicles, reduce your costs, and increase revenue.
If you are looking for complete, simple, and affordable ELD products and services for your fleet and drivers, take the time to check the AT&T Fleet Complete for additional information. Just like other ELD systems, this FMCSA-compliant solution by AT&T is meant to save time and money by simplifying and automating your DVIR and Hours of Service (HoS).
With this GPS-based tracking solution, you will be in complete control of your fleet operations and manage your fleet with great ease. It records all events in near real-time to ensure that your complete fleet operates smoothly at all times. The goal is to achieve ELD compliance, optimize operations, and keep revenue high.
What else can the AT&T Fleet Complete do for you? How does it work? What are the benefits of using this ELD solution? What features does it include? Read on to find out more.
A Few Words About the Manufacturer
AT&T is a multinational holding company and one of the leading players in the telecommunications industry today. They provide products and services for fixed and mobile telephones to transportation technology and vehicle solutions.
The company, with its AT&T Fleet Management system, has tapped into the ELD market to provide transportation businesses with a simple electronic logging solution that will keep them compliant with regulations. In addition to regulatory compliance, they help businesses improve fleet tracking and dispatching. The Fleet Complete has been developed to provide complete vehicle solutions with all these things in mind.
AT&T Fleet Complete Overview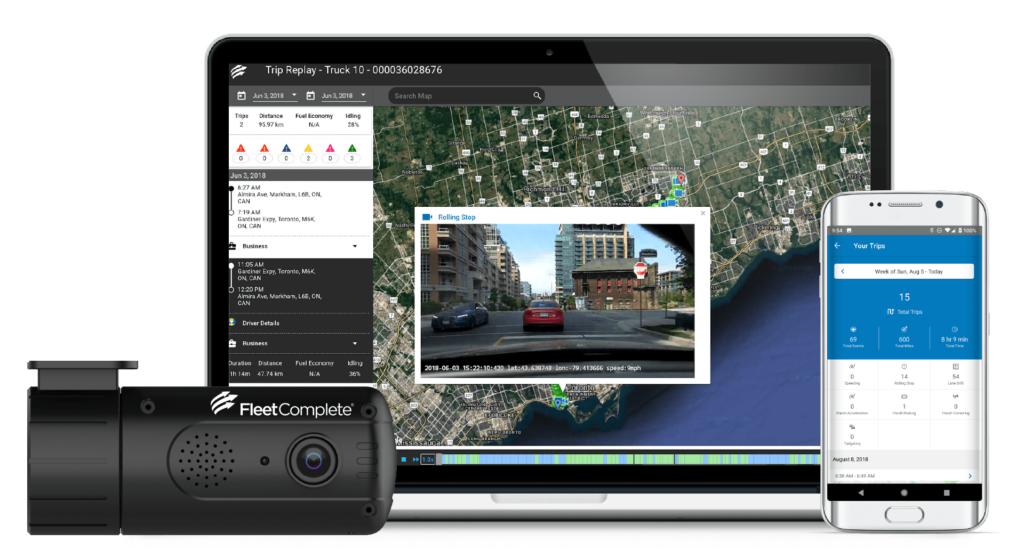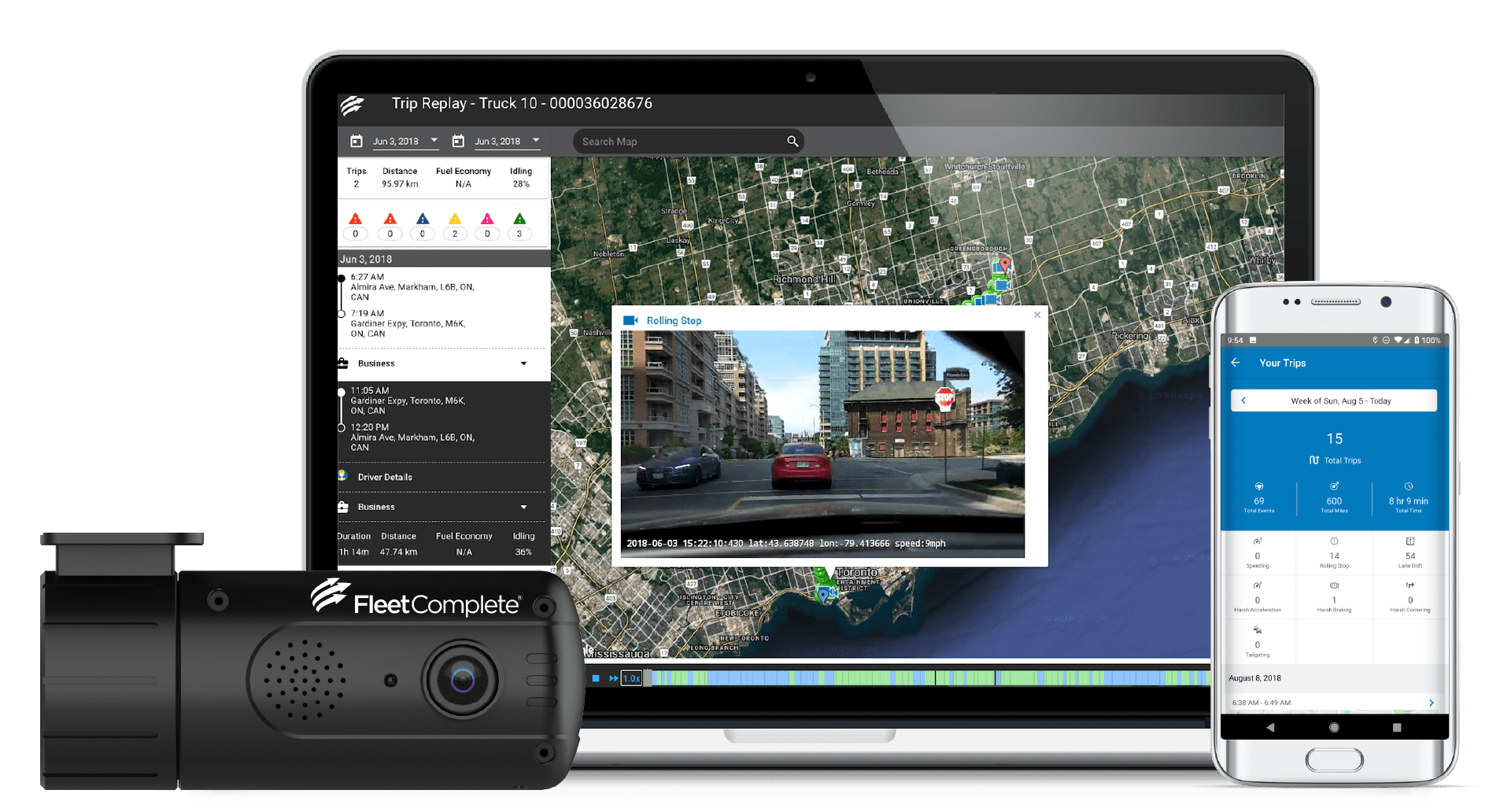 AT&T Fleet Complete is a GPS-based fleet management solution that allows for real-time tracking. This cloud-based system can help commercial transportation companies maintain regulatory compliance and reduce business costs, making it one of the best fleet management solutions in the market.
It is intended to expedite DVIR reports, automate e-log books, and speed up vehicle inspections. While doing all of these things, Fleet Complete will make sure that you stay compliant with ELD rules.
There are a variety of fleet-management modules included like resource tracker, asset tracker, and fleet tracker. It also includes a mobile fleet tracking app (powered by Big Road) that works on your mobile device, both iOS and Android.
This ELD solution comes with the FieldWorker module, which allows users to keep data stored in the Fleet Complete centralized database. You can access data offline; the system will automatically switch to online mode when detecting an internet connection.
How Does It Work?
In order to carry out fleet management with the AT&T ELD solution, you will need:
Hardwired modems for your vehicles
Smart devices (smartphones or tablets) for your mobile workers
Asset tracking devices for valuable equipment and trailers


You might be wondering how to incorporate and use all of these devices. First things first, you need to connect the AT&T tracking device to the engine control module.
Once the vehicles have been equipped with the hardwired modems, you'll be able to track and manage all of them in real-time. It lets you run reports, record driving time, sign driver logs, receive violation alerts, and much more.
You will also need to install the AT&T Fleet Management app on your smartphone. With the use of this tracking app, you will be able to view data related to your current driver status and available drive time.
It also allows users to update their duty status. Current status and available drive time are clearly displayed on the main dashboard.
Fleet Complete Mobile Fleet Tracking App
As stated above, it is necessary to install the Fleet Complete application to use this ELD. It should be pointed out that it is actually the BigRoad app that is designed as an extension to the AT&T web-based version.
This mobile tracking app makes it easy to locate and manage fleet assets on the go. For instance, you can quickly get access to fleet information, view live status, and vehicle location.
The Fleet Complete application comes with some new things, such as:
Fresh, optimized design
Automatic cluster analysis for easier navigation
Possibility to search and observe all the assets (vehicles) at once
Despite all of these advances, there is still room for improvement. According to user reviews, the redesigned Fleet Complete app doesn't work on all mobile devices and is prone to crashing. It leaves a lot to be desired.
Key Features & Capabilities
Two-way real-time communication: The information can be easily collected and sent between fleet vehicles, operations staff, and mobile workers. Aside from receiving alerts and driver logs, they can also run reports (both IFTA and DVIR) on past activity.
Driver logs: Use this simple solution to simplify your driver logs and tasks. It makes it easy to create accurate and clean inspection-ready logs. Unlike paper logs, e-logs can be easily edited when making a mistake or where necessary. Driver logs can be accessed instantly. They are editable so that the supervising managers can screen all the edits.
Operational optimization: This fleet tracking solution can make it easier for load managers and dispatchers to locate drivers at any point. Moreover, they can keep track of their driving and resting time, as well.
Centralized reporting: Log storage is centralized to cut administrative workload, time, and costs. The IFTA reports are audit-ready, whereas DVIR and Hours of Service are automated for the best results.
Drivers support: By increasing visibility for dispatchers and drivers of potential violations, this system can help improve driver safety. The system supports the drivers all the way without impeding their driving.
Notifications and alerts: Violations alerts notify drivers if they approach HOS violations. That helps them stay compliant by planning their routes in a better way. Since the logs are editable, violation notices can be overridden when needed. Yet, it is necessary to provide a reason for any edit. Keep in mind that all the edits are logged within the Fleet Complete app for roadside inspections and audit purposes.
Automatic updates of driver duty status: If the system detects any movement over 5 mph, it automatically changes duty status to "Drive." It is a great way to reduce DOT attention, eliminate violations, and maintain a good CSA score. The integral synchronization is also included to make the system sync with the engine ECM and capture vehicle motion status, engine power status, and miles driven.
DVIR features – Inspection checklist & Mechanic portal: While the inspection checklist allows fleet drivers to record any defects, the mechanic portal lets them access defect logs with ease. Reports created by a previous driver can be accessed, too.
Key Components: What is Included?
The package includes 3 separate components for communicating and tracking with mobile workers, vehicles, and assets:
AT&T Fleet Tracker – AT&T offers a plug-and-play MGS800 fleet tracker that is designed to simplify the logging process. This GPS fleet tracking device is feature-rich and will provide you with accurate engine data readings and near real-time insights into your workforce.
Asset Tracker – You will want to know where your assets are at any given moment. This system will help you track your vehicles more effectively. As a user, you can check your vehicle data, including charge status and fuel level remotely.
Action Tracker – Operating as a driver behavior monitoring system, the action tracker detects driver behavior like harsh braking and excessive speeding. Aside from being dangerous, it increases fuel consumption and maintenance fees.
Note: You also get an ECM cable with an OBD-II connector.
FMCSA & ELD Mandate Compliance
All the commercial trucking companies are required to meet FMCSA and ELD rules to keep operating. As you may already know, they need to achieve compliance by December 16th, 2019.
Please note that FMCSA regulations have already come into effect, and the deadline extension only applies to those companies that have previously installed AOBRD devices. That means you should have an ELD system in place which allows your drivers to record driving hours electronically.
If you are still looking for an FMCSA-compliant electronic logging device, you should consider using the AT&T Fleet Complete. This budget-friendly solution aimed at helping businesses streamline driver vehicle inspection and IFTA reporting. It can keep them compliant with the ELD mandate without breaking the bank.
However, Fleet Complete goes beyond just compliance. It can also help you get more productivity and efficiency out of your assets. With this system, you will improve safety of drivers and the visibility of your assets too, which makes it one of the ideal fleet solutions.
Service Plans & Costs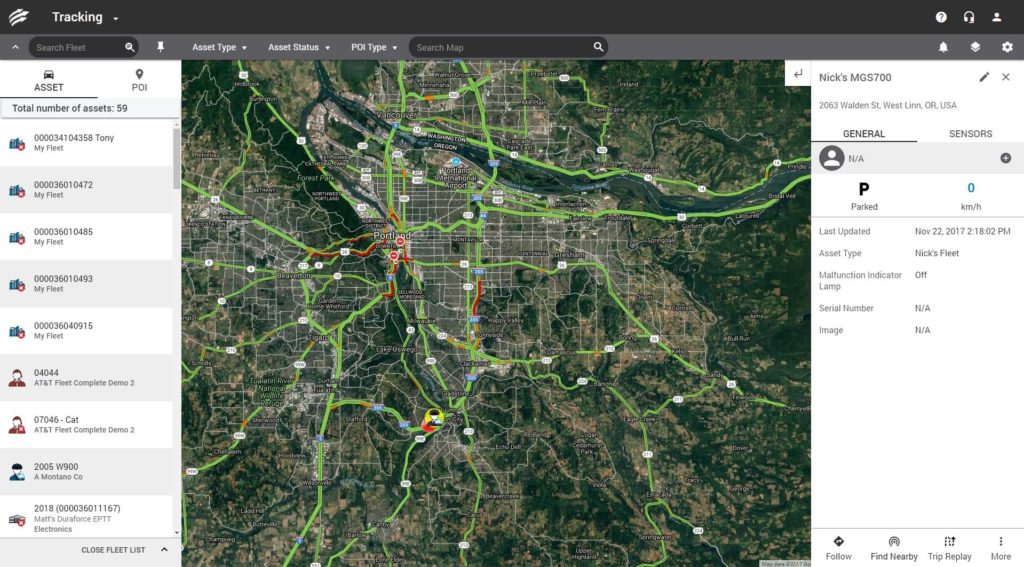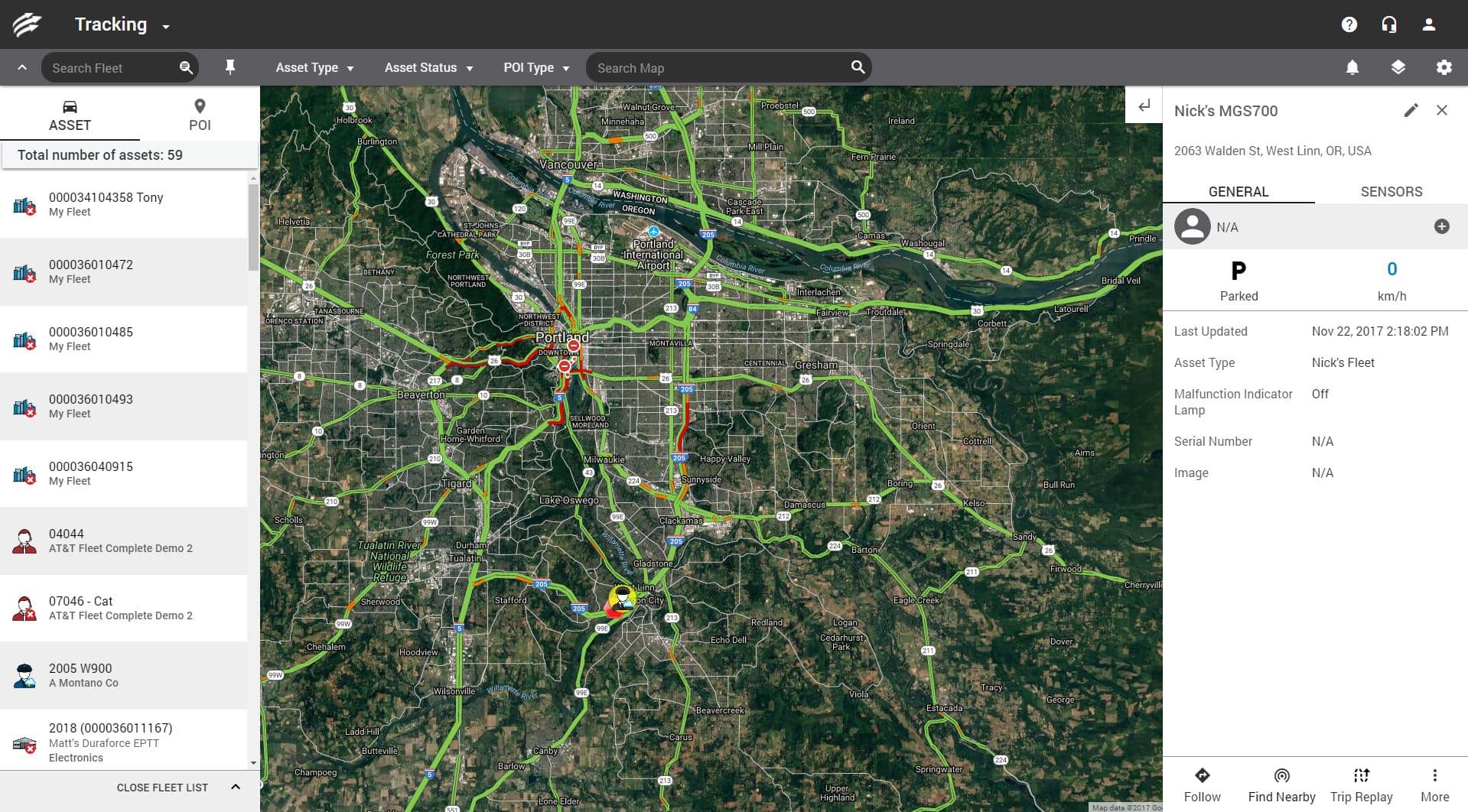 If you are looking for an affordable ELD solution below $50, then the AT&T Fleet Complete will fit within your budget. It is perfect for businesses that run fleet management on a tight budget.
There are no upfront hardware costs. Your monthly costs will depend on the subscription plan you choose.
Best Suited For – Who Should Use It?
AT&T Fleet Complete is aimed at fleet companies with a mobile workforce. Whether you're running a large fleet consisting of a hundred vehicles or have just a few trucks, this management solution will suit the needs of your business.
It is suited for both business owners and fleet managers. As a fleet manager, you will have more effective communication with drivers, which is necessary for efficient operation. On the other hand, the fleet owners will get a chance to become compliant and boost their business.
Benefits of Using AT&T Fleet Complete
If you are still not sure if AT&T Fleet Complete is right for you, take a look at the potential benefits you can get from this ELD solution:
ELD compliance: Obviously, the main reason for using this software is ELD mandate compliance. Whether you own or lease a private fleet, Fleet Complete will ease your transition to ELD compliance.
Reduce operating costs: By optimizing fleet dispatch processes, the AT&T Fleet Complete can help reduce fuel costs. Additionally, it can help you lower vehicle-related and administrative costs by decreasing paperwork and manual processes. In addition to managing service visits, the maintenance module will allow you to cut unscheduled maintenance expenses.
Increased efficiency: Not only does the AT&T Fleet Complete increase the efficiency of vehicle inspections, but it can also increase the effectiveness of the entire fleet asset. Businesses can take advantage of this fleet management solution to achieve higher productivity of their resources and assets.
Improve your CSA score and business reputation: AT&T Fleet Complete will let you know if any vehicle moves faster than allowed. It also detects out-of-route activities and unauthorized use of motor vehicles. You will get notifications on violations instantly while the duty status will be changed automatically. This will help you put an end to aggressive driving behaviors or unsafe driving and raise your CSA score over time.
Real-time communication: The AT&T wireless network enables businesses to improve communication by managing and tracking vehicles in real-time. The job orders are managed electronically. Better communication leads to increased efficiency.
Pros:
Reliable DVIR solution
Comparatively priced
An array of back-end office tools
Violation alerts and risk notifications
Accurate arrival times
An intuitive mechanical portal
Possibility to change the driving status
Effortless installation and setup
Cons:
It lacks some user ability
Fleet Complete App is prone to failure
Service outages
Wrap Up
If you haven't equipped your vehicles with an ELD system yet, it's high time to make a switch. The AT&T Fleet Complete is a simple way to switch to electronic logging and become compliant. But it's not all about compliance.
This complete ELD solution also allows you to manage and track your workforce and assets in real-time. Furthermore, you will be able to monitor the Engine Control Module (ECM) data and driving violations.
In the end, the AT&T Fleet Complete will help you increase fleet productivity and reduce operational costs. Not only will it reduce your fuel and maintenance costs, but also the carbon footprint of your company.
Please see our Best ELD Devices in 2023 review.