Last updated on March 9th, 2023 at 04:43 am


Are you in the market for a fleet-focused onboard electronic logging device (ELD)? Most of these devices offer all the latest bells and whistles.
With such a solution, you get plenty of additional functions like automatic mileage tracking, asset tracking, dispatching, IFTA data collection, driver safety, and so on. But the question is which functions really matter.
The majority of independent owner-operators seek easily reportable baseline-compliance ELD devices. You'll want to choose a solution that is relevant and 100% FMCSA approved. You will also want it to be affordable and easy to use as well.
In this review, we will present you My20 ELD by Konexial. You are going to find out what it is about, which functions and features it offers, how to use it, and much more. So, take a couple of minutes of your time to check it out. It is worth a look.
My20 ELD Review – About The Company
Before we move ahead in this review, let's meet the Konexial team and see what they stand for.
Konexial's philosophy can be described in only two words: Drive Life. This means they're devoted to producing technology that makes drivers' lives a whole lot easier. Their ELD devices and tools also help owner-operators improve their business.
More specifically, people at MY20 are committed to improving the economic, environmental, social, spiritual, and physical aspects of life.
This company, based in the United States, has extensive experience in creating services and products that connect drivers with real-time information. The goal is to improve communication, visibility, and availability with device drivers already use — their cell phone.
What My20 ELD is About?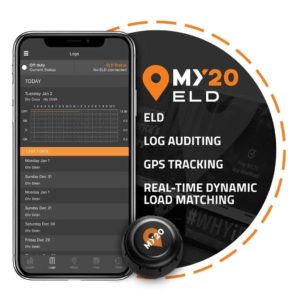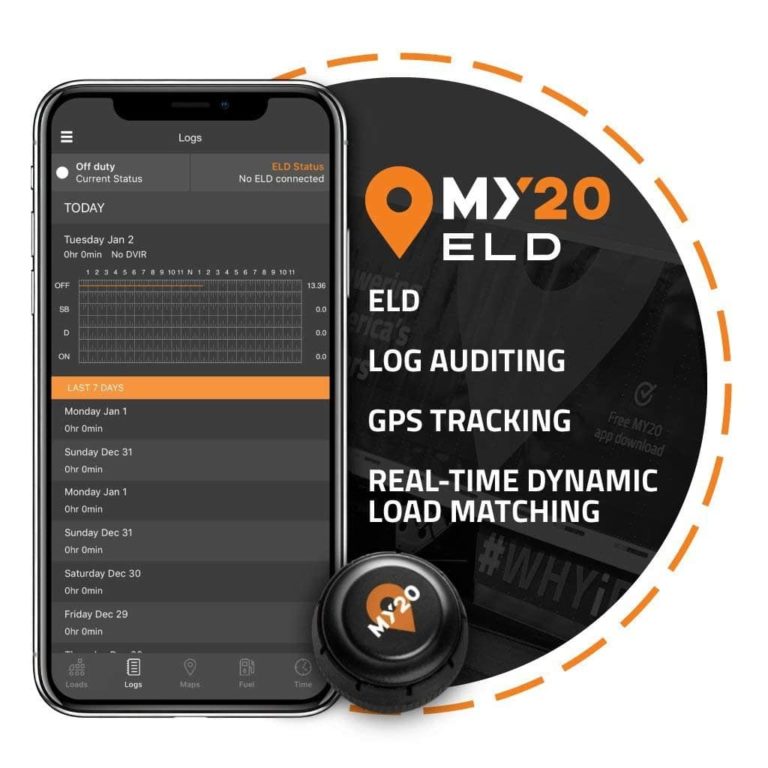 In short, My20 is a simple ELD solution that connects to the truck engine and automatically records driving time. Aside from ensuring compliance with HOS requirements, this all-in-one solution can enhance the overall driving experience.
My20 ELD is actually designed to act as a co-pilot for truck drivers. In fact, it automatically logs Hours of Service (HOS), available capacity, and driver's location, thereby fulfilling FMCSA ELD compliance requirements.
Other things worth mentioning include dynamic load matching, route mapping, and navigation.
As a matter of fact, this ELD system consists of telematics software and hardware device to record the driver's activity. Not only does it save you time, but it also helps you make more money without driving more miles.
How Does It Work?
My20 ELD is a no-brainer. There are only four simple steps you need to follow:
Download – First things first, you need to download the My20 ELD app from Google Play Marketplace or Apple App store.
Installation – The next step is to get the My20 ELD hardware installed in a diagnostic port (ECM) of your vehicle.
Link – Then you should connect the app via Bluetooth to your phone.
Tracking – Now you are all set to go! Audit your logs, track Hours of Service (HOS), obtain rewards, and much more.
What Does My20 ELD Cost?
My20 ELD is a bring your own device and they have 2 payment options:
12 months – $300
25 months – $600
You will need to pay an additional $129 for the My20 ELD connector to your truck and if the pin arrangement is not the same (9 pin), you will have to pay for an adapter.
Key Features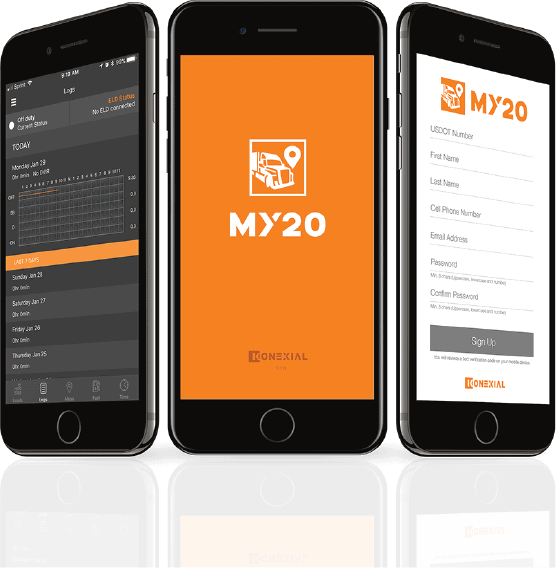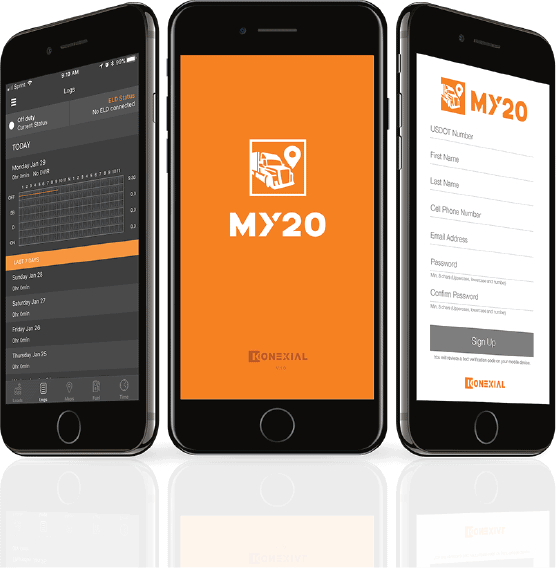 As a fleet manager or owner-operator, you should always seek an ELD solution that comes with a plethora of features.
My20 combines productive, simple, and powerful features to make an all-inclusive tool that increases a fleet's earning potential.
Here's what you can get with this particular solution:
Driver Vehicle Inspection Report (DVIR)
Dynamic Load Matching (DLM)
Engine Info (faults, MPGs, etc.)
Fuel Information
Two-way messaging
GPS Tracking
Driver' s Location
Log Auditing
Time
MY20 rewards
Maps
Great customer support team
Installation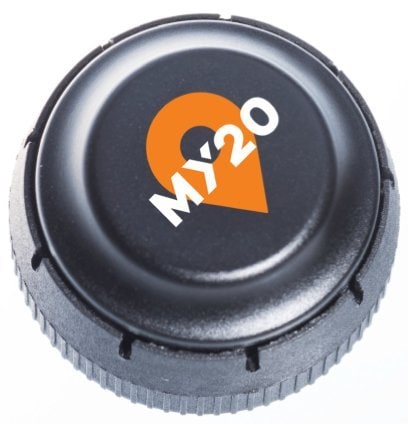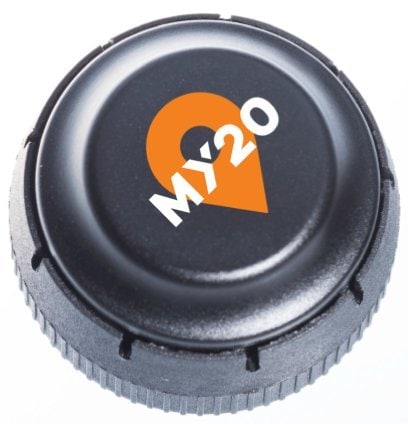 The My20 ELD comes with adapters for 6-PIN ECM or OBD-II port connections. Plus, you get a standard 9-pin ECM connector too. This ensures that the ELD device can be installed in any vehicle.
Once you've downloaded the My20 application, you will need to place the ELD device in your diagnostic port. This should be no big deal for most people. By the way, it comes with instructions on how to install the My20 device.
Measuring 1.5 x 1.7 x 1 inches, this is one of the smallest electronic logging devices. It is so small that it's hardly noticeable in the truck.
Best Suited For
The intent here is to provide dispatchers and drivers with easy to use and best real-time GPS tracking data that let them do a good job on shippers. Millions of trucks are upgrading their existing logging devices. This product goes head to head with large fleets.
In addition to drivers and carriers, My20 ELD is suited for fleet managers and independent owner-operators. It meets all the needs of fleet management.
My20 App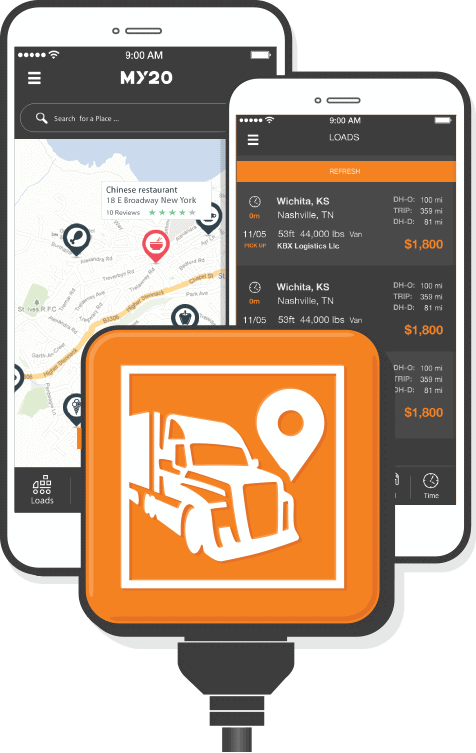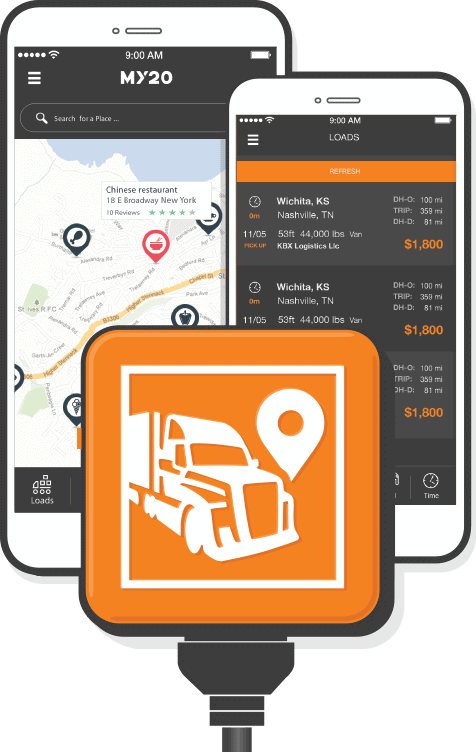 Powered by the GoLoad service, the My20 ELD app features real-time GPS tracking data and custom cloud technology to help people make the very most of their E-logs. No additional hardware required. The easy to use My20 app can be downloaded and installed from Google Play Store or the Apple Store and used on any Android or Apple smartphone.
Simply download the app and link it to your phone via Bluetooth. It goes without saying that you need to get the My20 ELD installed in your diagnostic port first.
But before doing anything else, make sure your phone is compatible with the My20 ELD app. Keep in mind that it supports Android 5.0 (and higher) or iOS 10.0 (and higher) mobile devices.
It is recommended to use Samsung Galaxy 6 (or higher) or iPhone 6 (or higher) devices for the best results.
Many people will likely wonder how to connect their ELD device to the MY20 app. You can see ELD Status on the top right of the home screen — "No ELD Connected" or "ELD connected." If the ELD is not connected, tap to scan and check for the power supply and see if the green light is on.
Remember that both the Location services and Bluetooth on your device must be turned on to get connected.
Benefits
Why choose My20 ELD over other ELD solutions? Simply because it offers a lot of benefits. Eventually, you will make more and spend less on it.
Here are the most important benefits:
No more paper logs — My20 ELD solution is a big time saver. Once the drivers get trained on it and get into the swing of things, they will no longer use the pens and the paper. This smart logging device knows when a connected vehicle shuts down and stops, so you will not have to change your status manually.
Fuel rewards program — Rewards program for drivers is another thing that grabs the attention. Earn points and get rewards. Points can be earned by means of GoLoad shipments, GoFuel purchases, and 5-star reviews. You get about $0.01 per point.
Ease of use — My20 ELD is designed with drivers and their needs in mind. It is intuitive, easy to use, and straightforward. That makes it a convenient tool for any driver. Once you have logged in to the above-mentioned app, just about everything will become automatic. No trucker interaction required. This means you won't be on your smartphone while driving, so you will be able to focus completely on the road.
Edit your logbook with ease — Another big plus is the possibility to edit the logbook. This comes in handy when you want to add missing information or correct a mistake. However, be sure to make a note when you're editing ELD records, explaining the reasons for the edits.
Real-Time Dynamic Load Matching — This is allowed by GoLoad, a one-of-a-kind feature that sets the My20 ELD apart from the rest. It enables drivers to make more money by reducing empty miles.
Route Mapping and Navigation — With real-time GPS data, My20 ELD gives the choice of Google Maps, Waze,  and PC Miler. This allows drivers to map out the most efficient and the best routes.
ELD supporting documents — All the supporting documents you will ever need are placed in the My20 app. You can find them beneath the Help menu. Also, they can be downloaded and printed from the Support page. Additionally, there is 24/7 customer support at your disposal.
ELD Mandate Compliance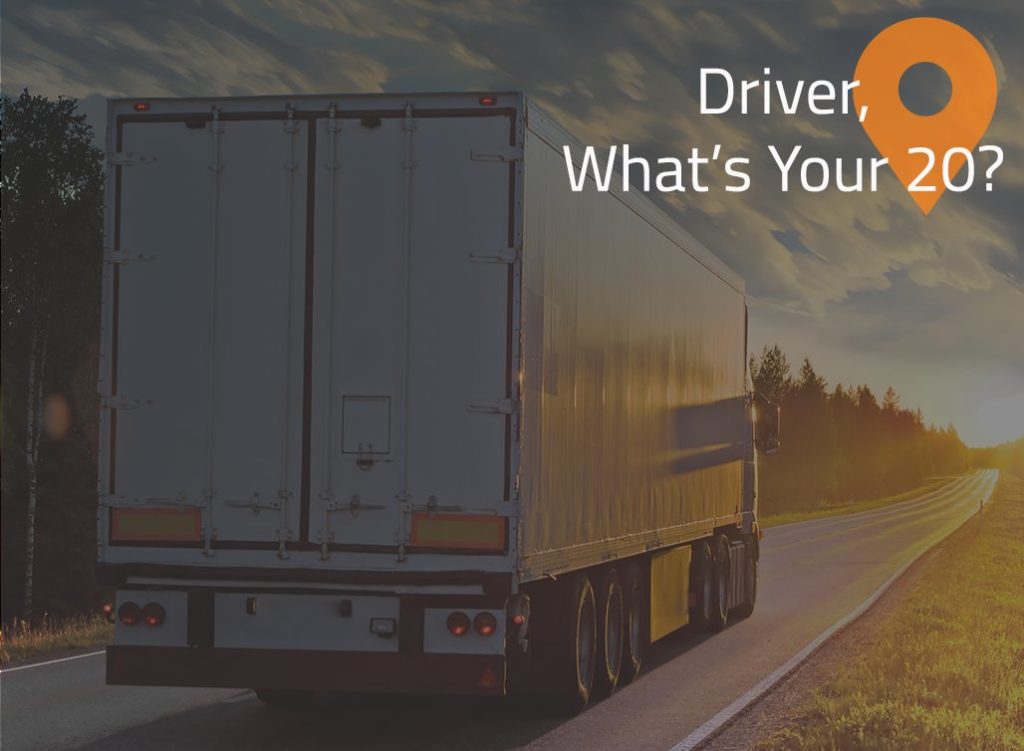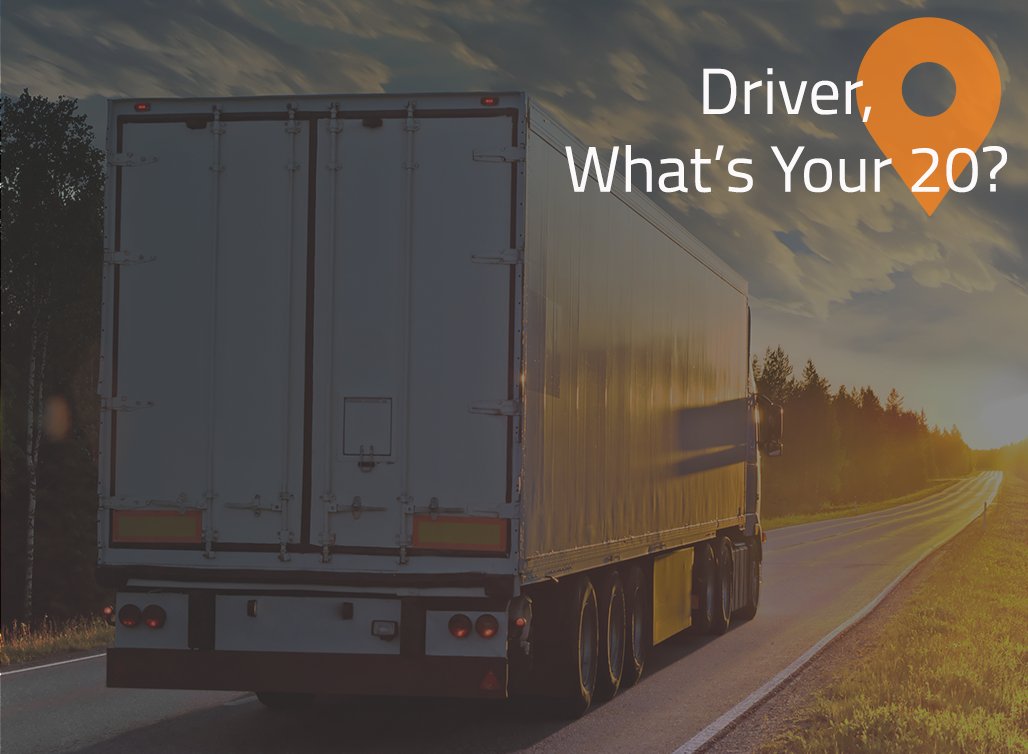 Let's face it. Driving is grueling and tough work. The recent ELD mandate rules have just added to the tension levels.
As you may already know, automatic onboard recording devices (AOBRD) must be replaced with ELD devices not later than December 2019.
In addition to DOT certification, you should make sure your logging device is FMCSA approved as well.
Whether you're a fleet manager or an independent owner-operator challenged with ELD rules, this Konexial's solution will come in useful for sure. My20 ELD is actually designed with edge computing technology to exceed FMCSA mandate requirements. In fact, it is the only ELD in the market with edge computing technology.
My20 is 100% FMCSA approved, meaning you will not have to worry about ELD mandate compliance. It contains everything needed to meet FMCSA compliance and more.
Pros of the My20 ELD Device
It is packed with plenty of features
User-friendly app
Simple to install
Works like a charm
Outstanding customer service
Inexpensive
Easy to use fleet management system
Cons of My20 ELD
The app tends to change status randomly
Connection issues
Our Final Review
Overall, My20 ELD is a great electronic logging device (ELD) solution for independent owner-operators as well as fleet managers in the US.
While FMCSA compliance is certainly the most important thing for those people, this electronic logging device is meant to do much more than fixing the issue of paper logs.
It comes with a wide range of features, such as real-time GPS Tracking, DVIR, Log Auditing, two-way messaging, and engine information.
What makes it unique is Dynamic Load Matching. It allows drivers to look for load opportunities on their smartphones based on HOS. Likewise, shippers can set the right price and find capacity thanks to this useful feature.
If you are looking for an all-in-one FMCSA-approved tool to improve the driving experience and increase earning potential, look no further than Konexial My20 ELD!