Last updated on July 24th, 2023 at 06:02 am
Whether to go for an entirely basic or a more versatile ELD mandate compliance device like the Samsara ELD is entirely your choice.
To many truck drivers, fleet managers, and owners, the Samsara electronic logging device (ELD) is the perfect blend of affordability, reliability, ease of use, and a great number of useful features.
Offering revolutionary ELD compliance and fleet management services, Samsara helps you prevent hours of service (HOS) violations.
With Samsara, you can get records of duty status, GPS tracking, WiFi hotspots, sensor data, DVIRs, document capture, all under one platform.
The device by Samsara is one of the best fleet management service, compliance, routing, and dispatch device you can buy today.
As you will learn in this review, this product has a horde of great features to offer commercial vehicle drivers, owners, and fleet managers.
A Little Bit About Samsara – Company History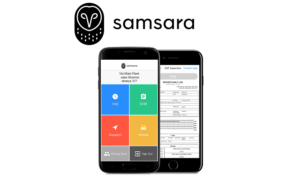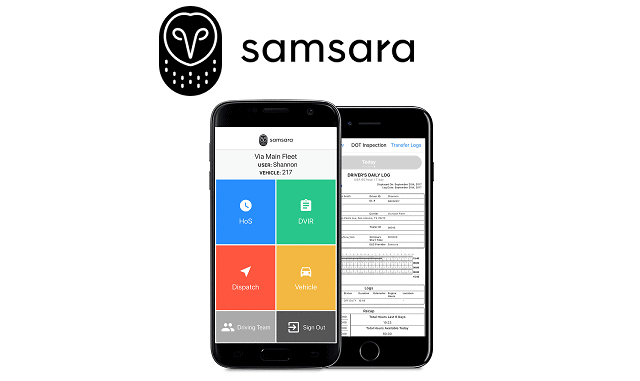 Founded in 2015, the Samsara ELD and fleet management service provider has been working tirelessly to offer commercial vehicle drivers reliable sensor data and is now a leader in electronic logs devices manufacturing.
Over the years, devices by this provider have allowed trucking companies to better their service, enhance the efficiency and safety of their operations, regardless of their fleet sizes.
This may be attributed to the accurate data, alerts, and range of features offered by their e-logs and software in real-time.
With the Samsara ELD, you will have a ton of features and tools to help you improve the efficiency and safety of your vehicles, whilst saving on costs.
The main objective of this provider is to help organizations, ranging from transportation and logistics to food production and construction companies, get their hands on the very best of sensor data for their vehicles.
With the ELD (electronic logging device) hardware and back-office tools by Samsara, the fleet manager will not only make things more organized in the fleet; the solution has been proven to improve the quality, safety, and efficiency of operations in fleets.
Samsara ELD Pricing
Samsara charges $99 upfront and a monthly cost of $33 per device. If you sign up for the mandatory 3-year contract, your total cost is $1,287 per truck.
Samsara ELD Reviews – What You Need to Know
Are you currently having problems with ELD mandate compliance or are just having a hard time managing the various vehicles in your fleet efficiently? If so, you really need to try out this product.
Ranging from real-time telematics, through wireless sensors, dash cameras, trailer tracker to a range of document sharing capabilities, the Samsara ELD is truly revolutionary.
As your business grows from owners operator that you maybe today to a large single fleet or number of fleets, you will need a solution that simplifies things for you, right? This ELD relies on GPS and a range of other inbuilt sensors to give you and your drivers real-time traffic updates.
With such information, it is easier to plan the best routes for your vehicles. This will, in turn, save you time, improve customer satisfaction, efficiency, and safety in your fleet.
Additionally, the product will collect information relating to fuel wastage, breakdowns, vehicle performance, traffic rules violation, and unnecessary stops by your vehicles. If you are still wondering why so many drivers and fleet managers still prefer the Samsara ELD over other products, you should read on.
Top Features & Benefits of the Samsara ELD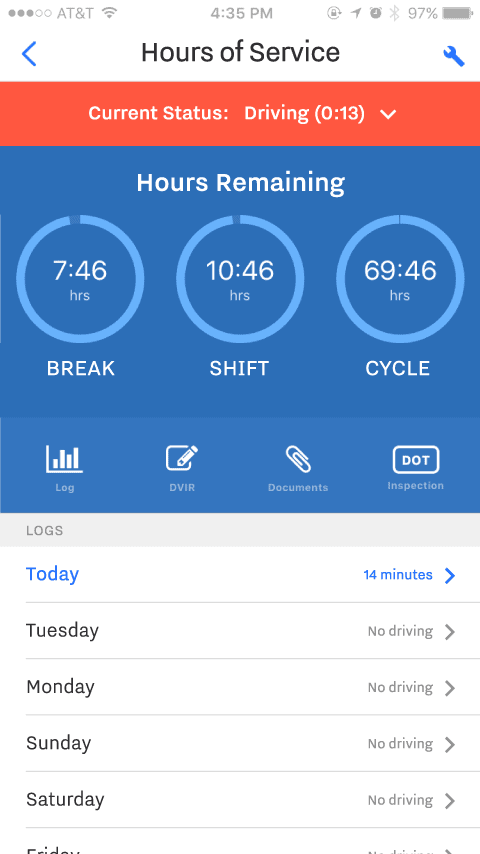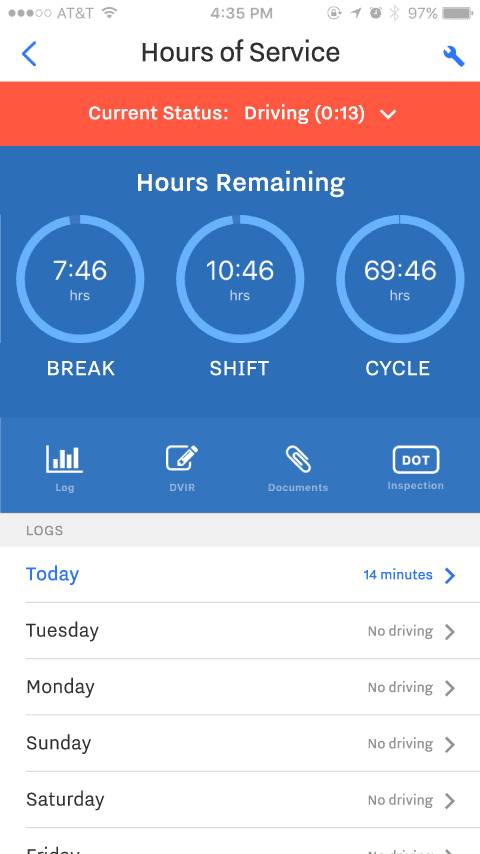 Currently, there are numerous affordable compliance ELD devices in the market. However, you will require much more than just compliance to excel in the trucking industry.
Basically, you will need a device that goes beyond logging to make everyday management and planning easier for your fleet.
The Samsara logging device is designed to help you with that, among other things. According to the many drivers and fleet managers who have had the chance to try out this product, the ELD has a horde of benefits to offer. Samsara key takeaways include:
Comparatively easy to use
Features a modern and intuitive design
Easy to install 'plug & play' hardware
Reliable United States-based support via phone
Does not require you to install complex software
The solution is cloud-based
More secure and scalable
Role-based administration
Custom hierarchies
Maybe scaled for up to 10,000 vehicles
Accurate driving status and service logs
Comfortable in-app interface with all functions
report regarding the duty status of drivers to fleet managers
Easy to use Samsara Driver App
With its comprehensive hardware portfolio and an array of features and back-office tools, Samsara has been able to offer a great ROI for fleets in the country.
Samsara ELD Features
In addition to its remarkable ROI, this product has a number of helpful features and tools to offer. This is actually one of its selling points.
As compared to other products within the same price range, you will find the Samsara ELD to offer a more comprehensive set of software features and tools for your business.
Discussed below are some of the exceptional and highly beneficial you will get from your Samsara ELD solution.
ELD Compliance
Regardless of the number of features offered by your preferred ELD solution provider, it just has to stay compliant with ELD mandate requirements. Otherwise, you will be risking the reputation of your business with the authorities.
In the best-case scenario, you will get away with a fine for having a device that is not compliant. With the Samsara ELD device, you will never have to worry about compliance.
With regards to ELD mandate compliance, the device has been FMCSA approved and meets the requirements. Additionally, the product incorporates several other features beyond logging to give you rich and useful data to streamline operations in your business.
Basically, Samsara designed this device to offer you compliance at about half the cost associated with conventional ELD devices.
Samsara Dash Cams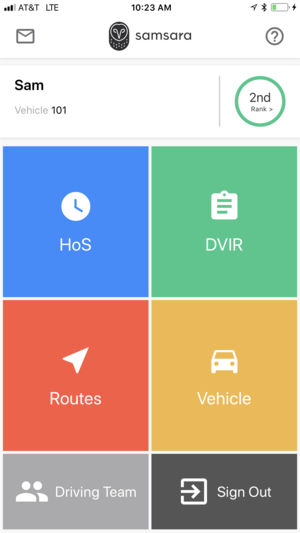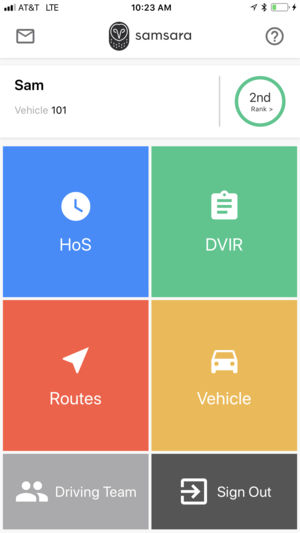 As far as safety and accountability go, the dash cams offered by this provider sets it apart from its competitors.
In this regard, you may think of this ELD tool as an advanced safety feature of the product that offers you computer vision and artificial intelligence on your vehicles.
Like many other fleet managers and owners, you must want to have eyes and ears on the ground with every one of your vehicles and know about the duty status of each driver, right? Well, the Samsara ELD device allows you to do just that.
To help you achieve that, Samsara hardware includes a dual-facing HD dashcam and a front-facing HD dashcam.
With these cameras properly installed in the cabs of your vehicles, you will be able to monitor and review several things regarding your vehicles.
In their functioning, the cams will capture incident footage and upload them automatically to the cloud.
This, in turn, will help you with several aspects of your business, including:
Allows you to review near-misses, distracted driving, and collations from the HD video footage captured
Cams automatically detect and tag distracted driving behavior allowing you to minimize accidents
Helps with accident investigations to ascertain accountability
Allows you to identify risky drivers in your fleet and coach them for enhanced safety
Records driver logs and drive time
duty status of the drivers and those drivers who commit a violation of their duties
will help the compliance managers of the company in efficiently noting Hours of Service (HOS) suspension
Document Capturing and Sharing
This is one of the innovative features and capabilities of this product you will come to like. With the Samsara ELD device, you will no longer require manual scanning, sorting, and filing of various documents in your business. 2020 samsara ELD will record all of this in e logs.
Instead, the product allows you to upload, and access time-stamped documents from a central location. This product will help drivers to take photos with cameras of all such documents as bills of lading, delivery receipts, and fuel receipts using their Smartphones or tablets.
All this information will be automatically uploaded by the system to the cloud in real-time for fleet managers to view from their dashboards. The Samsara ELD solution also allows you to connect your transportation management, order management, and or enterprise planning systems to your platform.
In this case, you will benefit from the Open APIs by the provider. This capability allows you to easily get the documents you need into the system when you need them.
You will also find this feature handy when processing payroll, customer invoicing among other processes in your fleet. Such features and capabilities of the Samsara ELD have been proven to improve customer service in trucking businesses.
GPS Tracking
As some of the leading products within its range, the Samsara ELD features some of the best GPS sensors in the industry.
As such, it allows you to monitor the location of your vehicles in real-time. Owing to this highly efficient GPS sensor, in addition to several other sensors, used in this device, it will be giving you vital information about the driver and vehicle.
For instance, the gadget will be monitoring the real-time location of the vehicles and offer you a Helicopter View of the same. The product will also give you such information as the utilization, fuel consumption, driver behavior, and route performance on the vehicles they are installed.
With rich data, such as the one delivered by this ELD, you will be in a position to make more informed decisions for the entire fleet.
Reefer Monitoring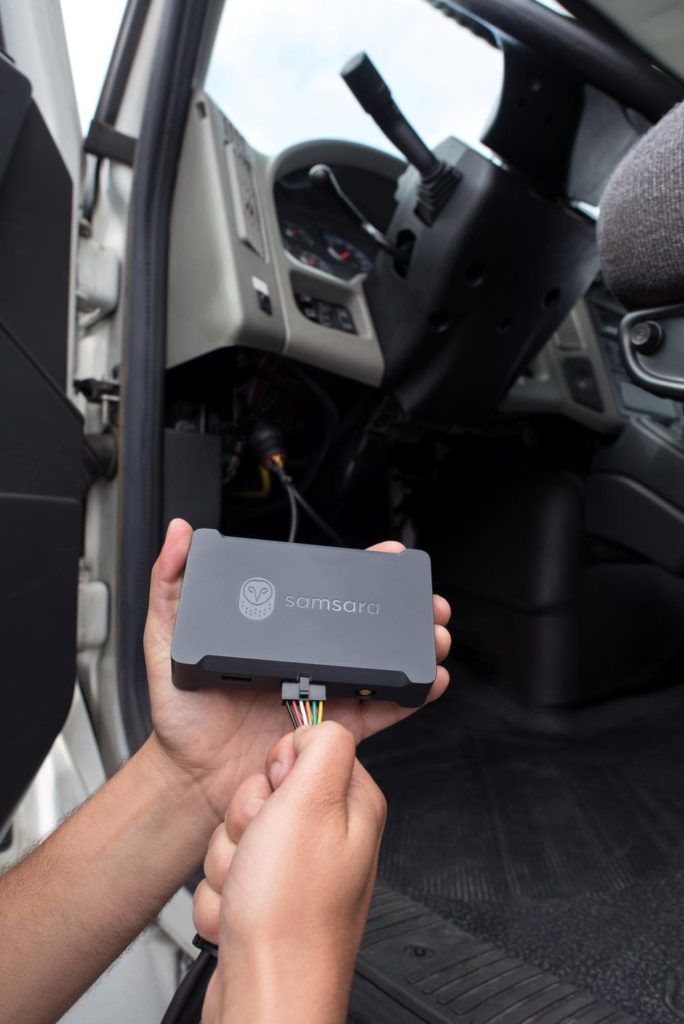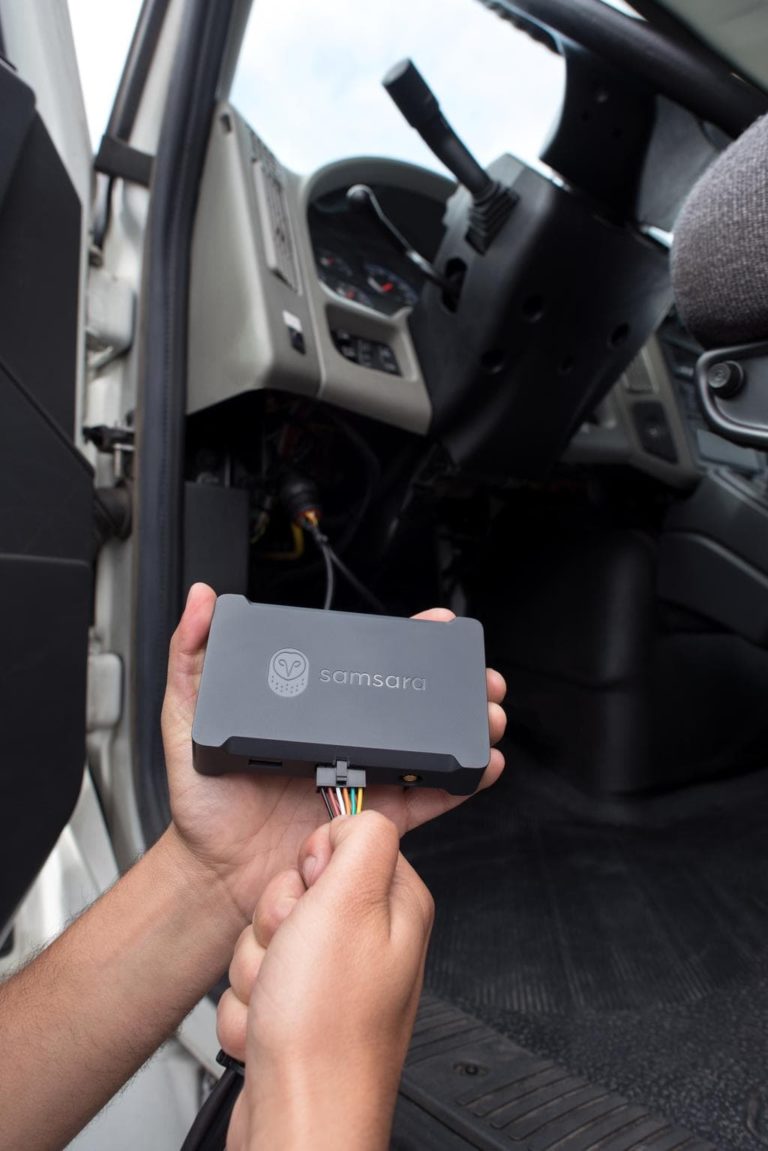 You must have noticed by now that the Samsara ELD is unique in its own way.
As such, the product will offer you some features you are not likely to get from its competitors. The reefer monitoring capability of the device is one such feature.
In its functioning, the ELD combines a two-way reefer control with instant alerts and wireless sensors to give you enhanced control and visibility of the fleet.
With regards to FSMA compliance, the device will continuously give you temperature logging eliminates.
Additionally, it also allows for manual temperature checks on paper logs. Such capabilities help drivers to stay compliant with FSMA regulations.
With these features, the device makes it possible for you to provide temperature data on Proof of Delivery (POD) documents. By so doing, you will have improved customer service in your business considerably.
Whenever the temperature is out of the pre-set range, the device will send you a timely alert. This will give you ample time to react accordingly and prevent temperature-related damage to loads.
With this always-on temp monitoring system in place, you can confidently show your clients that you took appropriate care of their cargo.
This goes a long way in improving customer satisfaction in your business and that is why Samsara Networks Inc proudly claims to be a leader in providing better electronic logging device services to each driver in fleets.
Wi-Fi Hotspots
While many of the leading bring your own device (BYOD) ELD systems will require you to pay for cellular data, this is not the case with the 2020 Samsara ELD. As a matter of fact, the product offers an in-cab Wi-Fi hotspot for the drivers in the vehicles in the ELD is installed.
Not only will this allow you to save on cellular service data costs, but it also has several other benefits to offer your business. The product will offer you 500MB of data per month per truck.
Regardless of how you look at it, this is guaranteed to improve productivity in your fleets in several ways. For instance, it offers drivers to deploy such productivity apps as CRM, work order, HD video, Messaging, and email from their mobile devices. The Samsara driver app has collected high users ratings over time and customers are satisfied with the service,
Every GPS gateway by this provider features an inbuilt Wi-Fi hotspot, hence eliminating the need to invest in additional hardware and carrier contracts in the fleet.
With the free Wi-Fi data offered by this provider, your drivers will also have a reliable and high-speed 4G LTE service connectivity in their cabs. As such, it will be possible for them to stream the HD videos captured by the Samsara in-cab cams in their vehicles.
Dispatch and Routing Features
In addition to its tracking and ELD compliance capabilities avoiding any violation, the Samsara ELD is also great at fleet management, especially fleet routing and dispatching. With Samsara electronic logging devices installed, you will not need to call your drivers every now and then to know where they are.
Instead, the product will continuously give you the real-time location of any truck at any given time. The product will also allow you to share live tracking so as to avoid route inquiries by the drivers.
Ready to Use Samsara ELD?
While some of the best ELD solutions available today may be affordable, very few can compare to the Samsara ELD when it comes to versatility.  In addition to compliance and logging, the device will allow you to monitor several aspects of the vehicle. This eld telematics solution is FMCSA approved and meets all compliance requirements.
Ranging from location tracking, temperature monitoring, vehicle diagnostics, timely alerts, and reliable communication channels, this product is definitely worth your consideration. Samsara Networks Inc answers all the faq of the customers regarding the service of their Electronic logging devices.