Last updated on March 9th, 2023 at 04:42 am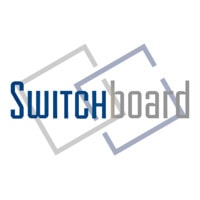 When Congress enacted the Map-21 bill in 2012, the electronic logging devices (ELDs) became a focus for the trucking industry. The receiving of highway funding required the FMCSA to develop mandates governing ELD usage.
Basically, the mandate states fleet managers, owner-operator, and drivers must use ELDs for recording the driver Record of Duty Status (RODS), replacing paper logbooks. The Map-21 mandate opened the door for ELD products like Switchboard for recording Hours of Service (HOS) requirements.
Reviewing the Switchboard ELD – Quick Overview
Switchboard carries the distinct title of a top ELD provider with products specific to trucking carriers, small fleets, and owner-operators. This small size ELD developer created a top-shelf driver app that's simple to access and easy to use.
The carrier web portal and driver app require little training to understand and use. Yet for all its simplicity, Switchboard ELD delivers full-featured functions and tools for the driver and fleet manager. Add to these tools and features a competitive pricing package, and Switchboard ELD gives you a solid, cost-effective ELD.
The Switchboard ELD driver app runs on most Android tablets and smartphones using your own device or one purchased through Switchboard. Compared to other Bluetooth devices, the Switchboard maintains a reliable connection without continual adjustments.
Looking Closer at the Switchboard ELD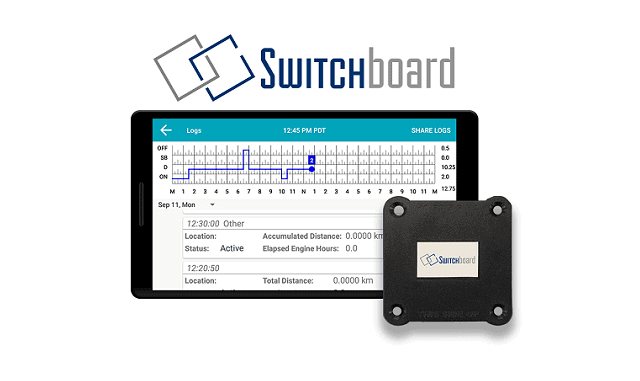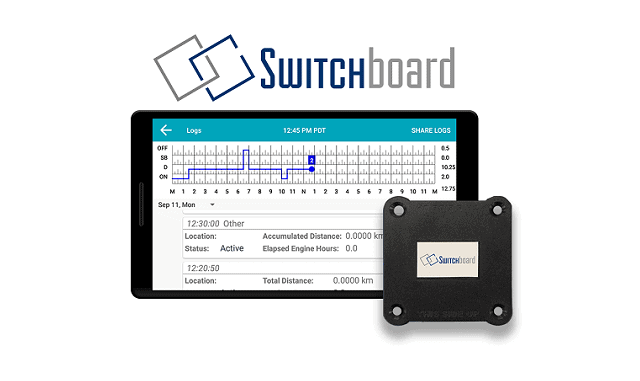 The Switchboard ELD app design is easy to use for experienced technology users as well as those with no experience.
Switchboard's simple design places the most used app features up front for easy access, making it a top user-friendly ELD for fleet management or to track driving behavior.
However, the simple-use interface isn't a child's toy. Switchboard has all the tools, drivers, and extra information needed for helping drivers use their logs.
The app lets drivers quickly add comments when changing status, switch to personal conveyance, or do a pre-trip inspection.
With the touch of a button, drivers can run a report that recaps the log for the full week. The driver log shows time used and time the driver gains back with 60/70 hours each day. When drivers can make log corrections, they see the exact changes in real-time with a red updated grid line.
While the real-time edit function is helpful, the edits are time ranges. Even though this is an understandable process, it's cumbersome when entering adjustments to existing activities. The process of getting start and end time additions right is difficult.
Besides live edits, drivers easily view edits suggested by the carrier and any unidentified activity the driver should claim. Roadside inspections with the DOT mode give the inspection officer any needed information yet prevents access to other confidential information.
In addition, Switchboard ELD supports the HOS rules of the US and Canada. The Switchboard ELD app lets drivers complete their pre and post-trip DVIRs directly on the device.
Besides the log features, Switchboard ELD has many other features for the owner/operator and fleet managers. Below is a listing of other features you get with the Switchboard App.
Switchboard ELD Features
Digital Vehicle Inspection Records (DVIRS)
IFTA
Electronic Lots
Driving Timers
Weigh Station Bypass
Free Email and Fax Logs
Great Customer Support
In addition to these basic features, the full Enterprise package includes:
AOBRD/ELD Engine Module
Engine Cable of Your Choice
Tablet
Tablet Mount
USB Charging Cable
Cigarette Lighter Adapter
Switchboard Manual
Two Switchboard Vehicle Stickers
One of the latest features of the Switchboard app is the weigh station bypass. The bypass system means long hauls become easier and less tedious by skipping more weight scales. In addition, chat-style messaging helps drivers maintain quick communication with dispatchers.
For the Fleet Manager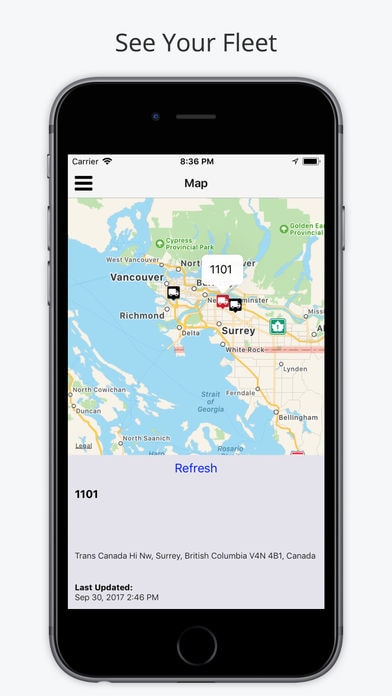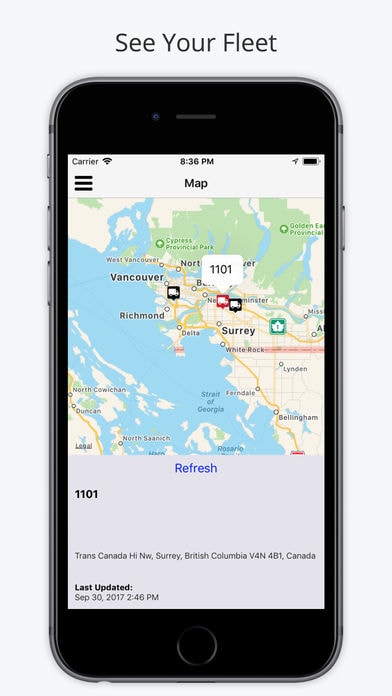 When it comes to fleet management features, Switchboard does an amazing job with a well-designed web portal.
Included in the Switchboard web portal are visual, user-friendly driver records with viewing and correction options.
Proposed driver edits to the log show as red grid lines to highlight the changes you make. Any edits in the driver app you enter in a time range.
While the process is simple, getting the time ranges lined up with existing activity in the log, might be more difficult.
In addition to seeing visual corrections, the web portal offers fleet management tools to keep track of any proposed corrections.
Fleet Managers can quickly access all suggested log edits for drivers and view whether edits are pending, accepted, or rejected.
Switchboard ELD for Safety
When it comes to safety, Switchboard offers a feature for tracking driving safety. Like the driver logs, a Switchboard has a similar monitoring system for unidentified driving activity.
You can assign the activity to the driver and it shows up as proposed edits for rejecting or accepting.
Users report the basic tools work well, but the system has some major bugs and the process needs substantial improvements. Switchboard began software updates, addressing some of the issues reported by users. Future update releases should start improving safety features.
Regardless of the bugs noted in the safety features, the fleet manager's HOS system is otherwise, a sound platform. However, Switchboard ELD is a relative newcomer to the ELD industry and will only continue to improve.
Telematics Tools
Switchboard offers many of the usual telematics tools found in other Electronic Logging Device (ELD) systems available on the market.
Typical telematic tools include:
Hours of Service Tracking
IFTA
DVIR
GPS Tracking Feature
Messaging
Full Reporting
The Switchboard web portal has a good selection of fleet management capabilities. The full Enterprise Package includes all the standard features plus GPS tracking that's straightforward. Fleet managers see the vehicle's current location or a breadcrumb trail showing recent activity.
By drivers completing DVIRs on the ELD device, fleet managers get the inspections directly through the web portal. Even though the DVIR system doesn't have a lot of features, it does offer managers the basics. Future enhancement plans include updates and new tools for handling equipment defects and repair reports.
Switchboard has an impressive IFTA feature with reports and tools offering miles-by-state reporting and more. Fleet managers get breakdowns of trucks showing the jurisdiction history the truck traveled in and odometer miles for border crossings.
The reporting system lets managers look further at the exact travel route within the traveled jurisdiction. Easily upload transactions for fuel purchases made through most fuel card companies and get full IFTA miles and gallons reporting.
Additional Features
While Switchboard mainly focuses on service logs, the app does offer a nice range of additional features. There are a few more common ELD features not supported by Switchboard, but are currently under development for future release:
Engine diagnostics and fault codes
Built-in navigation
Speeding alerts
Harsh braking alerts
Document capture
Driver Analytics
Switchboard supports a few useful features not commonly found in ELDs. The latest feature release includes, weigh station bypassing which lets drivers with higher safety scores skip the weigh stations.
The Switchboard GPS feature lets management do vehicle tracking and share vehicle locations, for a pre-determined time period, with other parties. For example, information links for sending to customers allowing tracking of a shipment on the map, available until delivery.
Switchboard Pricing
With the features and tools the app supports and what's in development, Switchboard has lots of options for the cost.
Add to the features and tools a simple and easy-to-use interface, and Switchboard gives very competitive pricing.
With a flexible pricing system, the Switchboard Electronic Logging Device (ELD) makes it a good choice for any sized fleets. The most basic model ELD that plugs into the vehicle, with a 6-pin or 9-pin connector, costs $200.
The basic plan lets drivers use their own tablet if it has a data plan connected. Drivers also have the option of using the Switchboard tablet and data plan priced at $15 per month.
In addition to the basic charges is a $10 per charge for the web portal. The portal is a necessary component for the fleet manager, but not necessarily for the drivers or owner/operators.
If a driver or owner-operator uses their own device and data plan, they can get a system without ongoing fees. Switchboard offers one of the lowest costs for ELD systems and data plan on the market for small operations.
For $450 upfront costs. a larger fleet can get the vehicle engine module plus a dedicated Switchboard tablet for engine diagnostics. Added large fleet costs include monthly fees of $15 for data plans, $10 for web software, and $25 ongoing costs.
Regardless of the size of your business, Switchboard has a solution for any budget.
Top Benefits of the Switchboard ELD
Intuitive User-Friendly Design
FMCSA Certified
Reliable Bluetooth Connection
Great System for Small Drivers or Owner Operators
No Monthly Fee for Standard System
Automated Reporting for IFTA
Optional AOBRD Availability
Supports HOS Rules for the US and Canada
Possible Drawbacks
Bulky Carrier Logs
Needs Better Unidentified Driving Tools
For the most part, it performs with very limited problems.
What is an ELD?
In 1937 the government passed the first federal law requiring US commercial drivers to keep driving service records. Before the ELD, drivers used paper logbooks, entering the driver logs in writing. Then in 2012, Congress passed Map-21, effectively re-writing the 1937 law with Electronic Logging Devices (ELDs) mandate.
ELD devices record any data connected to vehicle operations, driver analytics, and driving activity, mainly concerning hours of service. Government rulings restrict the total hours drivers can drive between each rest period. HOS consists of permanent records of driving hours, hours on-duty (working and not driving), and rest time during a trip.
When using an ELD in commercial vehicles, it monitors and records data about the driver and the vehicle. Including data from IFTA automation and Driver Vehicle Inspection Reports (DVIR) to reports on idling, hard braking, and speeding.
Most systems have map and navigation integrations and route options for helping with navigations through construction and high-traffic congestion.
Benefits of using an ELD:
Reduced driver paperwork
Eliminates paper logs
Keeps dispatchers updated with driver status
Better load planning
Saves time
Ready for a No-Fee ELD Solution?
When operating a single truck or small fleet, an ELD without monthly charges saves a bunch of money. The Switchboard ELD has a no-cost entry-level system with a lot to offer to its clients. A smooth design with intuitive and user-friendly features makes using the system simple for even the non-technically inclined.
While Switchboard makes a perfect entry-level ELD for smaller companies, it has the features desirable to larger truck lines to ensure compliance with FMCSA, DOT, and other ELD mandates. As your business grows, Switchboard grows along with you.
When looking for a cost-effective ELD that's high-quality and complies with ELD mandates you can't get better than Switchboard. This system goes beyond mandate compliance. ELDs help with vehicle diagnostics and repair suggestions, log storage and transfer, HOS recording and edits, and more for your trucking fleets.
Switchboard is a relative newcomer to the ELD marketplace. Even with room for improvements, Switchboard offers good features, helpful software, and dependable hardware at great pricing to fleet owners.
Please see our best electronic logging devices.