Last updated on March 9th, 2023 at 08:46 am
Now that it is mandatory to have compliant electronic logging devices (ELDs) on your fleet, you may be wondering which option among the many available is best for you.
This complete review of LoadTrek ELDs and fleet management system will show you why it is one of the best options on the market right now for your transportation business.
LoadTrek has a particular advantage over all others in that it is the most user-friendly for drivers. When on the road, it is crucial to get the data you need at a glance without having to flip through endless manuals.
LoadTrek devices are designed by drivers to help fellow drivers achieve maximum performance. They give the driver and fleet management a hassle-free monitoring and logging solution at very affordable rates.
Our review is designed to give you all the information you need to make the best choice for your fleet. We present all the technical aspects of LoadTrek ELDs, and then explain how it will benefit your company while ensuring that you meet every compliance requirement.
We will also offer an unbiased summary of the hits and misses of this system, including an overview of other fleet tracking devices that you can get from LoadTrek as a complete package.
If you have been having a tough time getting the information necessary to make an informed choice, walk with us through this detailed guide.
Background of the LoadTrek ELD
Veteran truckers will remember the first Automatic On-Board Recording Devices (AOBRDs) released in 1988. The LoadTrek device was born out of an effort to integrate the still-new GPS tracking with these early AOBRDs to manage fleets.
The early systems were designed to offer better modernized Hours of Service (HOS) and Record of Duty Status (RODS) logging. Before 1985 when they were introduced, logging was done on sheets of paper filled by the drivers. 
Such primitive systems were prone to error, inefficient, and particularly susceptible to malicious intent.
AOBRDs were designed to sync to the Engine Control Module (ECM). This way, they were able to provide accurate logging of engine hours (thus hours of service), vehicle mileage, location, time, and date, among others. These systems operated automatically, hence the name.
In 1995, one of LoadTrek's current customers and then a top distributor of the legendary Tripmaster AOBRDs realized the potential in GPS devices and started working on a prototype combination of the two technologies. 
Today, LoadTrek is a computer software company that specializes in ELDs, Transport Management systems, Fleet GPS, Dispatch Software, Telematics, HaaS, SaaS, as well as safety and compliance.
LoadTrek fleet management software is owned and operated by privately-owned North American Dispatch Systems. 
It is based in Sun Prairie Waterloo, Wisconsin, where the corporate and engineering offices are located. It also has an office in Arlington, Texas, and employs almost 50 people across all departments.
Overview of LoadTrek ELDs System
LoadTrek offers the only ELDs system that is entirely cloud-based, which ensures stable and reliable data logging and storage. 
According to FMCSA, an ELD is any device that monitors driving hours. LoadTrek pushes this definition not only for the sake of compliance, but to tie in the rest of the non-driving staff by ensuring seamless tracking, reporting, dispatch, and back-office duties.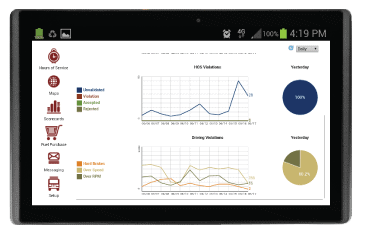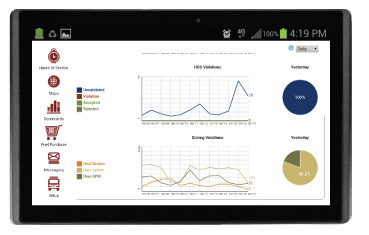 The result of this is that the entire system is tied together by your primary goal: deliver on customer's demands in a timely, cost-effective, and efficient way.
It allows your transport managers to oversee every part of the system. The customer can track the progress of their delivery, while the driver can get live support and feedback from headquarters. That way, the driver is part of the company instead of being an independent node.
Despite this complex all-rounded approach, LoadTrek ELDs are lightweight and versatile. They can handle everything from simple HOS logging to complex operations like driver transfer, shift and route planning, for-hire fleet services, and many others.
Unlike most other systems, LoadTrek was 'designed by drivers for drivers.' The entire system was developed out on the roads with actual feedback from drivers in major fleets. It is now the most driver-friendly ELD solution.
In short, LoadTrek ELDs are not just for compliance purposes. They are different in a way that helps you to optimize your drivers' performance and that of the entire company by extension.
This is made possible by the use of unique, high-end hardware and software components. Take a look below the hood of LoadTrek's popular ELD systems.
LoadTrek ELDs Features Review
LoadTrek onboard computer
LoadTrek makes use of the JETT.ce handheld computer system manufactured by Two Technologies in Horsham, Pennsylvania. This device is highly rugged, easily programmable, versatile, and cost-effective. 
It uses Windows CE 5.0 commercial operating system, which makes it very easy to use. 
The JETT.ce device makes work easier all round for drivers, fleet managers, and back-office teams. For example, it records state miles automatically for fuel tax purposes.
The unit also collects route information for optimization, vehicle miles, sudden starts or stops, fuel metrics, among others. The driver's behavioral information is crucial in improving driving habits and monitoring performance.
It also helps in automating DOT reports. The information recorded is first saved in its internal memory, then compiled and shared in numerical or graphical form as required. Managers, customers, and other parties can access this information anywhere in the world through the internet.
DVIR reporting tool
The system allows the driver to conduct and submit daily vehicle inspection reports to head offices. They can walk around with the console in hand and check on crucial systems, including brakes and air, tires, lights, emergency equipment, steering, among others. 
The DVIR report is signed and filed electronically, which the office staff can run to find out which vehicles are due for repairs or maintenance.
Cloud Data Logging
Facilitates special loads 
LoadTrek is the perfect system to use when you have a special or sensitive load to deliver. It helps you choose the best driver with clear communication on expectations.
The GPS mapping capabilities allow you to plan the routing down to the last details. It applies to oversized loads, dangerous goods, high-value cargo, among others.
Messaging
With a specific focus on the driver, the system allows live communication between all parties, including the driver, office, and client. Instructions can be delivered en-route, incidences reported as they happen, and a close communication structure maintained.
Remote monitoring
LoadTrek's end-to-end system allows remote monitoring options for fleet managers and clients. It lets you know where your driver is, what they're doing, what routes they are following and also logs any miles away from the standard route.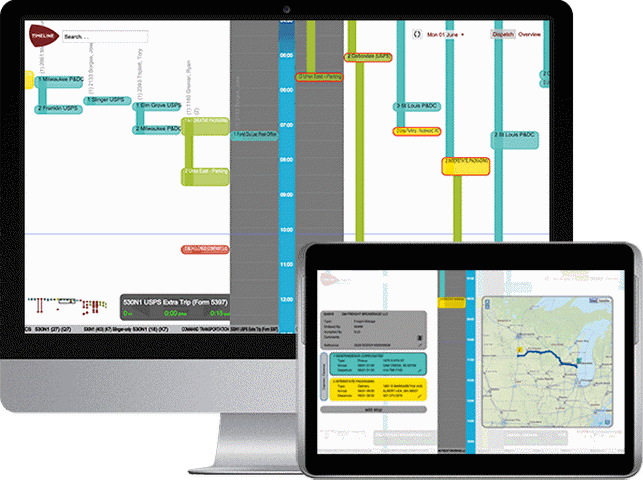 24/7 expert support
LoadTrek offers 24/7 support to all customers concerning installation, use, troubleshooting, and maintenance of its systems.
Most of this support is offered online. The company has a resource of training videos, downloadable documents, and manuals to help with the easy and stress-free operation of LoadTrek's ELD system.
Compliance
LoadTrek ELD ensures total compliance with HOS, DVIR, and IFTA regulations. Thanks to its data collection and reporting, it provides the data needed to ensure compliance. 
It shows HOS violation warnings so that the driver can stay within allowed limits.
It automatically records state miles for simple IFTA records and reports.
It allows electronic, paperless reports that can be stored quickly and conveniently for the period required by law.
Load and route planning
LoadTrek has one of the most advanced planning and dispatch functionalities. Given that it has a load-centered approach; it lets you plan using templates.
The loading staff in your company will find it much easier to optimize different loads and keep costs at a minimum. It has features for less-than-truckload cargo, dangerous cargo, dry goods, refrigerated goods, and more.
It also lets you set up the best route for your load with a bird's eye view of your map. These routes will then be optimized based on driver locations, HOS, and vehicle condition.
Cloud-based logging
LoadTrek is the only company to use cloud-based data logging exhaustively. Compared to physical logging, cloud logging gives you fluidity in every facet of your operation.
For one, it lets you access real-time data. Since reports are synced almost immediately, you get up-to-date reports of truck condition, driver performance, routing, among others. 
It also eliminates the need for an in-house IT department. Cloud services come complete with professional support. You won't have to spend money on in-house IT infrastructure and talent.
Cloud logging also has the amazing ability to automate processes such as report generation. Additionally, it allows remote access, scalability, and integration with a wide range of devices.
Comprehensive telematics
The system also comes with local telematics for manual data transfer upon request. Law enforcement, company personnel, and government figures can get easy file transfer through Bluetooth and WIFI technology.
Benefits of LoadTrek ELDs
LoadTrek has many benefits compared to its competition. While many other systems are designed by IT experts and carry a distinct 'off the shelf' feel, LoadTrek is uniquely tailored to ensure complete compliance, driver satisfaction, and a huge ROI for your company.
Versatile 
The system can be adapted to a variety of fleet types, sizes, and operations. Whether you're running tankers, courier vans, flatbeds, or chemical tanks, LoadTrek can be adapted to offer you the best driver monitoring and HOS logging solutions.
Real-time information and monitoring 
LoadTrek syncs to the cloud in real-time, making sure that you always get live feedback and data from your fleet on the ground. You can access this information from anywhere in the world. It can include your drivers' performance, fuel efficiency, location, or even vehicle condition.
Ruggedness 
You would expect the onboard computer to be the weakest link on the system, but that is not so. It is highly rugged and strong to withstand adverse treatment.
Two Technologies used the latest material technology and shock protection to ensure that they can survive the harshest treatment.  The console can handle hard knocks, water, dust, heat, cold, among other conditions. 
Top-notch safety 
The onboard console is designed to be safe for use in dangerous conditions. It has no sparking and can thus be used in explosive or other hazardous environments.
Driver-friendly operation 
Using Windows 5.0 Commercial, the JETT.ce boasts the most user-friendly and intuitive interface. Its commands are self-explanatory, and it even has demo videos to show you how everything works.
Modern telematics
One of the significant weaknesses of AOBRDs was that they had outdated communication hardware and protocols. It would take forever to download or transfer data. LoadTrek features the latest in local connectivity technology, including Bluetooth and WIFI. 
Scalable
Since it makes use of cloud technology, it allows you to scale your business upwards with minimal interruption or infrastructure costs. You can have as many trucks outfitted with the system as you like, with only a slight increase in price.
Fully compliant as per the ELD mandate 
LoadTrek ELDs are fully compliant with the 2017 ELD mandate. Record editing, data logging, transfer capabilities, among other requirements, have all been met. By installing LoadTrek ELDs, you make your fleet 100% compliant by law.
It helps drivers avoid HOS violations 
The system issues warnings whenever it suspects a violation of HOS. This way, neither fleet managers nor clients can force the driver to extend service hours beyond what is mandated by law. If that happens, the ELD will keep clear records.
Intelligent Load and route planning 
Load planners in your fleet will find their job much easier thanks to LoadTrek's modernized planning system. It has templates for various kinds of freight shipping and is customizable for different applications.
It also lets you plan the best routes to optimize delivery time, driver HOS, fuel efficiency, and truck condition.
Auto-generated reporting
Data collected by the onboard computer is computed immediately and synced to the cloud. From there, it undergoes further refining so that it is ready to consume by the time it reaches you.
Free training for drivers, dispatch, and managers
LoadTrack offers free online and physical training for all parties involved in operating its system. Plus, it has an extensive library of how-to videos, PDFs, and other self-help material to make operation easy and fun.
Weaknesses of LoadTrek ELD
Although the company has been in existence for 17 years and has managed to position LoadTrek ELD as a national name, there are still some issues that need ironing out.
Sometimes the system 'forgets' to log you off. Even when it does, you might find that it logged you back in. While dispatch can quickly correct such errors, it can cause a lot of inconvenience for everyone involved.
Sending loads through the system is complicated and may not work at times. The same also applies to routing. Dispatch may need to send them manually, which is troublesome and time-consuming.
Customer support is wanting. Employees are not motivated, with some of them claiming unfair compensation. It results in unheeded calls, part replacement requests, and even unanswered requests.
LoadTrek's Full TMS Package
LoadTrek has a stand-alone ELD package, but it is best utilized within the full Transport Monitoring System package. What that means is that you can integrate other services such as GPS location tracking, rating, and billing, compliance, driver communication, among others.
While the ELD system is designed to include some of the other services you would typically find in a full TMS, it lacks some significant functions.
The complete package by LoadTrek allows you to manage your fleet like never before. Plan your loads and dispatch, estimate billing rates, analyze driver performance, and communicate with all parties involved right in the system.
Some fleets use TMS from other companies and combine them with LoadTreks ELD. However, this brings up challenges of compatibility and interoperability. 
The full package from TMS is nimble and fast, and can easily handle the most complex operations from large fleets. For best results, we recommend that you retrofit your trucks with the full LoadTrek TMS.
LoadTrek ELD Pricing
LoadTrek offers one of the most affordable ELD packages on the market. It has different options for purchase or lease, depending on your fleet size and cost planning. 
Here is a summary of LoadTrek ELD pricing.
| | | | |
| --- | --- | --- | --- |
| Plans | Option 1 | Option 2 | Option 3 |
| Per Tablet / Month | 15$ | – | – |
| App | Included | Included | Included |
| Data Plan / Webinar | Free | 40$ per device | Included |
| Device One Time Fee | – | 520$ | 799$ |
| Device Lease | – | 15$ per device | 22$ per device |
Option 1
You can opt to provide your own tablet and download the software as an app from the Android Playstore. You also have to get a suitable data plan for syncing purposes. You will pay $15 per month for each tablet in use. You will also get free webinars for training purposes.
Option 2
This package also requires you to bring your own tablet. You then download the LoadTrek app on the Play Store and purchase the ELD device for a one-off fee of $520. You can also opt to lease it for $15 per month for every truck.
LoadTrek will provide the data plan and training webinars for training purposes at $40 per month for each device.
Option 3
In this package, you don't have to provide anything. You lease LoadTrek's rugged JETT.ce tablet for $45 per month, which has all the software needed already installed.
You can also opt to purchase the ELD hardware for a one-time cost of $799 or lease it at $22 per month. LoadTrek will also provide a comprehensive data plan and training webinars.
Use the LoadTrek ELD for your Fleet Compliance
The law now mandates that all fleets carrying goods and passengers within specified limits must have electronic logging devices (ELDs). This ensures accurate and real-time recording of drivers' HOS. 
LoadTrek offers one of the premier solutions for HOS logging and overall fleet management solutions. It is also one of the more affordable options.
If your company is not yet compliant, time is running short. This review of LoadTrek's ELD and TMS will help you make up your mind on the strength of detailed information. Make your decision now before you get yourself in trouble with the law.