Last updated on March 8th, 2023 at 07:45 am
Electronic Logging Devices (ELD) are now mandatory for all trucks and commercial vehicles. However, fleet owners don't really have a clue about the best device to buy for their vehicles.
Most fleet owners are wondering which is the best ELD to buy that gives reliable service at an affordable cost, considering that there are very few ELD reviews online. However, there is no need to panic as we are here to help you out.
We have embarked on a journey to provide you with information about different ELDs that are available in the market. Our eld review is always unbiased, and we dig deep to get you the right information that will help you to make a wise decision.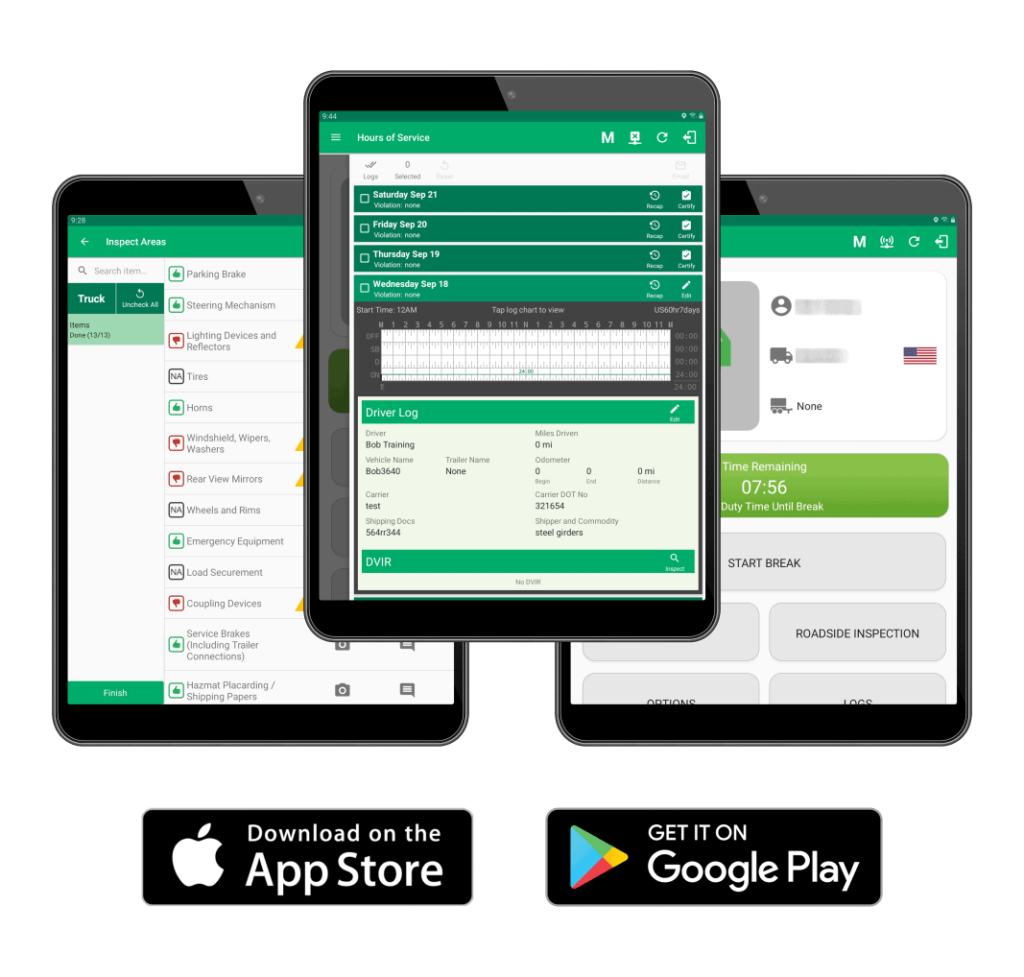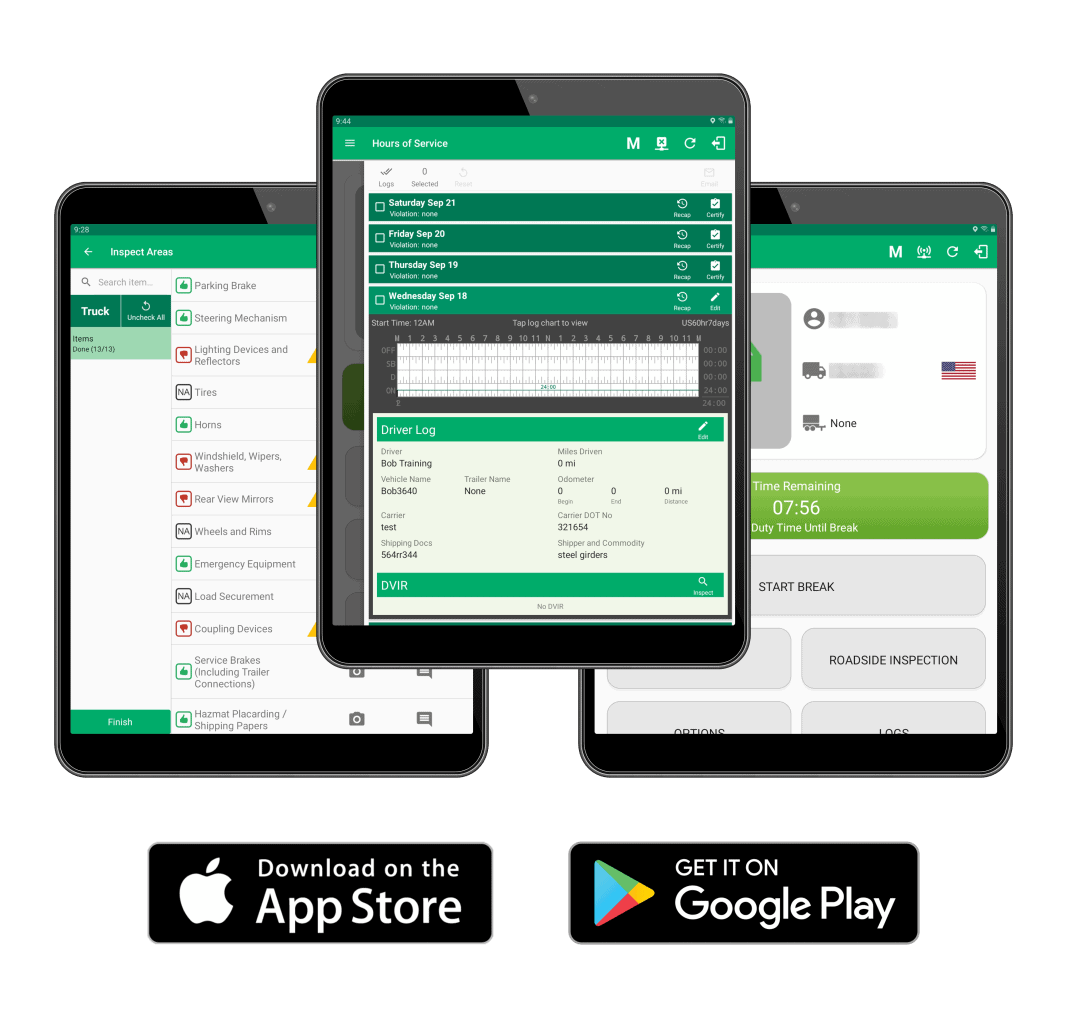 The primary purpose of the ELDs is to help manage driver's hours of service by replacing the traditional paper logs. The tool helps to save money inform of the time not used filling in paper logs. It also prevents loss of life as it keeps drivers in-check.
When buying ELDs, you should check for features such as ease of use, affordability, durability, compatibility, and the integration of extra functions. Needless to say, the device of your choice should be approved by the Federal Motor Carrier Safety Administration (FMCSA).
One of the best and reliable ELD tools in the market today is the NexTraq ELD. The NexTraq will provide you an easy to use and robust system to help you manage your driver's hours of service.
The ELD comes in two different platforms, the NexTraq App and the NexTraq ELOG Tablet for hardwired installation. Further, it's certified by the FMCSA and listed on their website.
Let's show you in this review why you should choose this device for your fleet in more detail over other ELDs in the market today.
NexTraq ELD Background Review
NexTraq is a Michelin group company headquartered in Atlanta, GA, that provides GPS fleet management solutions, ELD, RODs, and DVIR services. The company has been in the industry for more than 15 years providing services for fleets with 2 to more than 2000 vehicles. They cater to more than 7,500 globally on their popular platform and mobile app.
NexTraq is a leading innovator in the telematics industry, and it's used by large companies such as Acres Group, Landscape Concepts, Critical Power Solutions Inc., and Pittsburgh Glass Works.
The FMCSA has approved the NexTraq products and listed them on their website. The Nextraq solution offers an integrated GPS-based fleet tracking system that provides an easy way to track driver hours of service (HOS) compliance and driver inspection reports (DVIR).
The ELD also provides a Record of Duty Status (RODS) or Driver's Log on your teams' smartphone or tablets. The ELD helps fleet managers and owner-operators to boost their fleet performance
The NexTraq decided to go with the hardwired, robust tablet solution mainly due to the reliability, safety issues, and connectivity issues associated with Wireless-based solutions in terms of fleet tracking and maintenance.
The company's ELD Support Team provides excellent training for your team and is ever ready to transform your fleet of vehicles to ELD compliance with its latest technology and services and get you back on the road in the shortest time possible.
Top Features
Features are a crucial part that every customer checks when buying any product. Therefore, NexTraq has gone the extra mile to provide you an all-round ELD that has additional features that will help get savings on costs and manage your entire vehicles and drivers better.
Here the features of NexTraq ELD in brief.
Simple and user-friendly interface and services
FMSCA certified
Provides odometer readings from EMC
Send HOS updates to the manager in real-time
Integrated automatic speed, movement, and location tracking
Secure collection and transfer of inspection data with integrated DVIR
NexTraq ELD App for Smartphones and Tablet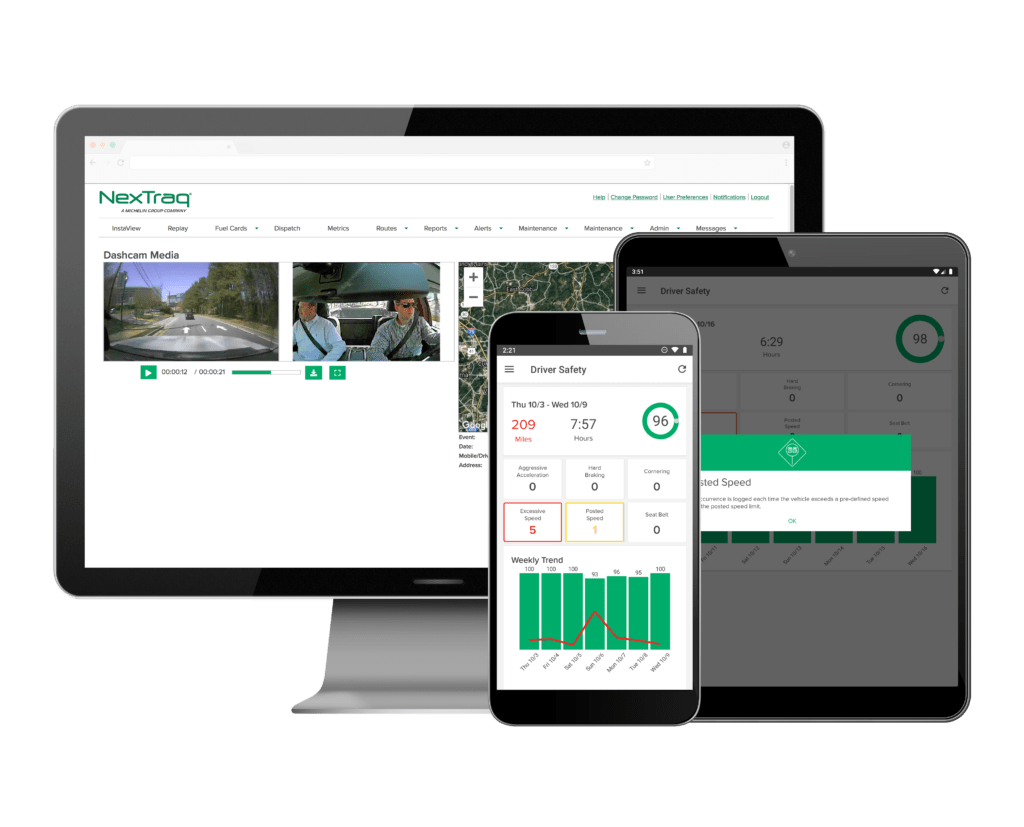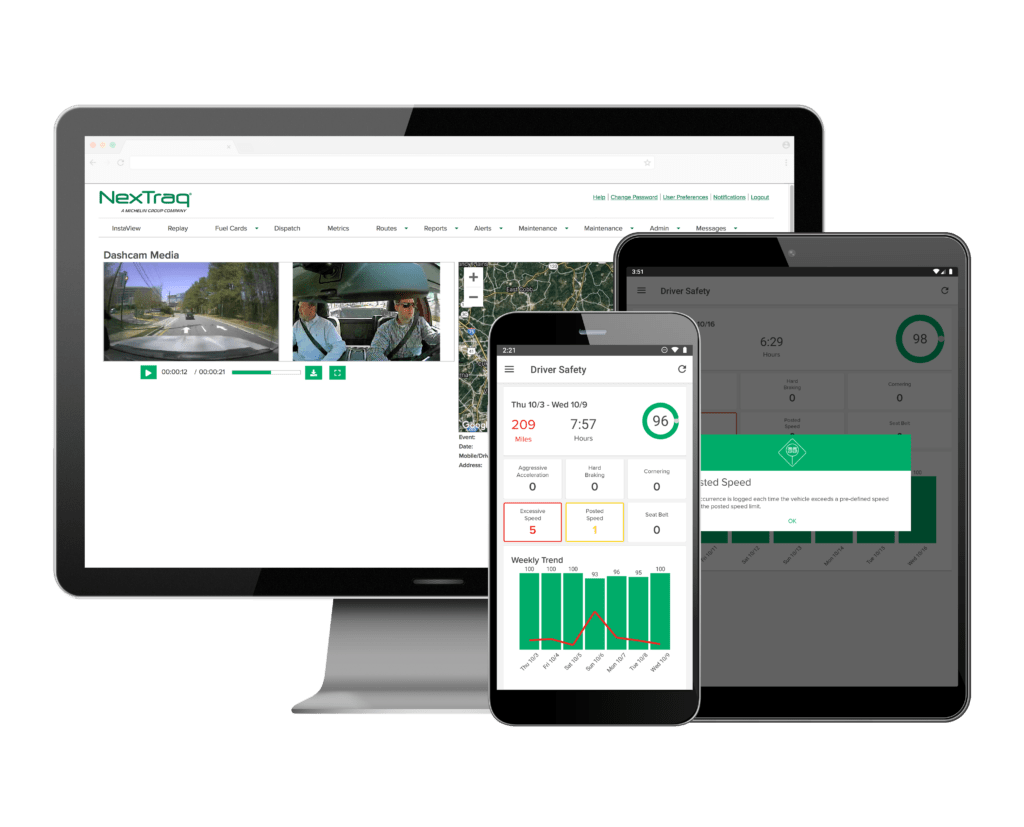 NexTraq ELD App is easy to install on your drivers' smartphones or tablets from the Iphone's App Store or Android's Google Play. Therefore you don't have to buy new devices for your fleet of vehicles when you choose this ELD.
You can install the NexTraq ELD on your drivers' gadgets after one simple, affordable price per month. This helps you to save cost when you decide to become ELD compliant with NexTraq.
The simple NexTraq interface promotes better usability when drivers use their personal smartphones or tablets after installing the ELD App, while also ensuring driver accountability.
Ruggedized NexTraq Elog Tablets
NexTraq also provides an option where you can buy their rugged tablets, which withstand everyday usage. The company tablets can work as ELDs only, unlike other solutions in the market.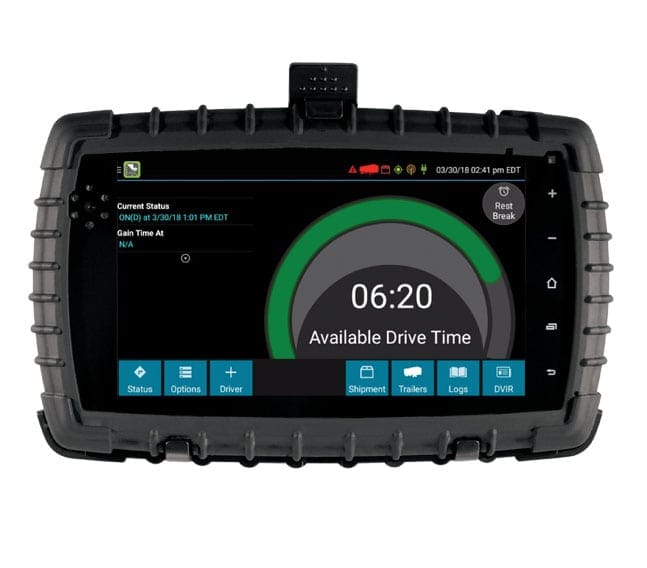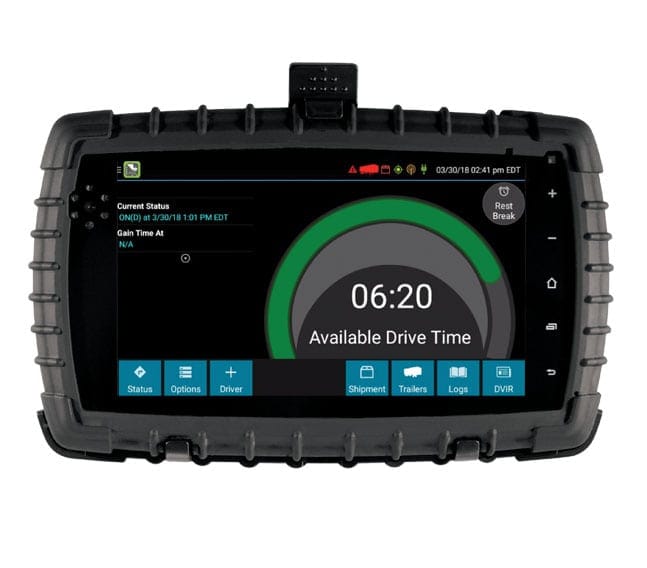 The High-resolution NexTraq Elogs tablets integrate with the company's telematics platform. These devices are also FMCSA-certified and have a user-friendly dashboard.
However, the tablet offers an English only interface and limiting factors for fleet going across the borders to countries such as Mexico.
Remarkable Customer Support Team
NexTraq has an outstanding ELD support team that ensures you get your fleet ELD compliant within no time with their remarkable services. They understand the value of providing you with hands-on service, identifying and supporting your needs.
The ELD support team understands that the most important thing is to listen to you. They go over and above to identify and solve their customer's needs. The team provides the necessary training to fleet-owners, your manager, and drivers to ensure that you successfully adopt the ELD devices of NexTraq on your fleet.
Customer support is one of the most important aspects of any business as the saying goes, "Customer is King," meaning that you deserve a King's services. NexTraq provides you with an exceptional customer experience any part of the day when purchasing their ELD.
Furthermore, they are always on standby to provide you with after-sale services of their ELD devices whenever you need them. You can reach the support team through phone, live chat on the company's website, or through email. They also provide a detailed FAQ page, that offers on-spot solutions for common issues on their website. Make sure to see that page. 
Simple and Easy To Use Solution
Having been used to the simple paper logs, the driver may find it hard to adapt to modern technology platforms. Nobody wants to stress their drivers by giving them complicated devices. Devices that are hard to use may lead to driver non-compliance because of the difficulty in using the ELD.
And for that reason, the NexTraq ELD for smartphones and tablets has visible and straightforward buttons on the driver's screen where they can choose any functions they need quickly.
Drivers operate the NexTraq ELD by just tapping the function of their need right from their ELD gadgets. The logs are easy to operate, and they can record and save their HOS on the ELD with ease.
NexTraq user-friendly ELD solution helps to ensure that you don't overburden your workforce of drivers with a complicated system. These ELD devices help you to get 100% driver and ELD compliance.
Hours of Service Record Log
The primary purpose of an ELD is to record the HOS of drivers. NexTraq provides a smooth, transparent, and tamper-proof ELD system.
The Driver's Log captures the exact time a driver starts driving until they finish. The ELD transmits the HOS data to your manager in real-time
In addition, the NexTraq ELD combines the HOS data with odometer readings from the ECM to help substantiate the driver's HOS log. Apart from the HOS log, the ELD also has other features such as automated tracking of movement, speed, and location. This ELD will ensure you get all the necessary information to help analyze your driver's performance at your convenience.
Driver Vehicle Inspection Reports Integration
DVIR is essential in the maintenance of your fleet, observing road safety, and achieving fleet compliance.
NexTraq ELD has an integrated DVIR system that your driver can use to record their vehicle inspection. You don't have to buy an extra gadget or platform for your fleet inspection records.
Drivers use the simple checklist to give each part inspected a thumbs up, or thumbs down, or N/A tap when done. In addition, there is a camera option to take a quick shot of the issue right there on the platform and a comment section where they can elaborate on the problem noted.
This helps you to save on the cost of buying another DVIR system for your fleet and allows you to get your fleet maintenance in check and on time.
Driver Status Screen
The NexTraq offers your drivers a simple screen to change their status. The options include driving, off duty, On Duty, Sleeper, ND, Odometer, Location, and a Note section to streamline record-keeping accuracy.
With this feature, you will be able to know where your drivers are, what they are doing at any time without calling them.
Roadside Inspection and maintenance Report
In North America, up to 15 trucks are inspected on the road every minute on the annual International Road check. Annually, FMCSA conducts more than 3.5 million roadside safety inspections.
Your trucks are bound to come across law enforcement road inspections now and then. NexTraq provides a smooth and reliable mode of transferring data through Bluetooth, Email, or FMCSA Web Service from the DVIR.
NexTraq helps you to prevent your trucks from failing inspection with real-time data, which saves you, on average, $861 exclusive of the repair cost and fines.
Integrated NexTraq Fleet Management
Fleet management can be a daunting task without properly laid out strategies. However, with the NexTraq ELD solution, you are assured of a smooth-running operation of your fleet with their integrated fleet management solution.
The cloud-based solution offers you services such as vehicle GPS tracking, work scheduling board, automated task allocation, real-time notifications, and routing.
The solution also allows you to make virtual boundaries across job sites through the "Geofencing and Mapping" option.
The fleet management tool will also help you to monitor truck arrival and departure times, track stolen goods, and to create virtual time cards for improved handling of payroll schedules. All in all, you will be able to improve the management of the resource, such as monitoring and evaluating the fleet's fuel consumption.
Get Multi-language Options
Your fleet might be serving even across borders to Canada and Mexico. NexTraq ELD comes in several languages, which include English, French Canada, and Spanish, to facilitate easy usage across borders.
You don't have to worry about any language barrier when purchasing the NexTraq ELD offer three different languages. However, this feature is available only on the NexTraq ELD app.
Benefits of using NexTraq ELD
Before choosing any ELDs, you should first understand the value of the product. More than often, some products end-up not providing what the customer bargained for but not for NexTraq ELD.
Accurate Recording of Hours of Service
The NexTraq ELD App and Elog Tablet provide real-time data whenever your drivers key in their hours of service. It helps you to become ELD compliant as required by FMSCA regulations
You can't go wrong in choosing this ELD solution for your fleet, which will help you to eradicate the traditional paper logs. The NexTraq helps you to recover the time spent when filling out paper logs and streamlines the management of your drivers' payroll.
If you want to improve your drivers' accountability, save resources and life, then become ELD compliant with the NexTraq ELD.
The NexTraq ELOG Tablet, which is hardwired to the vehicle engine, is hidden by the NexTraq ELD support team to prevent driver tampering. This means that you won't have to worry about data manipulation by drivers.
Free Installation Services of the Hardwired Tablets
Utilize the NexTraq free after-sale installation services when you choose to go with this ELD. Companies with a large fleet can run into thousand of dollars in the ELD installation fee, but NexTraq saves you the hassle.
Other start-up companies may be running on a limited budget and can really use this feature. When the manufacturer experts help to installs the ELD solution themselves, you don't have to worry about system malfunctions along the way.
NexTraq also provides an online education platform for companies which helps in reducing risks and liability. The knowledge resource platform can help you to implement strategies when dealing with unsafe driving behaviors. The approach you use will help your drivers to understand the need for safe driving habits.
Utilize the Extra Functions at No Extra Cost per month
The NexTraq extra features such as DVIR and Fleet management solution help you to save money meant for buying the other solutions from other companies.
The extra features come at no added cost as you only need to pay for the ELD. Every business model is to make a profit for sustenance and growth. Become both ELD and DVIR compliant with the NexTraq ELD at affordable rates.
The DVIR gives you real-time reports on the condition of your vehicle every time the driver starts working, and when they stop. Whenever any problem is noted, drivers can alert you with the ELD integrated DVIR and help you to make an immediate intervention. This ensures that your fleet is always in good working condition, which maximizes your productivity.
On the other hand, the fleet management feature helps you to improve your fleet and driver performance. It helps you to monitor and evaluate fuel consumption, track vehicles, allocates driver task automatically, and much more.
With NexTraq ELD, you don't need to buy any other device to help in the management of your fleet.
ELD Compliance Training for Drivers and Fleet Managers
NexTraq offers free training for drivers and fleet managers to help you become ELD compliant within the shortest time possible. When you decide to go with NexTraq ELD, their ELD support team will ensure that your drivers and managers are competent in using the ELDs.
No need to hire trainers when you adopt NexTraq ELDs for your fleet as they have in house trainers. The NexTraq ELD support team will help you to save training costs when you buy their solution.
Improved Safety Measures
Safety is a significant concern for most fleet owners considering the difficulty in monitoring drivers while out there on the job. However, NexTraq ELD puts this into consideration with their ELD, which offers functions where you can track total idling time, harsh braking, and speed.
The data can help you to evaluate each driver's performance and be able to address any safety concerns that you might have.
The NexTraq ELD App has a unique feature called DriverGuard, which prevents drivers from using their mobile phone driving. It blocks functions such as communication, messaging, taking "selfies," and surfing and sending emails on the driver's phone while driving.
Setbacks of NexTraq ELD
In our research about NexTraq ELD, we didn't find a lot of negative reviews about the solution. However, some users noted that NexTraq's customer service logs in solving issues. They also complained of unexpected charges and that their speed readings were not always correct.
There were also several negative reviews on the Better Business Bureau. However, this does not mean that NexTraq ELD is not living up to its promise of excellent services.
Another setback of the NexTraq ELD worthy noting is the language limitation of the rugged NexTraq Elog tablet because it only operates in English.
NexTraq ELD Pricing
You will be required to sign a three-year contract when you decide to use NexTraq. The agreement includes an upfront payment and monthly subscription for the use of the NexTraq ELD solution.
They don't have a minimum requirement for fleet size, which means it can accommodate fleets of all sizes. However, unlike other ELD providers, NexTraq does not provide their pricing. You will have to contact them to get the exact quote.
What is the NexTraq Fleet Management Solution?
NexTraq Fleet management solution is a platform integrated on their ELD to provide GPS vehicle tracking and fleet monitoring. The solution supports industries such as transport, manufacturing, construction, heavy equipment and agriculture, and utilities, beverages, and much more.
The key features offered by the NexTraq fleet management platform include automated driver task allocation, routing, vehicle tracking, work scheduling board, and fuel consumption monitoring. The fleet tracking system also provides a "Geofencing Mapping" feature that allows the fleet manager to create virtual boundaries across job locations.
The system helps managers to monitor vehicle departure and arrival times, track stolen equipment, and to create virtual time cards that help in managing payroll schedules.
It also has numerous components such as power and temperature take-off, driver ID sensors, and NexTraq integration accelerometer.
Functions of the NexTraq Fleet Management Solution
The solution helps to simplify fleet tracking management by providing easy to use and simple features. The solution provides detailed reports and function alerts in real-time, which can help you to maximize the efficiency of your resources.
The fleet management tool can be customized to fit specific business needs. You can optimize your resources to reduce fuel costs, generate time-sensitive reports, and increase business income.
Conclusion of Our Review
Based on the features, benefits, and customer reviews, we can comfortably say that NexTraq is an excellent choice for your fleet ELD compliance. The NexTraq ELD can help you to achieve HOS compliance as well as provide fleet management and DVIR solutions at no extra cost.
The extra DVIR and Fleet management features make NexTraq even more desirable as you get to keep your fleet in full operation mode with real-time inspection reports and also improve fleet management.
The user-friendly platforms will resonate well with all kinds of skill sets, allowing you to achieve full HOS compliance by your drivers. The NexTraq app enables the driver to adopt and make HOS compliance quickly.
The rugged tablet option will serve you better as the devices can withstand heavy usage for a long time. And your managers can get real-time data from the drivers through the NexTraq ELD app.
All said and done, there some setbacks such as the slow customer service response, but they can improve with time. The NexTraq ELD is an excellent choice for your fleet HOS compliance solution that will help to improve your driver's accountability and management of your fleet. We hope this ELD review has provided you with the entire information you need to make an informed decision.