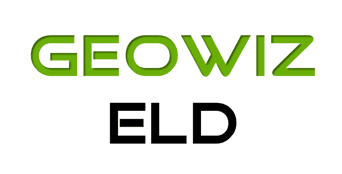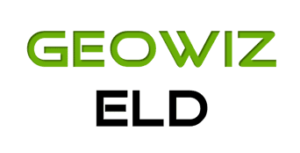 There are so many vendors in the ELD market who have promised various features will be delivered in time for the FMCSA mandate.
However, just a number of providers actually delivered on that promise. As you probably know, the ELD mandate came into effect on December 18, 2017.
Hundreds of thousands of electronic logging units have been sold, but only providers like GeoWiz actually came through when it comes to features like DVIR logs, fleet management, driver dispatch, and more.
Federal regulations explicitly state that an AOBRD device had to be installed in a CMV prior to December 18, 2017, in order to be grandfathered. All these grandfathered AOBRD devices must now be replaced.
And, what better solution but the GeoWiz ELD by GeoSpace Labs to help you switch? This device is offered as a one-time purchase. It involves neither additional costs nor monthly fees.
Read on to find out more about this provider and what features it offers.
GeoWiz ELD Review – A Few Words on This Provider


As always, it is recommended to check who is behind a product before making a purchase. So, before we dive in GeoWiz review, let's get familiar with the manufacturer first.
GeoSpace has been around for quite some time, operating as the AOBRD vendor of choice when it comes to the ELD mandate. This software company provides federally certified tracking technology with the goal of making people safer on the road.
There are quite a few products in their ELD collection, from agriculture products to AOBRD/ELD solutions designed specifically for deep-field operations exemptions. While some of these systems are aimed at companies looking to centralize their operations, others are tailored for owner-operators looking for a basic solution that can track DVIRs, state miles, and fuel purchased.
With some of these solutions, fleets can address their concerns about distracted driving and ELD interactions while improving driver management at the same time. They also offer geospatial real-time ELD hardware and accessories for sale.
Get FREE ELD Device Quotes
What is GeoWiz?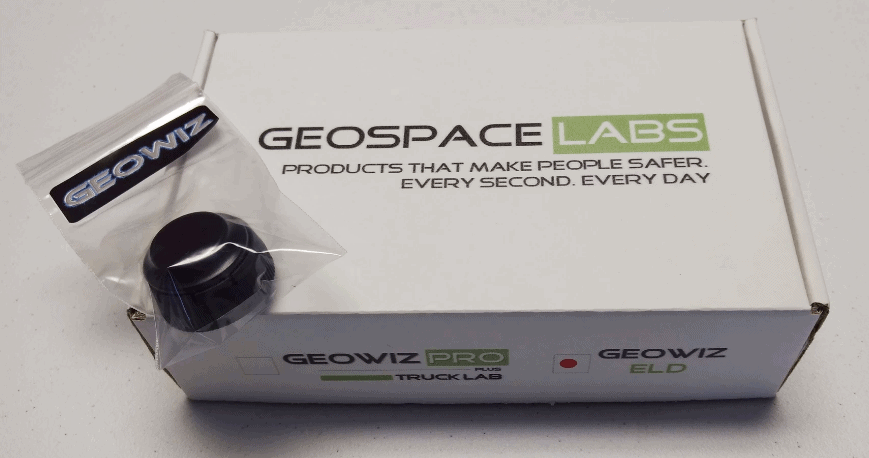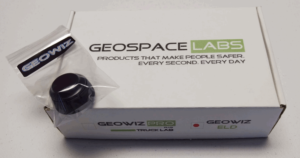 The Geowiz automates both CFR 395 and CFR 396 by implementing easy-to-use modern technology that is compliant with the FMCSA mandate.
You can run it as an ELD or AOBRD. The choice is yours. Just like most ELD solutions on the market, the GeoWiz involves an application that runs on any Android device.
For both newer and older engine types, GeoWiz manufactures a plugin. They also have a service to extend the electronic logbook and let you track or route the entire fleet. Your operators will receive in-app messages, maps, route times, customer bills, and drop-in schedules in real-time.
Why Choose GeoWiz?
Geowiz sets itself apart from the competition with the following benefits: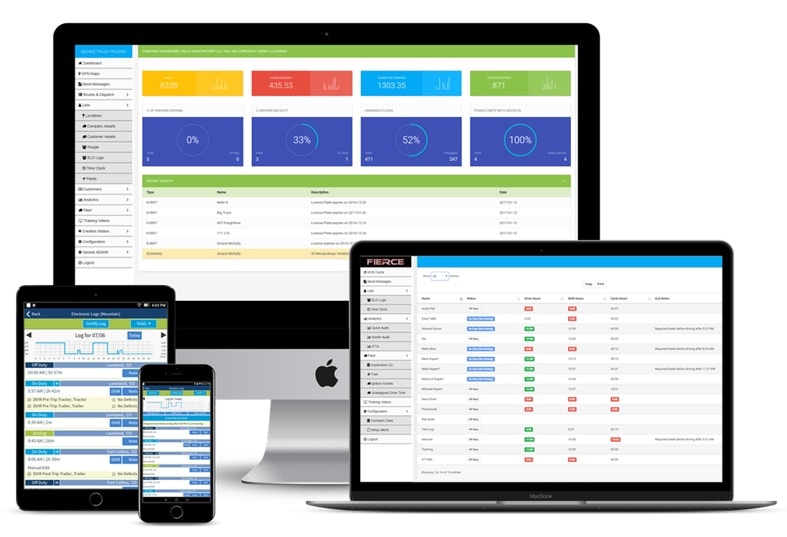 Compared to other ELD devices on the market, the Geowiz is competitively priced. As mentioned above, this solution comes at a single subscription price and is offered as a one-time purchase.
Geowiz doesn't have any upsell strategies or pricing tiers. There are no hidden costs. Keep in mind that the basic LTE version doesn't include any monthly fees. However, if you go for PRO features, then a monthly fee will be included in this option.
The functionality of this solution goes beyond just FMCSA compliance; it also includes GPS, IFTA, DVIR, routing, dispatch, logging, signature capture, customer portals, multi-authority tracking, fleet carrier management, and geo-based analytics.
The Geowiz system is very easy to use. As a matter of fact, it is all about making the transition to ELD as simple as possible.
It is engineered and built as a single ELD system from mobile device software to ECU firmware and hardware, meaning there are no multiple vendors involved in the conflict resolution process.
Geowiz releases monthly feature updates to this system via Android and Apple APP stores.
How Does It Work?
Everything from GPS to DVIR, to dispatching, to routing and logging work in sync with a geo-based analytic engine. Apart from that, it incorporates ELD carrier management, signature capture, and customer portal. All of this is included in one real-time system.
In fact, the connection to the engine is performed via simple hardware – actually by means of a small button – as well as an accompanying application for either the tablet or phone. It is responsive, quick, comprehensive, and customizable.
How to Install GeoWiz ELD
The ELD hardware is quite small and it comes with no wires. This allows you to install it in a matter of minutes. All you need to do is put the device in a 6-pin or 9-pin ECU port and install the GEoWiz app on your tablet or phone.
Features & Capabilities
GEoWiz comes with quite a lot of features and capabilities, including:
Hours of Service (HOS)
DVIR Logs
Fleet Maintenance
Barcoding
Order Entry
Asset Management
Driver Dispatch
Route Logging
Fuel Logging & IFTA
GPS Tracking
Mapping
Aside from all of these features, Geowiz also allows for paperless signatures. You can sign invoice and delivery note templates on your mobile device with the use of its camera.
Moreover, you'll be able to create multiple customers, each of which with an individual custom portal. You choose the information they can see and share. Just make sure they have access to your documents.
Another useful feature is the billing sheet. Apart from standard delivery-related billing, you can create cross-billing schemes and custom rate schedules as well.
GeoWiz App
Are you using a paper logbook? It's high time to switch to ELD. You can do it effortlessly with GeoWiz app.
With this GPS enabled electronic logbook application, you will be able to create DVIRs, track your HOS, and take pictures which can be drawn on and attached to the road inspection. It also allows you to sign your DVIR and Log electronically.
The app can track the time, as well as any specific location where your activity happens. Moreover, it is meant to connect to different accounts on the cloud, thereby backing up and saving all the log entries.
The GeoWiz app will also enable you to keep track of fuel consumption and mileage for each of your assets. Once installed on your device, you can use it in either AOBRD or ELD mode. You will also be able to scan bar codes on your documents and attach any documents you want to have in electronic form.
And that's not all. In addition, this all-inclusive app provides:
Intuitive management – Use mobile devices to get your workers wherever and whenever you need them.
Location visualization – Track your vehicles and drivers in real time.
Invoicing – Get accurate location and time records by activity or job.
Ease of Use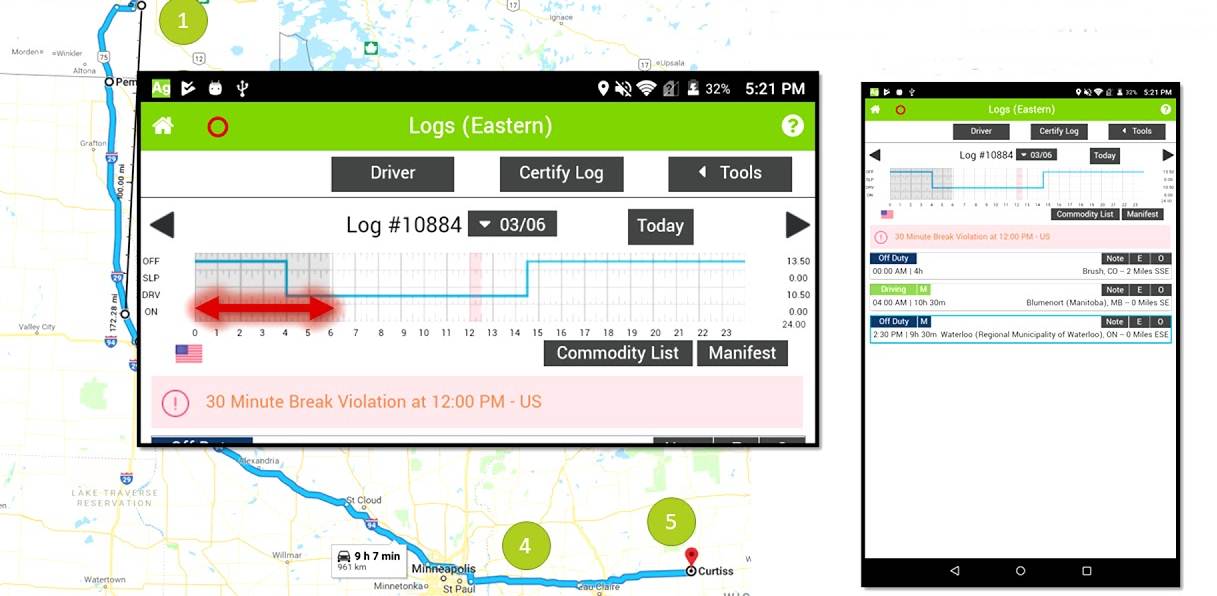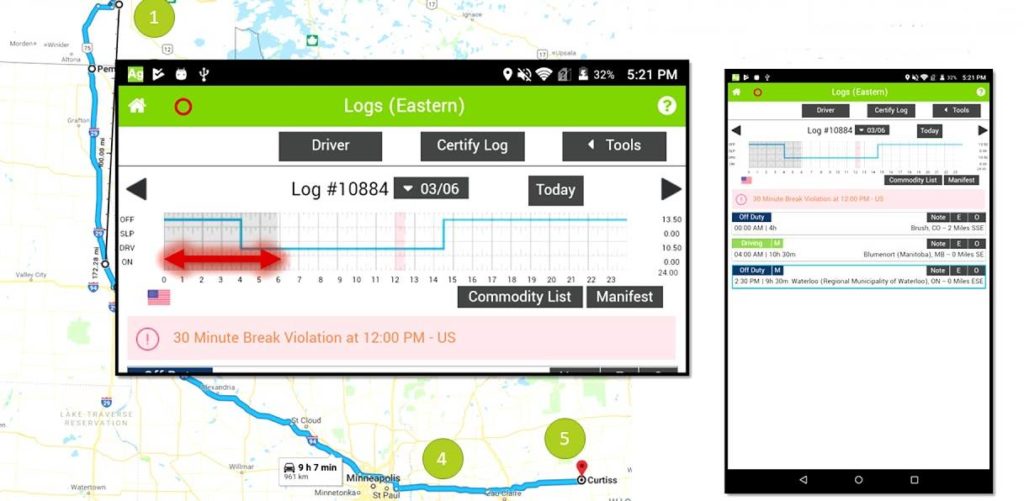 Drivers without ELD experience will be able to get familiar with the system and master it in less than a week. Dispatchers, on the other hand, can also quickly learn how to use and apply the system according to their needs. With the help of the Geowiz tools, they will be able to effectively run a fleet and achieve better performance.
There is a learning curve though, especially for those who aren't very good with smartphones and new apps. Luckily, GeoWiz provides lots of training videos and instructions to make it as easy as possible. The app design closely emulates the old paper process to make the transition easier.
Instructor-led training combined with online training ensures well-informed users and well-coordinated rollouts. Phone support is also available.
ELD Mandate Compliance
This advanced geospatial technology comes with a unique Carrier Information System which contains an FMCSA compliant HOS ELD. Trucks get both the software and hardware required to be compliant with a one-time cost. No monthly fees!
With GeoWiz, you can rest assured that you will stay compliant with the FMCSA. This product is FMCSA registered and certified. The GeoWiz app coupled with the ELD hardware makes it easier for truck owners and operators to meet FMCSA duty status requirements.
Top Benefits
Comprehensive carrier information system
Can work in AOBRD or ELD mode
Easy to understand and use
Customizable
Competitively priced
No monthly fees
Possible Drawbacks
The app is a little slow
Customer service is not responsive
Ready to Use the GeoWiz ELD App?
GeoWiz is a premier product by GeoSpace Labs that incorporates modem e-Log technology and Carrier Information System (CIS). The FMCSA-compliant software and hardware are coupled in such a way to give seamless functionality.
This system runs on any Apple or Android mobile device, and it can be used in either an AOBRD or ELD mode. It is important to note that the AOBRD choice is only possible if it's installed prior to December 18, 2017.
It's a great way for drivers to view their logs, inspect defects, create routes, run IFTA reports, and much more. Fleet managers, on the other hand, will benefit from features like multi-authority tracking, geo-based analytics, asset management, and customer portals. That can make a big difference in the way a fleet operates.
Please see our Best ELD Devices in 2020 review