Last updated on March 9th, 2023 at 06:12 am
As a global telematics company, Geotab provides both hardware and software to businesses of all sizes. For more than 15 years, they have been serving small, medium, as well as large fleets across the USA.
It is important to notice that Geotab acts as a supplier through a global reseller network that handles customer support and sales. Unlike other ELD vendors, Geotab doesn't directly sell its ELD products to customers, but partners with resellers to make sales.
The company continuously seeks ways to improve the existing tracking analytics and electronic logging solutions. Geotab's goal is to create flexible ELD solutions that can meet different needs.
Geotab is committed to making roads safer, empowering businesses, and advancing technology. They invest a lot into the final products with the aim of developing software and engineering hardware alike.
Let's review the Geotab ELDs and find out more about this ELD solution.
Geotab ELD Review: Taking a Look at the Functionality of this ELD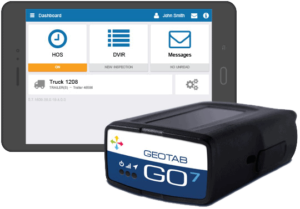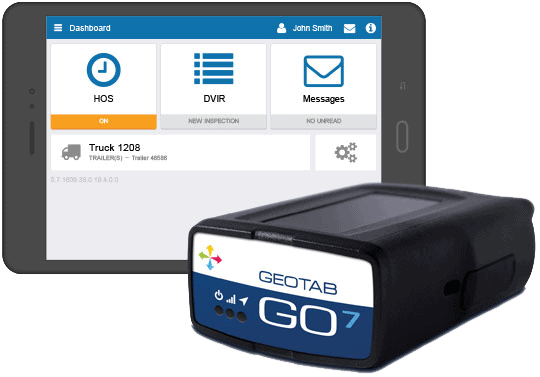 Geotab is a go-to source for fleet compliance management. While compliance with the ELD rule matters, you will be able to go above and beyond with Geotab's ELDs. In addition to meeting compliance, this electronic logging solution can help you optimize your fleet and increase productivity as well.
By logging and tracking vehicle data, their products and full-featured management solutions allow fleet managers to analyze information over the course of several months and respond to various daily issues in real-time.
The historical and real-time trip data and driver's duty records help you have better control over your vehicles and drivers, which leads to increased efficiency over time.
The Geotab web-based software runs in a browser, so you can use it interchangeably on the desktop or mobile devices. It is compatible with both Android and iOS devices, thus making it an integrated solution. The company also offers its own telematics and vehicle tracking devices, such as Geotab GO9 and GO RUGGED.
Features of Geotab ELD device
When it comes to functions and features, it essentially depends on the payment plan you choose. While the basic plan mostly revolves around hours of service (HOS), DVIR, and IFTA, the ProPlus tier also includes more advanced functions like active GPS tracking.
Hours of Service (HOS)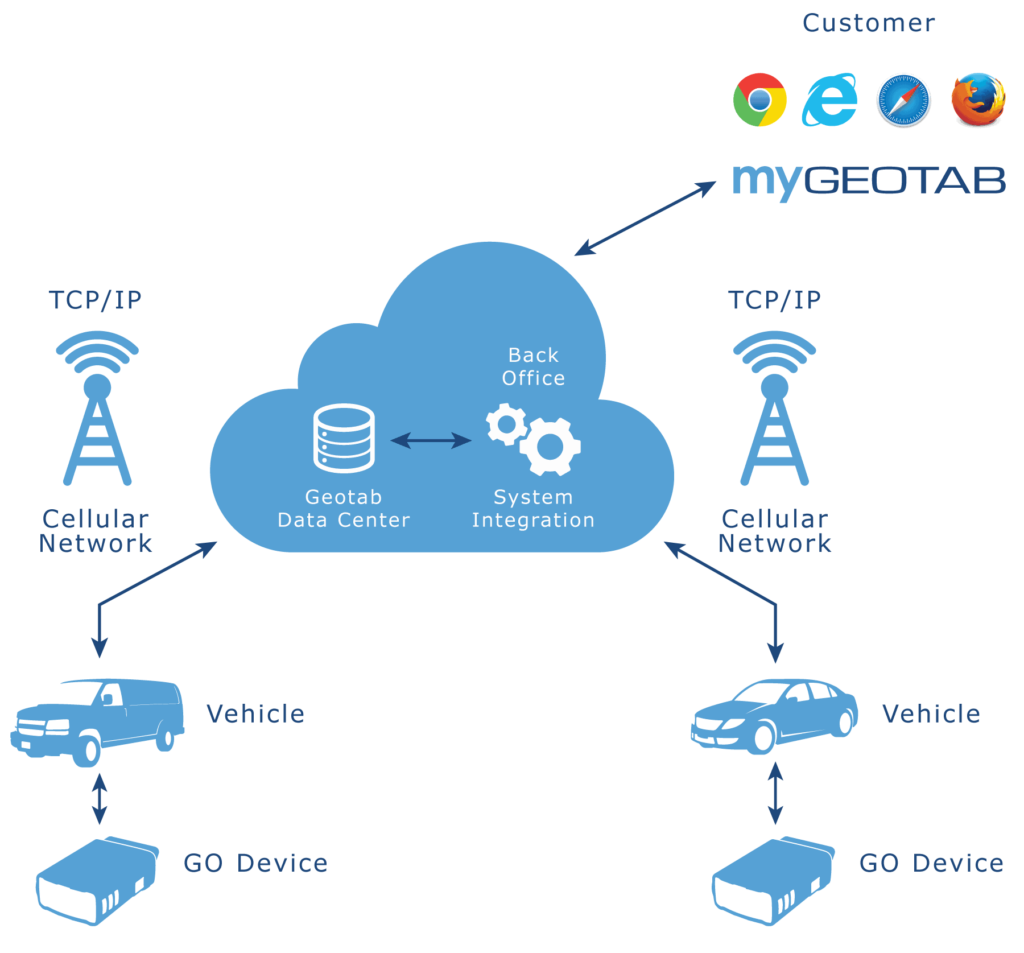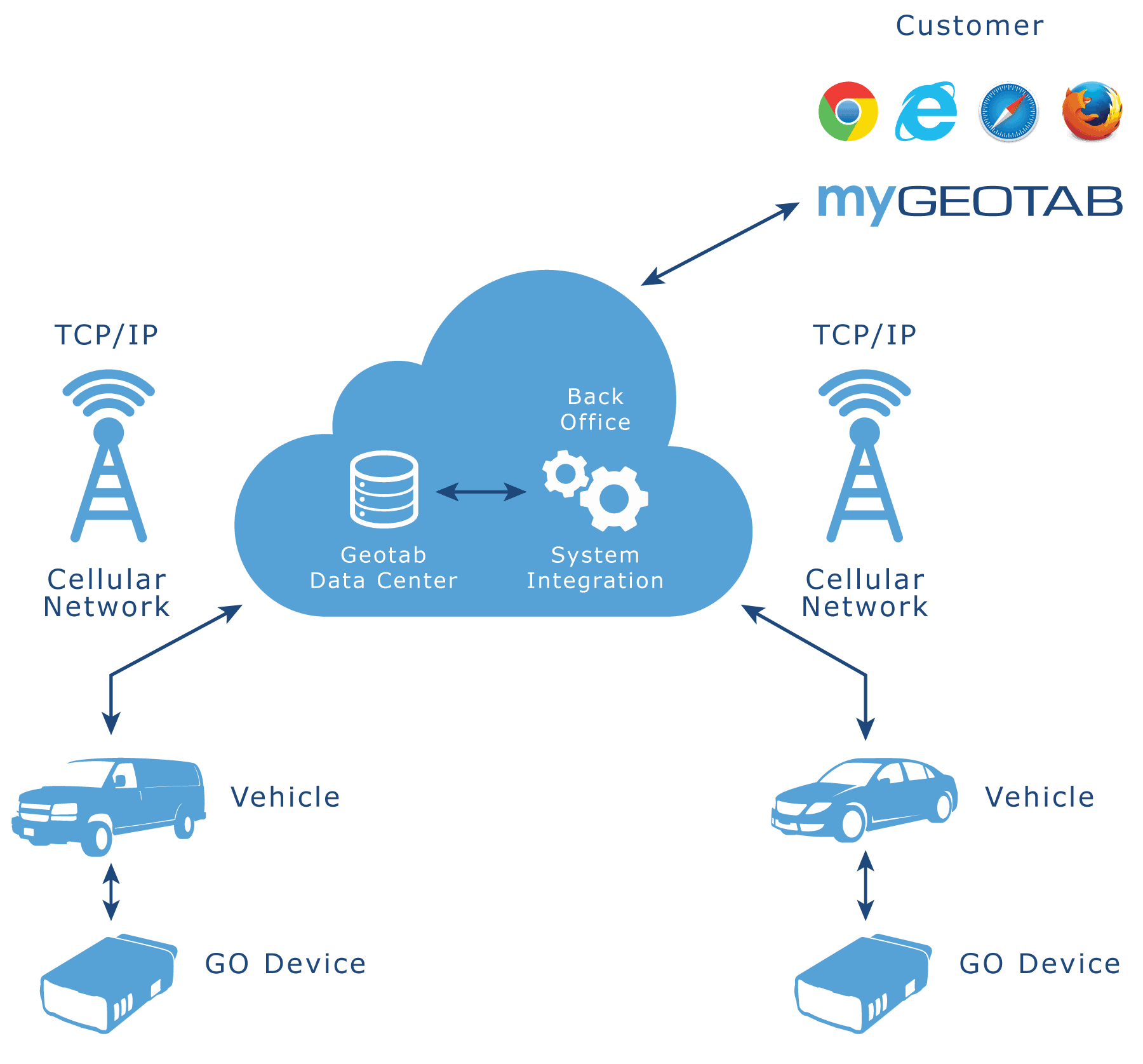 Through Geotab Drive, you can manage, truck, and share vehicle inspection data and reports of duty status in a user-friendly fleet platform. The goal is to improve safety and meet HOS regulations at the same time. This reduces the chances of injuries and accidents associated with commercial vehicles.
International Fuel Tax Agreement (IFTA)
Tracking the distances traveled and fuel expenses matters for all the businesses operating commercial motor vehicles nationwide. Geotab ELD can improve accuracy and save management time by eliminating the need for the manual tracking process. It makes things a whole lot easier.
Driver Vehicle Inspection Reporting (DVIR)
Geotab ELD allows for complete inspection workflow, too. Drivers can select defects, review inspections, add comments, and much more. It's possible to sort the reports so that they show either just those with defects or all DVIRs. This offers a comprehensive insight into fleet health.
Business Integration
Geotab provides integration for a number of compliance tools – including IFTA mileage collection, Hours of Service, and  DVIR – into a cost-effective software suite. It involves Fleet Maintenance Management, Driving Safety, and Productivity among others.
There are also Marketplace Add-Ins that enable fleets to further integrate their data with applications relevant to their business.
Customizability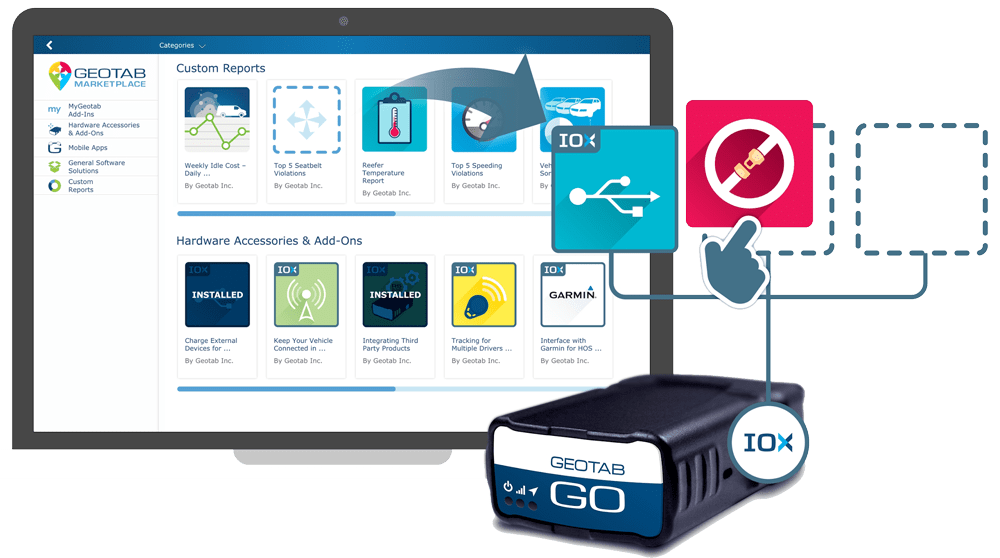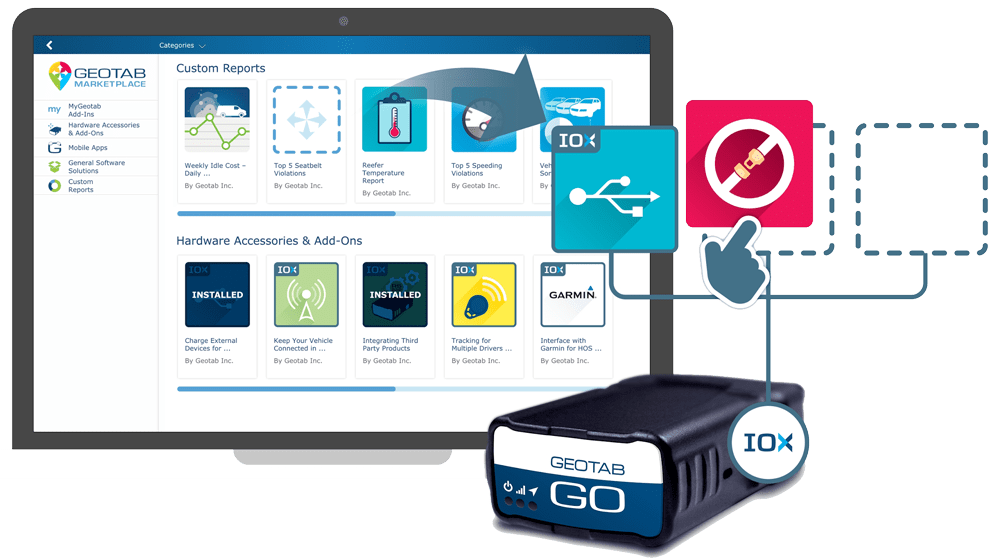 Geotab software is designed as an open API solution to be marketed by resellers, meaning they can add their unique applications and programs. The ELD development kit comes with editable reporting functions and customizable dashboards.
That said, some of their software options can be paired with hardware units from other companies, whereas the Geotab hardware options can work with other software. That allows for great flexibility and customizability.
What Does It Involve?
There are two options to pick from, electronic logging solutions and Cloud ELD. If you opt for Geotab Cloud ELD, you will need to utilize the MyGeotab software and install the Geotab Drive app on your tablet. Another option is to sync it with a Geotab hardware device.
Yes, it might sound a bit complicated, which is why we will try to break it down for you.
Geotab Cloud ELD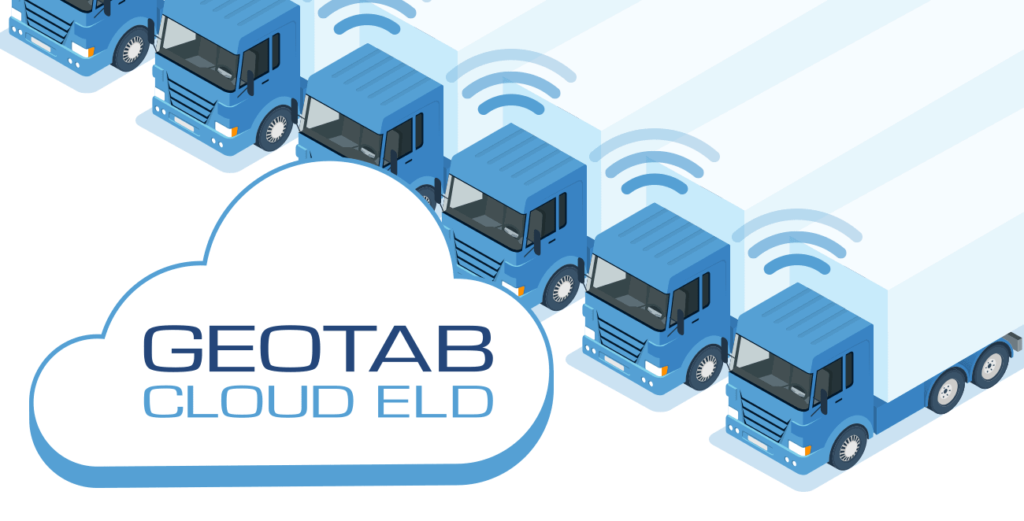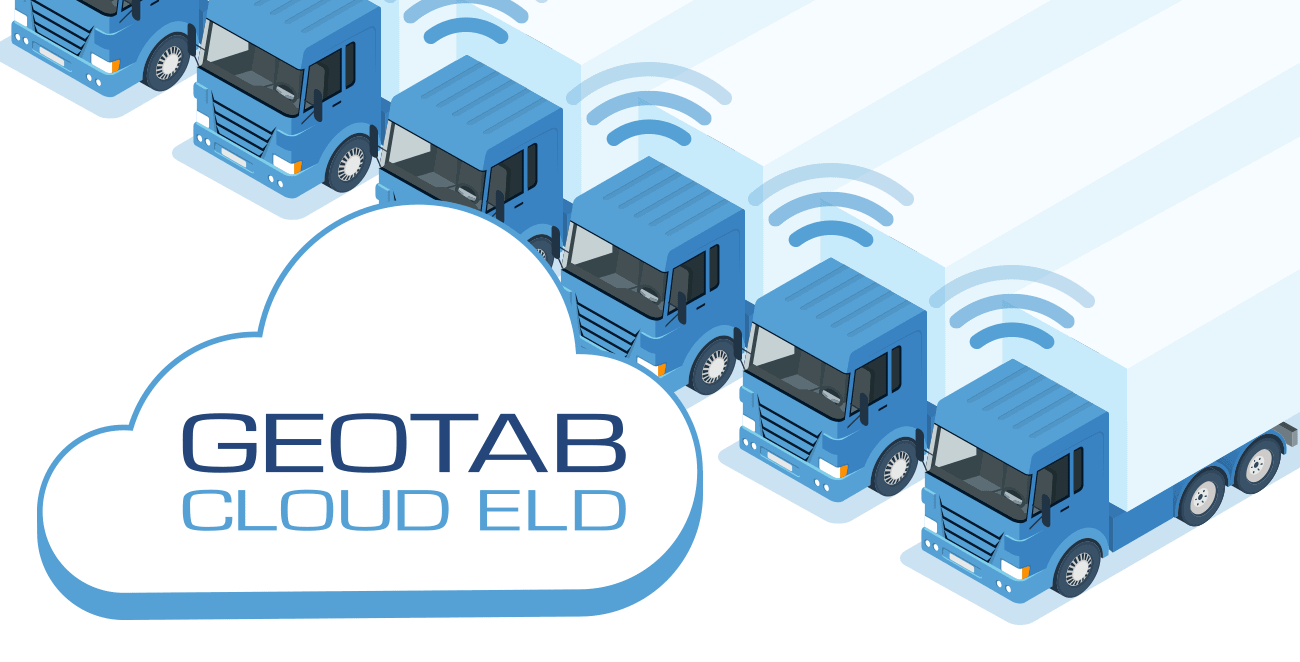 Geotab ELD works via a cloud-based platform where the users can track, manage, and share their RODS. This reliable platform interconnects the MyGeotab software and the Geotab telematics device with a mobile device that runs the Geotab Drive app.
Cloud ELD is considered to be more robust and reliable than hard-wired ELD solutions that use Bluetooth connection to work or download records and data to USB. Just like other kinds of ELD solutions, it provides Hours of Service, which plays a critical role in fleet business operations.
Moreover, Cloud ELD has some unique advantages over classic electronic logging systems. It reduces power consumption to extend the battery life of your device, doesn't require any pairing process, and supports different platforms.
Geotab Drive App for Fleet Management
The Geotab app works in sync with the MyGeotab program via a cellular connection or Wi-Fi. It can even work offline. After the initial login, the app constantly receives updates from the server. If the cellular coverage isn't present, the Geotab Drive app will continue to pick up data whenever the connection is made.
All recorded data are stored on the internal memory of the GO device. They will be transmitted to the server as soon as the vehicle accesses cellular coverage. After coordinating the data, all the missing elements will be sent back to the Geotab Drive App.
With the help of this app, drivers can change their duty status with ease and collect data for both DVIRs and IFTA fuel management. Additionally, they will be alerted of upcoming HOS violations on time. Push notification alerts give drivers sufficient time to pull over and safely finish their shift.
It lets users download vehicle data and duty status logs. Aside from that, there is an ability to upload manually created logs for consolidation.
Geotab ELD GPS Tracking Hardware
This all-inclusive solution also harnesses the following GPS vehicle tracking devices:
Geotab GO9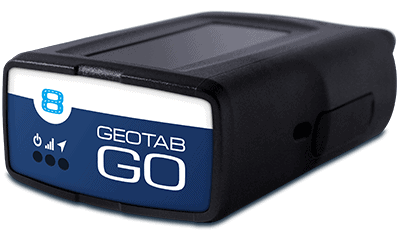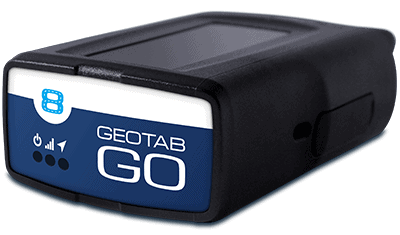 The Geotab GO9 features a gyroscope, 32-bit processor, and plenty of memory. This is a plug-and-play device, meaning you can install it in a matter of seconds.
It records data like route distance, engine idle time, ignition, vehicle speed, etc. Apart from that, the GO9 is capable of detecting in-vehicle reversing collisions. This feature sets it apart from the rest.
From temperature tracking to satellite tracking, the device can record data that can be read with additional software modules. There's also the possibility to incorporate additional hardware like in-cab cameras.
Geotab Go Rugged

As the name implies, this is a ruggedized telematics device. That means it can handle the external installation or harsh conditions without a hitch. The Go Rugged is particularly suited for fleets with heavy equipment, powered trailers, yellow iron, and farm machinery.
How Does this ELD Work?
Each piece of the cloud system serves the purpose of ensuring a stable, reliable, and accurate flow of data.
GPS and engine data from the Geotab GO devices are processed on the MyGeotab server. Once the Duty Status logs have been created, the server sends them to the Drive app along with location and engine information.
The Geotab GPS Tracking Hardware sends location and engine data to MyGeotab.
The duty status of the driver from the Drive App is also sent to MyGeotab.
MyGeotab server combines the information from these two sources to create RODs.
Updated data are then sent back to the Geotab Drive App.
It is a cyclical process that repeats every time the vehicle is driven.
ELD Mandate Compliance
New regulations set forth by the Federal Motor Carrier Safety Administration (FMCSA) require the adoption of ELD solutions for the drive's log, i.e. the driver's record of duty status. It involves the recording of hours-of-service (HOS) and driving time.
The ELD rule is actually intended to improve road safety with the use of new technology that keeps fatigued drivers off the road. This rule applies to CMV carriers and drivers maintaining more than 8 days of RODS (duty status logs) during the 30-day period.
Keep in mind that AOBRD devices will become a past on December 16, 2019. All drivers and motor carriers subject to the ELD rule will have to switch to electronic logging devices.
Whether you're running a fleet that is composed of a few delivery vans or lots of heavy trucks, Geotab offers everything you could ever need to stay compliant.
Their leading-edge telematics solutions make it easy for all fleets to meet compliance and continue operating with peace of mind. Geotab ELD is registered with the FMCSA, so you can't go wrong with it.
Simple Installation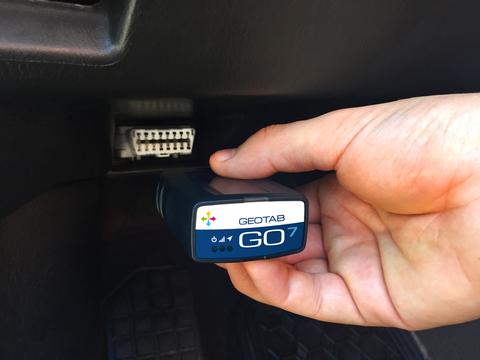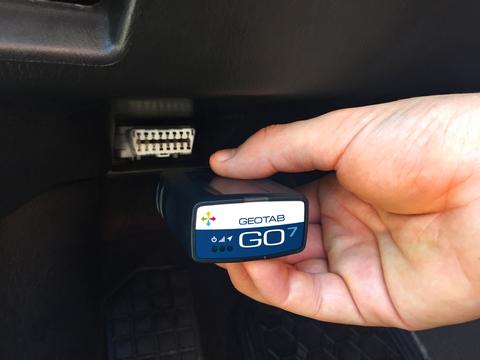 Designed as a form-factor tracking device, the Geotab GO9 is quite easy to install, so you will not need the assistance of professional installers as with some other electronic logging devices. No wire-splicing or antenna required. The installation requires no special tools.
All you need to do is plug it into the OBD II port of your vehicle. There is an adapter for vehicles that don't have such a port. It lets you use this ELD solution in just about any truck.
Note: Before installation, you will have to add the device to the Fleet Management App by means of its serial number. You'll also need this info later during the verification process.
Ease of Use
Such a solution is meant to streamline and simplify the process of electronic logging. It makes it easy for truck drivers and carriers to record and monitor compliance information, such as Hours of Service (HOS), Driver Vehicle Inspection Reports (DVIR), and Records of Duty Status (RODS).
On the other hand, the Cloud ELD provides fleet managers with a user-friendly interface for running status reports and monitoring drivers in real-time. No pairing process, no back office intervention.
What are the Benefits of Using Geotab ELD?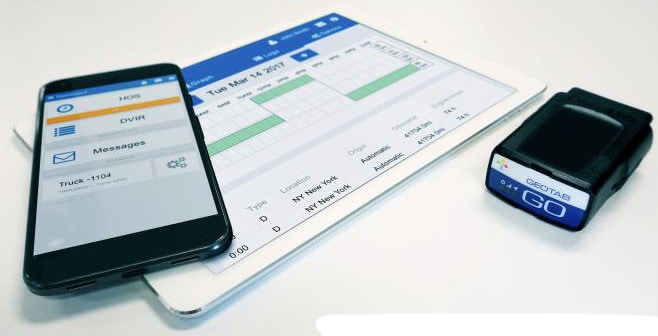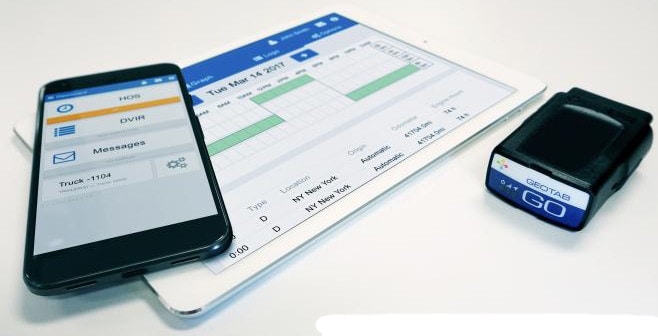 With the Geotab ELD solution, you will reap the benefits as follows:
Increased efficiency of inspections and record-keeping;
Improved CSA safety ratings;
Reduced paperwork, which saves both time and money;
Reduced administration costs;
Minimized violations on the roads;
Enhanced reliability – if the device experiences any hardware or software problem, all the data will be saved in the cloud;
Up-to-date logbook info to law enforcement;
Great compatibility – it works with both the Android and iOS platforms;
Last but not least, it enables carriers to stay in line with the ELD mandate.
Plans and Pricing of this ELD Solution
As stated before, Geotab sells its products through third-party resellers who actually set the retail price. That's why the costs and fees for Geotab solutions may vary widely. Besides, some resellers add extra features and software add-ons, which charges an additional fee.
Please note that the Geotab Go devices come with any of these four plans:
Base
HOS
Pro, and
ProPlus
Each plan offers a little bit more options and functions than the last. There is a standard 1-year warranty for all Go devices; it can become a lifetime warranty if you subscribe to the ProPlus plan.
Pros
Compatible with different platforms
Great accuracy of logs
Very reliable
Simple installation
Easy to use, no pairing process
Reduces administration costs
Improves CSA safety ratings
Minimizes violations and prevents accidents
Real-time access to information
User-friendly interface
FMCSA registered
Cons
Historical trip tracking function could be better
Setting up maintenance reminders is a little tricky
The maps are a bit clunky
Wrapping Up
Geotab's web-based software and fleet tracking hardware options are reliable and fairly easy to use. Their services can be customized to meet the specific fleet needs. They can work for either heavy or light vehicles in large or small fleets.
With this ELD solution, you will reduce administration costs and traffic violations, while improving your CSA score and operational efficiency at the same time. So you can rest assured that your telematics investment is going to pay off over the long haul. On top of that, you will be in full compliance with the rules.
Be wary of resellers, though. Since Geotab's products are provided by different third-party resellers, there is a risk of buying an irregular device.
Please see our Best ELD Devices in 2023 review.