Last updated on March 8th, 2023 at 08:14 am


The BridgeHaul electronic logging device (ELD) is one of the most affordable and reliable transportation platforms we have seen in the industry today. It is highly rated by drivers and is packed with features you would find in higher priced solutions.
In addition to the basic ELD mandate compliance capabilities, BridgeHaul has a number of additional features that carriers and owner-operators will find useful for running their operations. For instance, the driver app offers a truck stop locator and truck-specific routing information.  The carrier solution has everything required to dispatch loads directly to the driver app and manage documents and payments.
Throughout this ELD review, you will learn what we believe makes this product one of the best ELD options for commercial carriers, shippers, and owner-operators.
BridgeHaul Review – Company Overview
This ELD solution is offered by BridgeHaul—a renowned provider of Transport Management Solutions (TMS). Over the years, the provider has been offering some of the best automated 3PL and TMS technology targeting owner-operators, carriers, and shippers.
The stated mission and vision of the company is to provide high-quality, low-cost solutions to connect drivers, carriers, and shippers throughout the supply chain. Their belief is that carriers should be able to optimize and streamline operations now that drivers are using connected technology inside the vehicles.
They want to not only help safety managers but also empower dispatchers, billing, and management by improving productivity and making employees more valuable.

BridgeHaul ELD Benefits for Drivers and Fleet Operators
Easy to install and use
Recording and sending logs is fairly straightforward
Countdown clocks for break, shift, and cycle resets so drivers know when they can get back on the road
Compliant with FMCSA and DOT requirements
Relatively affordable
Real-time dispatch and ETA calculation
Allows for document scanning and management
Features for Enhanced Fleet management and Control
This ELD allows you to send load details from the carrier dashboard to the driver mobile app.  Drivers are able to capture shipping documents from their mobile devices which become immediately available to the fleet manager.
From the carrier tool report section of the software, you can view details such as hours worked, total miles driven, loaded miles driven, and the amount of revenue generated by the customer or driver. The system also generates an array of reports covering all your finance and operations metrics.
With this solution, your drivers will be able to specify pick up and delivery times for loads. This, in turn, reduces back-office work for fleet managers and owners.
BridgeHaul ELD Pricing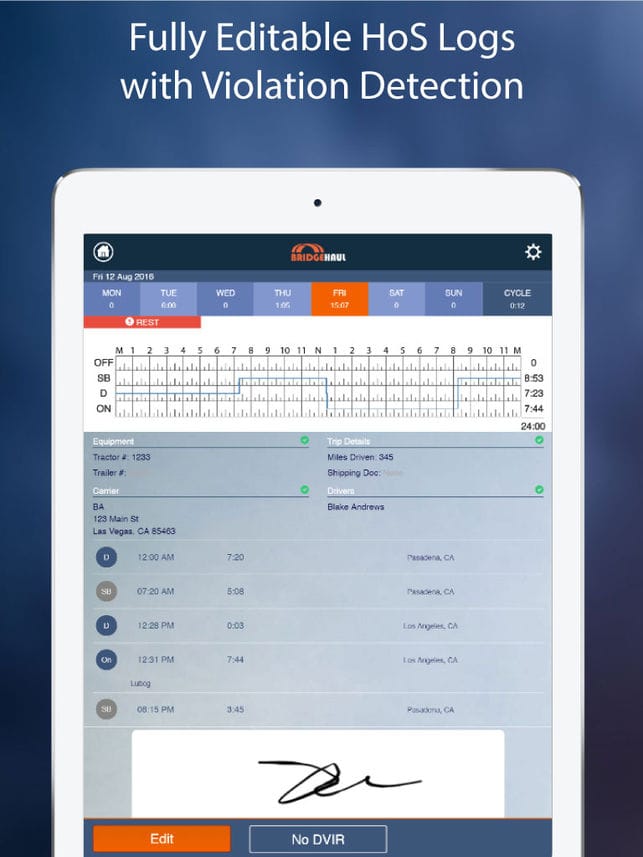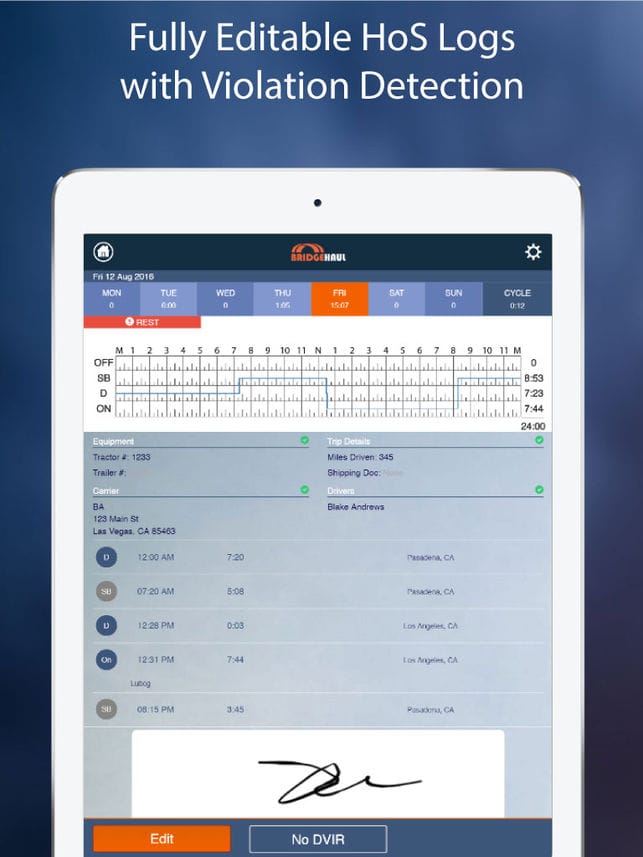 Despite the fact that this solution is packed with advanced compliance and fleet Management features, BridgeHaul is quite affordable.
The provider does not charge any upfront fees for the ELD device or the mobile driver app. Just as is the case with most of the leading providers, BridgeHaul offers monthly or annual subscription plans.
Depending on your business needs, here are some of the BridgeHaul plans you should consider:
For Carriers
This provider offers commercial carriers a free, feature-packed fleet Management platform. However, you will be required to pay a monthly subscription fee of $15/month for the ELD device subscription. This amount will be billed annually.
All features are included such as automatic log violation audits, real-time driver log updates, DVIR and HOS summary, and asset tracking in real-time. This subscription plan also offers your fleet driver KPI reporting, load dispatching, and invoice management capabilities.
For Fleet Owner-Operators
Affordability is one of the key considerations you have to make while shopping for the best owner-operator ELD device. In this case, you will love to know that there is no additional charge for the ELD hardware. For the ELD solution, you will be required to pay an annual fee of $180 which equates to $15/month.
With this plan, you will automatically get HOS log violation alerts, DOT compliance inspection Mode, DVIR reporting, and a Truckstop Locator with routing.
For Shippers
In addition to free TMS software, BridgeHaul offers shippers managed freight benefits at half the prevailing industry cost. In this regard, the provider charges shippers a fixed percentage per load.
Some of the features you will come about this solution include a cloud-based dashboard, real-time visibility of the load, delivered and inbound ETAs, automated PoDs, and BoL
This platform will also offer you KPI reporting, peer-rated drivers, and single-source invoicing capabilities.
BridgeHaul Features and Capabilities for Fleet Management
This system offers a new and unique approach to logistics, allowing you to optimize your productivity and profitability. For instance, the system features broker spot market-based rates. With these preset rates, shippers can easily post to their loads for carriers to accept instantly.
This automated approach has been proven to mitigate administrative costs as well as middlemen. This, in turn, results in some of the best rates in the industry. In addition to this, this logging device has a horde of benefits to offer owner-operators, carriers, and shippers alike.
Some of the features that make this device stand out from the rest include:
Optimized Load Searches for better management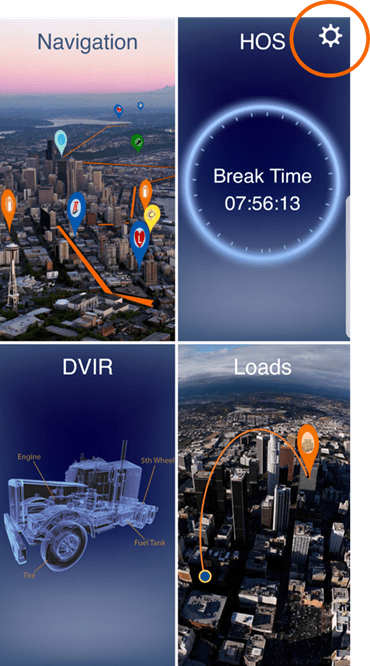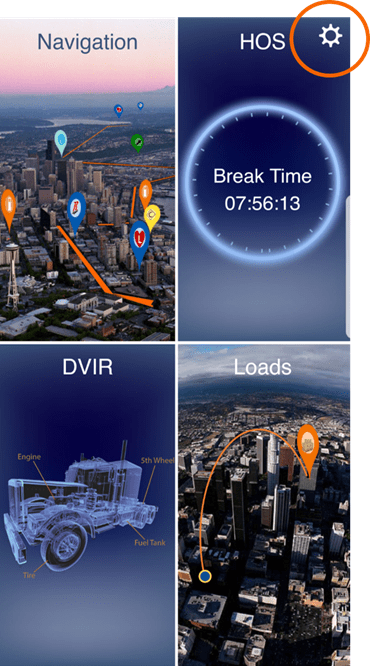 With this feature, deadhead miles will never be a problem for your business. The platform essentially applies unique algorithms to help you find the most profitable combination of loads.
As such, the system will rank the loads available on your location according to their profitability.
This allows owner-operators to choose the most profitable ones, hence curb deadhead miles, reduce downtimes, and boost profits.
 Accept Loads Instantly
Once you find a load that meets your requirements, accepting it is also easy and straightforward. The rates displayed on this platform are based on the prevailing lane rates at that particular moment.
Again, most of the shippers on this platform have set prerequisites. These often limit the visibility of such loads only to the qualified drivers. To claim a load on the platform, you only need to click on it and it is all yours right away.
Automation
The system will also automate most of your day-to-day trucking tasks like proof of delivery, payments, and bill of lading. Over the years, this has allowed owner-operators to spend less time at drop-off and pick-up points. The solution will also store such data automatically on the device, ensuring that you can easily access it whenever you need to.
Features for Carriers
If you happen to have more than two vehicles in your fleet, the BridgeHaul carrier package is what you need. This is essentially a robust, one-platform for ELD compliance, dispatch loads, IFTA calculation, and document management.
The platform has all the features a carrier would need to boost dispatcher productivity, and driver utilization. Again, the solution will help you avoid costly audit fees, empty miles, and fines in your fleet. Additionally, the system has a horde of other beneficial features to offer carriers, including:
 Instant Load Dispatching and Documentation for Carrier
In order to allow for faster dispatching in your fleet, this device is designed to autofill customer contact and location information. This will also allow for accurate financial reporting. The device will also allow you to upload documents through the driver mobile app and then attach them to respective loads.
Real-time DVIR and ELD Compliance Monitoring for Carrier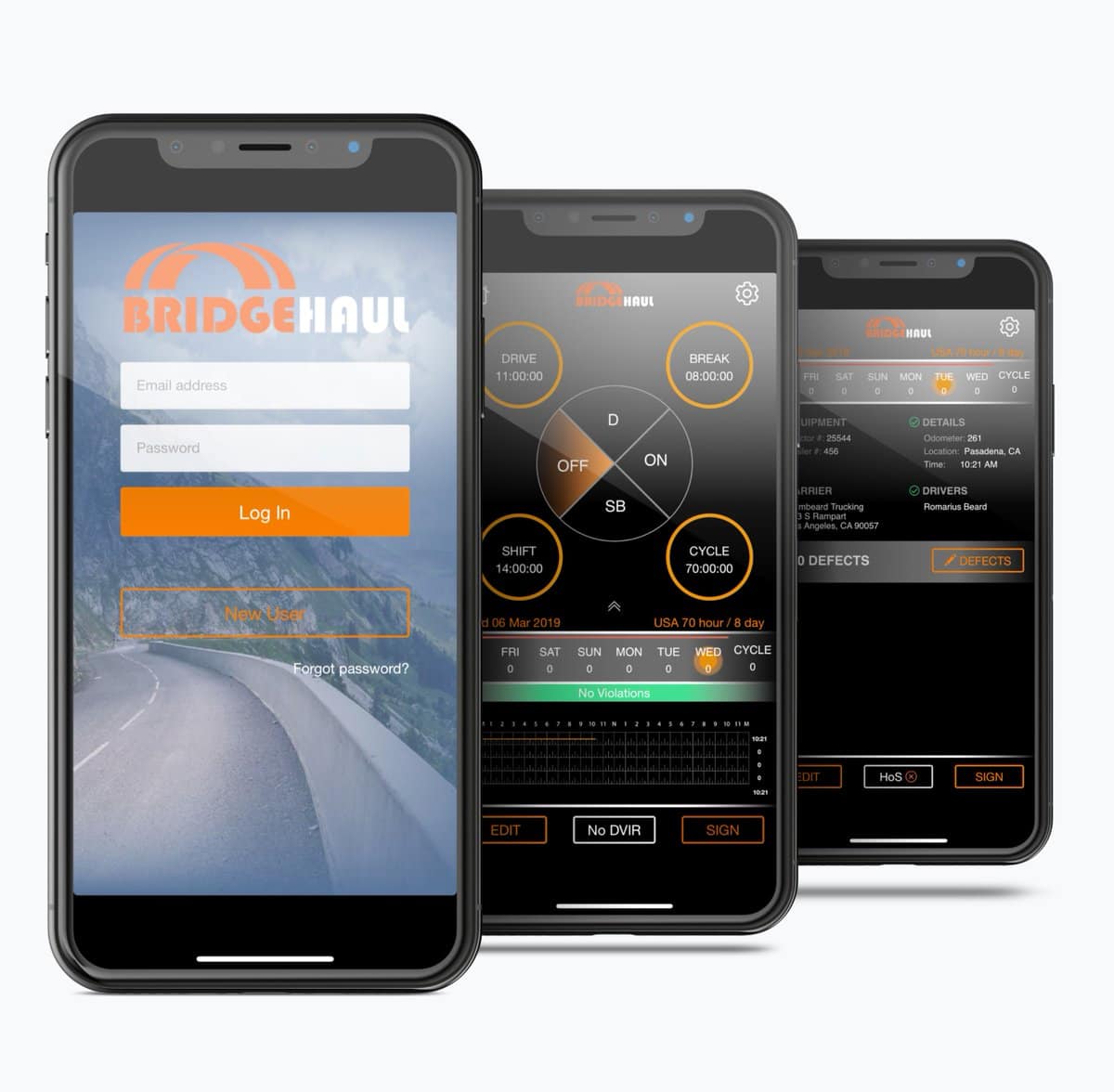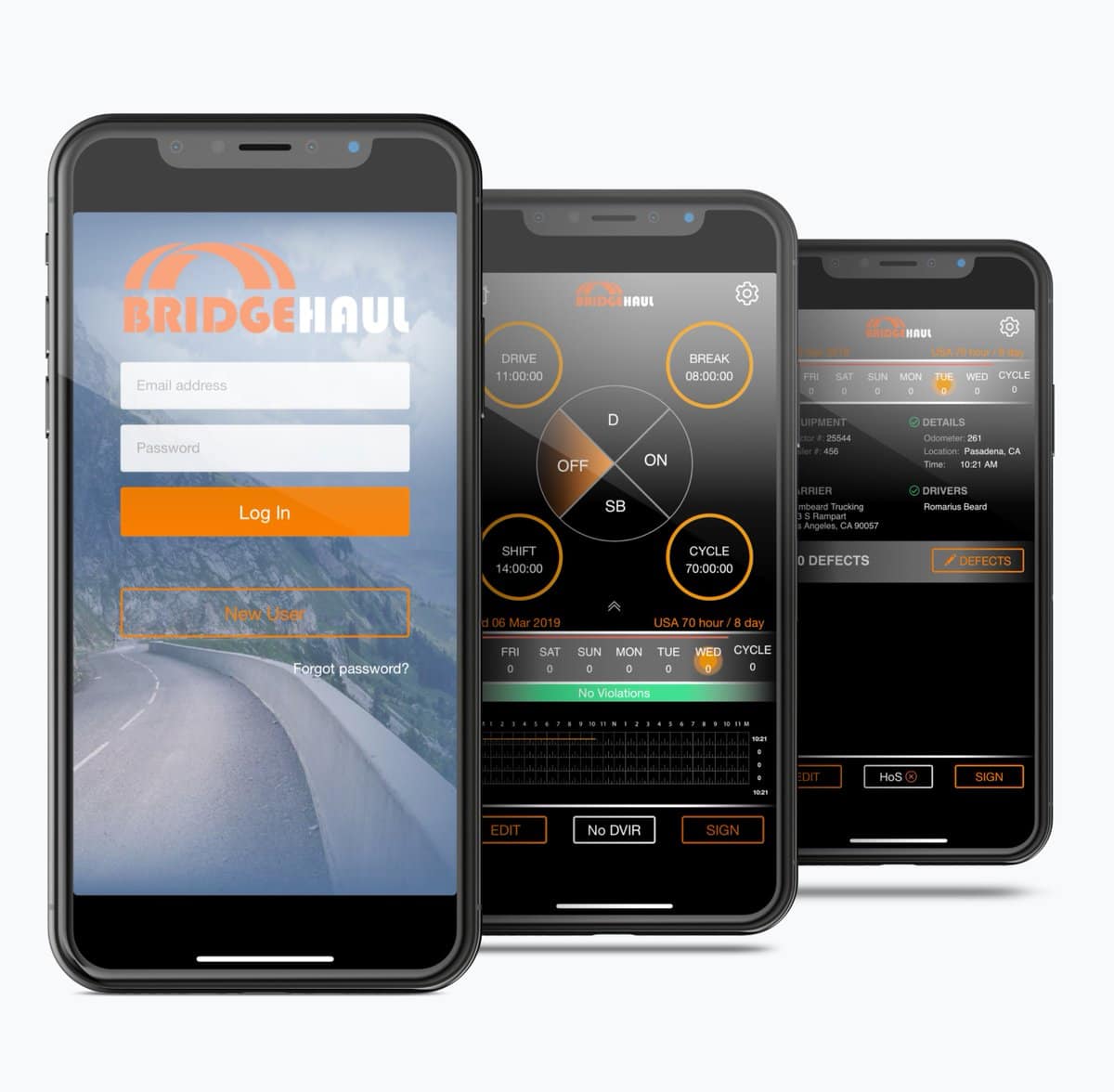 BridgeHaul features heatmap, a feature that allows you to view all violations by the different drivers in your fleet on one screen. Again, this system also allows you to narrow down specific logs that need to be edited by your driver.
Intuitive Dashboard Hub for better Access
With Bridgehaul installed in your vehicles, you will not need to call or email the drivers for their logs. Instead, the system will automatically update all the information you need on the carrier's dashboard.
The dashboard mainly displays information in form of graphs, heat maps, and charts. The system will also notify you when any of your drivers falls behind schedule.
Additionally, the system will give you a complete overview of the fleet in real-time from wherever you are. In this case, it offers real-time tracking. It also allows fleet managers and owners to selectively filter for such information as driver ETAs, and availability.
Improved Efficiency
As opposed to some of the best ELD devices in the market, BridgeHaul is packed with an array of efficiency capabilities. The solution is specifically designed to enhance dispatcher productivity and driver utilization.  By automating some of the important tasks, the system will also prevent violations in your fleet.
Our Final Verdict for Bridgehaul
Whether you own one truck or hundreds of them, the BridgeHaul ELD device has the right set of tools for compliance, enhanced efficiency, and profitability. As you have seen throughout this review, the solution has several advanced features for owner-operators and commercial carriers.
Ranging from real-time monitoring to automated logging capabilities, BridgeHaul certainly exceeds the expectations of many truck owners and fleet managers. As a top-rated ELD solution, this product will also help you manage driver retention and boost customer satisfaction.
To learn more about BridgeHaul's ELD pricing and how much carriers and shippers can save, check out the savings calculator on their website.