Last updated on March 8th, 2023 at 07:47 am
ELD is a term that has been causing waves in the world of trucks. Paper logbooks have been a bane in the transportation industry. Filling them requires a lot of time away from driving. It is easy to make huge errors, especially if the driver is fatigued after a long journey.
Not forgetting the dispatchers who have been misusing the old-paper based system so that they can harass the truckers. An ELD prevents people who are hard-working from facing all of these struggles. It is a device that performs most of the recording tasks automatically. Some of these tasks include
Tracking the drivers' hours of service.
For absolute accuracy, it talks to your truck's engine.
It helps in the creations of permanent records, which will protect you from any form of false accusations of negligence. It will give you a helping hand that you deserve and at the same time ensure you never get charged for regulation violations or even endanger public safety. It makes life easier and better for every person using the roads.
However, most truck owners don't know how to choose the best ELD for their fleets. Worry not as we will guide you in detail about the Automile ELD, which is a good fit for any kind of fleet.
We will give you the unbiased reviews and benefits of the Automile ELDs. We will also tell you it's pros and cons in a step by step manner in the end, so you can make an informed decision.
What are the functions of an ELD?
There have been many misconceptions that arise when people tend to ask what ELDs are. The following are some facts about ELDs.
An ELD does not allow anyone to spy on a driver. It makes it impossible for the dispatchers to harass the truckers. It further protects the drivers by making sure there are accurate records of their job performance.
There is no way an ELD will increase fuel usage or cause any mechanical issues. In fact, it helps to save fuel and overall management costs.
The ELD will not complicate a driver's life in any way or make their work more stressful than before. On the contrary, it will help you to save money by freeing the time spent filling the old-fashioned paper logbooks.
Review of the Automile ELD
Automile ELD is best suited for small companies, medium as well as large enterprises. It offers a free trial period before any commitment begins. It also has a simple and elegant design. Automile also provides fifteen-second real-time tracking with excellent customer support, and it's affordable, among other features.
Automile Background Overview
Automile is the easiest as well as the most affordable fleet management and GPS tracking solution based in the US. All you need to do is to plug the Automile box (which is a smart device that is syncs to the vehicle) OBD II port. The ELD will automatically start tracking in real-time through its robust website as well as mobile applications.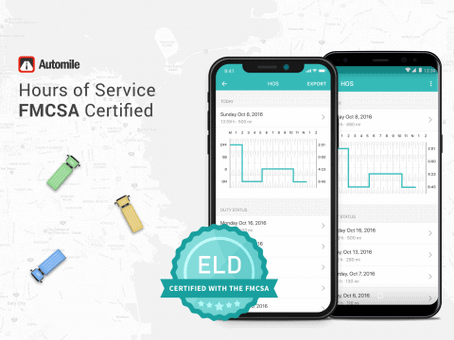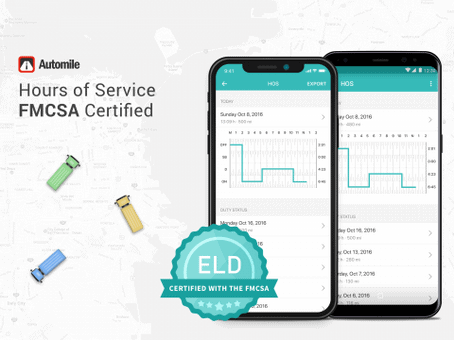 Fleet owners and managers can access valuable insights about their vehicles' health, driving behavior, and fuel usage. The Automile ELD helps fleets to become ELD compliant and simplify the HOS reporting.
Automile ELD Pricing Overview
Automile ELD prices start as low $5.90 monthly, and they offer a free trial for drivers who want to test their solution.
For Automile additional pricing, here are the details.
Starting price
$5.90 per month
The starter plan of Automile is $5.90 per vehicle.
Only three methods are available.
The pricing is all-inclusive.
Free trial
It has a few trials
Platform
It can be installed on a MacBook or windows.
It's supported by IoS native and android native on mobile phones.
Can also be hosted by websites, SaaS, and cloud
Training
The training can be done in person.
For those who are far, training is done through webinars, and live videos.
Training can also happen through documentation
Support
Automile gives customer support during business hours.
It is done through online platforms.
Features of Automile
Automile has three main functions: fleet management, transport management, and GPS tracking. Let's learn about its feature in this complete guide. 
Fleet Tracking and Management
Automile enhances the dispatch management
It helps in the fuel management of your vehicle.
It makes the work of the managers easy in terms of employee management.
In case of any incident, it has the capability of reporting that incident.
It helps the management of the daily inspection.
Useful in inventory management.
It helps in maintenance management.
Makes HOS compliance much easier
Assist in mileage tracking.
It helps in routing, motor pool, VIN Lookup.
Automile also has a feature of tire management and order of work management.
GPS Tracking
Provides excellent GPS fleet tracking solutions
Accurate GPS tracker
It gives notifications and alerts
It has asset tracking.
It helps in the management of drivers.
It offers historical reporting.
It has mobile monitoring.
It does people tracking.
It has a real-time tracking feature.
Issues alerts for a sign of violation
It also does, status tracking, routing as well as vehicle tracking.
Transportation Management
It offers bill and invoicing services.
It has a carrier management feature.
It offers customer management features.
Has dispatch management
It has a driver management feature.
Equipment and fleet management feature.
It has order and loads management features.
It has routing and scheduling features.
Finally, it has a shipment management tool.
Pros
Easy to use and to install by just plugging in the Automile box
Has excellent customer service to fix error
Has unique and great Features
There is a complete value for your money
Good to recommend for fleet tracking
It helps to see each vehicle in real-time.
Has led to cutting down on idle times, especially over the weekends.
It's has been tested and certified by the FMSCA.
Cons
There is a need to expand the software so that it can support more products.
How does this ELD benefit your Drivers?
Simplify roadside inspection
Roadside inspections take drivers just a few minutes to go through when they have Automile ELD installed in your fleet. The inspectors can see clear and accurate DVIR reports that they need for the inspections. They only need to look at the data in the logbook app, thus no need to hold drivers on duty for longer.
It also helps the drivers to be focused
Without ELD in the vehicles, drivers are prone to many distractions when driving. For example, they take a lot of time while filling paper logs. They also get many calls from the dispatchers asking for updates like where they are and when they expect to reach their destination.
With this ELD installed, the fleet managers and dispatchers will receive HOS, location, speed, and more driving reports automatically. The dispatchers are also able to see the reports through the user-friendly web dashboard or app.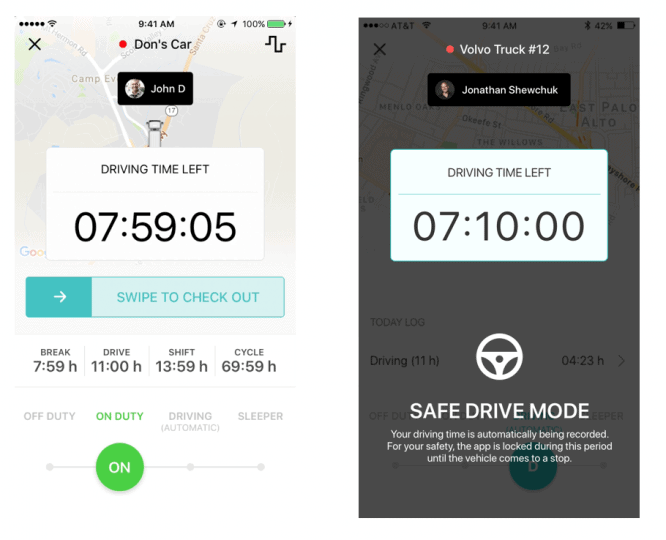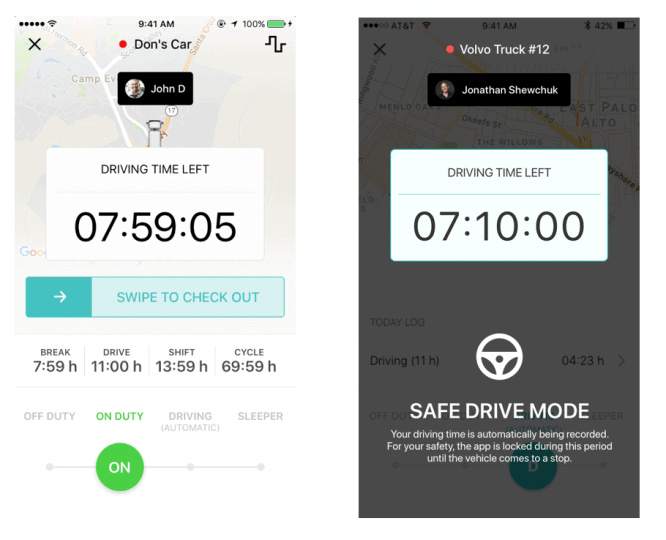 Helps drivers to avoid violation
Compliance is the crucial function of the ELD. It's the ability to track and monitor the time drivers are driving.
Automile ELD helps them a lot when it comes to HOS regulations compliance. The ELD sends an alert when it detects sign of driver tampering or driving more than required. It also helps the drivers to keep up with daily vehicle inspection reporting hence avoiding violating regulations in the field.
Drivers can get immediate help
In case there's a need, the fleet managers can send to driver assistance without having to worry about the driver's exact location as they can view the exact location source on the dashboard due to accurate location trackers.
Reduces accidents rates significantly
The Automile ELD device keeps drivers away from driving when they are tired as per the HOS rules. They are less fatigued, and that reduces accident incidents.
Automile ELD also notifies the truck drivers in case there are any fault codes in real-time. The device can tell the fleet managers which parts require immediate fixing before the journey starts.
Drivers can plan better routes
Through the GPD functions of the ELDs, the drivers can tell which roads are the best to follow so that they can get to their destination as soon as possible.
The device can alert the driver which route has heavy traffic or even if there are ongoing constructions along which road. By avoiding such problems, the drivers can finish their journey quickest time possible.
Improving the drivers driving skills
With the ELD device connected directly to the truck's engine, it makes it possible to monitor the driving habits of the driver. It can detect sudden stops, sharp turns, or even extreme accelerations.
The fleet manager can see all the data on the back-office web dashboard. Once they notice some bad driving habits from specific drivers, they can give feedback properly and initiate intervention. Hence, the Automile ELD helps in improving the driving skills of your drivers.
Helps in creating a good relationship between drivers and fleet managers
The excellent relationship comes as a result of fleet managers not harassing the drivers over reports and updates. There is no longer a cause for reason for friction between the two groups.
Benefits of Automile ELD to your Fleet Managers
Managers can have a clear and better overview of their fleet asset
The Automile ELDs provides a direct connection to the back office dashboard, where the fleet managers can access the data. By checking the web dashboard, the managers are to tell which truck is idle.
They can also pinpoint where each vehicle is, the drivers' status, as well as the fuel consumption of each truck. With the comprehensive data from the web dashboard, the fleet managers can make the best decisions concerning the fleets.
Help to lower fuel expenditures
The web dashboard can show the fleet managers instances where the drivers are over speeding as well as the idle time. These are the two factors that contribute to the excessive consumption of fuel. The managers can reduce fuel costs since preventing such behaviors is possible using the Automile ELD.
Then they can show the drivers the data about bad driving habits and help them change to avoid repeating the same mistakes.
Benefits of Automile ELD to Your Trucking Companies
Better CSA scores
Considering that the Automile ELD helps drivers to avoid HOS violations, which attract fees inform of fines when there is inadequate and inaccurate reporting. Avoiding FMSCA violations such as serious maintenance issues helps the companies to get good CSA scores.
Help attract more customers
It's easy for a trucking company to sell services to people with good CSA scores. Most of the shippers are taking a keen look at CSA scores before deciding on which trucking company to hire. The higher the score, the better the chances of getting such considerations by the potential customers.
The shippers understand having good scores means that the company has been applying the best business practices. And for that reason, they associate them with reliability and professionalism.
Driver hiring process becomes easier
It costs a considerable amount of money to hire new fleet drivers. ELD device helps to improve on your business's image prompting drivers to want to work with your company.
The best way of improving your image is by reducing the crash rate of your company. With no ugly experiences like accidents or crashes, there is a likely hood that many drivers want to be part of your company. As a result, your entire hiring process becomes easy for you. It also helps a lot in the retention of drivers.
Better insurance premiums
Before any insurance provider agrees to offer your company premium cover, they will first look at the possible risk that will arise when you are working together. The more the risks, the more costs your company is likely to incur.
With a good CSA score, it means that your company has few violations and truck accidents. The score tells the insurance provider that your company is not a high-risk business. Hence, allowing you to receive better insurance premiums.
Higher profits
Because your fleet ends up experiencing lesser downtimes and incurring minimal fees, all while getting more customers, your profits will increase significantly.
Reduction of clerical expenses
The Automile ELD device will help simplify the tedious and time-consuming paper log filling and report analysis. It helps to save money that you could have spent on doing the clerical work
Provides accurate reports
Accurate reports are essential for a business to grow and make a profit. Reporting is among the four pillars of truck management, which ensures that your company is complying with IRP, IFTA, HVUT, FMCSA, DOT, and so on. Its no longer like the olden days that you would spend your whole day on one particular logbook only for you to realize that you made a mistake, and forced to start all over again.
Reports help you to know where your company is or how it is progressing.
The Automile ELD will help you to achieve all the above benefits. Automile provides the best and all-round ELDs solution catering for drivers, fleet managers, dispatchers, and your company
A Comparision of Automile ELD and Another Common ELD in the Market
| | |
| --- | --- |
| Automile ELD | LogiNext ELD |
| Automile Starting price of $5.90 per month | LogiNext starting price is $49.99 per month |
| Features of Automile GPS tracking Comprehensive Fleet management solution Comprehensive Transport management solution | LogiNext features Driver management, territory management, performance metrics, dragging and dropping schedule. The driver tracking is live. |
| Automile platforms. Supported by cloud, windows, IoS, and mac The training is done in the documentation, webinar, and live online | LogiNext platform The training is done in person through the webinar. Also conducted via live online and documentation. Supported by cloud, Windows, and Mac |
Automile ELD is the best solution for companies that are growing or starting-up, mainly because of their free trial offer before full commitment.
The Automile ELD will help you to Become ELD Compliant
Becoming ELD compliant is mandatory. However, getting the right device is hard. It offers features such as GPS tracking, fleet, and Transport management, which will help streamline your trucking business.
All in all, the Automile will help your drivers to become HOS and DVIR compliant. The solution also helps drivers to become more accountable with speed tracking and driving monitoring.
The Automile ELD has an inbuilt messaging system that sends alerts to the fleet managers whenever drivers violate their HOS. We hope this review has provided you a complete guide that will help you make an informed decision.