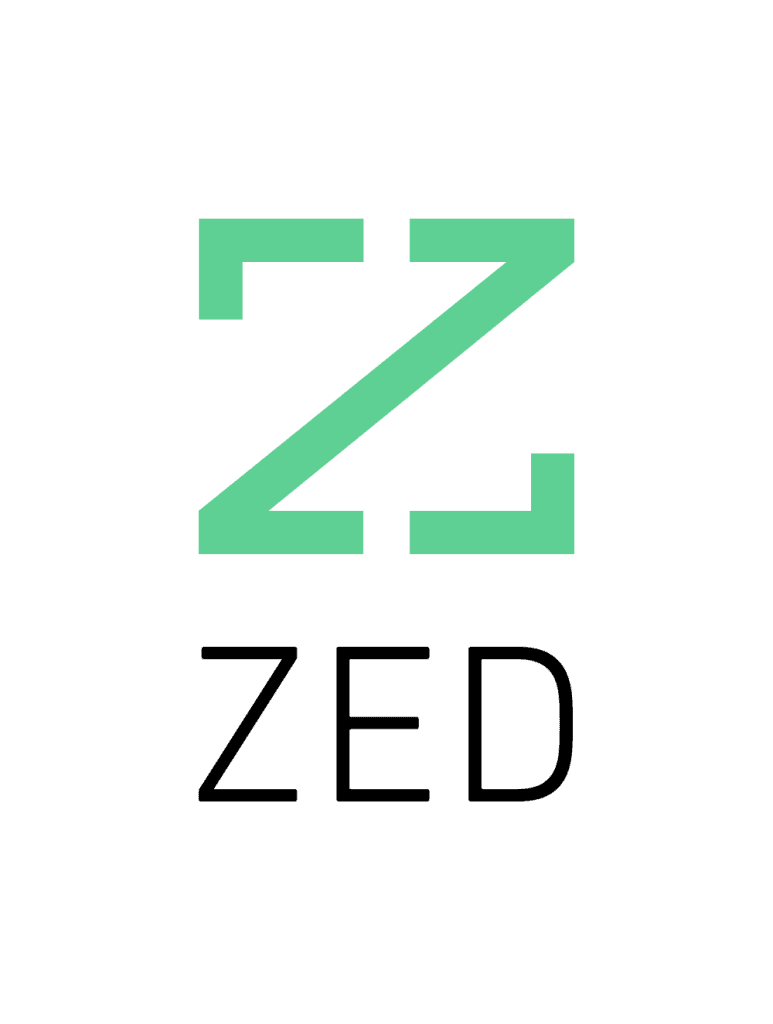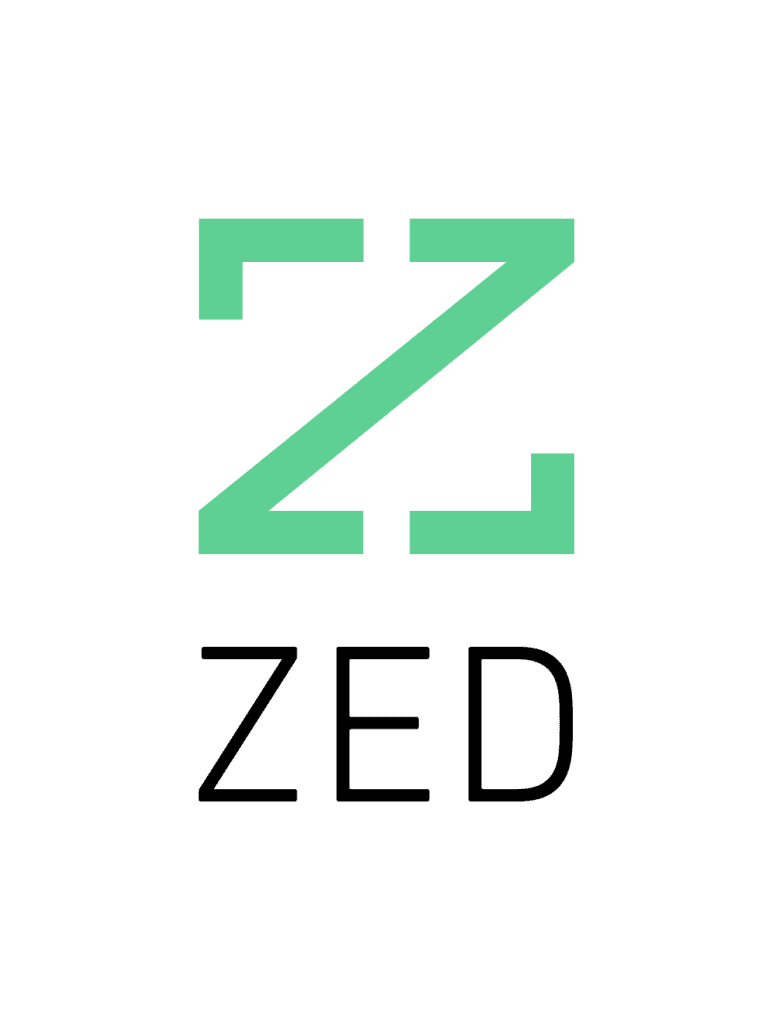 When the ELD Mandate was first announced, truck owners, especially owner-operator, expressed their concern with the cost of ELD solutions.
Over the months, a lot has changed in the industry and such owners will be delighted to learn that there are affordable ELD solutions that are tailor made for their specific needs. One such product is the ZED Electronic logging device.
Basically, ZED ELD is a low-cost, technologically advanced, mandate compliance solution that is designed for mid-sized and small fleets. In this regard, the product is relatively easy to install, use and offers an assortment of features and tools for fleet management and ELD compliance.
Though simplified in design, the ZED ELD offers you powerful capabilities, including commercial routing, ELD mandate compliance and visual inspection reporting.
Regardless of its powerful capabilities and features, this product is remarkably affordable. As a matter of fact, this ELD solution does not require you to pay any monthly subscriptions. As such, you only need to pay the low, one-time cost for the hardware and that is all you will be required to spend on the ELD ever.
Throughout this review, you will learn why an increasing number of owner operators and small fleets are choosing ZED ELD today.
About the Provider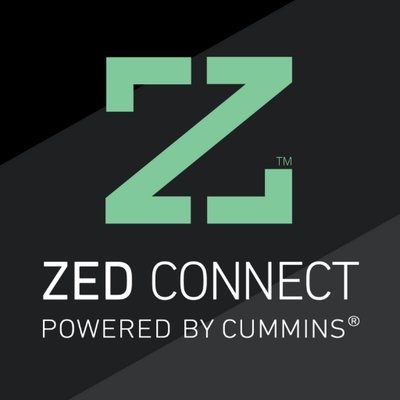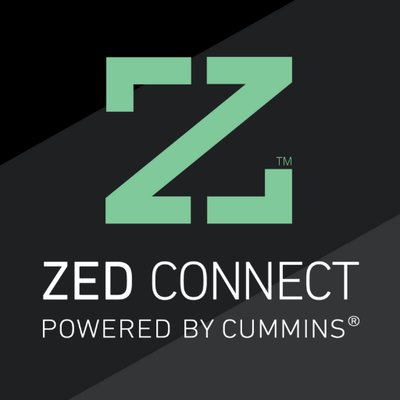 ZED ELD, along with its software, application and accessories, is produced by ZED Connect, a software company that was launched by Cummins, Inc. in June 23, 2017.
ZED connect was primarily established to develop innovative products that would help players in the commercial trucking industry overcome various challenges. Also, improve their bottom line and a solution that would be compatible with all truck makes and models.
The ZED electronic logging device is the very first product by this provider. The product is designed to offer a simpler and low-cost ELD mandate compliance in addition to other features. Since its introduction into the market, the ZED ELD has been rated one of the best ELD solutions for small and midsized fleets.
Again, the provider is offering owner operators an opportunity to get the analytics and data they need to make important business decisions. If you are looking for a simplified, more affordable electronic driver log compliance solution, you really need to try out the ZED ELD.
ZED ELD Review: Quick Overview
Designed to work with the intuitive ZED Bluetooth Adapter by the manufacturer, ZED ELD is the $0 monthly fee compliance option available today.
In addition to being backed by a renowned provider, Cummins Inc., the product is also FMCSA registered. This Smartphone-based electronic logging solution comprises of a plug and play device, ZED driver mobile APP and a fleet management platform.
According to the engine maker, the ELD device is compatible with all commercial vehicle makes and models. This alone makes it easier and cost effective to implement in fleets. With this solution in your fleet, you will get commercial routing, federal ELD mandate compliance, visual inspection reporting and several other innovative capabilities.
The low-cost ELD compliance solution will offer you all these features, in addition to its primary objective—tracking drivers' hours of service.
To get the Bluetooth-enabled electronic logging device hardware, you will be required to pay a $200 one-time cost. ZED ELD is essentially a plug and play device, which makes its installation quite easy.
In this regard, you can easily install your ZED device on the truck's ECM. Additionally, the provider will also give you access to a powerful fleet management portal.
Why Should You Choose the ZED ELD?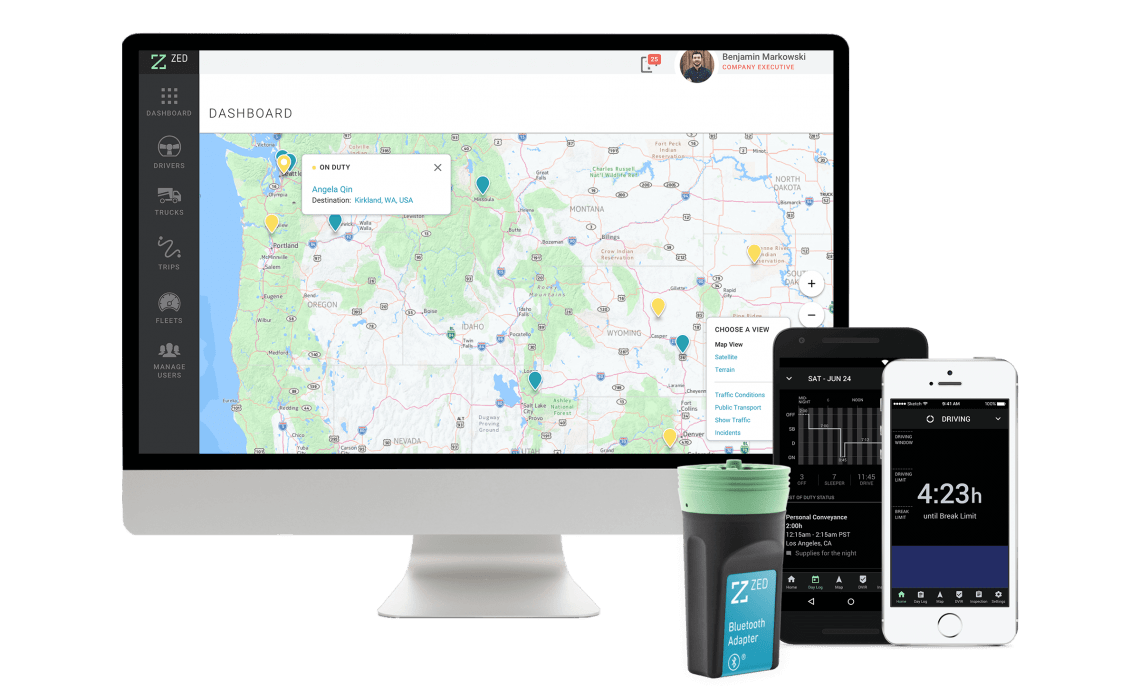 With so many ELD solutions to choose from in the market, it is often very confusing for drivers and fleet managers to choose the right one for their fleets.
One thing is clear, though, owner operators and small fleets are looking for low-cost, yet powerful ELD tools and features.
In this regard, the ZED ELD has several benefits to offer small and mid-sized fleets, including:
Affordability
To many drivers and fleet managers, the ELD mandate came as a surprise. Since they had not initially budgeted to have these devices installed in their vehicles, many small and medium-sized fleets are looking for affordable ELD solutions.
In this regard, the ZED ELD is a product of choice for many fleet managers and owner operators in the country today.
In order to implement this mobile-based ELD solution in your fleet, you need to buy the ZED Bluetooth Adapter ELD hardware for each vehicle in your fleet. Each of the ZED Bluetooth-enabled Adapter ELD units costs about $200. Once you have purchased the equipment, you will not be required to pay anything thereafter.
With this ELD provider, you will not be required to pay for monthly subscriptions, contracts or installation fees. Being one of the renowned ELD solution providers in the industry today, ZED Connect does not charge its clients any hidden fees.
Get FREE ELD Device Quotes
Ease of Use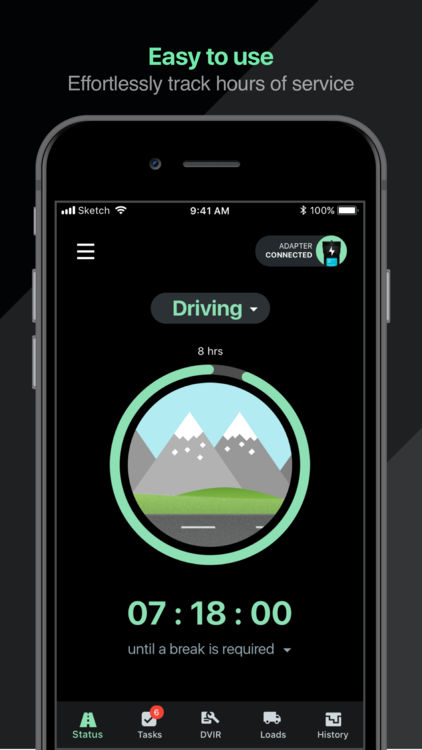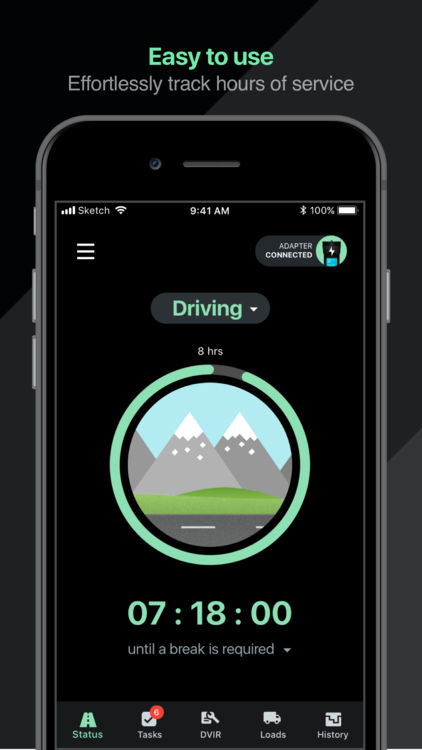 While this ELD offers several fleet management and ELD mandate compliance tools and features, it features a simple design.
To begin with, the ELD hardware is a plug and play device. This makes installation easy for drivers. Again, the mobile App by the provider features an intuitive design.
This simple interface of the App makes it easier for drivers to access various ELD features while on the move.
The App will offer you all the features you need for ELD mandate compliance, but is designed to ensure that you are less distracted while driving.
As such, you will have an easy time completing your e-logs, tracking your hours of service and keeping your eyes on the road while at it.
Enhanced Compliance
Most truck owners and fleet managers are having ELD devices installed in their vehicles in order to comply with the FMCSA mandate.
However, it is not advisable to go for an ELD solution that is exclusively designed for ELD mandate compliance.
In order to get the best value for your money, you should choose a product that offers more beneficial features and tools beyond logging.
However, most of the leading ELD solutions with such capabilities are comparatively expensive. With ZED ELD, you will not have to pay more to get additional features beyond logging.
With regards to compliance, this ELD will offer you all the documentation you need to comply with FMCSA regulations.
This includes DVIR and Hours of Service reports, duty status records and daily certification.
Improved Compatibility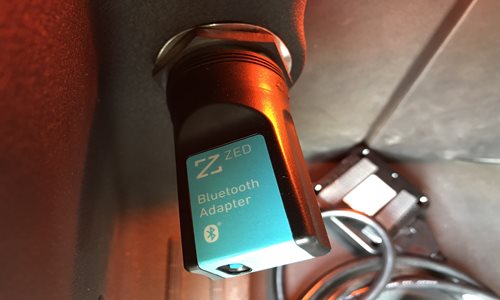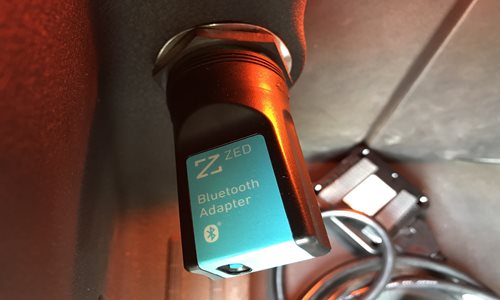 As you have learnt in this review, the ZED ELD solution comes as a package, comprising of the Bluetooth-enabled ELD device, driver's mobile app and a fleet manager portal.
While developing this electronic logging solution, the provider tried as much as possible to tackle compatibility issues. The ELD device itself is compatible with almost any truck make and models available today.
The ZED Bluetooth Adapter that comes with the ELD hardware is compatible with any truck with a 16-pin OBDII adapter or a 9-pin port.
For vehicles that do not have a 16-pin or 9-pin port, the provider is also offering cables to make the product compatible. For instance, you can get an installation cable that supports a 6-pin JI708 diagnostic port if your truck was made in the early 2000's.
The fleet manager portal offered by this provider is similarly compatible with a wide array of browsers. In this regard, the ZED Fleet Manager Portal may be accessed using Internet Explorer 11 and above, Firefox or Chrome Browsers.
The Mobile App by this provider, on the other hand may not be so compatible. For Apple devices, this App can only work with devices running on iOS 10.3 and above.
ZED ELD Features and Capabilities
Well affordability is the main selling point of this ELD solution. However, it is the value for money that an ELD offers that matter.
As such, it is important to weigh the cost of this product against what it can actually do. As compared to electronic logging devices within the same price range, the ZED ELD has more features and capabilities to offer. So, what exactly does this ELD solution has to offer you?
A Unique Electronic Logbook Mobile App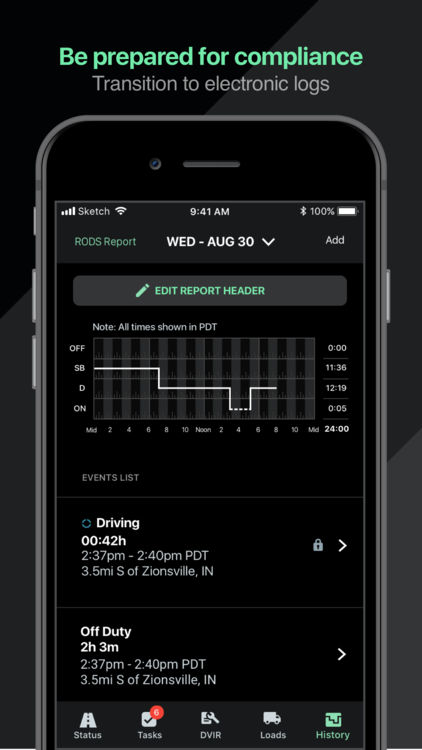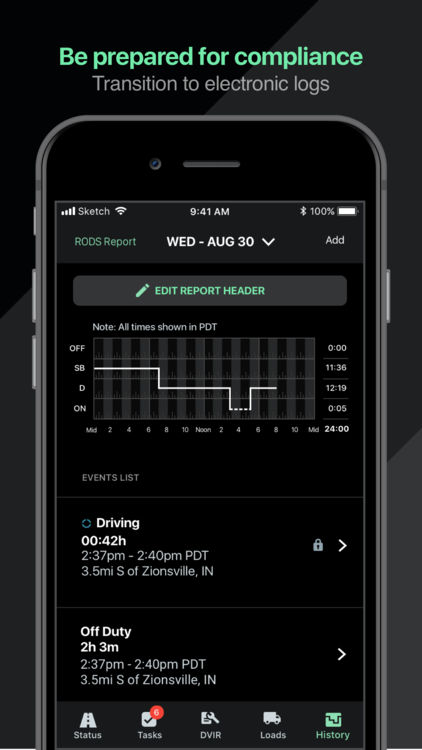 If you have had an opportunity to download and install the Zed Mobile app in your device, you must have realized how simple and intuitive it is.
While developing this application, the provider focused on two key aspects, namely:
Ease of use
Mandate compliance
Well, this is essentially what every driver and fleet manager is looking for in an ELD solution.
As a driver, having to carry out the various mandate requirements manually can be a challenge. Actually, it may even distract you while driving.
To avoid this, ZED electronic logging device takes care of all the mandatory documents, allowing you to focus on driving alone.
In order to maintain compliance, the device will take care of such documents as duty status reports, daily certification, DVIR reports for DOT inspections and your hours of service.
To make things a bit easier for drivers and make the fleet safer, several of these tasks are automated. For instance, the device automates logging, allowing the driver to have an effortless reporting experience.
This being the case, the device will create and submit e-logs that meet DOT requirements, maintain documentation and provide proof of the driver's safety.
While the important tasks are automated, your intake will still be required in the logging process. However, this should not be a concerned since the product is designed to offer you enhanced ease of use. However, the app itself features an intuitive design.
Complete Fleet Management Solution
As a fleet manager, you are going to need accurate and timely data to make business decisions for your fleet. ZED fleet management portal offers you the tools and features you need to achieve that.
Basically, this portal allows you to see all important aspects of the fleet in one place. This allows for a streamlined and more efficient management in your business.
In order to ensure that your drivers remain compliant, the portal allows you to track their hours of service in real-time. The portal will also keep all documents well organized so as to allow for hustle-free audits in the fleet.
While logged into your fleet management portal, you will be able to have real-time visibility of your vehicles and drivers, and access digital records for the various vehicles.
With such powerful tools at your disposal, it will be easier for you to keep tabs on your drivers at all times. The dashboard will also make it easier for you to assign drivers and manage trips in the fleet.
In this regard, the ZED fleet management portal allows you to track all your upcoming and active trips as well as manage the deliverables in a better way.
Flexibility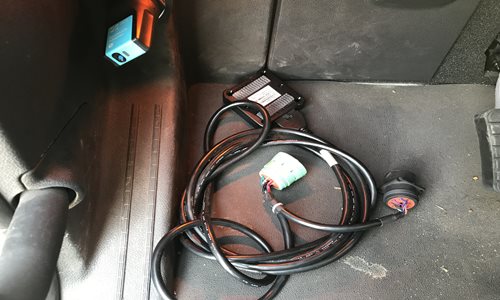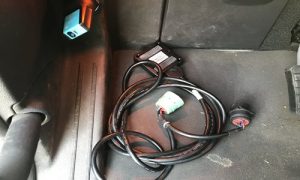 The ZED electronic logging device is designed to offer enhanced compatibility with all truck makes and models.
As such, you will not need to invest in a different ELD solution due to compatibility issues. To ensure that the product works with all commercial vehicles, the provider offers different installation harnesses and adapters to suit different installations.
If you are having a compatibility problem with your ELD hardware, you only need to choose the right installation adapter and harness on their official website.
You may also contact their responsive customer support team via their website. The provider also offers several instructional manuals on the installation, and use of the ELD.
Our Final Review
While shopping for the best electronic logging device, it is not advisable to go cheap. Instead, you should get a product that offers the best value for your money.
If you are working on a limited budget, you should choose the ZED ELD solution as it does not require any monthly subscriptions. In addition to being affordable, the product has more features and capabilities to offer.
Ranging from the Bluetooth-enabled Adapter to the fleet management portal and drivers' App, this e-log solution is truly unique.
As you have learnt in this guide, ZED ELD will streamline operations in your fleet, improve safety and efficiency while putting you in a better position to make business decisions.