Last updated on March 8th, 2023 at 07:55 am


With so many options and providers out there, it can be hard to choose the best electronic logging device. Aside from meeting ELD compliance requirements, these devices provide a wide variety of additional benefits and perks to fleets.
Depending on the provider, you can benefit from a number of features, such as the Driver Vehicle Inspection Report (DVIR), two-way messaging, fuel tracking, breadcrumb navigation, and much more.
If you are looking for a cost-efficient solution, you may also go for stripped-down providers that deliver the basics at an affordable price.
Are you a fleet manager? Having ELDs installed in commercial vehicles is a must nowadays. Don't let a routine roadside inspection catch you off guard and derail your operation. VisTracks has a solution for you. It helps fleet managers work completely confident and stay on track on this issue.
Do you want to find out more about Vistracks ELD? Let's dive in.
VisTracks ELD Review: Who is VisTracks?
Founded in 2008, VisTracks tapped into the market with analytics for M2M applications and a platform for developing applications. In the meantime, the company has developed an advanced Hours of Service system and filled a unique role in the world of electronic logs (ELD).
Today, it is one of the leading providers of reseller-based, white-labeled ELD solutions, and services. They offer a software platform for resellers rather than providing hardware devices to drivers.
In addition to logging the hours of service, VisTracks also manages services for IFTA, electronic work orders, and vehicle inspections. All the services, including add-on services for mobile work orders and tracking, are based on the same software platform. They are tailored to the needs of fleet operators and designed to be fully integrated with both vehicle hardware and tablets.
What is the VisTracks Hours of Service?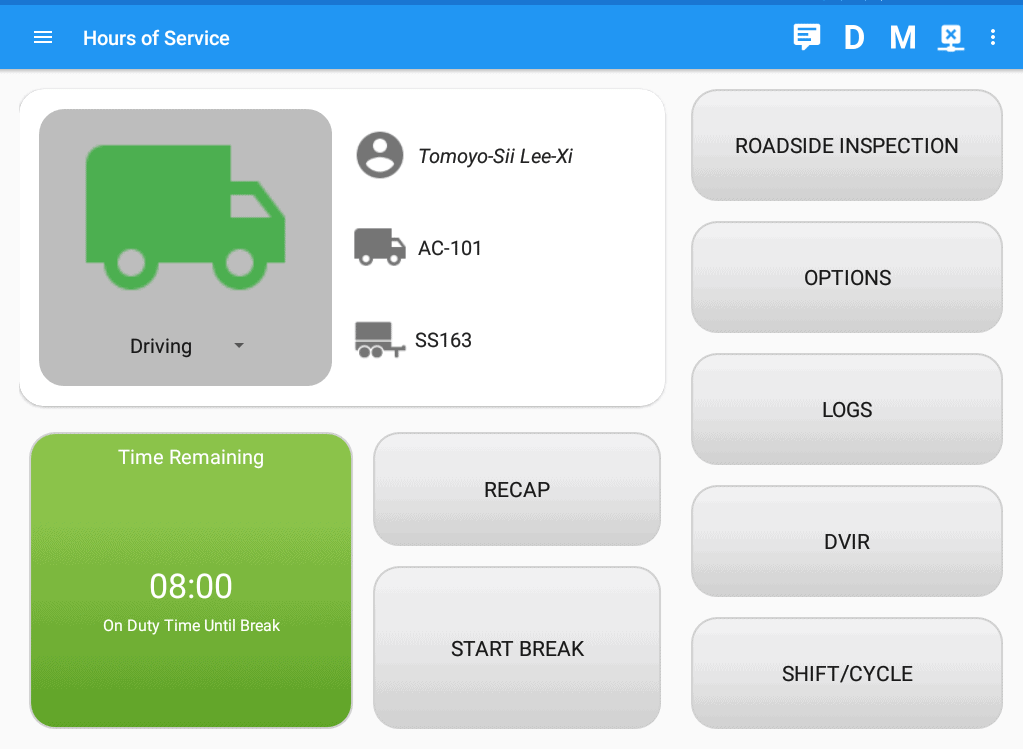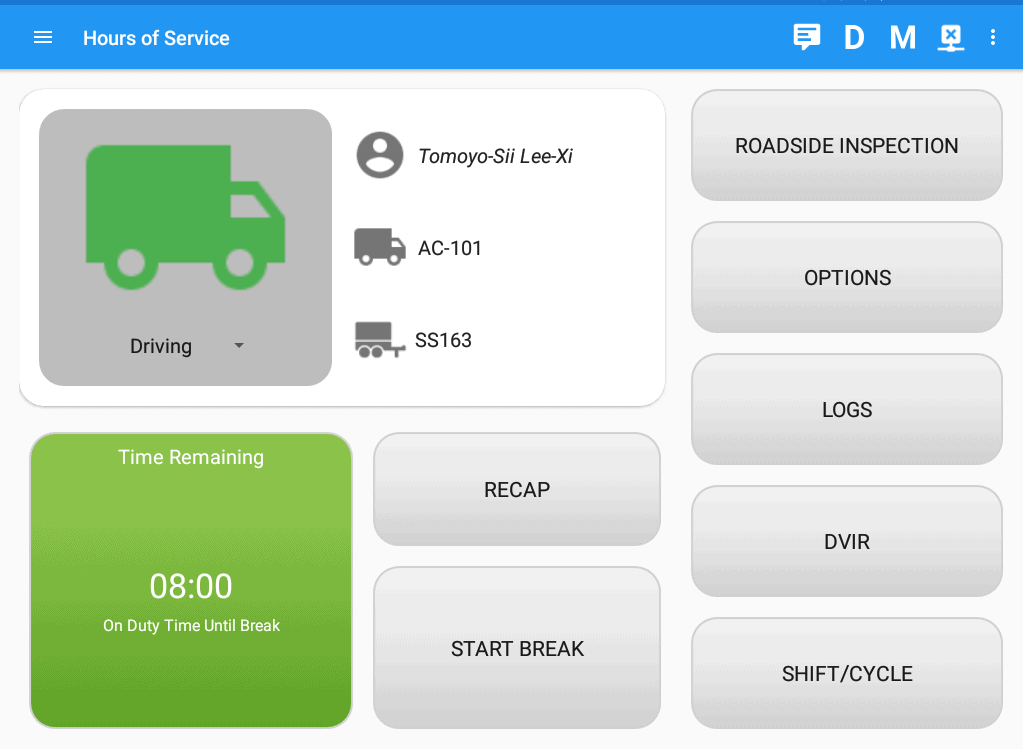 First things first, it should be pointed out that this is not an ELD device but a software platform that supports different ELD devices.
Actually, it uses a smartphone or an Android tablet instead of a typical electronic logging device (ELD) for vehicle inspections and electronic logs.
Hardware can be purchased separately if you prefer ELDs. Most other ELD solution providers require customers to buy custom hardware to be fully compliant.
They are often difficult to upgrade and expensive. With the VisTracks Hours of Service, you will have the flexibility for ELD hardware selection.
To provide drivers with a smooth ELD experience, this software is focused on hours of service. This enables drivers to simply keep track of their remaining hours. They can also edit their logs when needed — to add missing information or correct mistakes.
In fact, the VisTracks Hours of Services involves portal-based FMCSA-certified service and an easy-to-use tablet. So, instead of an electronic logging device, you get software that consists of:
A cloud-based online portal for fleet managers, and
An iOS/Android smartphone-based app for drivers
VisTracks Portal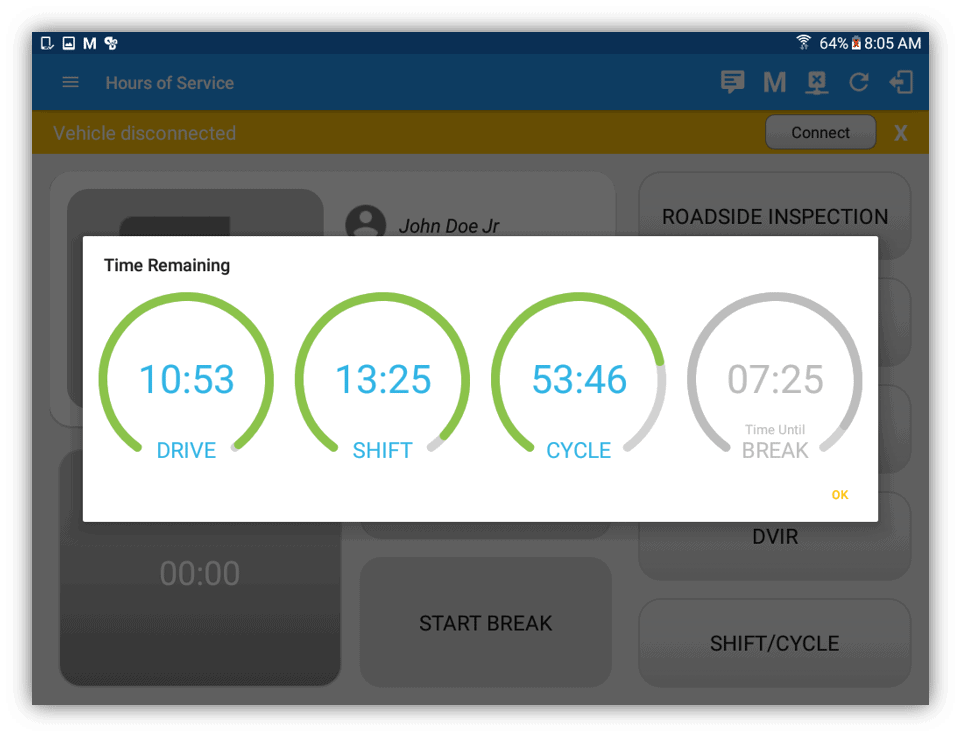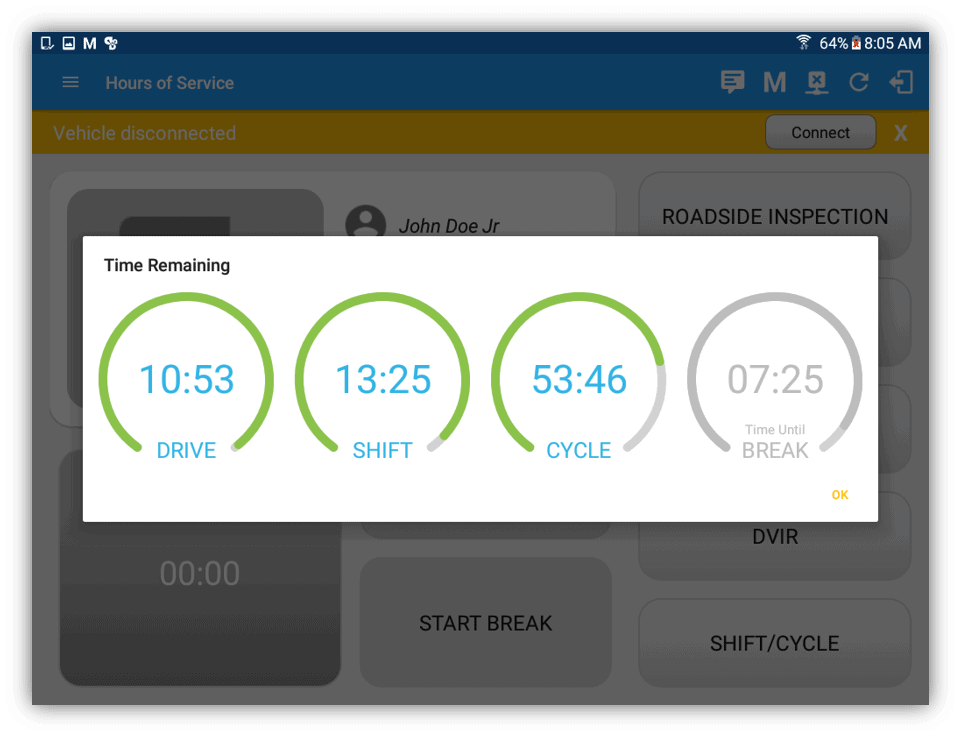 The web portal is easy to use and modern. It is mainly aimed at back-office staff. Safety managers can also use it to assign a driving time to a driver or correct driver logs.
All suggested edits can be tracked with a tool on this portal, which allows managers to know for each correction if it is rejected, accepted, or still pending.
The feature-rich portal is fully integrated with the driver dashboard. Plus, it is fully synchronized with an Android-based tablet and just about any HOS product option.
Tablet settings can be controlled from the portal. For example, drivers can disable their log edits via this portal and without using the tablet.
You can view reports, including IFTA, and set up inspection categories according to your preference. It is also possible to filter reports on the portal. For this action, you need to use consistent codes available on a drop-down menu.
Other ELD solutions do not offer this feature. Instead, they only allow for free-form entries in the event of log edits. This makes a big difference in sorting and tracking log edit reports.
ELD App
As mentioned previously, the VisTracks Hours of Service includes an iOS/Android app. The app is very intuitive and slick, which makes it convenient and handy for most drivers. It provides data for IFTA reporting and DVIR support besides hours of service.
What sets this app apart from the rest is a mode that can lock down access, showing only relevant log data to the officers during ELD roadside inspections.
Besides US federal rules, it supports many state-specific as well as Canadian rules. For instance, it supports state driving rules for oil fields.
Key Features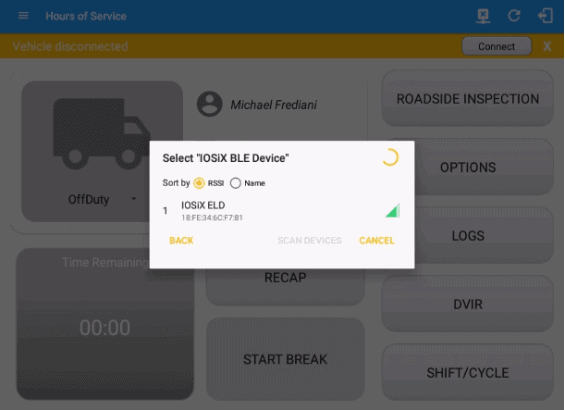 The VisTracks software is primarily concentrated on HOS capabilities, with just a couple of cool features. That said, it comes with an IFTA feature that records taxable miles and gallons. There's also a DVIR tool that lets you complete and submits vehicle inspections.
Here are some of the capabilities and features that go hand in hand with this solution:
Hours of Service (HOS)
Driver Vehicle Inspection Report (DVIR)
Team Driving and Slip Seat
IFTA integration
Offline support
Apart from these basic features, individual resellers frequently provide extra features like two-way messaging, engine diagnostics, navigation, and GPS tracking. But keep in mind that these features aren't originally included in the core software.
Ease of Use
The good news is that the VisTracks requires minimal training. Most people find it handy and easy to use. Administration tools for driver, account, and vehicle management are all designed in a very simple way.
No need to worry about errors anymore. On-screen documentation minimizes errors while supporting costs at the same time.
Best Suited For
VisTracks Hours of Service is intended to be marketed by companies that sell products, services, and software to both small and large fleets. This means it is totally white-labeled and traded indirectly to end customers.
The software can be paired with various telematics devices. This allows resellers to come up with fully functional ELD products by combining their own choices of hardware with the VisTracks software.
Benefits & Conveniences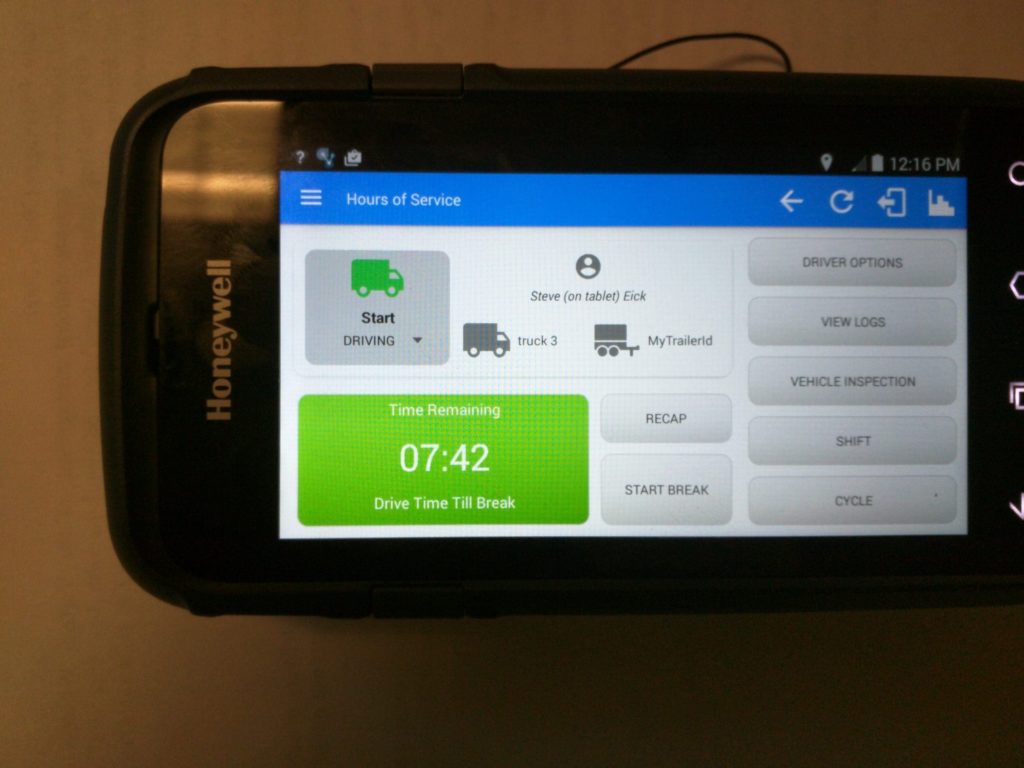 There are lots of nice features and conveniences, some of which miss from many ELD solutions.
For each unit, you can specify whether it will continue to exist as an AOBRD device or run in real ELD mode.
Drivers can take pictures of documents and defects (during vehicle inspections) using the device camera.
The recap hours are conveniently listed so that drivers can easily look them over.
In contrast to other providers, the violations are clearly shown by the portal log grid.
The tablet and portal work in sync to provide a real-time view of the fleet to back-office employees.
Automatic retry in case of connection drops with the ELD.
Ability to keep all the drivers in the fleet under observation and administer particular drivers by deleting or adding them according to your needs.
Ability to edit and examine logs as needed.
It supports a variety of Android tablet brands as well as a few ELD hardware brands like Geometris, CalAmp, BAFX, and Digi.
ELD Mandate Compliance
Electronic logs and reports are becoming increasingly commonplace in the US. The vast majority of commercial trucks are required to have ELDs installed in order to record the HOS duty status. There are some exceptions though. Fleets that use older onboard recording devices (AOBRDs) have an extra year to switch to electronic logging devices (ELDs).
This is where the VisTracks comes in handy. It allows you to update any of your logging units and switch from AOBRD to ELD rules at any moment. That enables fleets to continue using the grandfathered AOBRD extensions till 2019. This feature is particularly useful for fleet managers that need time to meet the new regulations relating to electronic logging.
The VisTracks Hours of Service is certified with FMCSA regulations for electronic vehicle inspections and logs to ensure compliance with ELD rules. Aside from state and federal regulations, it is compliant with Canadian regulations too.
Benefits of VisTracks
User-friendly ELD experience
Customized and enhanced inspections
Slick, modern driver app
Full-featured web portal
Completely white labeled
FMCSA certified
Easy to use
Drawbacks of VisTracks
Fairly basic, with just a few extra features
Connection issues
The Bottom Line
While going by many names, this turnkey ELD solution has quickly become a prevailing force in the market. Resellers can brand and white-label the VisTracks software under their name. As a matter of fact, VisTracks has more than 60 resellers and many ELD self-certified devices already run this software.
As its name suggests, this software revolves around Hours of Service (HOS). That's because the idea behind the software was to provide fleets and owner-operators with a simple ELD solution that makes them fully compliant. It is very easy to use and geared towards non-technical users. These people will get both Android and iOS support.
Best of all, you don't have to buy costly logging devices. You can keep your fleet compliant with IFTA, HOS, and DVIR regulations by using your smartphone or tablet. All you need to do is install the VisTracks smartphone-based app on your device. The app is in sync with a full-featured web portal. There is just about everything you could ever need for fleet management.