Last updated on March 9th, 2023 at 08:39 am
As the electronic logging device mandate came into effect, a growing number of fleet owners and owner-operators are in pursuit of available solutions. On the other hand, more and more ELD providers are tapping into this market with a variety of self-certified logging devices.
They do their very best to help fleets comply with said mandate. Generally speaking, there are two options to choose from: dedicated and BYO devices. The latter is designed to connect to either a tablet or a smartphone. This supports the plug-ins for back-office or in-cab functionality.
When selecting an ELD solution, the cost is a deciding factor for most. Other key criteria include compliance certification, ELD type, compatibility, and automated IFTA reporting.
For those who are looking for a simple and straightforward option, an ELD with no monthly fee is quite ideal. Even though these devices don't carry a monthly subscription, they help small fleets and owner-operators become compliant (without breaking the bank).
Of course, you'll have to deal with the initial cost of the device, which is a one time expense. After that, no more fees. In this review, we review the five best devices with no ongoing fees.
Top 5 ELD's With No Monthly Fees or Contract
Device Name

VDO Roadlog

Blue Ink

National Carrier Exchange

Garmin eLog

Switchboard ELD

Type of Device

Dedicated unit

BYOD
Android, iOS

BYOD
Android, iOS

BYOD
Android, iOS

BYOD
Android

FMCSA Registry

Yes

Yes

Yes

No

Yes

Initial Cost

$700 or free with lease

$295

$175

$250

$250

Review


Full Review

Full Review

Full Review

Full Review

Full Review

Rating
1. VDO Roadlog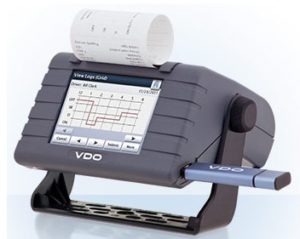 Let's get started with the VDO RoadLog ELD by Continental. It is offered as an affordable and smart solution for easy ELD compliance, without a monthly fee.
This stand-alone device is registered with FMCSA and it has completed the strict data transfer tests with success. That means this device will faultlessly transmit your data to enforcement officers during roadside inspections. Once uploaded, your data will automatically be archived online.
What sets the VDO RoadLog apart from other ELD's out there is the built-in printer. It produces grid-style logs that resemble traditional paper logbooks. The print-out lets you transfer your logs to inspection officers without handing over your phone.
In fact, the RoadLog device is designed with compliance reporting in mind. It simplifies ELD compliance by providing fast and accurate recording for e-logs, IRP, IFTA, and DVIR. The GPS data is combined with inputs from the drivers. That way, this plug-and-play ELD creates digital e-logs that can be printed out and/or downloaded as per your needs.
Other features and capabilities worth mentioning include:
Driver/vehicle monitoring
Track and trace mapping
Text-based messaging
Automatic auditing of logs
Remote monitoring
Remote HOS availability
One-year warranty
In spite of simple design, the VDO RoadLog ELD can avoid many problems that E-log mobile apps are prone to make. This means you will not mess with issues like exposed personal info, overheating batteries, unstable Bluetooth connectivity, cell plan overages, and  HOS gaps.
You will be backed by US-based technical support in case of malfunctions. Moreover, you'll be provided with a comprehensive distribution network which covers the major local truck dealers.
It's important to take into account that this is one of the most expensive options among no-monthly-fee ELD devices due to the high initial cost. Nevertheless, many fleet managers find it worth the investment and go for it because of its great features.
Pros
Comes with a built-in printer
Cellular connection to the Internet
Track & trace mapping
24/7 phone support
Easy to use
2. Blue Ink BIT ELD
Here's another ELD solution that offers simple compliance with no monthly costs. It is the BIT ELD from Blue Ink Technology. No need to sign up to any contract. Once you pay for the device itself, you'll be all set. That makes this plug-in device appealing for many small fleets and independent drivers who would like to avoid ongoing monthly fees.
The device works in sync with a tablet or smartphone app. This device is called the Free Blue Ink Tech App, which provides the driver interface. It's available for both iOS and Android devices. You need to connect this free app to your mobile device in order to start tracking your vehicles.
It allows you to:
Quickly check tire pressure
See your vehicle weight
Capture fault codes and vehicle diagnostics
View, certify and edit HOS logs
Manage work and shift cycles
Similar to other BYOD ELD devices, the Blue Ink BIT is meant to plug into the diagnostic port of the truck. You also need to pair it with a tablet or smartphone via Bluetooth. Bear in mind that this requires a cellular data plan, which means additional cost.
While large fleets can make use of this solution, it is primarily intended to owner-operators and smaller fleets. Apart from providing basic DVIRs and HoS logs, the device can also serve as a GPS breadcrumb tracker.
It can track your IFTA mileage and vehicle maintenance as well. This feature enables fleet managers to set up alerts and reminders for tire replacements, oil changes, as well as other routine vehicle maintenance tasks.
Another noteworthy feature is tire pressure monitoring. It involves a special system that employs wireless sensors to notify you if tire pressure is low.
While all of this can fulfill expectations of most users, some extra features offered by top-of-the-line ELDs are unavailable or are still in the works. For instance, Blue Ink's ELD device lacks TMS integration, speeding alerts, engine diagnostics, and two-way messaging. We are expecting to see new features and improvements in the near future.
Pros
Unconventional pay-once pricing model
Air scale and tire pressure sensors
Easy-to-use free driver app
Complete GPS tracking
IFTA reporting
Cons
Lack of some extra features
3. National Carrier Exchange ELD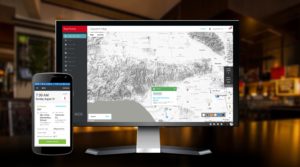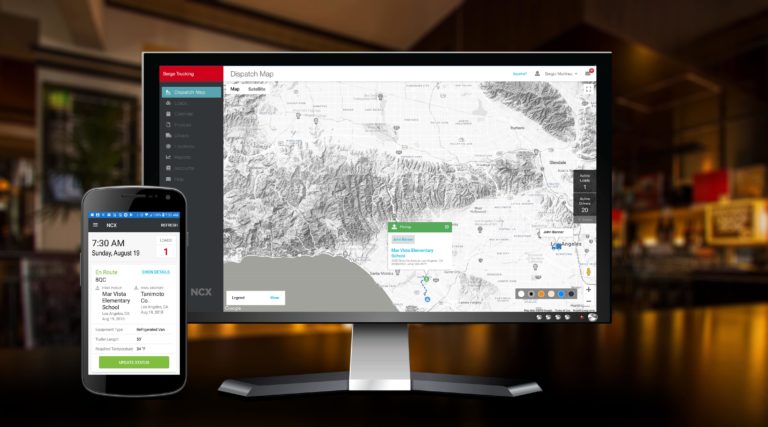 Many truck fleets are not willing to pay for extra features, especially those that aren't applicable to their business, on a monthly basis. Instead, they are looking for simple ELD solutions with no ongoing fees. This is where the National Carrier Exchange ELD comes in.
The National Exchange Carrier is created as a nonprofit organization with the goal of administering the charges that long-distance companies have to pay to access telephone networks. This large association ensures that broadband and telecommunications remain affordable and available throughout the country.
Just as many other ELDs out there, the National Carrier Exchange ELD involves a driver app and an online portal. The unified apps correlate with fleet management to collect and analyze data from vehicle components.
Here are some of the features this solution offers:
Vehicle work data
Driver login information
Driving behavior data
Equipment and vehicle fault data
Professional Invoicing
Drivers can get in touch with the US-based support team from the Zed app, via emails, through direct calls, or the Fleet Management online portal. In the event of a malfunction, you can count on the company replacing your ELD unit within eight days.
This solution includes a number of intrastate rules that go into effect in different countries. The Zed also includes Canadian rule sets, thereby growing the user base.
Pros
No monthly cost
Beneficial for fleets with a maximum of 50 power units
Active NCX users can get their ELDs refunded eventually
Very reliable and powerful
Easy to set up
Cons
Telematics features are limited
Connection issues have been reported
4. Garmin eLog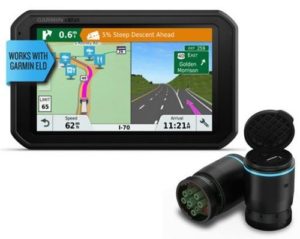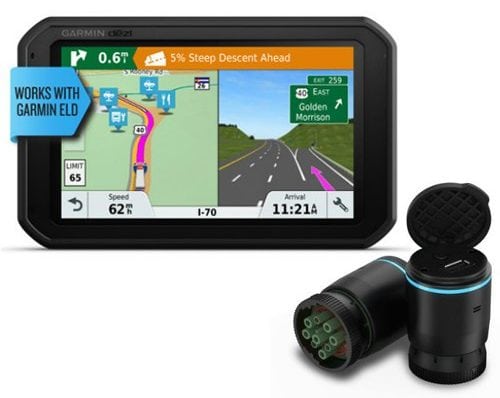 Garmin is another household name that has recently gotten into the trucking market with an ELD solution. No subscription fees, one-time purchase, and simple setup. That's what the Garmin eLog is about.
However, this no-monthly-fee product has much more to offer. It records driving time automatically and accurately, allows drivers to easily see remaining driving time – either by day or week – and provides quick access to driver's record of duty status.
Once stored on a compatible device (Bluetooth and GPS-enabled tablet or smartphone), ELD records are easily accessible for inspection. They can be accessed via FMCSA online services using Bluetooth and/or by means of the device USB port.
With this stand-alone device, you can:
Record your Hours of Service (HOS)
Securely store your ELD records on a compatible phone
Transfer your logs via Bluetooth/USB
Make use of the International Fuel Tax Agreement (IFTA)
Get the free driver app and use it on a compatible smartphone
The device is operable with both iOS and Android devices. Plus, it's compatible with the Garmin dēzl truck navigators like the dēzlCam 785, dēzl 580, and dēzl 780. Please note that these are sold separately. This allows drivers to quickly view their HOS information and duty status on the navigator display.
The Garmin eLog device fits nearly any commercial and semi-trailer truck. It comes with a built-in 9-pin connector and plugs into the vehicle's diagnostics port. There is also a 6-pin adapter included. All you need to do is plug in the device and download the free app from their website. It should be mentioned that the Garmin eLog isn't compatible with Volvo trucks and vehicles that use the OBD2 protocol.
Pros
Ready to use right out of the box
GPS truck navigators available
No-subscription solution
One-time purchase
Easy to set up
Cons
Not suited for Mack and Volvo trucks
5. Switchboard ELD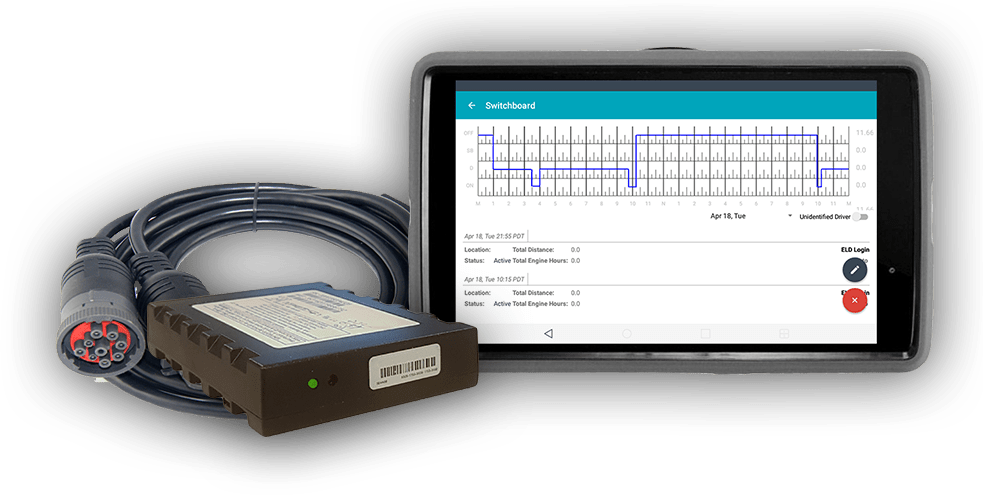 Switchboard is considered to be one of the leading ELD/AOBRD technology providers. Their products and services are geared towards trucking carriers, owner-operators, and small fleets. They are typically offered as all-inclusive packages.  The same holds true for Switchboard ELD.
This simple ELD solution incorporates the following features:
Digital Vehicle Inspection Records (DVIRs)
Driving timers
Electronic logs
Free emailing/faxing logs
IFTA
Along with the onboard BYOD recording device, there is a free logging app for drivers that can be used installed on their tablets and smartphones. It is currently only available for Android devices; iOS-compatible solution is coming soon. The driver app can be installed on just about any Android smartphone or tablet. If you don't have your own, you can purchase a dedicated Switchboard tablet.
Whether you use the official Switchboard tablet or your own device, it's necessary to connect it to the engine module of your vehicle via Bluetooth. Unlike most ELD options, the Switchboard ELD provides an extremely reliable Bluetooth connection.
Things we like about this product are user-friendly sleek design, dependable Bluetooth connection, and inexpensive pricing. Additionally, you will also like well designed Switchboard web portal as well as easy-to-use tools for correcting and viewing driver logs. Log edits are a bit awkward, but it is not a big issue indeed.
Pros
Ideal for smaller operations
FMCSA certified
Automated IFTA reporting
AOBRD option available
No monthly fee
Cons
Clunky carrier log edits
Unidentified Driving tools require improvement
The Bottom Line
Using an electronic logging device without monthly fees can save you a lot of money in the long run. These devices are particularly favorable for those on a tight budget who still want to comply with the ELD rule and stay on top of things.
All of the ELD solutions mentioned above share a common bond: they allow for ELD compliance without monthly fees. That makes them appealing to small fleets in particular. Owner-operators can use these solutions to their benefit, too.
It's important to point out that these ELDs go beyond just compliance. They also allow you to record and edit your HOS, transfer and store your logs, capture your vehicle diagnostics, and much more. Use all these capabilities to your advantage and keep on track.
If you are looking for a device that may carry more functionality, we have put together a list of our 20 best ELDs for you to review.